Are you interested in finding Herschel backpacks at an outlet price? We've got great news for you: in AliExpress you can find incredibly cheap original Herschel Supply backpacks.
All you have to do is go to this AliExpress search and scroll down until you find pictures of Herschel backpacks that look original (with a visible logo), you can find them at half their usual price.
How do we known these cheap Herschel backpacks are really original?
Well, we were surprised too, so we went ahead and spoke to the sellers, here is what they had to say: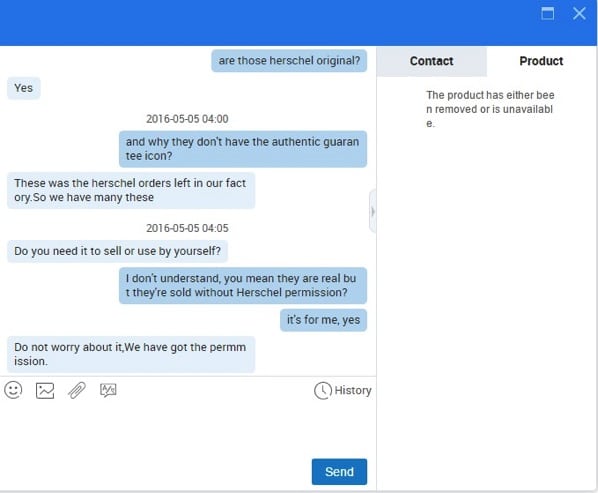 Bingo! They are original and they are cheap!
I'm not showing you a screenshot of the seller just in case he's lying about any of it, but you shouldn't have trouble finding them here.
Side note: what are Herschel backpacks and why are they so popular?
Some experts call these accessories urban backpacks with a vintage style. That pretty much sums it up: their design is based on backpacks made in the XX century, but they also offer more modern models to carry your laptop, or even for kids.
The material used for the backpacks is textured canvas, with a two buckle close characteristic of the brand. They usually also include a hand strap and an opening with a flap on top. The straps are cushioned and adjustable. And just so you know when you do get one, sellers recommend washing them with a wet sponge rather than putting them in the laundry if they get dirty.
All in all, Herschel Supply Co created durable quality backpacks inspired by the old backpacks used to hitchhike and explore the world. They adapted their design to the new generation, giving the bag a modern style, shape and overall feel.
What about the quality of these backpacks? – Be careful with replicas
If you've decided to purchase an original Herschel, you can be sure you are getting great quality. The only difference between getting it in a regular shop and in AliExpress is the 50% discount. The down side being that shipping might take a while.
However, do make sure you don't get a replica and use the chat to talk directly to seller if you need to.
Hey, I can't find the original Herschel backpacks you where talking about
That's no good! Chances are, by the time you read this, sellers ran out of stock. Don't worry, we have a plan B: vintage Herschel style backpacks.
These are backpacks, made by Chinese white label brands are a pretty good alternative if you can't find original Herschel. In fact I went in just today, because a friend showed me a great one she got for only 25€.
What's a Chinese white label brand backpack?
These are backpacks, made by Chinese sellers, are inspired by the design of famous brands without being replicas: they don't copy logos or other distinctive signs so they aren't banned by AliExpress. As a result of this, they can concentrate on improving their products and offering better prices, so you can find great backpacks for only 25-35€.
One of the brands inspired by Herschel is Bodachel, but you can find loads of similar models by just looking for Herschel, like these ones:

How are the prices of other online shops?
I know we've talked quite a bit about Herschel in AliExpress, but… what about the price? They usually go for something around 35-55 euros, a great deal if you consider how much they go for on the official website.
That's because I've got lucky and found original overstock. If you haven't been as lucky, but still want an original, other platforms such as Amazon, eBay, ASOS or even physical shops around you might have them as well.
Personally, unless you find a super bargain on Asos, I'd go for Amazon, not only do they have better prices than other websites, they also offer 24 shipping (almost always free) and great customer service.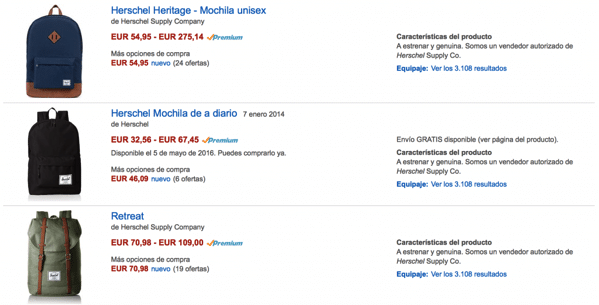 I'm not a particular fan of shopping on eBay, but seems like there are a few people selling Herschel replicas without openly stating it.
That's it for today! Need more help?
If you have more doubts just leave us a comment, that's why we are here after all.
Go to AliExpress