Wigs are becoming a lot more popular worldwide. Not only are they great for people who have hair problems, they're also a great way to change your look without having to go to the salon.
Have you heard the term lace front wig and don't know what it means? Don't worry, we'll tell you why they're pretty popular and how to find them cheaper.
This is what lace front wigs are like
Wigs with lace front are characterized by being of higher quality, which is why they are also called invisible wigs or undetectable wigs. Their main characteristic is that they have a fine mesh on the front, imitating natural hair and achieving a more realistic effect. The idea is that the mesh blends with your natural skin color and the root of the hair can be seen as a natural mane.
The result is a blurred finish at the front. The hairs in these wigs are tied one by one, so it looks like the hair is growing from the root. Cheaper wigs don't take this detail into account and the whole wig has the same amount of hair, so at the root, you'll see a large amount of hair, which makes the finish more artificial.
How to wear and maintain these wigs?
Putting on this type of wig is very easy. You simply have to put the mesh part on the front and then prepare your hair as you usually do to put the wig on using care oils, fixers, protective caps…
Some wigs include side hair ties so that it's well fixed to the base, but we can also fix them with hairpins. It's also recommended to leave some hairs on the front part to make the effect more realistic. Finally, you can use makeup to match the mesh to your skin and make the wig look even more real.
Where to buy cheap lace front wigs
Lace front wigs are known to be more expensive. The price increase is not usually due to the mesh itself, but because these wigs usually use human hair to make them look more natural. However, if you're looking into something cheaper, you can always look for synthetic hair wigs.
If you want to buy cheap and good quality lace front wigs, it's best to buy them online and certainly on AliExpress is where we can find more specialized sellers and lower prices. If you want to find them easily, click on this link that takes you directly to the best lace front wigs on the platform.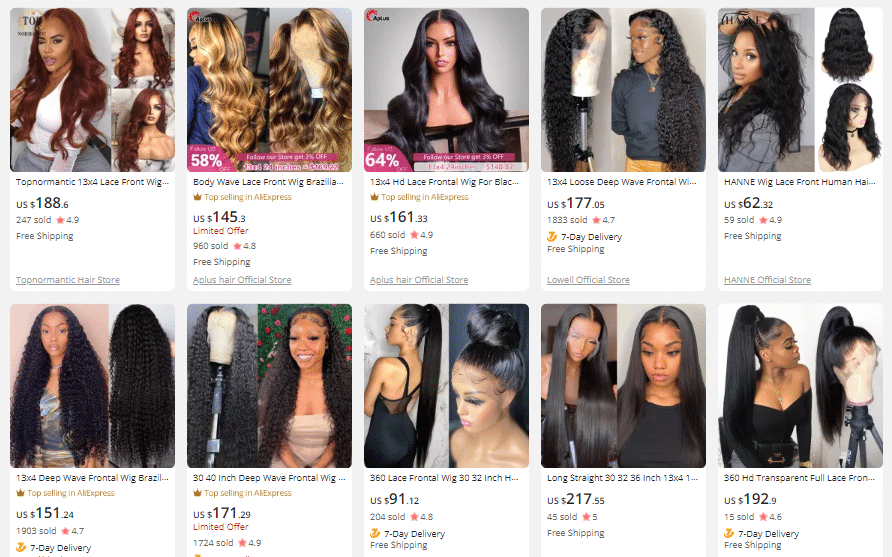 Below we'll show you some of the most popular stores to buy this type of wigs, but it's best to enter AliExpress and start looking through their site in case something else catches your eye. You can also try adding the keywords that best define the wig you're looking for, and sort the results by the number of sales.
Best Front Mesh Wigs on AliExpress
The variety of wigs of this type that you can find on AliExpress is amazing. Now, by taking into account shipping speed, wig quality, and price, we'll tell you about our favorite stores in AliExpress.
ISEE
Official store: Go to the store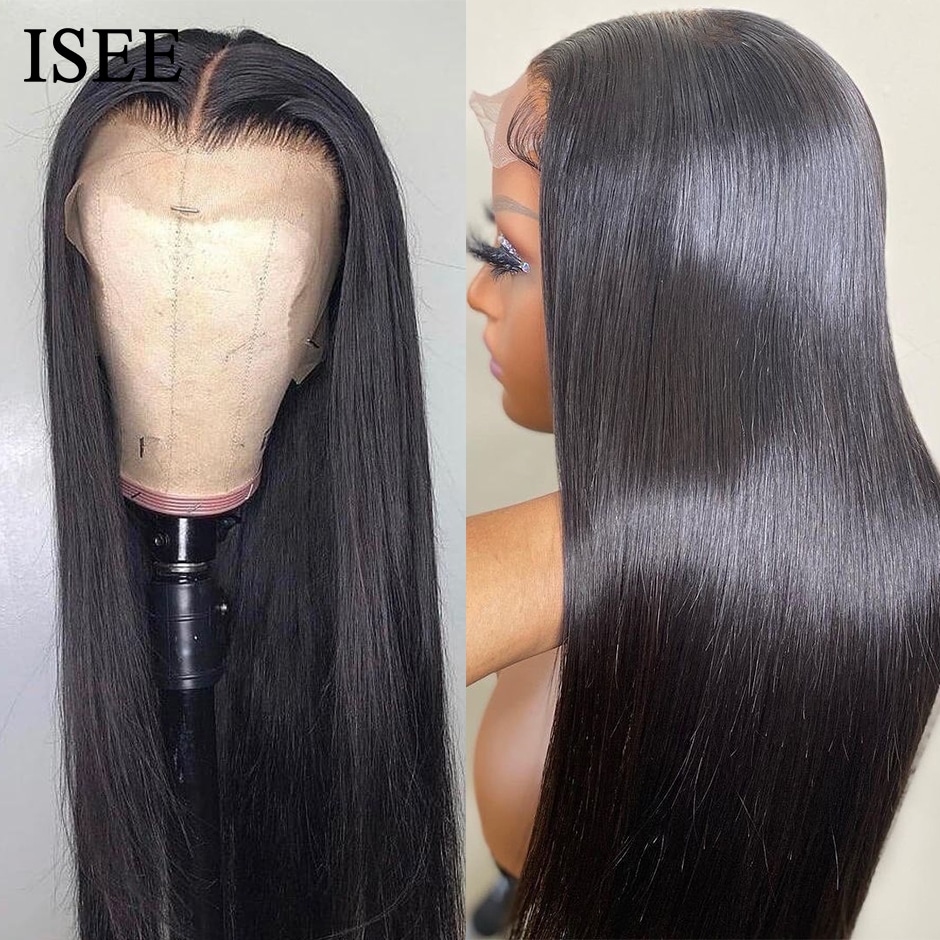 This is one of the most experienced stores selling through AliExpress and one of their advantages is that they have warehouses in Europe and America, so they arrive faster.
They have a great variety of wigs which includes lace front wigs: different hairstyles, colors, and finishes. The price varies according to the length, hairstyle, or hair color of the wig, as you can see here.
Moxika
Official store: Go to the store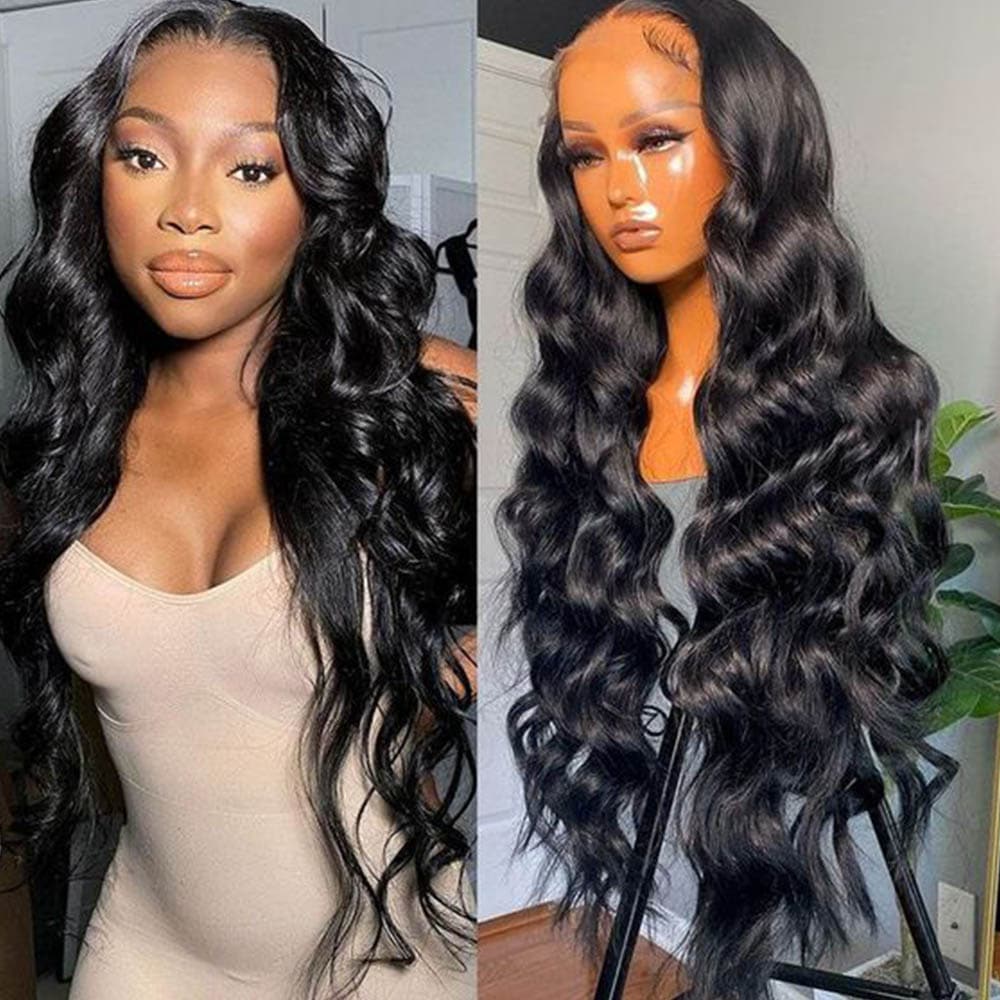 Many wig stores carry a limited variety of mesh front wigs, and because of their price, they can be hard to sell. However, this store has a wide variety of models.
Some of their wigs with frontal mesh have a very high price, but it all depends on their characteristics, as some of them have very long hair, dyed hair, or a high density. Take a look at this link.
Ali Grace
Official store: Go to the store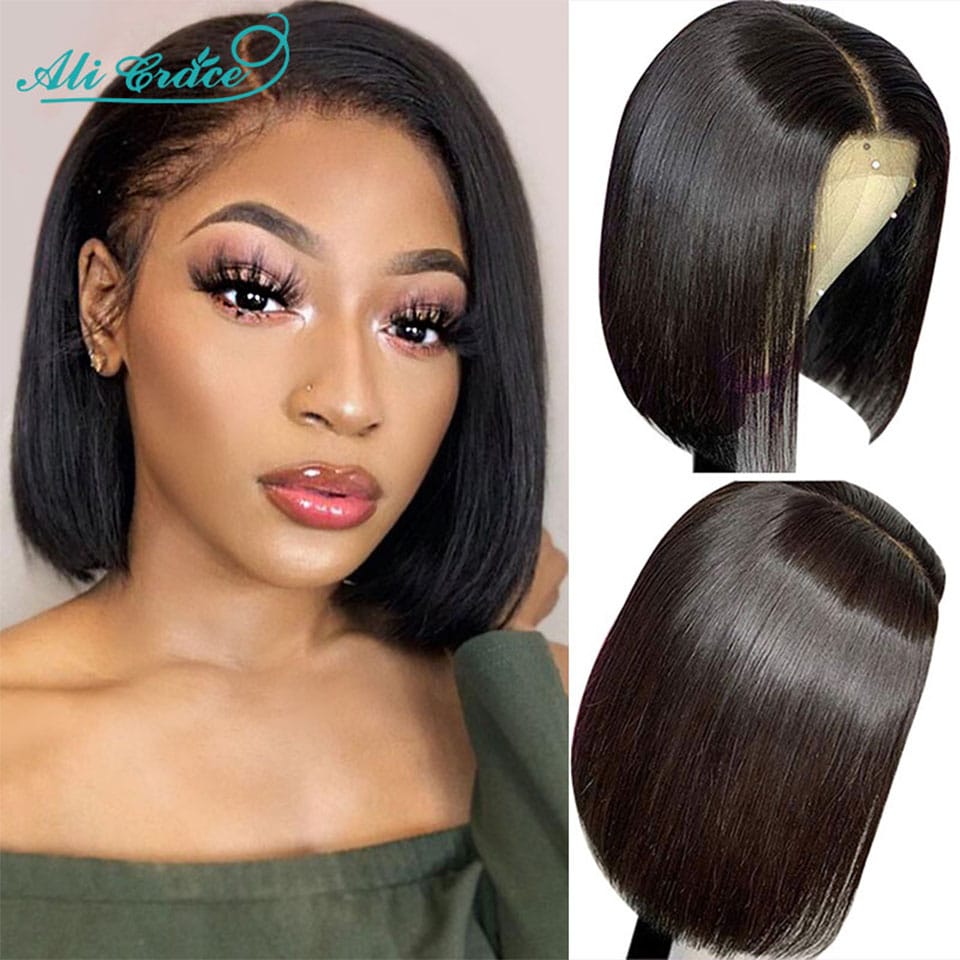 This is one of the most popular stores on AliExpress to buy wigs. And as for models with front mesh, it's one of the stores with a wide variety of models, as you can see here.
Whether you want a curly wig or a wig with dyed hair, here you will find everything you are looking for. Their prices are very cheap, and they also have a warehouse in Europe, so you'll receive your wig fairly quickly.
UUENLY
Official store: Go to the store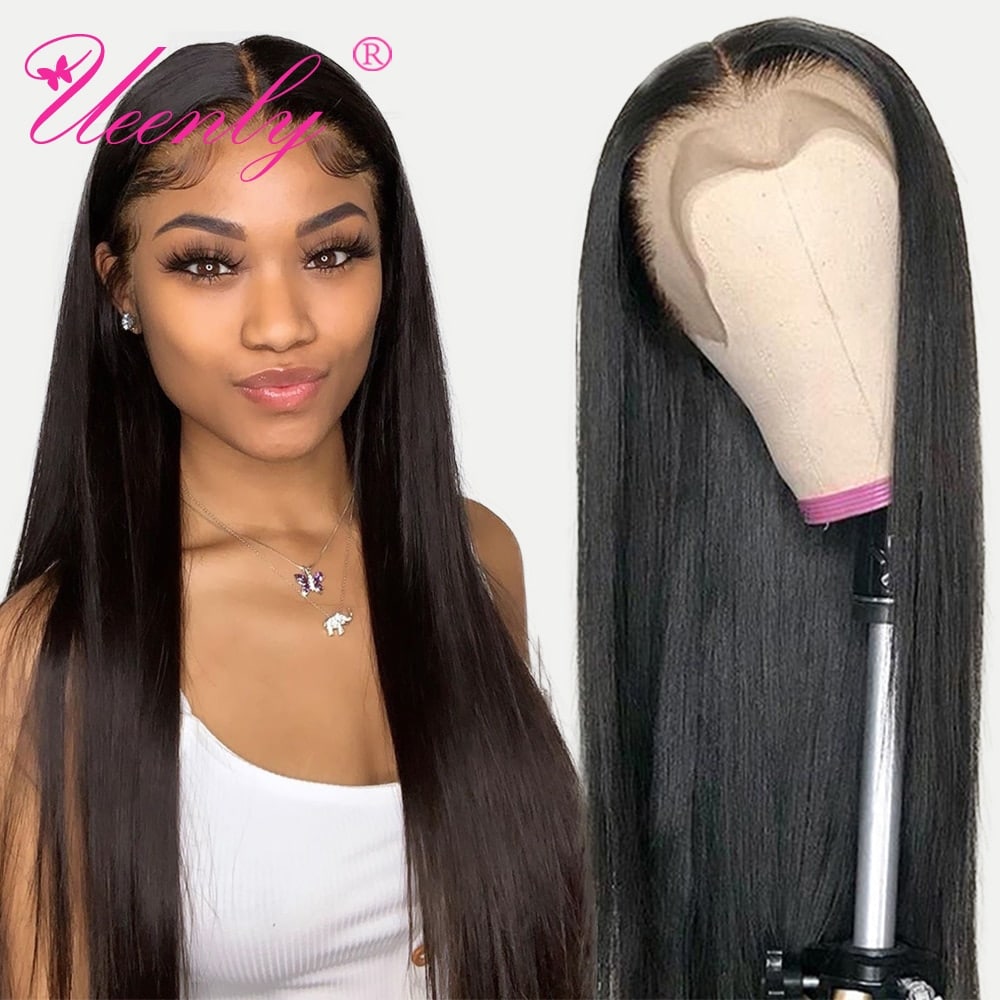 This store has some of the best-selling natural mesh wigs on AliExpress. What makes them so successful is the quality of their hair, considering their price.
In their wig catalog, which you can access from this link, you can see all kinds of wigs with front mesh, with different densities, lengths, and hairstyles.
Sinuowei
Official store: Go to the store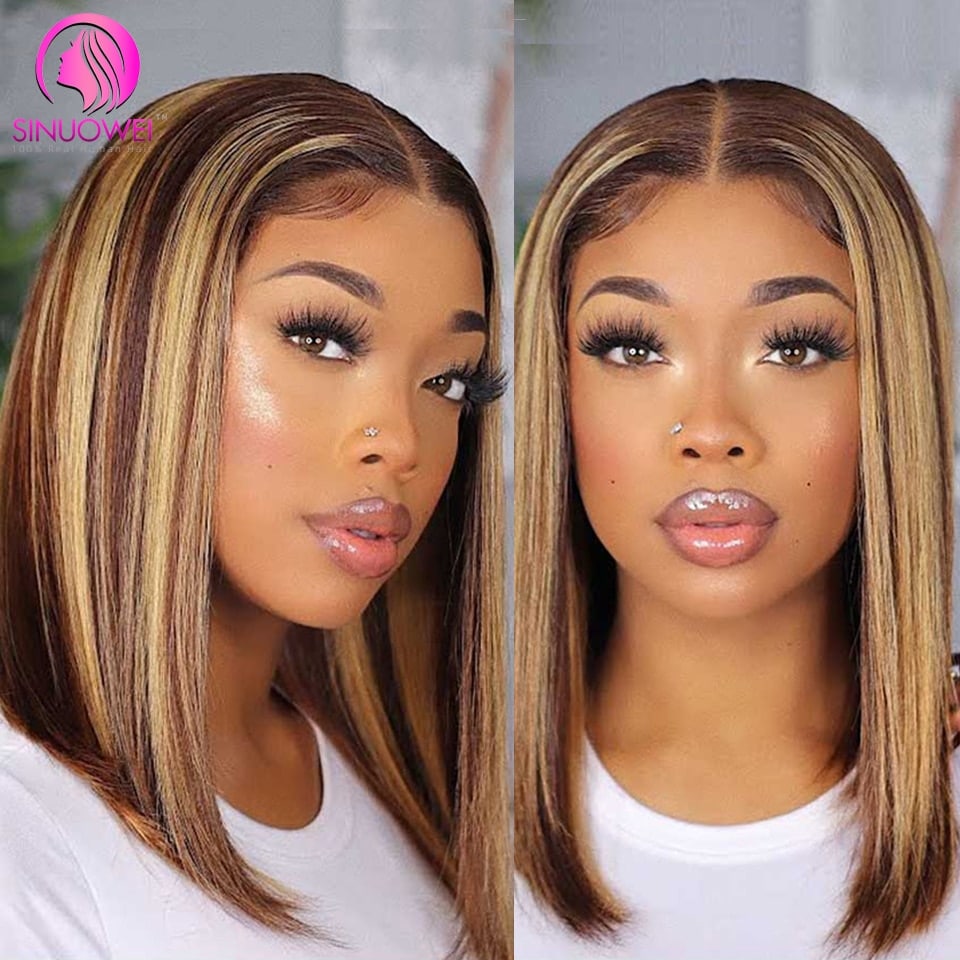 This store advertises itself as "100% natural hair, outlet price". And it's true because it has some of the cheapest front mesh wigs on AliExpress.
Buyers also confirm that the quality of their wigs is very good. They have models with a modern style, medium length and in different colors, as you can see here.
Lucky Queen
Official store: Go to the store
This store has more than 200 wigs with frontal mesh. In their catalog, you can find wigs with brown hair, highlights, very long and infinite hair… And the best thing is that they also have a very cheap price.
They have fast shipping and all their wigs have very good reviews. If you still haven't found a model you like, we recommend you to look at this store.
Monstar
Official store: Go to the store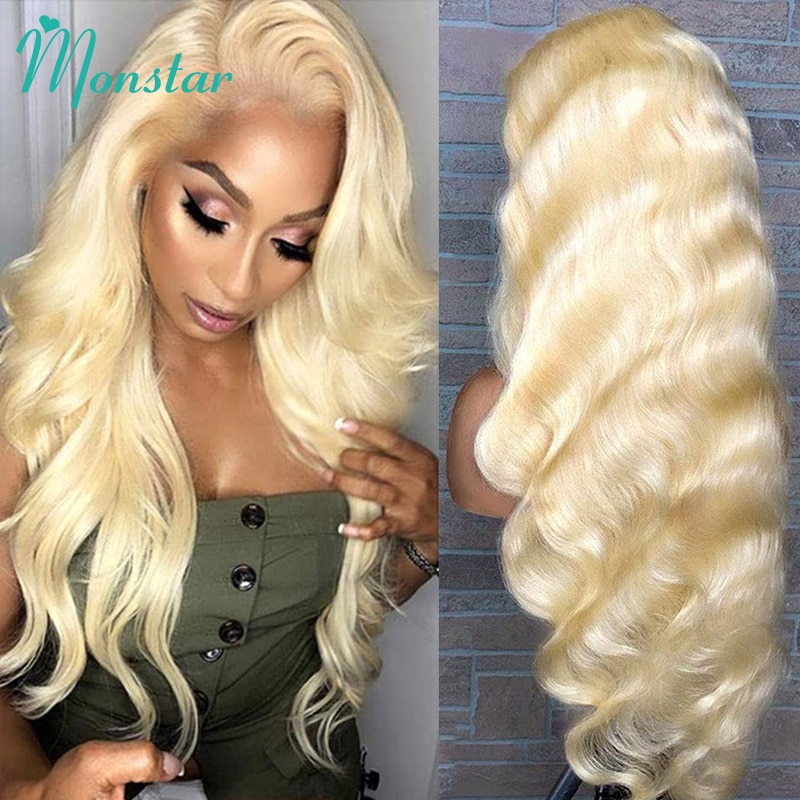 As you can see, most wigs with front mesh are dark brown or black. If you want a blonde wig, we recommend you to look through this store.
They're ideal if you want to dye the wig since you won't have to bleach it to apply the dye. And they're also very affordable, as you can see here.
SuperQueen
Official store: Go to the store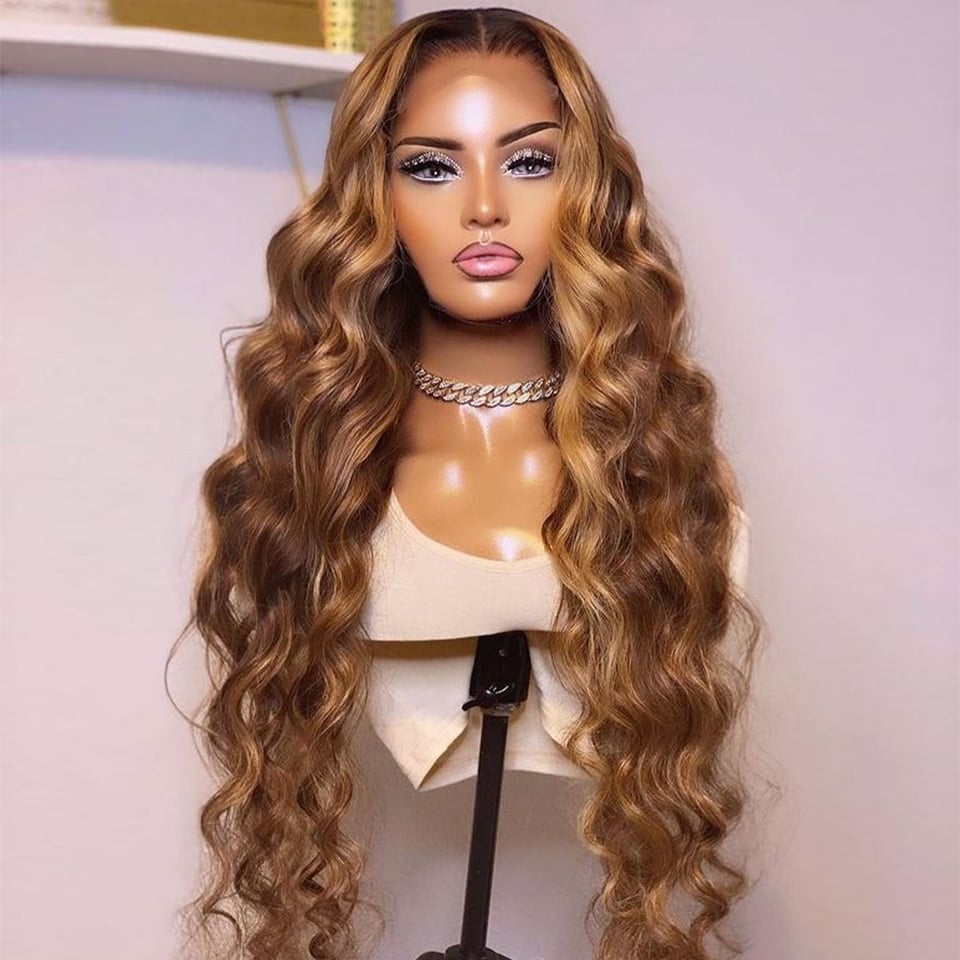 We can't finish the article without recommending this store. We find some of their wigs spectacular, especially the ones with highlights. They look very natural and have different densities.
They also have a warehouse in Europe, although not all their wigs are available in this location. In other cases, the seller offers fast shipping by private courier for free. You can see all their wigs at this link.
How to choose the best lace front wig on AliExpress
When you start looking for wigs you'll see that you can choose them by style and other characteristics. Almost all lace front wigs have different features to choose from to make them look just as you expect.
Hair type
As we've already mentioned, these front mesh wigs are usually made of human hair. The best-selling ones on AliExpress use this type of fiber and their price is incredibly low compared to other stores. When searching for synthetic hair front mesh wigs it's best to use the filters to adjust the search, since other results can show up.
Mesh size
There are different mesh fronts. Some cover the entire front part of the facial oval and others only a part of it. There are also some that only take a small frontal section and at the crown of the head.
The best thing to do is to choose the type by thinking about what kind of hairstyles you want to do.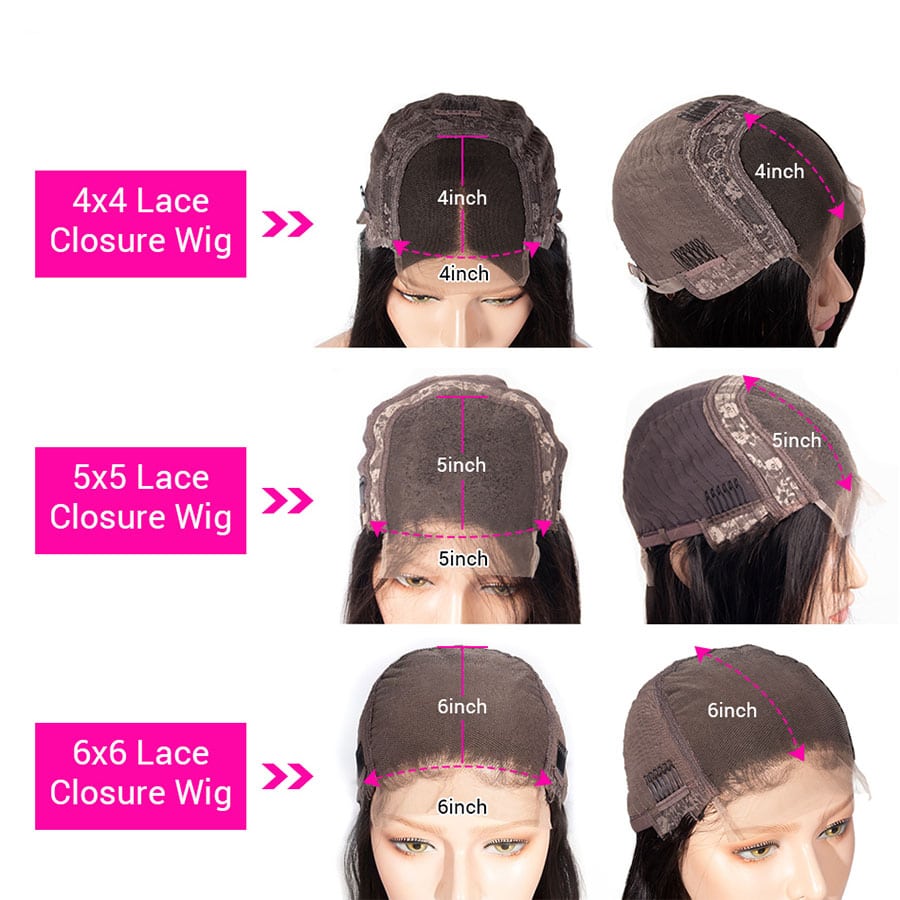 Density
This parameter defines how much hair the wigs have. The higher the density, the more hair you'll have, so you'll also have more volume. It's a good option, especially if you want a very dense mane, although it can be uncomfortable for other people. It's really a matter of taste.
Some sellers don't let you choose the density, so the wig comes with a default density. In these cases, in the description, you can always find what the density is.
Length
To make sure that the wig you get is exactly as you expect, you can also choose the length of the wig. Take a look at the following chart that explains how to measure the length of a wig.
It's important to note that if you're buying a curly hair wig, the length indicated is the length of the stretched curl, so it will be shorter.