In previous articles, we have explained that you can contact AliExpress if you have a problem with your purchases and you are unable to resolve it with the seller. Just click here to start a chat with an agent of the platform.
However, as in most customer services of large companies, before receiving a response from an agent, you will have to go through the filter of a robot called "Eva" that answers your questions 24 hours a day, 7 days a week.
Many of you have told us that it's impossible to get an answer from a real person. Here are some real tips on how to get an AliExpress agent to help you. These tips we have successfully used time and time again when we need an agent to help us with our problems.
Contacting an AliExpress agent
Now, we are going to explain how you can contact an AliExpress customer service agent through their chat, step by step.
Access the AliExpress chat
To start, you will have to access the customer service chat. Click on this link to do it directly.
When you enter the chat, you will have to explain briefly what your problem is. Use short phrases like "My order has not arrived" or "My card has been declined"… Don't make your question too long because AliExpress will ask you questions to further define your problem and look for the best solution.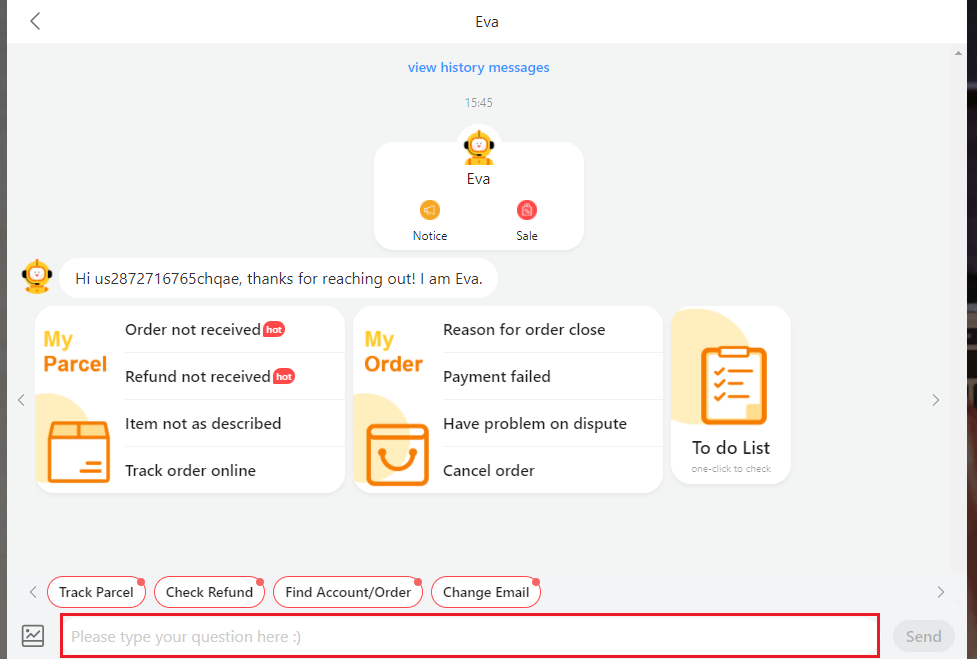 They will give you a solution based on their FAQ. This can be useful in some cases because it can solve your question easily. But if you still need to talk to an agent, type "I want to talk to an agent". Sometimes the robot will ask you questions again to avoid putting us through to an agent.
Usually, when you see "Talk to an agent" in suggestions, it means that the robot has already understood that it cannot answer your questions. Click on the button or retype it; then you will finally be able to talk to an AliExpress customer service agent.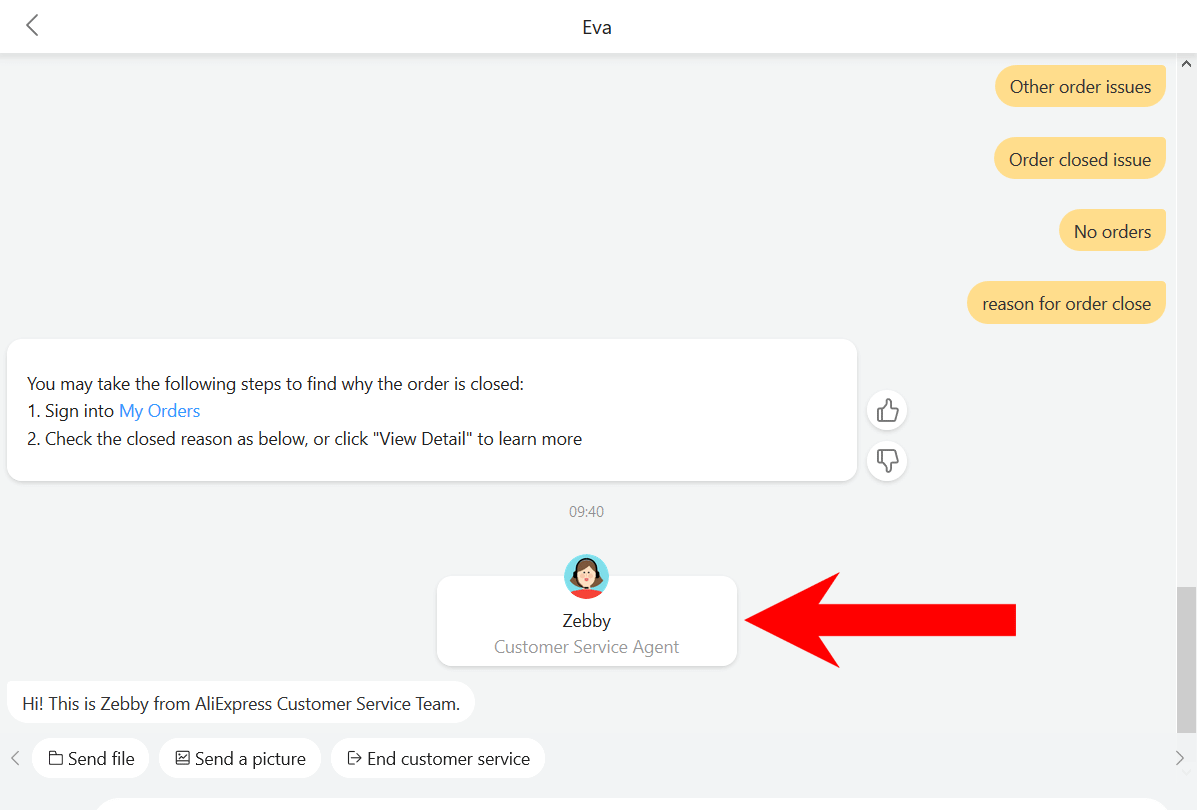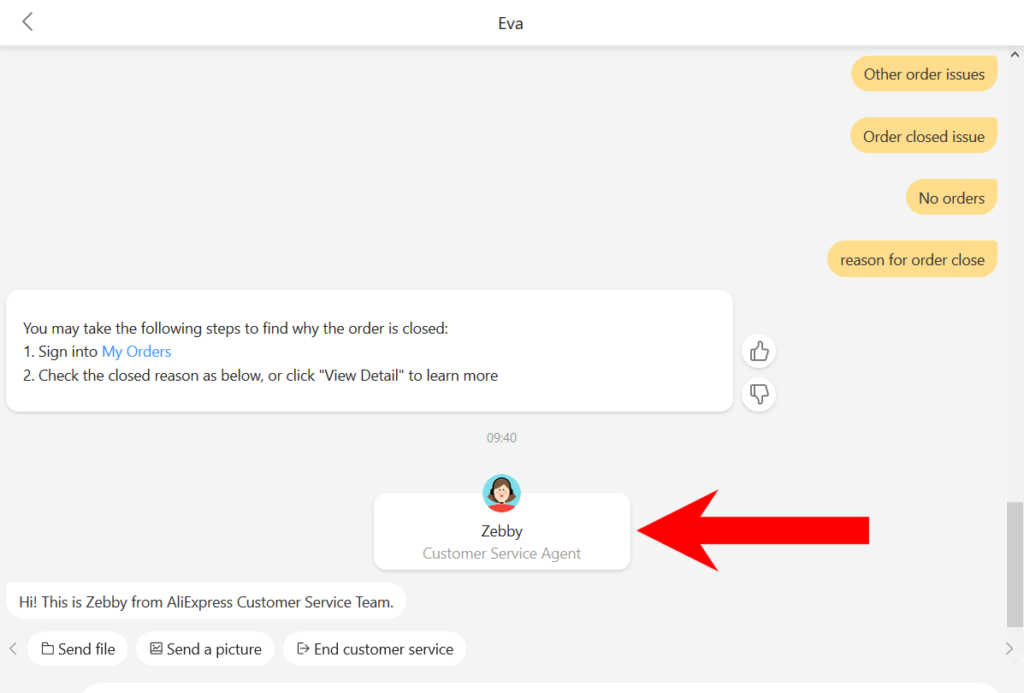 Usually, you will be put through immediately, although if there are many people in the queue, it may take a few minutes to access a personalized chat. When you finish the conversation, you can close the chat directly or leave and evaluate the attention of the person who helped you.
Do I have to speak in English?
In the past, the best way to contact sellers or the platform itself was to speak in English. But in recent years, the platform has made a great effort to improve its presence in other countries, so now there are agents that may speak other languages on AliExpress.
Normally the robot itself detects that you are writing from your country and they try to put you with an agent that speaks the same language as you. If you get an agent who speaks English, ask to speak to an agent in your language and they will put you through to one, if available.
Can I send documents through the chat?
The agent will be able to access your order history. You will still be able to provide documents such as files, photos or even choose from all your orders to send the order number. We recommend you to have everything at hand to make the chat smoother.
Other AliExpress contact methods
If after following these steps you do not manage to contact an agent, AliExpress has other ways of contact as we explained in our article how to contact AliExpress. Let's review other more common and effective contact methods:
Through their social networks, on Instagram or Facebook.
By phone, by requesting a call (this is only available in certain countries).
By e-mail, by sending a message to AEbuyerservice@aliexpress.com.
Is talking to an agent the best option?
When we are presented with a problem, we need to solve it and we want to do it as soon as possible. That's why most of us think that contacting an agent is a good option. After using AliExpress' customer service for many years, we know that the response can be very different depending on the agent we are dealing with and in some cases an agent can give us information on how the process works.
However, we have also had very good results when we have contacted AliExpress by e-mail. If on our message we indicate our entire problem and add all the evidence, the message can be escalated to a supervisor directly. We will also get a written response, which can be useful if the problem is not solved.
Our opinion: fast but not always useful
In short, although many people say that contacting an agent is impossible, in reality it's usually very easy: it's like doing it through your phone company's robot. You have to try to skip the previous questions, but in the end, you will be able to contact a real person.
Chat is a fast contact method and immediate response. So even if they won't always solve our problem, we don't lose anything by trying. And if we are not satisfied with the solution, we can still use other ways of contact.