Take a look at this cool image: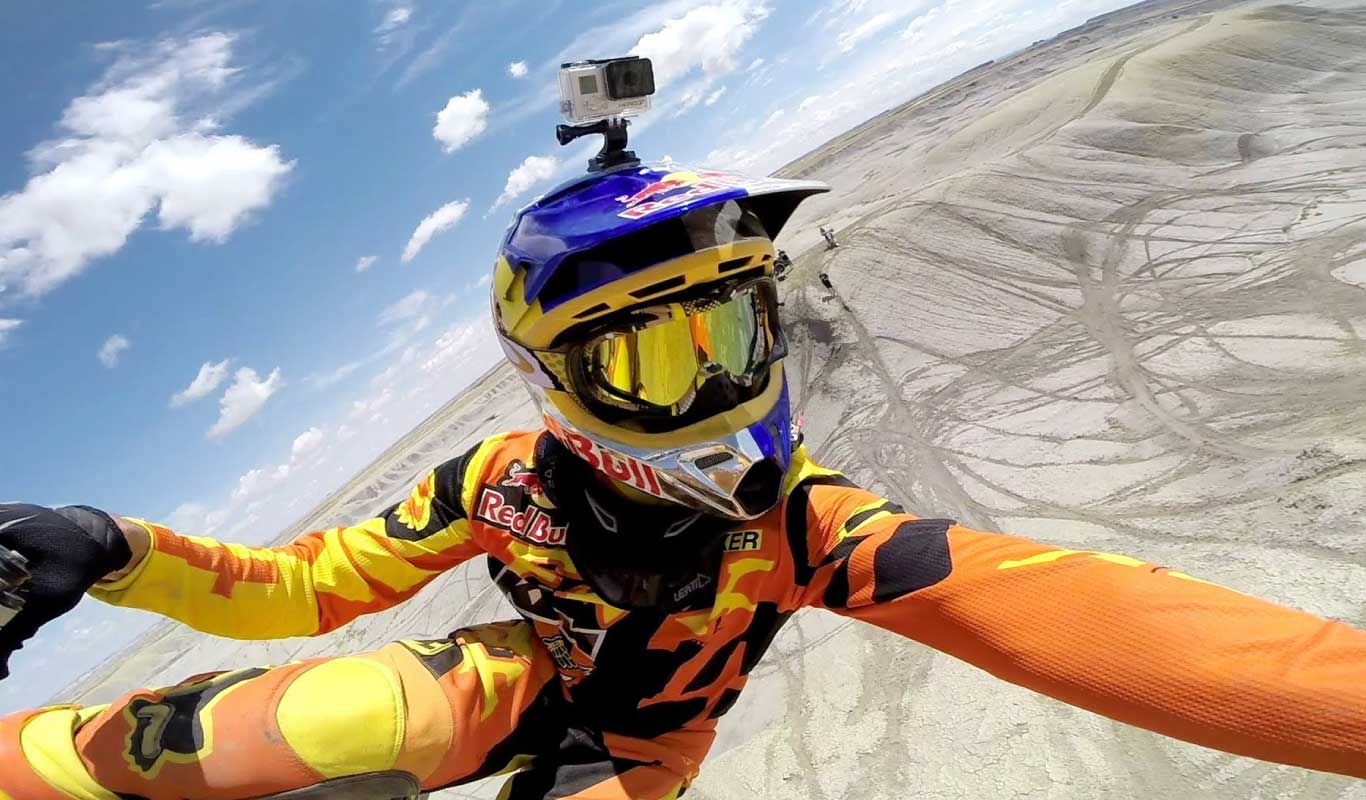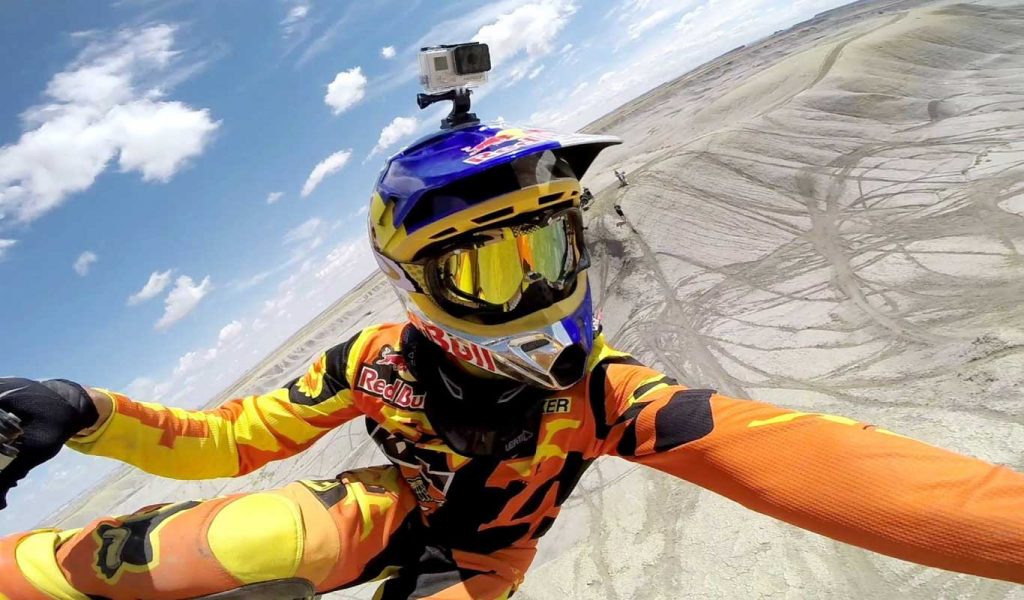 Wouldn't you like to have one as well? Well, stay put for the ULTIMATE guide to purchase a cheap GoPro style camera, let's go!
AliExpress, the ideal place to find cheap GoPro style cameras
You have three options: white label Chinese GoPros, SJCAM and Xiaomi ones
We might have started this article taking about GoPros, but I have a confession: there are no original GoPro cameras in AliExpress. But hey! Don't leave us yet, we are going to give you the perfect alternative to GoPro originals.
The first ones are the SJCAM cameras, a cheap Chinese version of the GoPro. It used to be you could only find this camera in Chinese shops, but now it's become so popular big of international shops like Amazon are starting to commercialize it as well at a higher price (reselling them from shops like AliExpress).
Secondly you have the white label GoPro. You can find them on AliExpress and  they are cheaper than the SJCAMs. I know this might sound strange, especially if you came here looking for original GoPros, but not to worry, at the end of the article we'll also talk about original GoPros, like this one.
Finally, we'll take a look at the Xiamoi Yi, a brand that is quickly becoming well known in the sports sector.
1 – Chinese white label GoPros
Unlike other brands, the word "GoPro" isn't taboo in AliExpress, so a lot of sellers use it to refer to their "action cameras", a bit like calling a tissue, a Kleenex.
Because they use this word, a lot of people think they are getting an original GoPro for 55€. Needless to say, this is not the case. This is what they look like: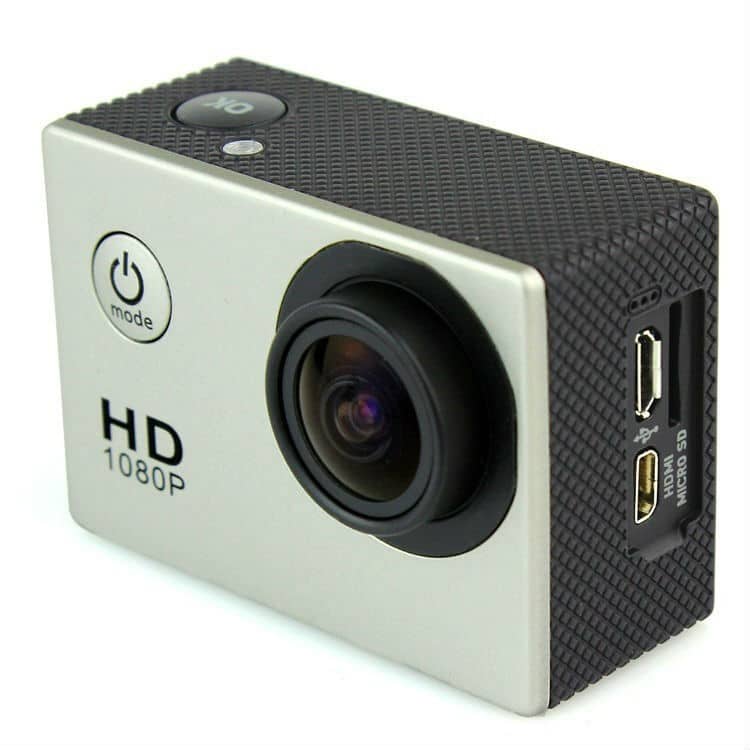 They look very similar (we'll get into details in a moment), but they aren't original GoPro cameras and they're not replicas either (they don't copy the logo).
To find them in AliExpress all you have to do is go to this category. We already sorted the results by number of sales. You'll find tons of SJCAMs and even some Xiaomi, among other "GoPro style" cameras (white label ones). There are also a few made by Eken, which we've been told are basically GoPros without the logo.
Interesting fact: the "white label" ones have the same denomination as the SJCAM, I'll explain now.
2 – SJCAM: what it is + model comparison chart
SJCAM is probably the best known Chinese GoPro brand, having made sports cameras available for everybody: you no longer have to spend an arm and a leg on a GoPro Hero 3, when you can find the SJ4000 which is almost as good, for 45€.
The models offered by SJCAM are the following:
Minimum prices found the 05.05.2016. Prices are rounded up*
I hope this chart is useful, I spent hours on it 🙂
What does it mean when it says these cameras have WiFi?
Thanks to WiFi, not only can you connect the camera to your computer to transfer the images (something you could easily do with a cable as well), you also have complete control from your smartphone: you can see what you camera is focusing on in real time, take pictures and videos using the phone as remote control and even access the configuration options.
How to know if a camera is an SJCAM or a white label
White label sellers in AliExpress tend to use the name of the equivalent SJCAM camera to refer to their products, so you have to pay close attention to what you are getting to know if it's a SJCAM or not.
Check the pictures to see if the cameras feature the logo on the bottom right: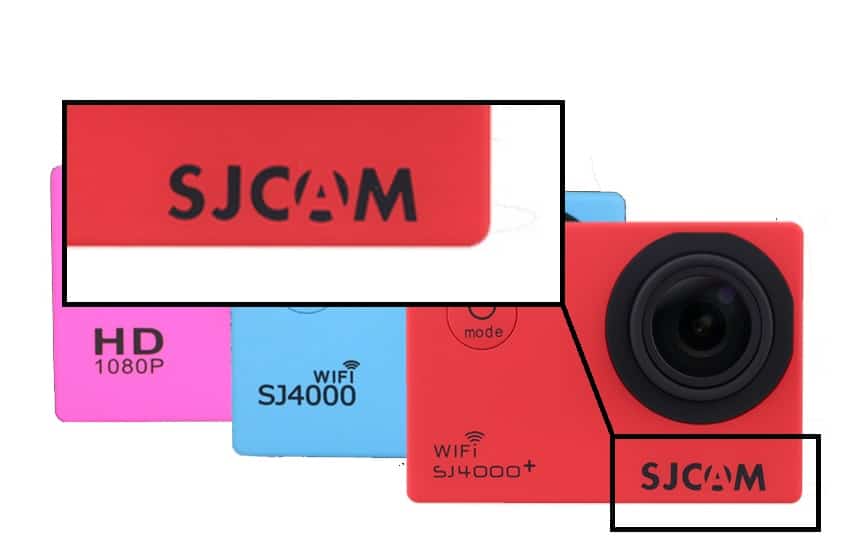 Also take a look to see if the seller mentions the word "SJCAM" on the description of the product:


For those of you asking if you can trust a seller using the name of the product: the answer is yes, as long as the seller has been on AliExpress for a while. If the seller has two medals and has only been in AliExpress for a year, don't trust them, but if you find a shop that's been around for five years and has a two crown ratings, you can be sure they aren't going to risk it on replicas.
Warning: careful with sellers offering fake SJCAMs
I've seen various websites warning their readers that sellers are offering fake SJCAMs. Not white label ones, fake, because they even copy the box and all the logos of the original SJCAM (they probably don't have a brand or stamped their own on the cover). To make sure you are getting an original just purchase it from a good seller (a diamond rating or more) and check customer reviews.
Once you get the product, if you have any doubts about its authenticity, you can download the app (Android here and iTunes here ) and scan the QR code at the side of the box: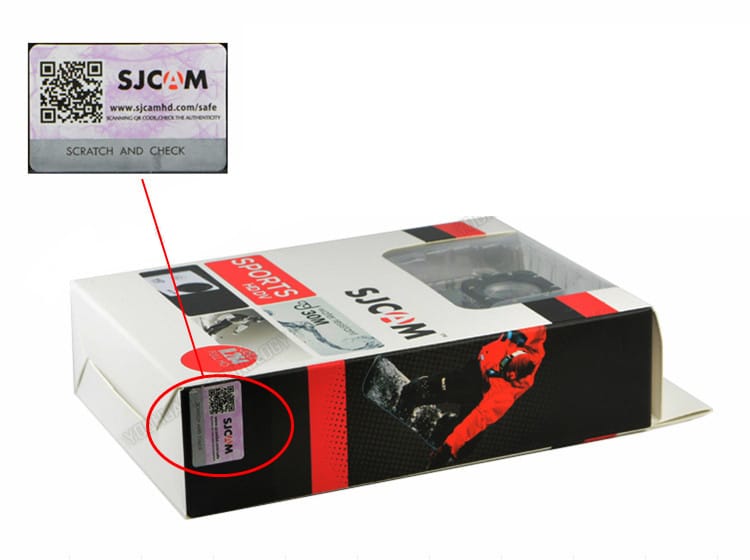 If you can get into the app from the code, its original. Yet another option is to scratch the code and check on the SJCAM website.
Brief review of the top-rated model: the SJ4000
*Remember that this name is used to refer both for SJCAM and white label brands
Among the many models found in AliExpress, there is one in particular that's getting great reviews and selling spectacularly well. We're talking about the SJ4000. This mini videocamera has a resolution of 1080P and 30 frames per second, the same as the GoPro Hero 3.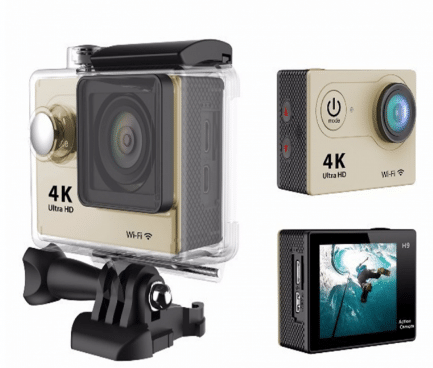 The SJ4000 is waterproof, but you can't submerge it: it can get wet but you can't put in underwater without a cover. To solve this, the camera comes with a waterproof cover that will also protect it against damage when filming you adventures.
The SJ4000 also includes some cool accessories. Depending on the seller, it will also come with a helmet, bicycle and belt support. You also have two mounting bases, in case you brake one. Oh, and for those of you who like to mix it up, it also comes in different colors.
Attention: Depending on the seller you choose, the SD mini card might no be included. If this is the case, we recommend you buy the card from the same seller, as they usually offer them as well and you'll be get both items at the same time. Most sellers offer packs of camera + accessories detailed in the description of the product.
Here you can see an example of a video taped with an SJ4000 (watch in HD to see all the details):
Go see the SJCAM cameras in AliExpress
3 – Xiaomi and it's Xiaomi Yi
Xiaomi, the Chinese technology giant, is now making action cameras like their Xiaomi Yi Action Cam. Released a year ago, we can honestly say it looks awesome.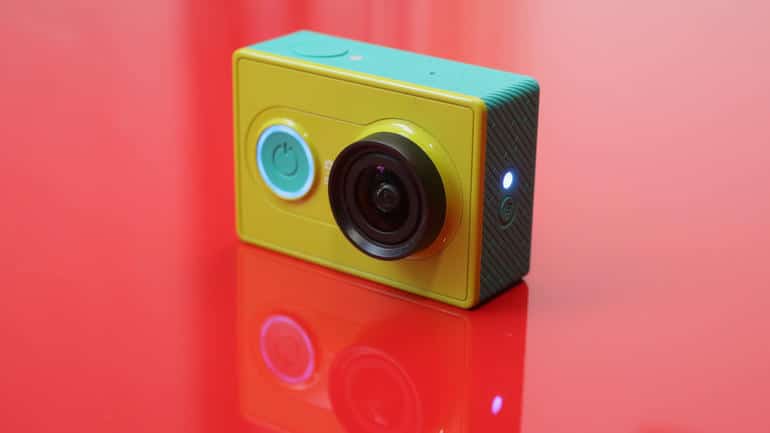 You can find them in AliExpress for 63€ and in Amazon for around 78€.
Features of the Xiaomi Yi
Lens: 16MP

Maximum video resolution: 1080P 60fps

WiFi: yes, up to 100 meters reach

Bluetooth: 4.0

Screen: no

Waterproof: 40 meters

Colors: green and white
Keep in mind that the 63€ does not include accessories, if you want the cover, adapter, selfie stick, remote control and other stuff the price is going to go up and will end up being much more expensive than an SJ4000 without accessories. But look at different sellers, a lot of them offer accessory packs and you might find one that works for you.
Here is a video of images filmed with a Xiaomi Yi (remember the HD 🙂 ):
Best shops to purchase "action cameras" and accessories in AliExpress
Like always, to make the search easier, we've selected some of the top rated sellers offering GoPro cameras and accessories in AliExpress:
Best sellers offering GoPro style cameras
Best shops to get GoPro accessories
What do AliExpress customers think about all this?
Like we mentioned earlier, this product is becoming extremely popular in AliExpress and is quickly consolidating itself as one of the best alternatives to an original GoPro. Customer ratings are extremely positive: just take a look at the reviews for this GoPro with more than 2000 sales.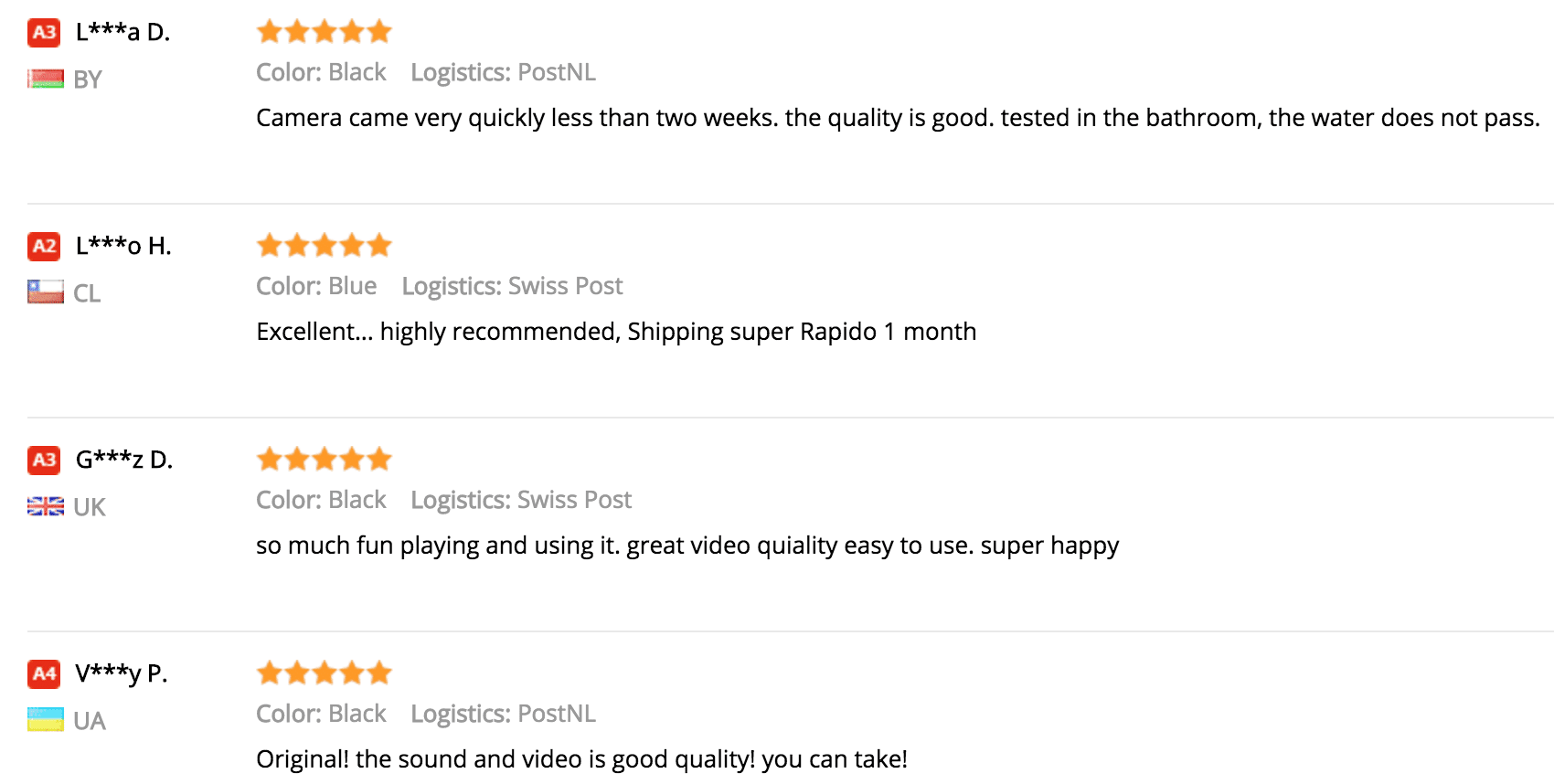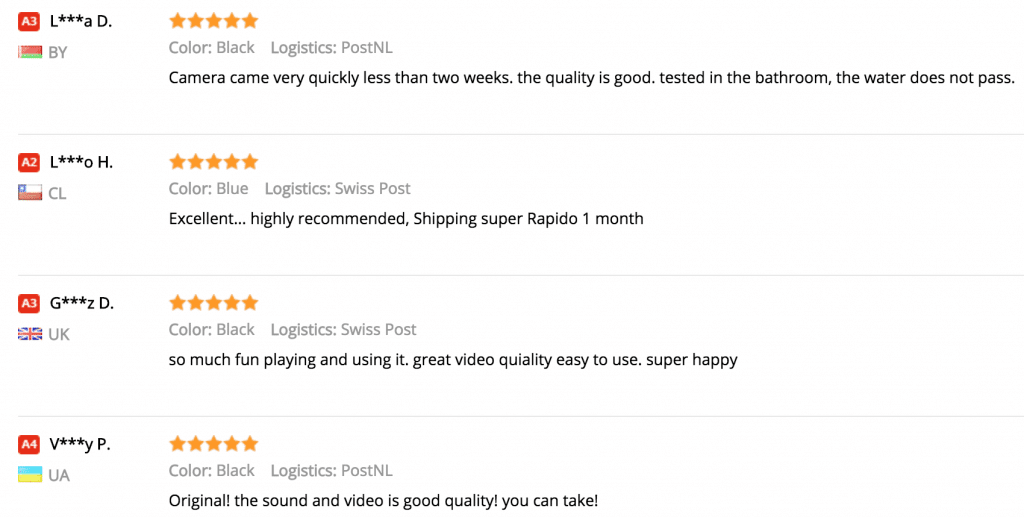 I've had a couple of these cameras (by SJCAM) and they are a great substitute for the original GoPro. For the price of a SJ4000 you are getting a product that is almost the same as the GoPro when it comes to aesthetic and technology that also is compatible with all of GoPros accessories.
Basically you are spending 60€ with all the accessories included on a product that would otherwise cost anywhere from 270€ up to 470€ , like the GoPro Hero 3 and 4.
Now let's talk about getting an original GoPro
Not convinced by the GoPro alternatives? Set on getting an original? Let's talk about where you can get the best deals.
As you may already known GoPro has tons of models in the market and lately it discontinued some, so we've decide to talk about the news models and compare prices. Click here to see the prices of these cameras and compare them on Amazon.
What's the best GoPro?
Figuring out which one is the best GoPro, really depends on what you want your videocamera for. Although all models are good, it will depend on the use you want to give and how much money you want to spend.
General consensus says the best one is the GoPro Hero 4 Black Edition, but as you might imagine, it's also the most expensive one. Why is it the best one?
Because of it's features, up to date with the latest technologies

Because the GoPro HERO 4 is considered one of the best action cameras in the world.

Pioneers in the 4K vide at 30 frames per second

Rear incorporated touch screen from the Hero 4 Silver edition

Potent processor

30 pictures per second

12 megapixel camera
On the other hand, the GoPro Hero goes for around 120€. It's the cheapest one, but its probably the oldest. If you are looking for cheap models, hurry up, cause old models get discontinued fast.
Comparison between eBay and Amazon
Now I'm going to tell you what I do each time I decide to purchase something on internet: compare platforms. I've stated to notice that, depending on the product, prices can vary a lot in different platforms. So, when I look for something in AliExpress, I also look for it on eBay and Amazon to compare, prices, models, opinions, shipping…
In this specific case, I'd choose Amazon to get an original GoPro.

You can get your product in 24 hours. This is one of the main advantages of Amazon. As for prices, depending on the model, you can find GoPro for something in between 120 and 400€. Plus, as you already known, Amazon is one of the best platforms known worldwide for it's incredible customer service. My honest opinion is that this is the best shop to get cameras on internet: it has better prices than any other shop.
Another option is eBay, but you'll run into the same trouble you would in AliExpress. There are cheaper models, but they aren't GoPros. As you can see in the following image, sellers call them "GoPro type" or similar. Remember that to filter results in this platform you have to select the option "New" to not get any second hand GoPros.

As for the price, take into account eBay's shipping expenses. Just to give you an idea, neither Amazon or AliExpress charge extra for shipping.
In conclusion: where, how and what GoPro camera should I buy?
As we mentioned before, these products are becoming increasingly popular and are revolutionizing the world of action and sports cameras. Customers are giving the product incredibly high ratings and leaving really good reviews (for both originals and white label ones).
Therefore, it's really up to you, how much do you want to spend? Do you want a branded camera? Are you willing to give a Chinese brand a shot? etc… All in all, the best place to get original GoPro cameras is Amazon, because they have incredible discounts. However, if you don't want to spend as much, try going for the new SJ400 in AliExpress, or purchasing a second hand one on eBay.
We hoped this guide was helpful and, as always, if you are having any doubts or would like to share your own experience, leave us a comment :).
Go to AliExpress