In AliExpress we can not only find memory cards, pen drives, chargers or other cheap accessories, there are also PC components at very good prices such as RAM memories or graphics cards.
In this article, we'll be exploring the best graphics cards you can find on AliExpress.
Deals of the day: find discounted graphics cards today by clicking here.
Opinions on Chinese graphics cards
The graphics cards you are going to see below are from Chinese assemblers using NVIDIA or AMD chipsets, so their components are well known. This means that the differences will be in the small details.
So if you are looking for a graphics card, the difference between the popular brands and the Chinese ones are the small details: both use the same chipset, and therefore have the same power, however in the Chinese ones you will save money and get a better performance: they have more RAM than in most famous brands.
There are several different brands, from those that offer inexpensive graphics cards to those that are looking to make the leap to the international market with their high-end cards at an affordable price.
Below we will highlight the best brands and analyze what each one offers.
Top brands
Veinida: best sellers
Official store: Go to the store
Among the Chinese graphics cards, the Veinida brand are the best sellers. And it is not surprising because they have a very low price, if we take into account their performance.
They are sold directly through their official AliExpress store which you can access from this link. As you will see from the buyer reviews, it is a very reliable brand.
One of the features we like most about their graphics cards is that they are made with Nvidia or AMD chipsets, as they are legitimate assemblers of these manufacturers.
Among their best-selling cards are the Veinida GTX 750 or GTX 960. Both have 4GB of GDDR5 memory with 128-bit bandwidth, but the GTX 750 model has a processor frequency of 1020 MHz and the GTX 960 increases to 1203 MHz.
Depending on the model we may have support for HDMI, DVI or DisplayPort outputs for higher resolution. It also offers graphics cards with higher memory and capacity for gaming. You can find the best Veinida graphics cards by clicking here.
SZMZ: gaming power
Official store: Go to the store
If you are looking for a very powerful gaming card, we recommend you to take a look at the Szmz brand on AliExpress: their specialty is professional graphics cards at a very tight price.
Although it is a newer brand, in a short time they have achieved a large number of sales because honestly if you are looking for a cheap high-end graphics card is the best option as you can see in their official store which you can access from this link.
Their best selling model is the SMZ GTX 960, which uses the same chipset and has identical features to those of Veinida except for some details such as the number of connectors.
But it also has other powerful cards with RX 580 or GTX 1660 chipset, ideal for those who want to play with maximum quality and that you can find by clicking here.
Yeston: for the most demanding
Official store: Go to the store
This brand specializes in AMD or Nvidia graphics cards and although it does not accumulate large sales like others, it offers a wide variety of models at an affordable price. We recommend you to browse their official AliExpress store from this link.
Among its best-selling graphics cards we can find the Yeston RX 550 with AMD chipset, its main feature is that it supports 4K. Thanks to its 4GB of DDR5 memory, the processor frequency is 1183 MHz and it has Displayport, HDMI and DVI outputs.
But as we have already said it has many other models of graphics cards with AMD or Nvidia chipsets, since it is an authorized assembler of both brands. You can find them on AliExpress by clicking here.
Maxsun: maximum speed in your graphics
Official Store: Go to store
This brand is becoming very popular for its great features, on par with the most popular graphics cards on the market. We are not talking about simple graphics cards for average users, so if you are looking for a high-end card at an affordable price, you have to look at all the ones offered in their official store from this link.
Their best selling card is the Maxsun GTX1050Ti. It has 4GB of DDR5 memory with a frequency of 1291 MHz. Its system allows ventilation of the graphics card even in the most demanding situations. It has one Displayport, one HDMI and one DVI output with a maximum resolution of 4096 x 2160 pixels.
But you can also find graphics cards with impressive cooling systems and the latest chipsets on the market: GTX 1660, RTX 2060 iCraft, RTX 3060, RTX 3070… With different RAM configurations. You can find all their graphics cards here.
Graphicsplayer: for videogame lovers
This is one of the brands of Chinese graphics cards that has better value for money, compared to those we have seen so far, and this is noticeable in their sales, as in a short time some of their models have reached thousands of sales.
Graphicsplayer assembles Nvidia or AMD graphics cards, although the most successful ones on AliExpress are the former. It does not have an official store, but all its models can be found from this link.
Among its best-selling models we find some models that we have already talked about so far: GTX750TI, GTX750, GTX650… Always under 100 euros and with excellent reviews from other buyers of the site. If you want a cheap graphics card with good results, it is worth looking at the ones from this brand, click here to see them all.
Gigabyte: low-cost Nvidia cards
What we like most about Gigabyte graphics cards is that they have an excellent cooling system. They work with original Nvidia chipsets and have a very tight price for those who need a simple card or for occasional gaming.
One of their best-selling cards includes the GTX 960 chipset with 2GB DDR5 configuration and 1,190 MHz clock frequency. It can reach a resolution of 4096 x 2160 pixels. You can find this and other cards from Gigabyte (some with used condition) by clicking here.
Sapphire: for AMD lovers
AMD graphics cards also have good quality and their price is tighter. The Sapphire brand specializes in this type of cards and they are very economical as you can see in this link.
One of the most famous cards of the brand is the Sapphire RX 560 with AMD chipset. It has 4GB of DDR5 memory, a frequency of 1,216 MHz and a maximum resolution of 3840 x 2160. It has HDMI, DVI and DisplayPort output. Ideal for Fortnite.
You can also find other cards with AMD RX 570 or RX 580 chipset. All of them stand out for having a powerful ventilation system. You should note that some sellers use Sapphire graphics cards used but in perfect condition (used before to check that they work perfectly).
XFX: excellent cooling system
If you are looking for a powerful and reliable graphics card, the XFX brand offers models with AMD Radeon chipset with a good ventilation system (most have a dual fan) and multiple outputs.
The best seller is the XFX RX 580, a graphics card with 4GB of 256-bit DDR5 memory with a clock frequency of 1,366 MHz. The best thing is that it has 1 HDMI output, one DVI output and three DisplayPort outputs.
The XFX brand also has other cheaper options with RX 560, R9 chipsets… Note that some sellers offer cards already used but fully tested before shipping. Find them all by clicking here.
HUANANZHI
This store specializes in motherboards but also has high quality graphics cards with original chipsets from Nvidia and AMD. It has an official store on AliExpress which you can access from this link.
Among the best sellers we have its GTX 750 Ti and GTX 960 graphics card with 2 and 4 Gb of memory. But you can find the latest chipsets of both brands. Unlike other brands, Huananzhi takes great care of the cooling system.
The best thing is that they have a wide range of prices so Huananzhi graphics cards are ideal for both beginners and gamers who need power. You can find them by clicking here.
Asus Nvidia
Finally, although our article is about white Chinese brands of graphics cards, we also find it interesting to inform you that in AliExpress you can also find original Asus Nvidia graphics cards.
Some are cheaper than in other online stores and already accumulate sales, also with the advantage of having free shipping to most countries in the world. You can find them at this link.
How to know if it is a new or used graphics card
As we said before, some of the cards you will find are used.
It is very easy to distinguish between a used card and a new one, in the web version you just have to scroll down to the middle of the page, click on Details and look for "Item Status":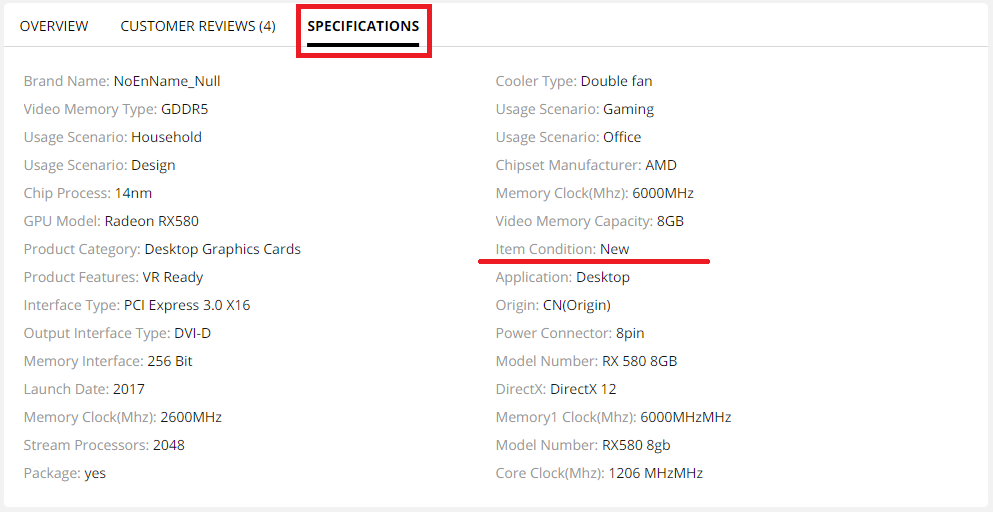 In the app it is even easier, the information is highly visible just below the product name.
Understanding specifications
The graphics card is a very important part in the proper functioning of our computer: it is in charge of processing data from the CPU and sending it to an image output device, either a monitor or a TV.
Having a good graphics card is not only necessary to be able to play games on the computer with sufficient fluidity, it is also very useful for designers and architects who use post-production, rendering and 3D modeling programs.
Its main features are the following:
Internal memory and processing: The more internal memory our card has, the more graphic information it can handle. That is to say, for games or 3D models with a lot of details we will need more RAM. It is also important to pay attention to the bandwidth (GB/s): it is better to choose a card with less GB of RAM but more bandwidth.
Memory clock and core clock: These two values refer to the working frequencies of the memory and the core, the higher the value, the better our card will work as it will be able to access the memory faster and have more computing power.
Connections, power supply and outputs: It is important to pay attention to the power supply of the graphics card, some are powered directly through the slot while others need a connection to the power supply. There are also different types of video output: VGA, HDMI, DVI, DisplayPort….
Monitors: Although most of us only use one monitor output or 2 if you're a lucky one, it is possible that you need to output images from your PC to more than 2 monitors. If this is your case, we recommend that you take this into account before choosing your next graphics card.
GuardarGuardar