Oftentimes, buyers looking for a great deal end up making their purchases on AliExpress. This Chinese platform has been around for years and it's well-known among online buyers due to its amazing deals and catalog that offers a wide array of products.
A common concern among AliExpress users is related to the marketplace's shipping processes: How does shipping work? How long will my order take to ship? When will it arrive at the desired destination?
In this article, we will explain everything you need to know about AliExpress' shipping to the United States.
How long does AliExpress take to ship?
AliExpress' shipping timeframe varies because of different reasons: if the order is coming from China or a warehouse in a different country, or a warehouse in the United States; the shipping method you're using, and other particular situations that may arise during the shipping period.
Usually, AliExpress packages tend to take between 3 and 60 days to arrive, depending on the reasons we listed previously. Shipping times are also affected by Chinese holidays. For example, during the Chinese New Year in February, China is completely shut down for about 2 or 3 weeks.
AliExpress orders that are shipped from China usually take around 5 to 60 days to arrive; meanwhile, orders shipped from Europe to another European country take 5 to 7 days to arrive approximately. If, by any chance, the seller is in the United States, the shipping period can be as fast as 3 days.
The best way to know how long your order will take to arrive is by looking at the estimated delivery date that appears on the product sheet.
Sellers tend to give buyers an estimate of the delivery time. This estimate depends on the shipping method selected, but the actual timeframe will depend on the following factors:
Shipping method
AliExpress offers countless shipping methods, easily differentiated between the site's courier offers and the offer from private couriers. Once you're ready to choose your shipping method, the site will show you a screen with the estimated delivery time, the cost of shipping, if the method allows for tracking, and the carrier that will deliver your order.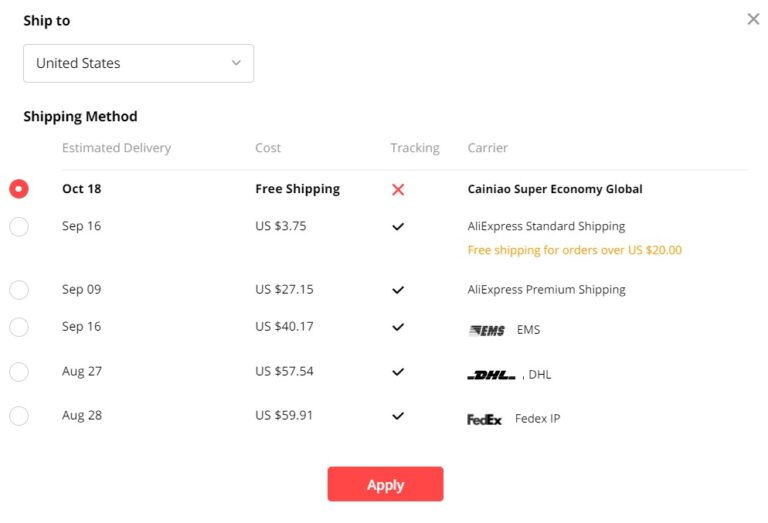 To get a better understanding of the approximate delivery time of each shipping method, we can separate the shipments by category:
Ordinary shipments don't allow for tracking and can take from 20 to 60 days to arrive. This shipping can be free of monetary costs, but it takes the longest to arrive.
Certified shipments allow tracking and can take from 10 to 45 days approximately. The AliExpress Standard Shipping option works as a certified shipment with tracking and in some cases, can be free if your order is over a certain price.
Private courier shipments are the quickest since they can take from 5 to 10 days to get to you. However, their cost is high, and you almost always have to pay customs when they get to your country (if you've ordered from a different country). Packages ordered under AliExpress Premium Shipping are usually handled by private couriers.
These are the shipping carriers that you can find on AliExpress:
Cainiao Super Economy
This shipping method is run by the Alibaba group and provides extremely cheap shipping on orders purchased on AliExpress. This shipping method is often marked as free since the delivery cost is often included in the price of the product.
Nonetheless, packages ordered through this method tend to take between 30 and 50 days to arrive. Besides, Cainiao Super Economy and Super Economy Global packages can't be tracked, despite the tracking number that you'll receive with your order; the package will only be tracked within China.
Cainiao Super Economy for Special Goods
This method is a special version of the previous one because it includes end-to-end tracking information. However, this shipping method can only be used on items that have a value of less than $5 and weigh less than 4-5 lbs.
Cainiao Super Economy for Special Goods is faster than Super Economy since the packages arrive within 20 and 40 days, but it is slightly more expensive. It's an ideal shipping method if you're looking for a cheap shipping option that also has tracking information.
Cainiao Expedited Standard
This shipping method also includes end-to-end tracking information for a very good price. Cainiao Expedited Standard is almost twice as fast as Cainiao Super Economy; it takes about 20 to 40 days to arrive in your country, and it includes tracking information.
This method is similar to the previous one, but the biggest pro that Cainiao Expedited Standard offers is that it doesn't have any restrictions on package size.
AliExpress Standard Shipping
This method is quite affordable, being one of the cheapest among the cheapest methods that ship from China. It offers delivery times between 15 and 45 days.
In comparison to Cainiao Super Economy, AliExpress Standard Shipping is faster and includes tracking information. This method is the one that offers one of the best balances between shipping times, cost, and traceability.
AliExpress Premium Shipping
This shipping method is a faster and pricier version than AliExpress Standard Shipping because it provides delivery by air. The estimated shipping time for Premium Shipping is of about 7 and 14 days. It also provides end-to-end tracking.
AliExpress Premium Shipping is significantly cheaper than other air shipping methods such as EMS, DHL, and others. It offers a good balance between speed and cost if you're looking to get your package quicker.
ePacket
If you're interested in dropshipping, this method is quite popular because it's fast and inexpensive. However, it has a few setbacks, such as package size restrictions and declared value.
In order to quality for ePacket, the package must not exceed:
4.4 lbs in weight
$400 in declared value
36 inches in total, including the height, length, and width.
ePacket takes 7 to 30 days to ship, and it's the best method if you need fast shipping at a decent price.
Yanwen Express
This method competes directly with AliExpress Standard Shipping. It also offers tracking. Yanwen takes around 25 to 30 days to deliver.
To keep prices low and a quick shipping timeframe, Yanwen works with other existing services such as China Post and DHL to provide this service.
SunYou Economic Air Mail
One of the cheapest ways to ship from AliExpress, this is a method that is a direct competitor to Cainiao Super Economy. The average delivery time for this method ranges from 40 to 60 days.
However, this method does not offer end-to-end tracking, and it's not ideal for e-commerce owners, as the shipping times can be quite excessive; but it is to be expected for such a cheap service.
China Post Air Parcel
This shipping method is a mid-range service comparable to ePacket. However, ePacket is significantly cheaper (as long as your order meets the package requirements). It takes between 7 and 30 days to deliver.
EMS
This method is a subsidiary of China Post that offers fast delivery times by air to over 200 countries. The shipping timeframe ranges from 5 to 10 days, which is quite competitive in comparison to carriers like UPS, FedEx, and DHL.
It offers end-to-end tracking, and you can ship packages of up to 88 lbs. These packages tend to have higher priority when going through customs, making the delivery faster than most methods.
Private couriers (FedEx, DHL, UPS, TNT)
Private couriers are the fastest and most reliable shipping methods when shipping and delivering products purchased on AliExpress. Delivery times take less than 5 days (in most cases), but the quick delivery makes this method the most expensive one.
AliExpress Processing Time
The processing time is the amount of time that it takes a seller to fulfill an order, pretty much from the moment the order is placed up until the items are shipped. Usually, it takes 1 to 5 working days to process an order on AliExpress, and in some cases, it may take just one or two days if the supply of the item is enough.
However, when the size and quantity of the item pose a challenge, processing time tends to be extended. These are some of the steps that the seller follows when processing your order:
1. Accessing and locating the inventory
After you've paid your order and the payment has been confirmed, the order enters the "Processing" status. The supplier will get a notification that informs them of a new order, and they must check the availability and location of the items in the warehouses to follow through with the purchase.
Most suppliers use a warehouse management system that allows them to track inventories in real-time. During this step, the supplier checks their inventory in comparison to your order to determine if they have what you've ordered and where they should get it from the warehouse.
2. Your items are picked in the warehouse
Once your items are located, they get picked up from their corresponding locations within the warehouse (or warehouses). Then, they bring them to a central location for packaging.
3. Items are packed
The supplier sorts the items and wraps them in a protective cover. The products are sorted according to shape, size, design, and material. Depending on the type of product, different packaging materials can be used. Customized packaging is sometimes offered, especially when it comes to fragile items.
4. Preparation of shipment documents
After having packed the items, if they're ready for shipment, the supplier will prepare the relevant documents to follow through with the delivery. Invoices, shipping labels, packing lists… All these documents will be useful when the time to clear customs comes. This also helps the delivery providers to take care of your package according to its contents.
5. Arranging the shipping method / Order picked up by the chosen carrier
Once everything is ready to be shipped, the seller will contact the carrier you've chosen to pick up your order for shipping.
After having followed through with all the preparations, your chosen carrier should arrive on the scheduled date to pick up your package. Here's where processing time ends and the beginning of shipping time starts.
Frequently Asked Questions
When it comes to shipping, there are quite a few questions that tend to arise among buyers, so we'll try to respond to the most common ones below.
Is AliExpress Standard Shipping worth it?
It is. This method provides quality delivery to customers, even if it takes longer to ship.
How do I track my order?
If the shipping method you've chosen allows tracking, go to the My Orders/Order section of the website or App and click on Details. Here, all the details of your order should display on a new page.
You can find the tracking number, copy and paste it into the form and click Track Parcel to find the specifics of your shipment. You can also check your tracking process on external sites like 17track.net.
My order is taking too long, can I cancel it?
You can only cancel orders if the seller hasn't shipped your package yet. Within the first minutes or hours when you've placed your order (basically, when it's being verified), you do have the opportunity to cancel it directly. However, between the time the payment has been verified, and until it is shipped, you need the seller's acceptance to be able to cancel your order.
If I place several orders on AliExpress on the same day, will they arrive in the same package?
No. If you've bought products from different sellers, each package is shipped separately. However, AliExpress offers a combined shipping option that you can use if that's what you want.
Will AliExpress let me know that my order has arrived?
Depending on the method you've chosen, AliExpress may or may not show a "Delivered" status on the page. Nonetheless, if you've chosen a private courier as your preferred shipping method, they will let you know your order has arrived at their offices, or if applicable, you'll get the package delivered to your door.