We increasingly value healthy, sustainable and non-animal-tested products, but it is not always easy to find them with the highest quality at a good price.
Today we are going to give you our opinion about iHerb, an online store that, contrary to what it may seem, is not a simple herbalist.
What is iHerb?
iHerb is a US online store that ships worldwide. It has a large catalog, but all its products have one thing in common: they are natural.
In iHerb you have from nutritional and sports supplements, vitamins, makeup and accessories, Korean cosmetics, food, products for your baby and pets…
All this with the added value of buying products much cheaper than in your country and brands that are not available here.
Interested? Then read on.
Is it safe to buy in iHerb?
If this is the first time you hear about iHerb, you may be wondering if it is safe to buy on this site: the answer is absolutely yes.
iHerb has been in business since 1996 and is totally reliable. On each product you can see real reviews with pictures from previous buyers.
Available payment methods
Visa
Mastercard
American Express
Union Pay
JBC
Apple Pay
PayPal
In addition to being able to pay with your credit or debit card, you can also pay with PayPal, one of the safest and most widely used payment methods in the world.
The fact that iHerb accepts PayPal as a payment method is already a sign of trust: the stores that work with PayPal are not afraid to submit to the demanding guarantee that this payment method provides.
What is worth buying at iHerb?
In iHerb you can find thousands of different products, such as many American makeup brands like E.L.F, L.A Girl, J.Cat Beauty or The Physician's Formula and Korean cosmetics like Missha, Heimish or Dr. PAW PAW that you have to try if you are a lover of natural and cruelty free products (here).
Makeup without deception
Something we love is that all products have in their description their exact composition, so if you are sensitive to any ingredient or do not know if the makeup you want is comedogenic or not, you can check the list and see for yourself.
In iHerb you also have available many makeup tools (here) such as brushes, sponges, reusable makeup remover wipes… at very good prices and from well-known brands such as Real Technics or Ecotools.
These items are one hundred percent original, so if you wonder why they are much cheaper in this online store, it is simply because you are buying them directly from the country where they are manufactured.
Natural cosmetics at a very good price
One of the strengths of iHerb is the large amount of natural cosmetics (click here) that you have available at a much cheaper price than what some online stores offer.
You know that as important as taking care of yourself is to do it with products whose ingredients are of quality and are free of parabens and silicones, which in the long run make your skin look dull and with imperfections.
And the best thing is that their prices are very similar to those you can find in sites like Primor, Druni or Douglas, but with a top quality. There is a reason why the United States is the leader in this sector.
Organic food for you and your baby
It is very important to eat as clean as possible, with pesticide-free food. And it is not easy to find quality organic products for our children: there is little variety of healthy snacks and children quickly get bored of always eating the same thing.
If you click here you will see all the selection of organic and low-sugar products you have for the little ones. In addition, before buying them you can check the expiration date and all the nutritional information.
In iHerb you can get them both for babies and for you (here).
Supplements, vitamins, probiotics…
Sometimes we need an extra help to endure the hectic pace of everyday life and for that you have all the supplements, vitamins and probiotics you can imagine (click here), without having to spend a lot of money.
iHerb's own brands
iHerb has its own brands (you can see them here), about 36 in total, with very good opinions from buyers and at very cheap prices that you won't find in any other store.
Be sure to try Sierra Bees lip balms: with natural and organic ingredients, they moisturize a lot, leaving a beautiful glow effect without being heavy at all (click here). They are a bestseller for a reason.
Probiotics are also an essential to have at home and here you have them at a very good price. If you place an order, don't forget to get a few boxes, because in any pharmacy they will charge you the sa
Shop according to your needs
iHerb has a way of filtering its natural products much more effectively than other websites: according to your ailments or needs.
You can find their articles classified in: "Anti-Aging and Longevity", "Ayurveda", "Bladder", "Bones, Joints and Cartilage", "Circulatory System", "Colon", "Cold and Flu", "Nails, Skin, Hair", "Energy", and more that will help you save time by taking you directly to the products that may be good for you.
In addition, you also have the products separated by a color code to choose directly vegan, gluten-free, dairy-free, vegetarian, animal-free, for paleo diets…
With all this you will save time in your shopping and you will not get lost among so many different products to choose from.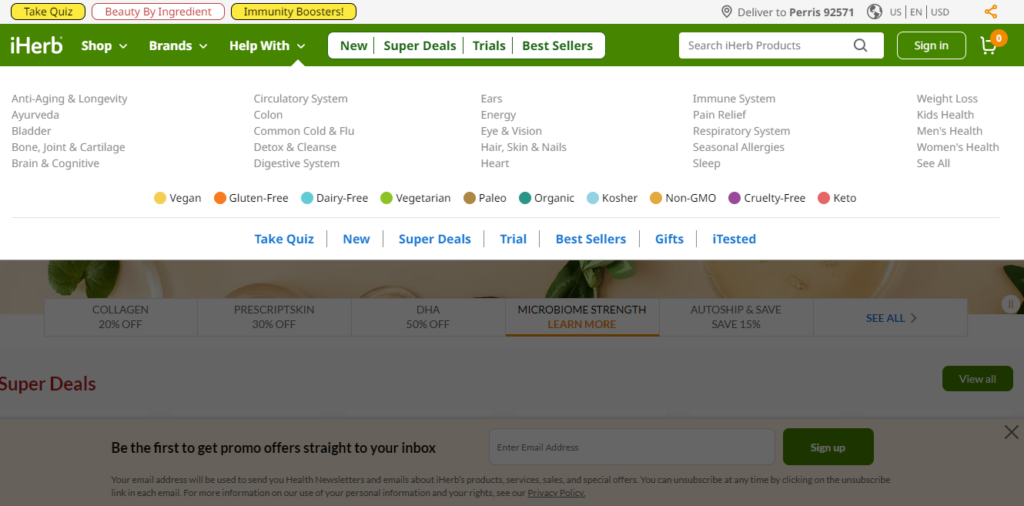 iHerb Rewards
After your first purchase, there are several ways to earn rewards from iHerb:
Invite your friends
At iHerb you have a $5 discount code just for registering and making your first purchase, but also, if you want to continue saving on your future purchases, in the "Rewards" section of your profile (here) you have a $5 discount code that you can copy and send to all your friends.
For each friend who registers and uses your code you will receive $5 and for each existing user who uses your code, you will both get a 5% discount.
Oh, all iHerb brand products are rewarded 10%.
Write reviews
For every review you write (here) you'll get $1 reward and for every helpful vote your review gets you'll get $0.01 (maximum 1,000 votes worth $100).
Be careful with your review to get more votes, making it as real and detailed as possible, and if it is with pictures much better.
Remember that it doesn't matter if it is positive or negative.
Answer users' questions
If users ask a question in your review and you answer it, you get $0.10. These answers can also be voted as useful by users, giving you for each vote $0.01 (maximum 1.000 votes for a value of $100).
How to save even more?
Discount codes and discounted items
In this online store, you also have different discount codes for a selection of products that varies weekly.
You can easily find these items on the front page of the site. If you are interested in a code, just enter it when you complete your purchase.
Don't miss out on trial products
For every purchase you make, you are entitled to add one of the items in this list to your shopping cart (click here).
These items have a super reduced price so you have the opportunity to try different things every time. Something we think is a great idea, if you want to try new products but are not sure if they will convince you or not.
Extra discount at checkout
Many of the iHerb items include an extra 5% discount that you will see reflected when you go to checkout.
For some time now, all products coming from outside the EU have to pay VAT, so this is a way to compensate for this extra expense.
Reviews about iHerb
Shipping
Rating: ⭐⭐⭐⭐ (remarkable)
At iHerb you get free shipping on purchases over $40. If your order is less, the charges are quickly calculated by entering your zip code and depending on the total weight of the order.
We recommend that you try to exceed the minimum cost for free shipping, as it is not very high and the purchase will be much more affordable. You can always try to buy with someone else to split the cost.
You can choose the courier company that will manage your shipment: Seur or DPD. In both companies, you can track your order and the delivery time is about 12-20 days (it usually takes about 2 weeks at most).
The truth is that the shipping has improved a lot in recent times, as before the packages were not tracked and sometimes took more than a month to arrive.
Variety
Rating: ⭐⭐⭐⭐⭐ (excellent)
One of the strengths of iHerb is the variety of brands and products: if a product is out of stock, you can always find an equally good alternative to what you are looking for.
More than 30,000 different items from the United States and Asia are available in this online store, and every time you visit you'll find new items that will catch your eye.
Prices
Rating: ⭐⭐⭐⭐⭐ (excellent)
Throughout this article we have already emphasized that iHerb prices are really good, although it is also true that now we have to pay VAT on all orders coming from outside the EU, so purchases have become a little more expensive.
To make up for it, you have lots of offers, a really good rewards program and an extra 5% discount at checkout.
Quality
Rating: ⭐⭐⭐⭐⭐ (excellent)
iHerb is committed to offering the highest freshness and quality: you can check before you buy all the ingredients, nutritional values and expiration dates of all their products.
In addition, they store and sell all products in air-conditioned premises to ensure their perfect preservation. This is very important in products of this type, so that they do not lose any of their properties.
Customer service
Rating: ⭐⭐⭐⭐ (remarkable)
Although on iHerb's website they advertise that you can contact customer service any day of the week 24 hours a day via chat or email (here), the reality is that the live chat is not always available.
Despite not having any contact phone number, in this case it would not be a cheap option to contact them in this way either.
If you have any problems, do not hesitate to send an email with your doubts by filling out the form they offer. Don't worry because it won't take long to get back to you.
Returns
Rating: ⭐⭐⭐ (passed)
You have 60 days to return your items and 90 days on iHerb branded products ,but only in the case of an incorrect or damaged order, and providing photographic evidence to prove it.
Although in this type of products it is not normal to make a return, they should extend the margin to all items as long as they are sealed.