There is nothing quite like the Nike Janoski: they are the most popular sneakers in the marker and fortunately they're one of the Nike models you can find in AliExpress (you can see them here).
How do I know if the cheap Nike Janoski in AliExpress are originals or fake?
If you clicked on the link above, you might have noticed that most of the sneakers shown in the results feature the guaranteed authenticity logo. For example, take a look at these skate Janoski:

(As I was updating the article I looked for original Janoski Max and couldn't find any ,but as you can see in the picture above, they do have them sometimes, so make sure you keep on looking).
Whenever you see this icon underneath the product, it means that the sneakers have an extra warranty than usual: the seller is so sure of the originality and quality of their product, that if you're not happy they will give you a full refund.
That is to say, if you were to get replicas instead of original Nike Janoski, you can make a claim and AliExpress will give you up to double the price you originally paid. They will also punish the seller, in some cases even closing down their shop.
In any case, AliExpress can be confusing as many originals won't feature this icon. Therefore, to figure out if it's an original or not, here is a few things you need to keep an eye out for:
1 – They use the word Original in the description of the product
If a seller uses the word "original" in the description of the product, and then it turns out to be a fake, you are in luck: in most cases you will be able to keep the fake sneakers and they will give you back the full amount of your purchase. It might not seem like it, but AliExpress keeps a close eye on replica sellers.
2 – The use the name and the logo of the brand
Have you noticed that a lot of Nike sneakers feature a modified logo like this one?
When the logo looks like this in the picture, you can be sure it's a replica. But that doesn't mean the sneakers will come like this. In most of the cases the images are modified through photoshop for the platform, but really feature an exact copy of the original logo. Nevertheless, make sure you check reviews but other customers as sometimes you will find sneakers with strange logos on them.
3 – They aren't as cheap as other products
Another thing you should know is that as cheap as AliExpress may be for some products, when it comes to original products, their prices aren't that much different. Nike originals are one of these products, so if you find Janoski sneakers for 35€, you can be sure they are fake.
4 – What is the seller saying?
If you checked all these things and still aren't sure if the Nike Janoski are real or not, just ask the seller. They will always tell you the truth. In fact it makes no sense for them to lie as they will have to give you the money back if they turn out to be replicas.
Looking for Skate or Max Janoski sneakers?
If you've tried typing Nike Janoski in the AliExpress search bar you might have noticed that there is more Janoski Max, than Skate. Truth is, we've only been able to find one trustworthy seller offering Skate ones. The shop does't really have any reputation but it does have a "valued seller" logo.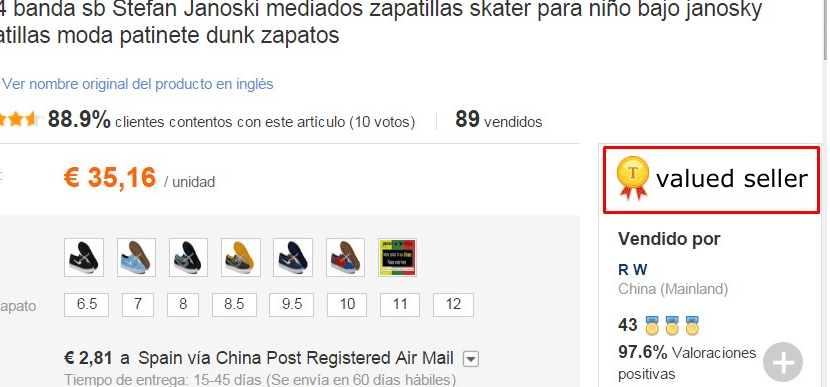 This is a stamp awarded by AliExpress to valued sellers, so we can guarantee the shop is completely trustworthy.
How's the quality these Janoski sneakers?
Because you are purchasing originals, the quality will always be excellent and you will be getting all the warranties you would if you bought one from the official store. However do make sure that before you complete a purchase you check 1) the seller's reputation b) the rating given to the specific product. Given this information, try to choose the best seller.
In the rating section of each product you will find comments on the quality: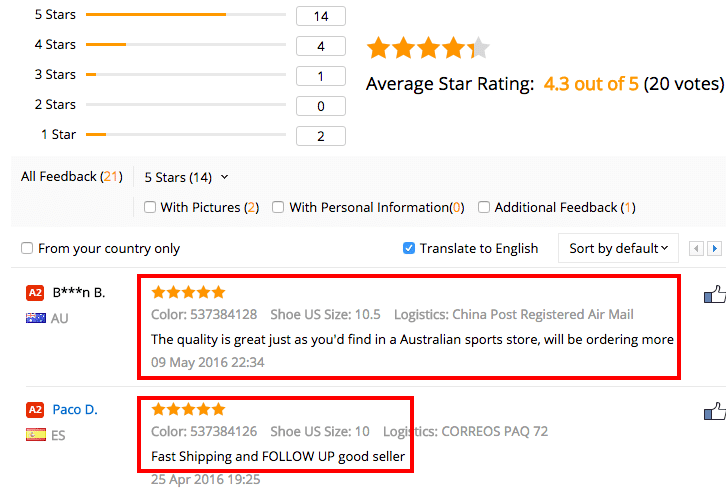 Finally, if you are into sneakers, make sure to check out our article on Nike Air Max in AliExpress.