If you know anything about Pandora charms, you also know they can be quite expensive. In today's article we are going to show you how to find cheap quality jewelry inspired by Pandora in AliExpress (bracelets, rings, charms, beads, watches). And, if you aren't convinced by these products in AliExpress, we'll also talk about how to find the best deals for Pandora originals in other online websites.
The first thing you need to know is that there aren't any original Pandora products so to speak in AliExpress. They do have very similar jewelry at incredible prices. That's why you have to be extra careful when checking the quality of the product to make sure you are purchasing a good quality item. Some pieces are silver plated, some are solid silver, some are good quality, other aren't… In today's we are gong to show you how to get a good quality cheap product.
Here are some examples of the kind of jewelry you can find: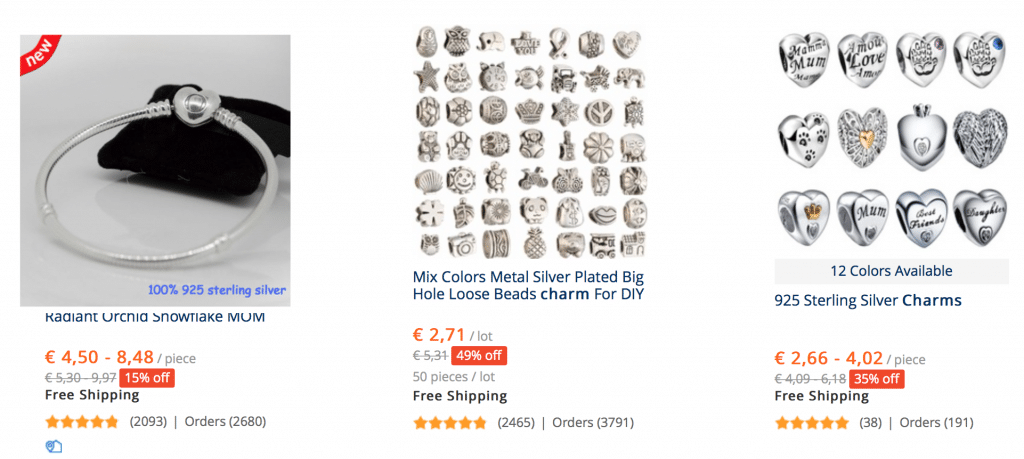 How to find jewelry compatible with Pandora bracelets in AliExpress
There's a few ways to find this kind of jewelry in AliExpress. The easiest way is to look for "Pandora Charms" or "Pandora bracelet silver 925" on the AliExpress search tab, you'll find thousands of charms compatible with Pandora bracelets. These aren't originals or replicas, they're Chinese brands. Given their popularity of the brand, jewelry made in Pandora's style is now referred to as "charms" or "Pandora style". Its like calling tissues Kleenex. 🙂
Now we are going to recommend some shops with good reputation and reviews, shops that have been selling charms, watches, rings and bracelets for quite some time now. Here is some information on each shop and what you can find in them:
WOSTU Jewelry Store

– This jewelry store has been on AliExpress for five years and has thousands of charms, rings, charm beads, chains… with all kinds of designs and patterns. This shop gets new products all the time, so make sure you take a look at it. Furthermore most of the jewelry they have is sterling silver 925. It isn't as pure as 950 silver, but it's still good silver.

Cool Jewelry

– This is the most expensive shop and the one with the best quality and attention to detail. Most of the charms and bracelets are solid silver. They also have very fun charms inspired by Disney.

BELAWANG Belawang DIY Jewelry Store

– This store also has a wide catalogue of jewelry inspired by Pandora. We like this store because of its great sections. Just to give you an idea, it has a section for 100% 925 silver and another for plated silver. Obviously the silver plated ones are cheaper than the solid silver ones. You'll be amazed by their prices: the solid silver ones go for about 9 dollars (or 7 euros). This shops has incredible offers, and you can find discounts of up to 55%.
Sterling Silver 925? Silver plated? How do I tell them apart?
As a general rule, the description itself will tell you if they are one kind of the other. Remember that the silver plated ones are cheaper, but they will rust over time.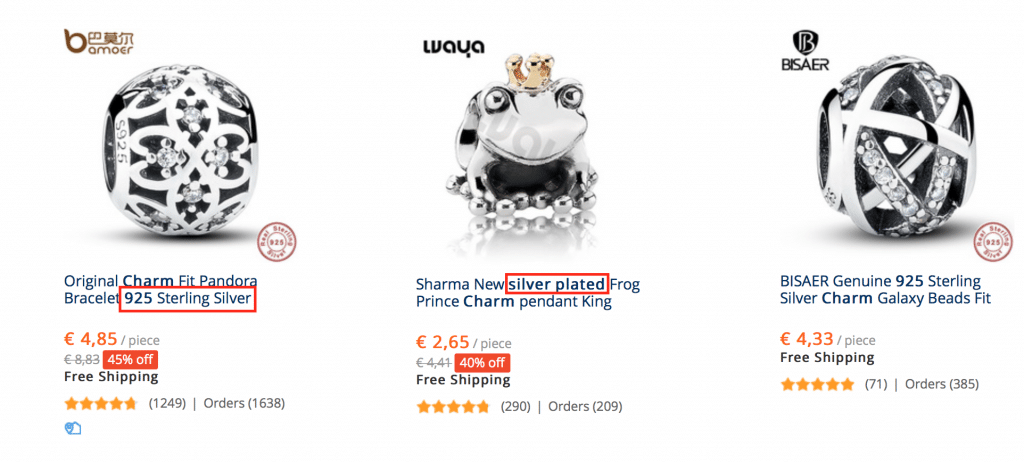 When it says Silver 925, it means the charm, bracelet, necklace, earring, ring, etc… is solid silver. 925 is the amount of silver it contains (92.5%), the rest is being copper or an alloy. You may be wondering why it isn't 100% silver… Well, the answer is that solid silver is very soft and malleable (like lead) so if they made jewelry only out of silver it would warp after some time and you would't be able to wear it. That's why they always add other stronger metals to keep the shape. All in all, 925 Silver is the purest form of silver you can find in jewelry.
AlixBlog Advice, Which one should I choose?: Honestly, we think it's probably better to spend a bit more (7 dollars / 6 euros) on a solid 925 silver charm, because they'll last much longer. Furthermore, you can find super cheap ones in AliExpress!
Attention! How to find identify a good product compatible with Pandora in AliExpress?
As a general rule if the description says the product is silver plated or solid silver, there is no reason for it not to be. Otherwise AliExpress will punish the seller severely for false advertisement. Even so, you might want to investigate a bit before completing your purchase by looking at the sales, reputation and reviews of the shop. Pay special attention to reviews by other customers, it's the best way to figure out what kind of quality you are dealing with.
Imagine you find a seller with a good reputation and good sales, but bad reviews. If this is the case, try looking for another store. If you still aren't convinced about the quality, contact the seller directly via chat.
Contacting the AliExpress seller directly: what should I ask?
You could try writing something like this:
"I am interested in your Pandora product and was wondering, is it silver plated? or is it solid silver?
If you are looking for cheap original Pandora charms and bracelets… did you try looking on Amazon or eBay?
Truth is, you are always going to be saving money if you choose an online store over Pandora's official store. Both Amazon and eBay are great good choices to buy cheap Pandora watches, bracelets, rings or earrings. You can find great offers, but prices are never going to be as good as AliExpress.
Amazon…
If you are thinking about buying Pandora products on Amazon, pay close attention to the reviews, you are going to find both bad and good. If you do this, you won't have any problems. It usually depends on the product, but you can find discounts of up 5 to 14 euros (6 to 16 dollars).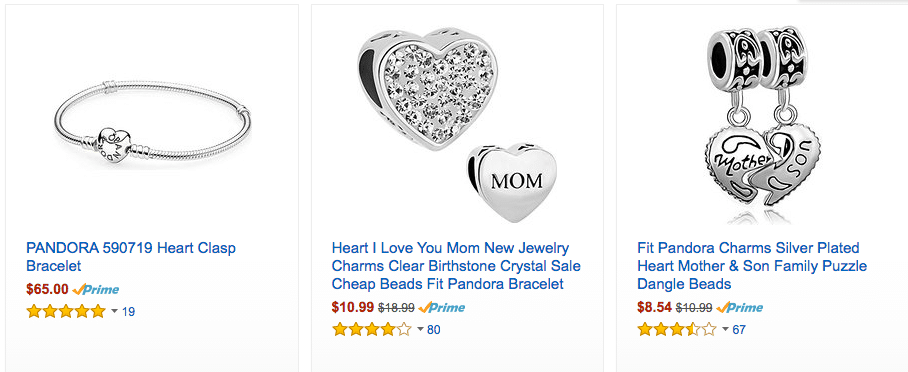 Free shipping within 24 hours: Amazon is promoting their Prime service with a 30 day trial. You can use this to get your purchase within 24 hours for free: all you have to do is register here and if you don't want to pay for their annual fee, unsubscribe by going to My Account > Manage my Amazon Prime subscription > Do not renew subscription (or something like that).
eBay…
This shop might sound like something out of the nineties, but it still has some of the best offers when it comes to original Pandora products. The only down side being its pretty hard to tell replicas apart from originals. Pandora products are super easy to find on eBay, all you have to do is write Pandora on the search tab and filter products by "New with tag". Then click on "brand" and on the new window click on "Pandora", by doing this you will get results for cheap original products. Click here to go the search directly.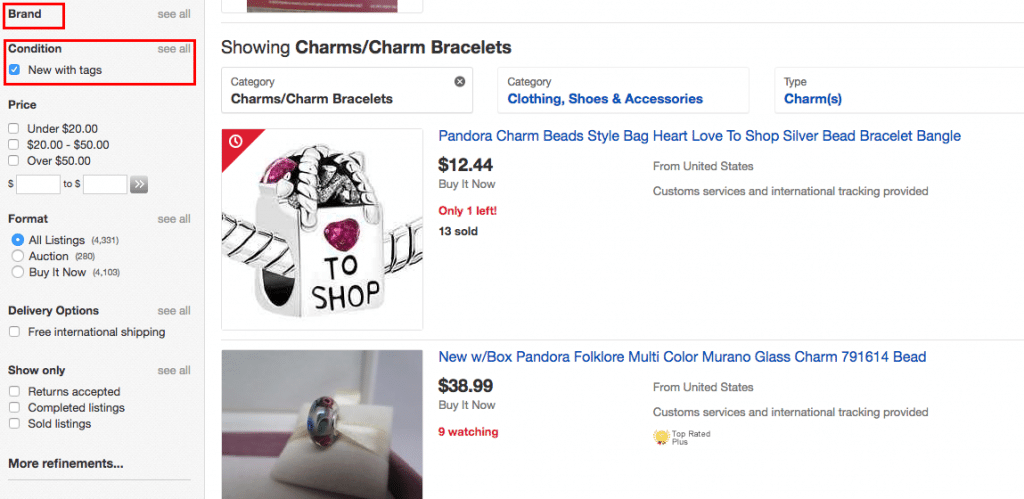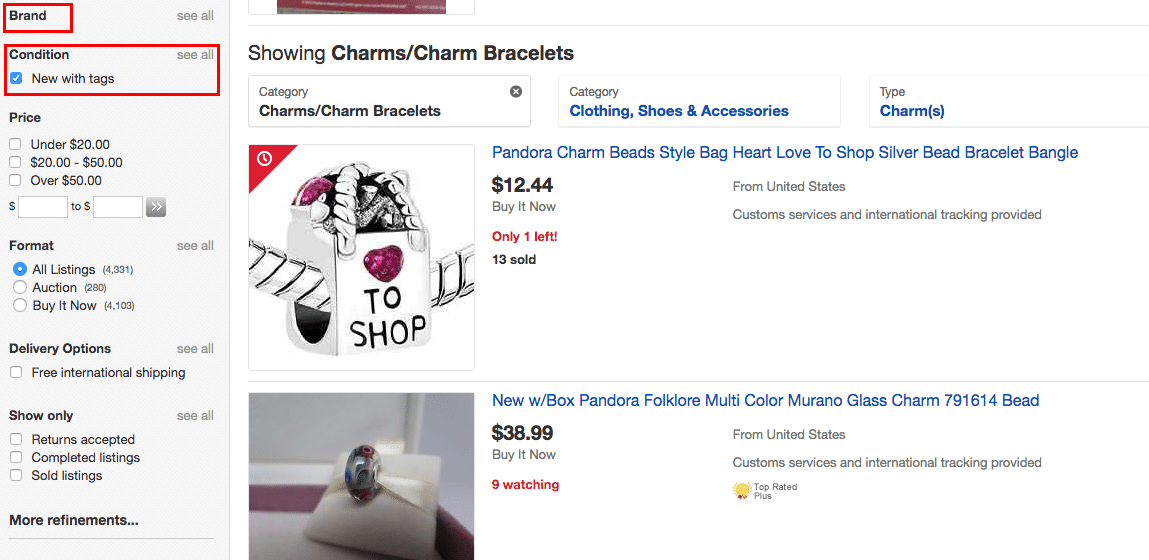 So, where should I buy Pandora charms?
It depends on what you are looking for. If you want Pandora style jewelry try AliExpress, it's cheap and their charms are good quality. If, on the other hand, you are set on getting an original, then try Amazon or eBay. But, which one is better? They're almost the same, but eBay usually has better offers than Amazon 🙂
Go to AliExpress