Surely you've ever seen someone with one of those Pandora bracelets full of charms and thought: "I love it, but it's expensive…"
Don't worry because we bring you the solution: on AliExpress there are some sellers who have Pandora style bracelets and charms, very cheap and of great quality.
In today's article, we will select the best ones for you.
How to find: you can find the best charms here and the best bracelets here.
Are they original or replicas?
In AliExpress you can find original Pandora bracelets and also an infinite number of legal clones that are a great alternative if you're looking for something cheaper but still well-made.
Remember: we are talking about clones and not replicas or counterfeits because, although they are similar, they do not copy logos or patented distinctive signs. Therefore, they are perfectly legal.
Let's talk about clones first.
Opinions about Pandora clones on AliExpress
Although in AliExpress you can find an endless number of Pandora clones, it is very important to choose a good quality when you purchase (minimum AAA quality).
It is worth investing a few extra dollars in a bracelet or charm that is made of real silver and will last forever, than spending a little less money on one that will get ruined after two weeks.
Therefore, we are going to show you in this article the best brands of AliExpress clones (all of them with their 925 silver stamp).
Do not doubt that with these brands you will get your purchase right: you will be amazed with the quality and the great resemblance to the original Pandora (but for much less money).
Best Pandora clones brands on AliExpress
1. Bamoer
Official store: Go to the store
More than 10 years old, Bamoer is AliExpress' jewelry store per excellence.
Here you will find a lot of charms and Pandora bracelets, but do not miss the opportunity to browse everything else.
This store has several types of bracelets that you can see by clicking here, but if you are looking for the classic model, you can see this option in 925 silver by clicking here (it's 65% cheaper than the original. It has many sales and good reviews).
The collection of charms inspired by the Disney movie Beauty and the Beast has also caught our attention.
When buying any product, look at the type of material in the description, because they also have some silver plated items that are cheaper.
2. ELESHE
Official store: Go to the store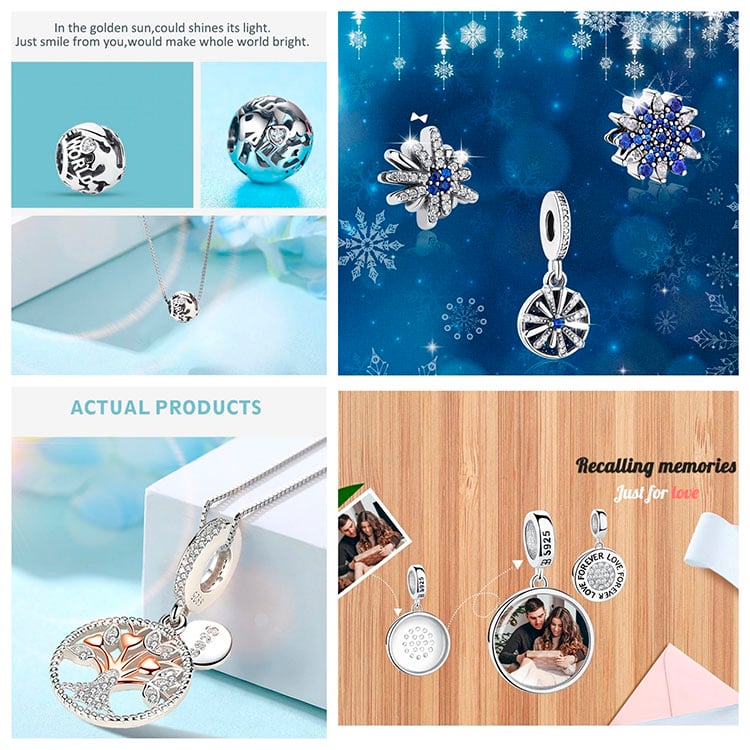 Another of our favorite stores with many followers and with a spectacular quality (all their jewelry is made of real silver).
You can see the Pandora bracelet in 925 silver directly here, and here you also have charms of all the themes you can imagine.
If you are looking for something original, you will love the charms that you can customize with any photo you want (find them directly here).
In addition to all this, you can't miss ELESHE's Pandora-inspired rings.
3. WOSTU
Official store: Go to the store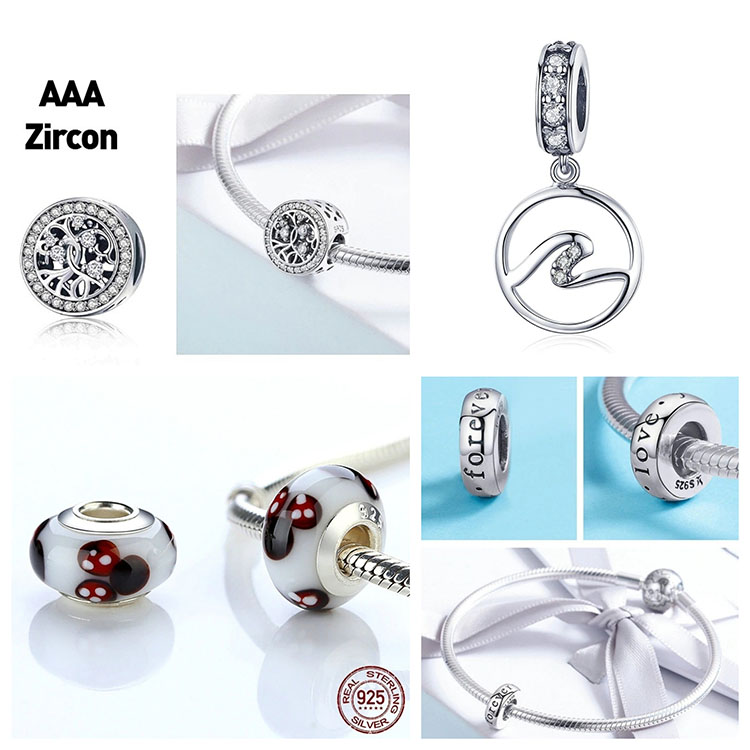 We could not leave WOSTU out among our top stores.
They've been around for a long time, proven by their thousands of sales. Buying in this store is synonymous with a good product.
You have several models of bracelets here (classic, rigid and leather) in 925 silver.
As for the charms you have all kinds here, ranging from fun to more elegant ones.
4. BISAER
Official store: Go to the store
In BISAER you can find many models of bracelets by clicking here: with the classic Pandora barrel clasp and more original and less seen bracelet options (with a heart clasp, with rhinestones, rigid, with a rigid mesh chain, leather…).
It is also a good idea to get two types of bracelets and change the charms so you don't get bored of always wearing the same one (the leather ones look great in summer and they're even a good option for men).
In BISAER, you can also find a lot of charms with many sales.
If you want to always wear your bracelet securely, we recommend one of these security charms and you can see them by clicking here. Besides giving a very cool touch, if the bracelet is opened and you do not realize, with this charm you will avoid losing it.
5. JIAYIQI
Official store: Go to the store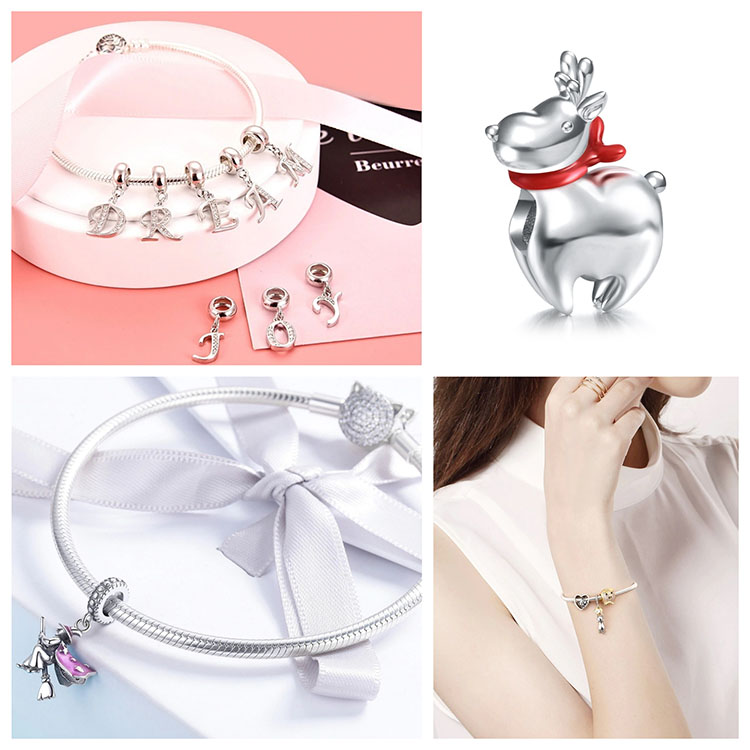 Although JIAYIQI does not have Pandora bracelets or a wide variety of charms, they have very good prices and the material they use is 925 silver.
6. JIUHAO
Official store: Go to the store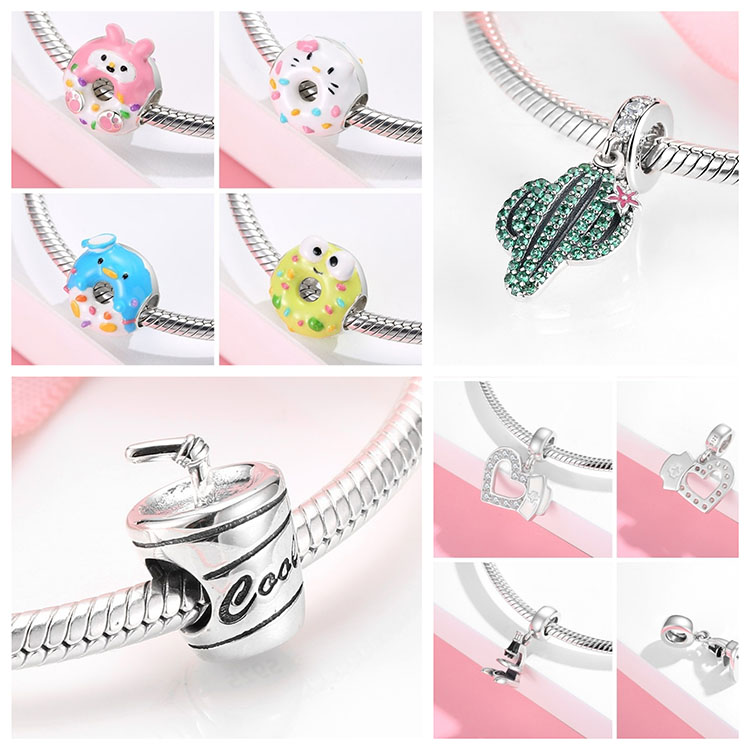 In JIUHAO you have all the Pandora-style bracelets you can imagine, and you can see them by clicking here.
In this store you have a lot of variety of fun charms to choose from, but if you prefer not to heat your head too much, they also sell bracelets already assembled with various beads. You can see them here.
If you are not sure if you will like the final result buying everything separately, these already combined bracelets are very interesting.
7. MYBEBOA
Official store: Go to the store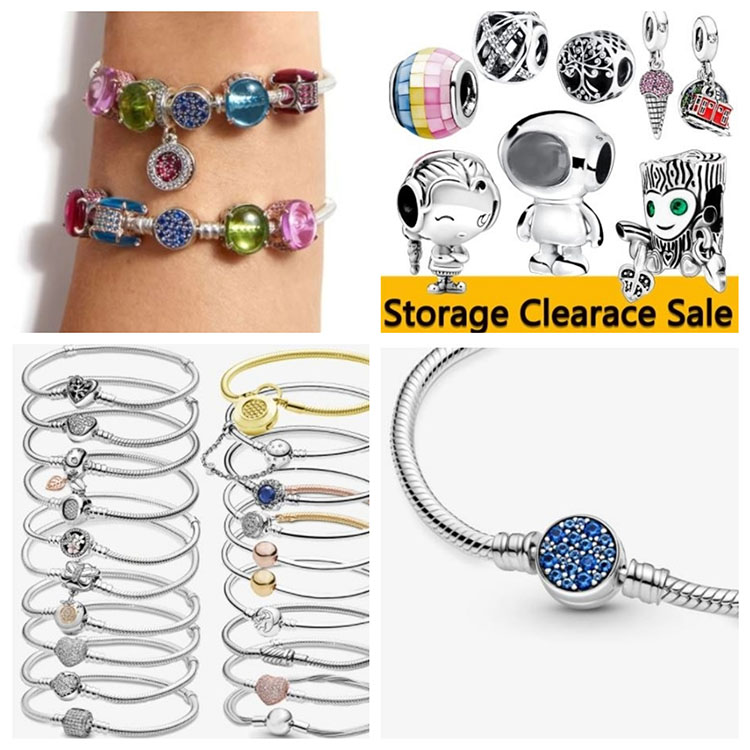 As we have already told you above, it is worth spending a little more and buy a bracelet with silver charms.
But if you prefer to save money because you get tired quickly of always wearing the same jewelry, in MYBEBOA you have silver plated bracelets at a very good price. They have many sales and good reviews. You can check them out here.
They also offer solid silver charms.
8. ATHENAIE
Official store: Go to the store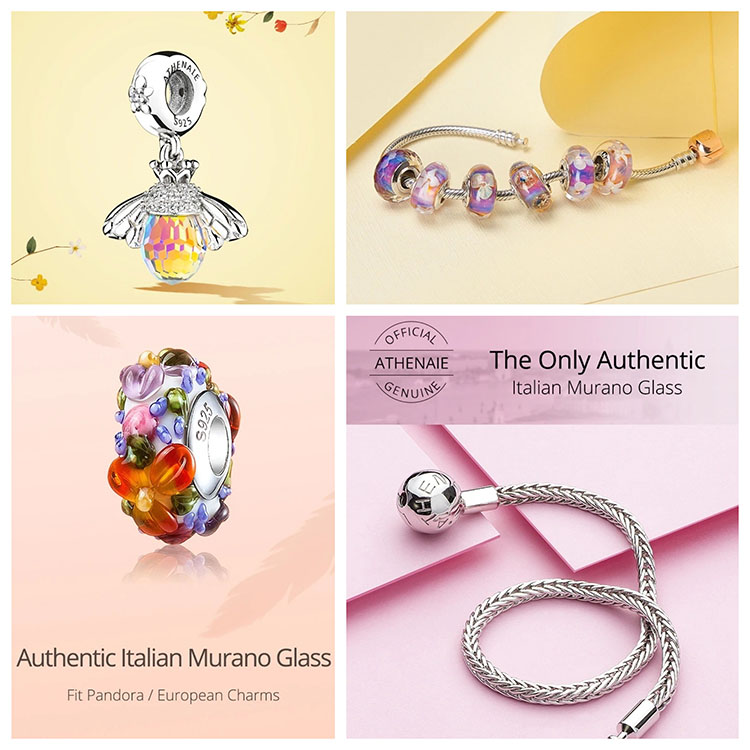 Their 925 sterling silver bracelets are of very good quality, in addition to having several collections of charms of authentic Murano glass here and other collections for all times of the year (Christmas, Valentine's Day, Mother's Day…).
9. Qikoala
Official store: Go to the store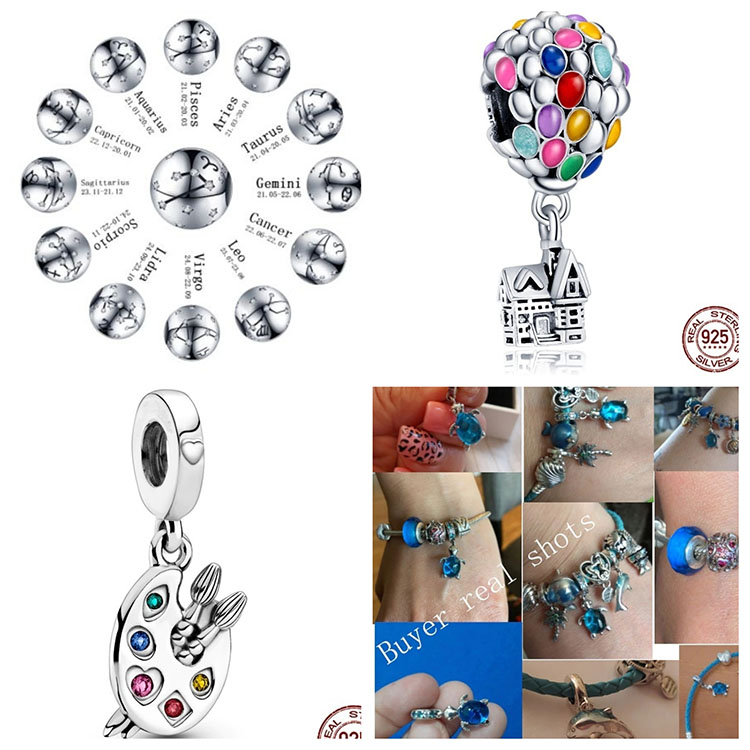 Here you can see all the bracelets offered by Qikoala (watch out for the product details, because they come in silver and also silver plated).
The charm inspired by the Disney movie Up is one of the last Pandora cloned models and you can see it directly here.
10. CodeMonkey
Official store: Go to the store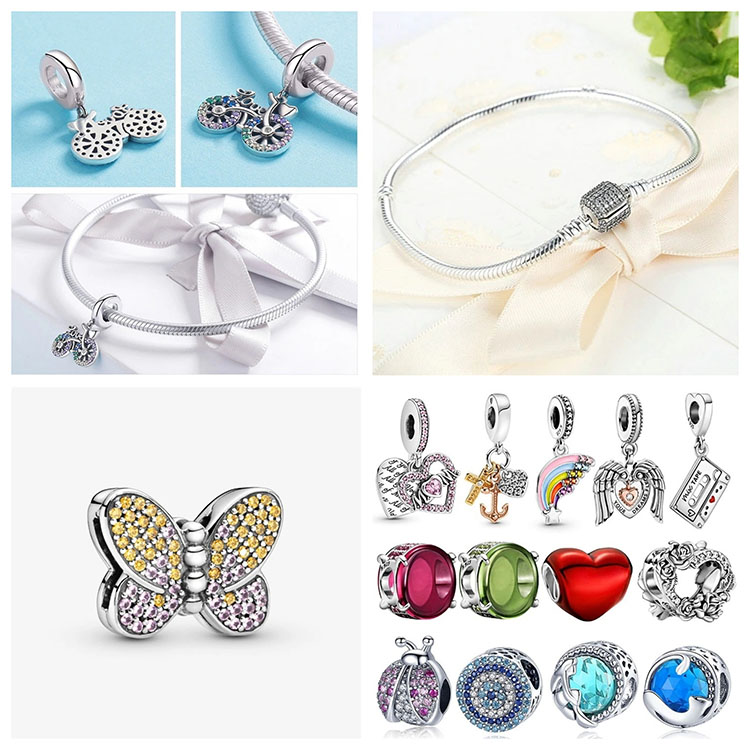 CodeMonkey also has clones of current charms at very low prices.
Official Pandora Distributor on AliExpress
In some countries like Spain, you can find authorized Pandora sellers. The prices are usually similar to those in original stores, but with AliExpress coupons, you can get the bracelets for cheaper.
Is the original Pandora cheaper on AliExpress?
The prices you can find in the official Pandora distributor store and the official website are the same, but in AliExpress you can almost always find coupons and discount codes that will make your purchase much better.
If you want to know how discount codes and coupons work and how you can get them, take a look at this post.
Frequently Asked Questions
Are there any Pandora OEM items on AliExpress?
OEM stands for Original Equipment Manufacturer and refers to brands that produce their items in factories they do not own.
Some sellers of Pandora bracelets and charms use the word OEM in their description to make you believe that they sell original items produced in this type of factories.
If you buy one of these items, be clear that it will not be original and what you are going to get is most likely a counterfeit.
Pandora does not manufacture in China, and neither does it do it in OEM factories. Their manufacturers are located in Thailand.
How do I choose the size of my Pandora bracelet?
Getting your size right is very easy: take a tape measure and measure your wrist (without the tape being too tight). Then add two centimeters more so that when you put the charms is not too tight.
If you are between two measures, choose depending on whether you like to wear the bracelets more or less loose.
How do I make sure I'm buying 925 silver?
Many sellers include keywords such as "silver", "925", "sterling" in the descriptions of their Pandora-type items to confuse you into believing that what they are selling is real silver.
That's why you should always make sure what material it is by looking at the item details. That is where the seller clearly specifies the material used.
If you have problems with the material that has arrived and in the details of the sale it says that it is not silver, (although in the description of the order you see some of the keywords that we have told you above), AliExpress may not accept the dispute.