Leaving a review of what you have received is very useful for other shoppers, but Shein also gives you points for doing so!
Those Shein points are used to get discounts on the next orders, so it's highly recommended to get as many as possible.
Not all reviews score equally, so here are all the secrets to earning more points. You also have more information here.
Earn points by commenting on Shein
When you receive your clothes, Shein allows you to leave a comment and as a thank you, you're compensated with points. It's essential that the comment reaches a minimum of 30 characters to get the points, but you can also get extra points:
Just for writing the comment, you will get 5 points.
If you share real photos of the product, you will get 10 extra points.
When you leave a comment with a size rating, you will get 2 more points.
Therefore, each comment with a photo and size rating will get 17 points. Keep in mind that Shein has established a daily limit of 2,000 points per day, so if you reach it, it's better to continue commenting on your orders the next day.
It is not useful to make any kind of comment, as Shein reviews the comments and only approves those of quality, this is to avoid people posting comments without receiving the garment just to get points.
You can see all the conditions of Shein points at this link.
Examples of Shein reviews
Making a good review on Shein is very easy, but to make it a useful opinion for other shoppers you have to think about what you need to know before buying a garment:
You can comment on the quality of the fabric: whether it's see-through, if it comes with any wrinkles, or if it's nice.
You can also talk about the details of the garment: stitching, decorations, buttons…
And of course, it's important to comment if the size matches if it's flattering, and other details.
About the pictures, it's better to upload pictures with the garment on, but it's not mandatory, you can also upload pictures of the garment only. Hide your face and other personal details to protect your identity.
This is a good example of a Shein review: written in a natural way, it briefly explains the quality of the product and adds photos that increase the value of your post.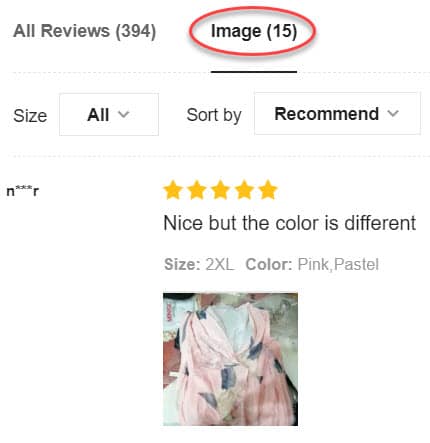 Frequently asked questions about Shein reviews
Below we are going to answer the most frequently asked questions when it comes to leaving comments on your Shein purchases.
Why can't I comment on Shein?
If you still can't leave a comment, it's most likely that the delivery date has passed and that's why the platform's deadline for adding a product review has already expired. This happens 3 months after the delivery is confirmed, so it's best to leave a review right after you receive our order.
Please note that sometimes the application changes depending on the operating system. Normally, to leave a comment you have to click on "Comment" but in some cases, this button does not appear and you have to click on the 3 dots located on the left.
Can I comment without buying?
The only way to leave a comment on a Shein product is to buy it because to add a comment you must do it from the order section of your account. But you can leave comments without having received your order, since the comment button is activated as soon as the product appears as shipped.
Liking the comments: Does it add points?
In the comments, other users often ask for likes for their ratings and that's why so many people wonder if this adds points or has any advantage. Well, the likes of other users in comments don't offer any new points, but the comments with more likes appear first.
Can I make a negative comment and earn points?
What Shein is looking for is a real and honest opinion about the press. As mentioned above, they review comments before approving them. If you have a negative opinion about the garment, we recommend you state it in appropriate language giving reasonable reasons. This will not affect the points.
If I leave a comment is the delivery automatically confirmed?
Shein will only confirm the order when you decide to confirm the delivery by clicking the button or a long time has passed since the expected delivery date. So don't worry, you can write a message about the items you have received without modifying the status of your order.
In case of a return, can I leave a comment?
If you don't like something you bought and you make a return, you won't be able to leave a comment. In this case, you have to leave feedback on your product before sending the items you don't want back to Shein.
How to see our points and earn more
Main article: How to earn points on Shein
Once you have left your review and it is approved, you will see your points reflected in your account. Just go to "Account" and just below your name, you will see the points.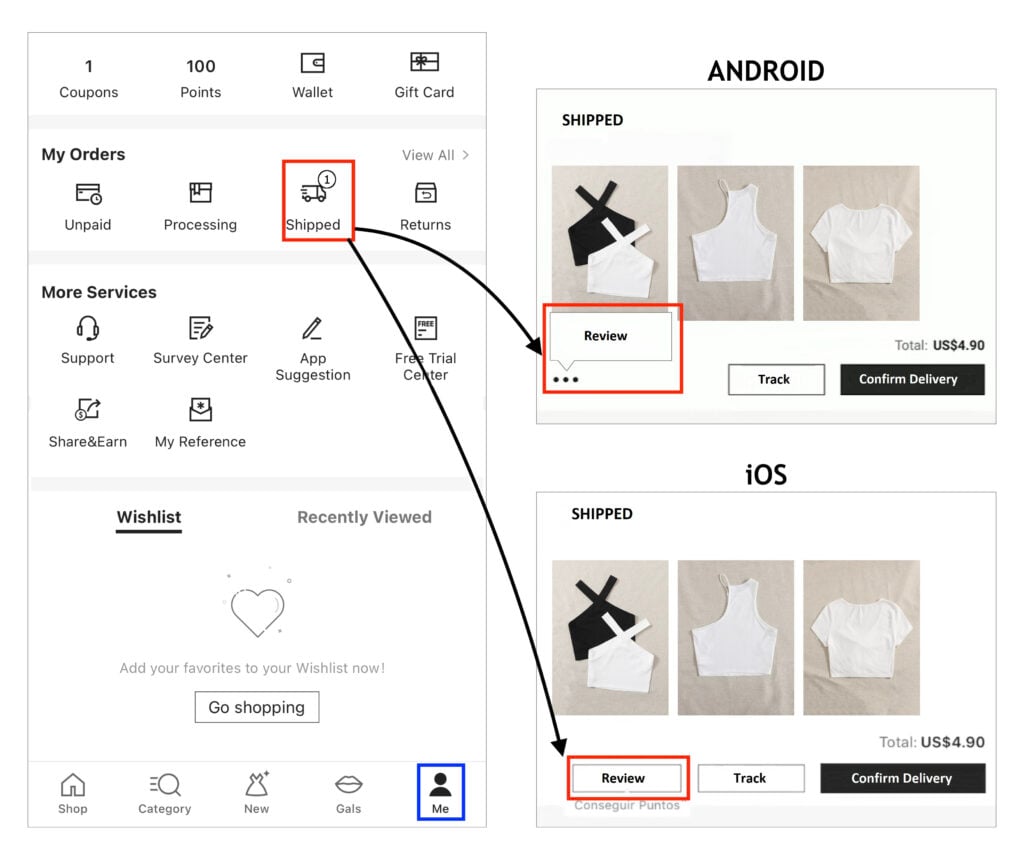 Leaving comments is just one of the ways to get points on Shein. The platform gives them to users in exchange for maintaining their interaction with the website: daily access, participating in contests, attending their Lives…
Although certainly leaving a comment is a good way to get points and you will be helping other users to decide when buying.