While purchasing a cosmetic product from Shein, a user came across a warning that the product's composition could cause cancer. As a result, the rumor spread across the internet, and alarm bells went off.
Should you be concerned about your next Shein purchase?
Today we are going to analyze the ordeal.
Warning: with this trick you can get unlimited Shein coupons. Click here to find out more.
Warning about carcinogenic products in Shein cosmetics
To begin with, let's take a closer look at the warning that the user, a California resident, received.
The warning in question indicates that the product she is going to buy has in its composition some chemicals that, according to the state of California, can cause cancer, malformations, and other diseases.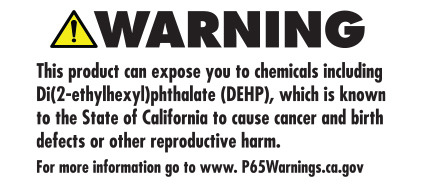 The warning is based on California's Proposition 65 (and only comes up if we are buying from California). It's a law that was passed in 1986 and lists more than 900 chemicals that can increase the risk of cancer.
The purpose of the law is to protect the water supply from chemicals and to force companies to replace toxic chemicals with safer ones. Especially in the cosmetics industry, where many chemical compounds are used.
This law has been praised and criticized in equal parts, as in California it can be found on all kinds of products, or even at the entrance of Disneyland Resort to inform about the risk of cancer in their parking lots, hotels, and stores.
Are Shein cosmetics carcinogenic?
In recent years, Shein has implemented improvements in its production such as avoiding testing its products on animals. But it's true that some cosmetics still include substances from this list.
This list includes more than 900 hazardous chemical components and is updated every year, which makes it almost impossible for any Shein cosmetics to include these components.
However, that does not mean that they are carcinogenic: this warning is very common in California and affects many other well-known cosmetic brands.
Does clothing cause cancer?
The textile industry uses many chemicals in its fabrics, especially when trying to give a property to a fabric that would not be possible naturally: pigmenting, waterproofing, giving more flexibility…
It is not exclusive to Shein since it happens in most brands of the so-called "fast fashion" textile industry with low prices and high demand. Other methods could be used, but they are more expensive and complex.
At the moment, there is no country in the world that has taken action to check what is the chemical load of clothing, nor are there any labels that can indicate the chemical risks of each garment.
The best way to avoid clothes with a high chemical load is to NOT buy clothes with complex materials, or materials that need treatment such as plastic, leather, metal, and the like. Clothes made of natural fabrics always need fewer chemicals for their production.
Fast-fashion industry and model change
Big fast-fashion clothing brands such as Zara or Mango also do not indicate the chemicals used in the manufacture of their garments. For the time being, they have not even introduced a label to indicate anything about it, beyond explaining that they are trying to use more and more recycled raw materials in their production.
The solution to all this is a change of model: as users demand more measures and explanations on the products we consume, brands will respond with actions.
So, are Shein's products carcinogenic?
As we have already said, the textile industry has not yet regulated the chemicals included in their garments, therefore we cannot say that Shein's products are carcinogenic.
Until there are laws and labeling committed to these problems, the only thing we can do as consumers is to try to avoid consuming clothes with synthetic or artificial fabrics or with many pigments.
If you want to check the composition of Shein's garments before buying, just go to the "Composition" tab.


On the other hand, the cosmetics sector seems to be more regulated in this regard, since the effects can be very serious when in direct contact with our skin. The case of branded lipsticks with high loads of lead was one of the precedents to become aware of.
That is why in Shein you can find the complete composition of all their cosmetic products. Just look for the "Ingredients" tab in the product description. On the internet, you can find lists indicating which ingredients are not recommended for our health.
Shein's goal: social responsibility
In addition to what we've mentioned previously, Shein's platform is committed to improving its practices to make them more environmentally friendly. China is also currently implementing strong measures throughout its industry against climate change.
While a few years ago China was in a production maelstrom where only large-scale manufacturing mattered, they are slowly realizing that they need to adapt to new global demands.
Shein is taking different measures to reduce its environmental impact: choosing better raw materials, producing with more respectful materials, avoiding animal-derived fabrics, not testing its products on animals… You can see Shein's social policy by clicking here.
Therefore, we recommend you check the composition of the products you buy, both in Shein and in other platforms and brands, to consume with total security. In the description of the products, you will find a detailed list of the components.
Warning: with this trick you can get unlimited Shein coupons. Click here to find out more.