One of the advantages of Shein is that offers its customers several ways of contacting the site's customer service in an agile and comfortable way. Shein's chat is the favorite contact method for users. However, sometimes when you try to use it, it's not available or doesn't appear.
How does the Shein chat work? Does it have opening hours? We explain everything to you below.
How to access Shein's chat
To talk to a Shein customer service agent via chat just access the contact page of the platform. You can do so from the computer or the app, but you can also access it directly by clicking here.
If you visit the site from the computer, you can find a shortcut: click on the button located at the top right.

To access the chat from the application you'll have to go to your account and look for the "Support" button. A page with frequently asked questions will appear. Then, click again on "Customer Service", located at the bottom left. Now you can enter your question.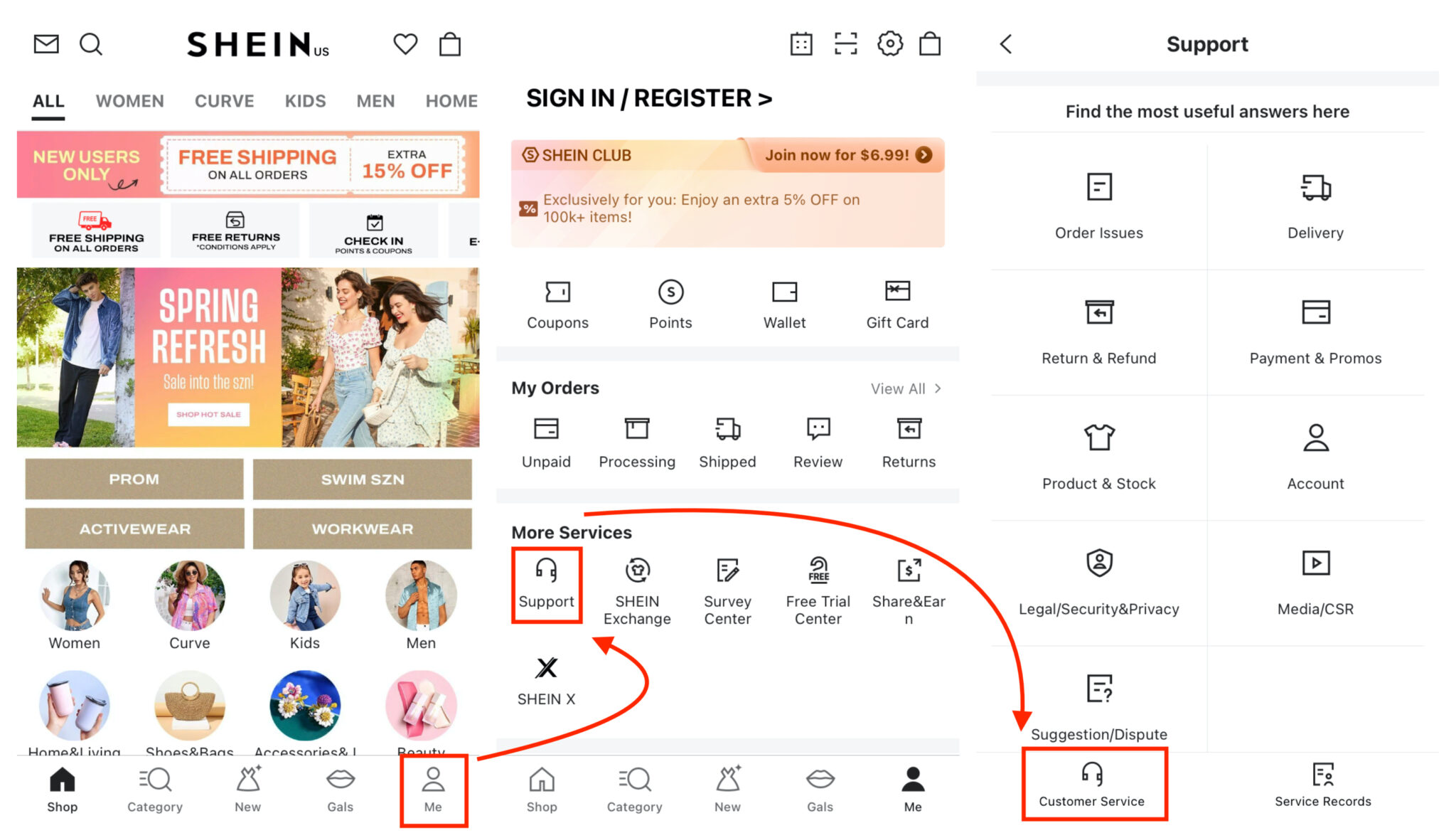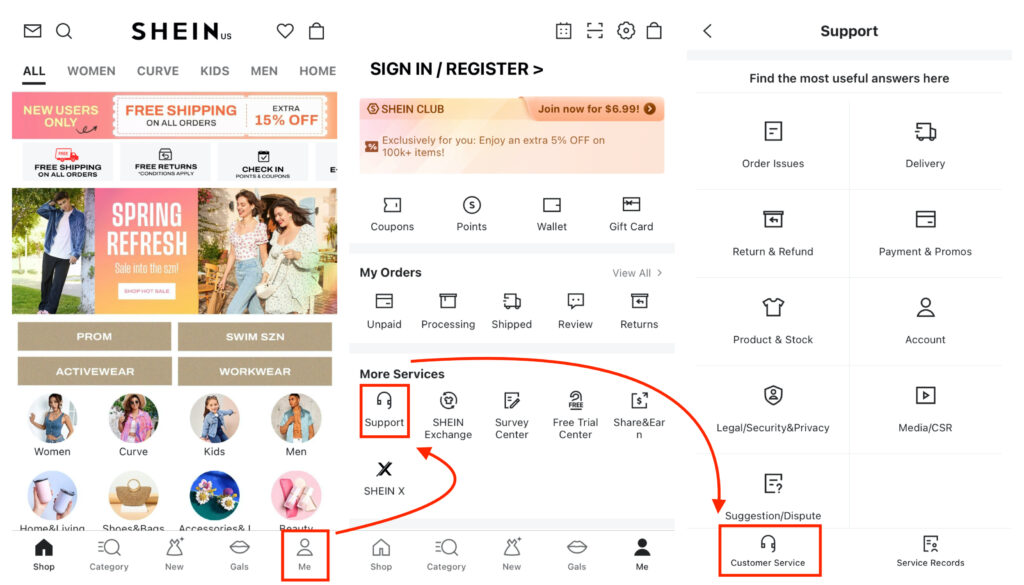 Once you're there, you'll find an auto-response system that can solve simple questions. Enter your question in a simplified way or choose one of the most frequently asked questions that appear.
The system will give you an answer related to your question. If it hasn't solved your doubts, it will give you the option to continue talking to an agent by clicking on the "Contact an agent" button.


Chat schedules
Shein's online chat works from Monday to Sunday from 6:00 AM to 9:00 PM (PST) in the United States, 9:00 AM to 10:00 PM in the United Kingdom, and 9:00 AM to 6:00 PM (UTC) in other European countries. However, on weekends it often doesn't work, so it's best to contact the platform from Monday to Friday from 9:00 AM to 5:00 PM.
We must also note that there's not always the same availability to contact an agent. Oftentimes, there's a large volume of users waiting to be attended, which is why it's possible that the platform itself offers you other contact methods.
Why does it appear busy?
If you choose the option to contact Shein via chat, but then get a message saying that it's busy, it's because there is no free agent to assist you.
In this case, we recommend that you insist on or use other means of contact. 
We explain the best alternatives below.


Tips for using the chat
Before entering the customer service chat (and so that you can solve your question in the shortest possible time), we recommend that you have the most important data at hand in this order: the order number, tracking number, the link to the garment…
Basically, everything that's related to what you're going to ask, so the agent will be able to search the system and give you an answer in a faster and more efficient way.
Other methods of contacting Shein
Main article: How to contact Shein
In Shein's customer service center, you can find answers to the most frequently asked questions about the platform as well as all their available contact methods. You can access it from this link.
As you can see, the three official methods of contacting the platform are:
Through the chat

By telephone call (only available in some countries)

By e-mail
To access these three methods of contact you must do it through the self-service system that we've already mentioned. First, enter your question and if you have more doubts, choose how to contact Shein.
However, there are also two more ways to contact Shein that don't get listed on the page often: you can talk to Shein by sending a message through Instagram or Facebook. In this case, it's very important to look for the official pages.
In short: Is it worth contacting Shein by chat?
Main article: Shein reviews
Shein's chat is one of the most widespread ways to contact the platform since it will solve your doubts immediately.
But if it doesn't work for you, there are many other reliable and secure contact methods through which you will be able to solve all the problems related to your order. And remember that in our blog you can also find answers to the most frequently asked questions.