We are updating this article because AliExpress has recently changed their policy and there are literally no more replicas to be found. If you are looking for Lacoste, Ralph Lauren or Tommy Hilfiger polos in AliExpress you aren't going to find much, and if you do they are going to be offered by temporary shops with no ratings, so making a purchase from them is basically the same as playing the lottery.
This does not mean that you can't find polo shirts in AliExpress: there may not be any replicas, but in AliExpress you can find tons of very good quality polo models at a very low price. You can find them in the polo category.
How to find Tommy Hilfiger, Ralph Lauren, Fred Perry and Lacoste style polos in AliExpress
To find the best polos (when it comes to quality-price ratio) try taking a look at this link, the polo category mentioned above.
You might notice that the search is already filtered and sorted by number of sales. This is the best way to find bargains in AliExpress.

Chinese polo shirts have thousands of sales, so you shouldn't have any problems telling apart the good sellers from the not so reliable ones, but just in case you are new to AliExpress… here is the best way to find out.
How to know if a shop offering polo shirts in the style of Fred Perry, Hilfiger or others is trustworthy
Let's take a look at the first entry for polo shirts in the results (the best selling one). This polo is sold by New Fashion Clothing Flagship Store and goes for only 9€: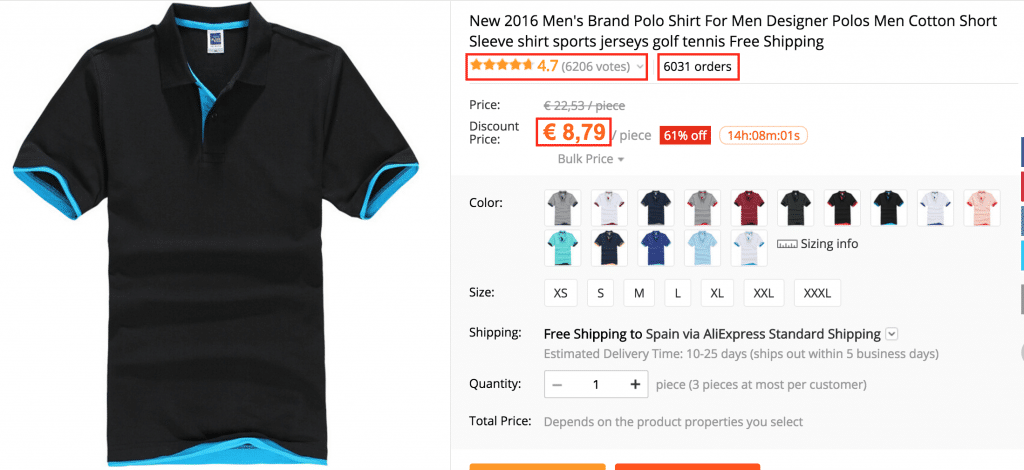 As you can see in the image, it has more than 5000 sales (an incredible amount) and has a rating of 4.7, so we can be pretty sure customers are happy with it. Furthermore the shop has a rating of four diamonds and three years antiquity.
On the other hand, let's take a look at this Hilfiger style polo: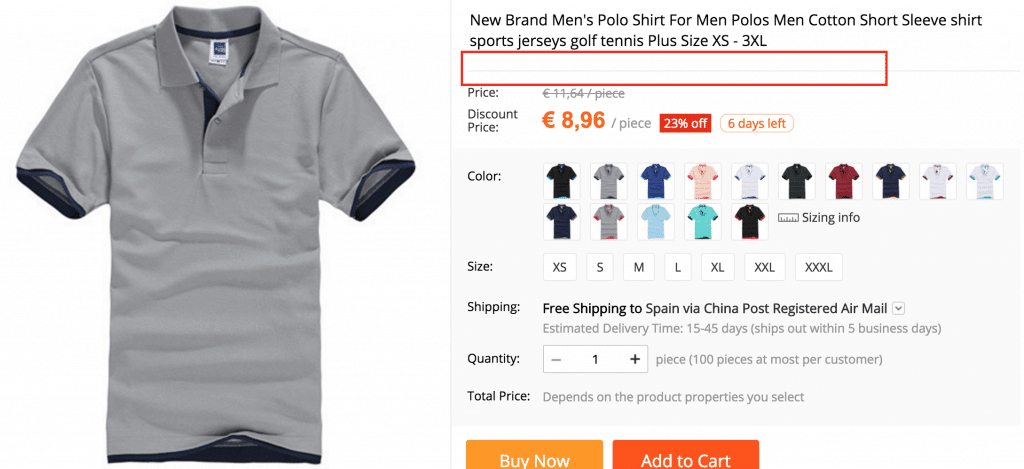 It may be only slightly cheaper, but it has no sales whatsoever and, needless to say, no ratings. Furthermore, the shop only has 5 medals, a pretty low rating in comparison to the four diamonds of the previous shop.
So, I should definitely not purchase a product with no previous sales?
Well, not exactly: AliExpress keeps a close eye on all transactions that take place on their platform and, when you make a purchase, they will freeze the money until you confirm the product has arrived and you are happy with it. Only then will the seller receive your payment.
Even so, here is a few reasons why we recommend choosing a good seller and a product with plenty of sales:
You can be sure they quality of the product is good (many other customers have purchased before you).

Sellers with good reputation tend to send their products before the stated delivery time (part of the reason for their high ratings).

If you were to have a bad experience, a seller with good reputation will take whatever means necessary to keep their ratings up and in most cases will give you back the full amount of the purchase or send you another product to keep you happy. On the other hand, sellers with no reputation, don't really have anything to lose, so you might have to waste time making a claim.
Are you the kind of person that ends up shipping tons of things back? Then you might want to check for the local returns icon
Have you noticed that some products feature this icon?

These products have local returns. Meaning that once you receive them, you will have up to 7 days to return it. Once they get the product, they will give you back your money minus they shipping expenses.
How do the sizes for polo shirts work?
Main article: Sizes in AliExpress
Let's go back to the seller with thousands of ratings: if you scroll down to the bottom of the page you will see a size conversion and measurement chart for this particular seller: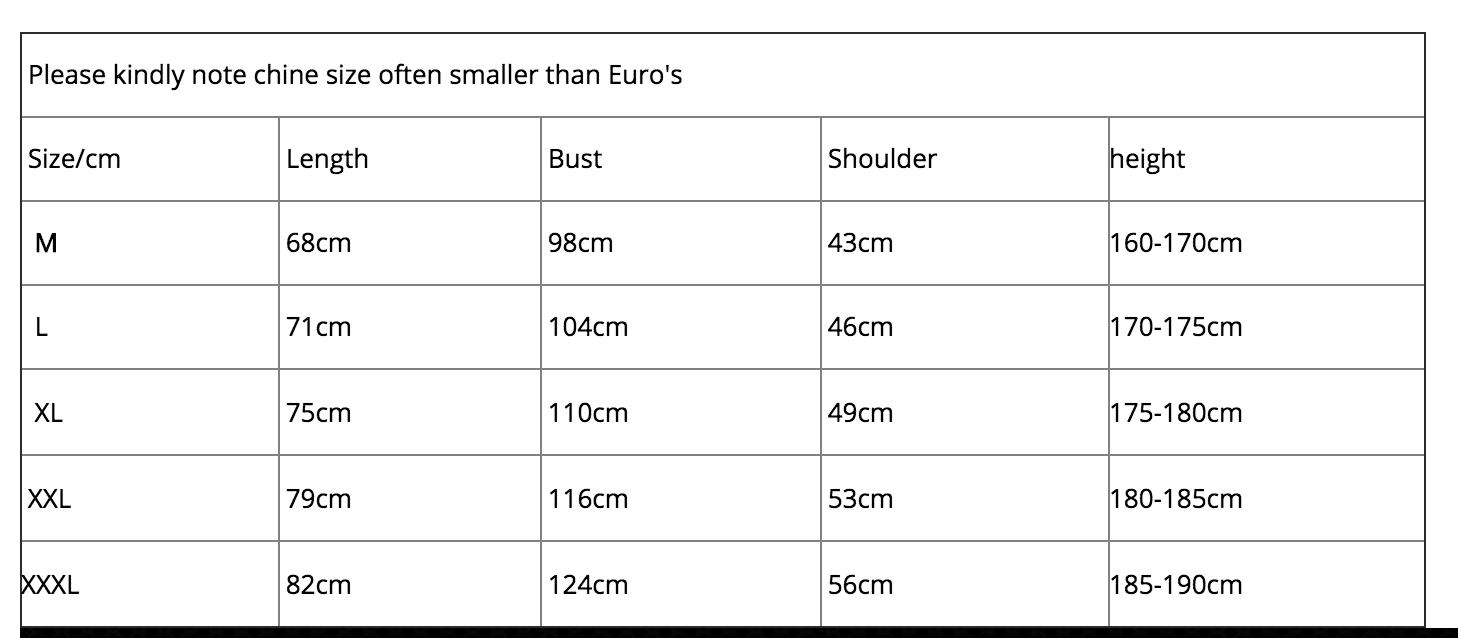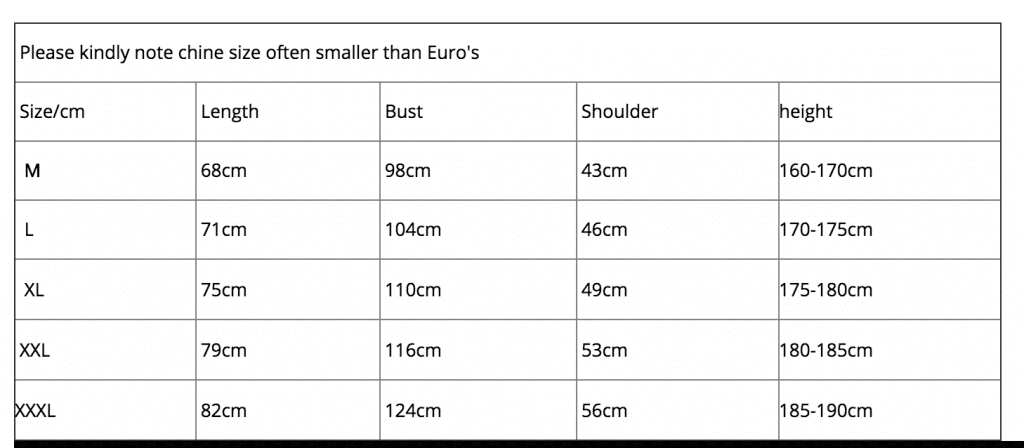 As you can see in the chart, Chinese sizes are slightly smaller than European and American sizes, so make sure you take your measurements at home and choose the right size.
Do you have any more doubts?
If you have any doubts left, leave us a comment, we'll be happy to help.