It seems like the latest fashion for both men and women is, along with the Adidas Superstar and the Nike Roshe, the classic white Adidas Stan Smith. Everybody want a pair and fashion bloggers around the world wont stop taking about them. Now that summer's almost over, it's the perfect time to get yourself a new pair of sneakers, so go ahead! 🙂
Adidas made a cleaver move catching up to the retro and vintage style that is so fashionable nowadays, by relaunching their most famous model, created in 1965 in honor of the American tennis player Stan Smith. Their vintage minimalist design (available with both laces and velcro) makes these shoes the perfect accessory for any kind of style.
Where can I find Stan Smith at the best price?
Here are the four best shops to find cheap Adidas Stan Smith, both for women and men. We'll be going through the pros and cons of each of them, so without further a do, let's get to it:
1 – AliExpress, our favorite, does it sell original Stan Smith or replicas?
I'm pretty sure that one of the first things you did was to look for Stan Smith in AliExpress. It may be a bit hard, but we can assure you, finding original Stan Smith in AliExpress, isn't impossible. Just to give you an idea, here is a picture our friend Maria sent us a few weeks ago: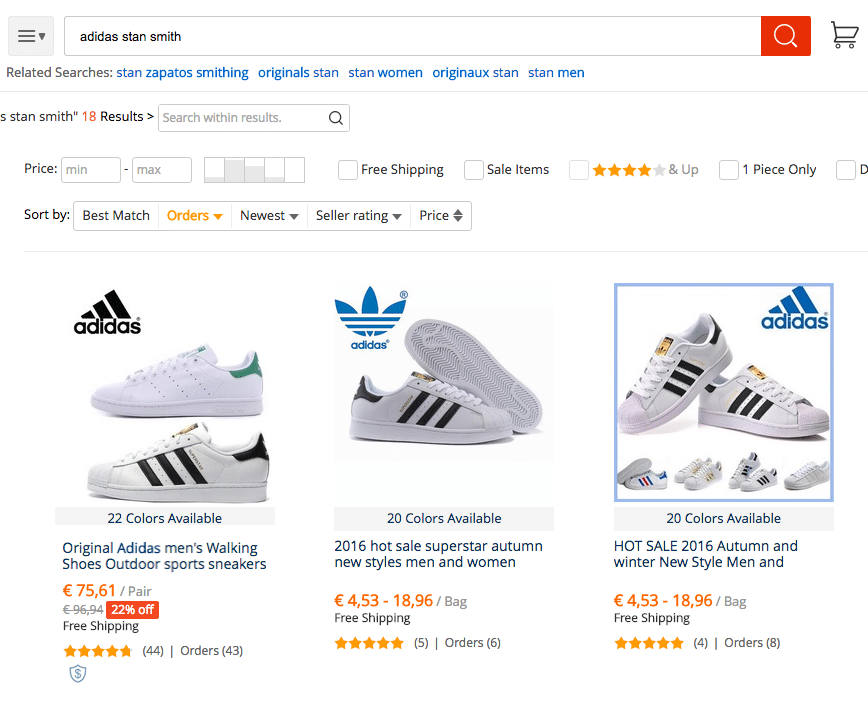 Yup, what you see here is the rare sight of original Stan Smith among a sea of replicas :).
How to tell which ones are replicas and which ones originals in AliExpress
As you can see from the picture, it's not very hard to tell apart originals from replicas is it? Just make sure you look closely at the following details:
Do they seem a lot cheaper than usual? If this is the case, they are replicas. As you can see in the picture shown above, no matter how cheap you think products are in AliExpress, these sneakers cost almost as much as they would on another page, such as

Amazon

.

They have a guaranteed authenticity icon: to help you find originals and to protect the buyer against fakes, AliExpress awards certain products with this icon to prove that they are indeed original: Depending on the day you will see one icon or another, but they usually use the first one. This icon guarantees that AliExpress will refund the full amount of your purchase if the product is a fake.
Seller's reputation: usually, sellers with a guaranteed authenticity icon have some reputation and antiquity (later on we'll be showing you how reputation is awarded in AliExpress).
We tried to find Adidas Stan Smith in AliExpress again
When we updated this article we replicated Maria's search shown in the picture to see if we could still find some original Adidas Stan Smith, but we couldn't find any. We did find some Stan Smith for 40€ but with no authenticity stamp:
Because they don't have a guaranteed authenticity icon, you can be almost sure they are replicas. However, there are some things that make us thing they might be original:
They use the name Adidas Stan Smith.

They cost double than replicas usually found in AliExpress.

It has highly rated sales: replica sellers in AliExpress don't usually last more than a few weeks, AliExpress catches them before they get any ratings from customers who have received the product.
Another thing that might make us think they are authentic is the use of the word "original" in the product description, but reality is, it's an automatic translation of "Adidas Originals" the name of the collection featuring Adidas Stan Smith.
All in all, they probably aren't the originals we are looking for, but just to be sure, we've contacted the seller directly to ask them. We'll keep you posted.
Sidenote: How does seller reputation in AliExpress work?
When it comes to AliExpress you have to make a distinction between product and seller ratings. The product rating is the stars you can see in the picture above. A rating given by buyers on a specific product offered by the seller.
If you see products with lots of sales but no ratings, it's probably because shipping takes a little time, you might have just caught on to a recent deal, so there hasn't been enough time to rate them.
As for the rating of sellers, here is a chart to explain how it works: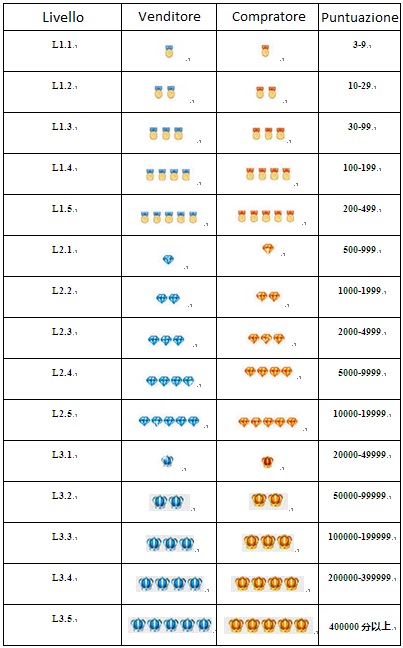 Keep in mind that a low rating does not necessarily mean a bad seller, it might just mean that they are fairly new and still haven't made many sales.
2 – Option 2: Amazon, the king of cheap fashion online
Chances are, when you do go to AliExpress there won't be any more cheap Stan Smith originals, so now you have two other choices.
The first one, and a pretty obvious one for that matter, is Amazon.
My trick (no longer a secret) to find the cheapest sneakers on Amazon
I already mentioned this on the New Balance or Nike Roshe Run articles, but I'm going to tell you again in case you missed it.
Amazon hardly needs an introduction (their online marketing strategy is practically flawless), but you might not know there's a trick to saving money. The thing is Amazon sells both their own stock as well as that of external sellers.
This means that you can purchase Stan Smith both from Amazon or a seller using Amazon to sell and sometimes even stock their products.
If you look for Adidas Stan Smith on Amazon you'll see something like this: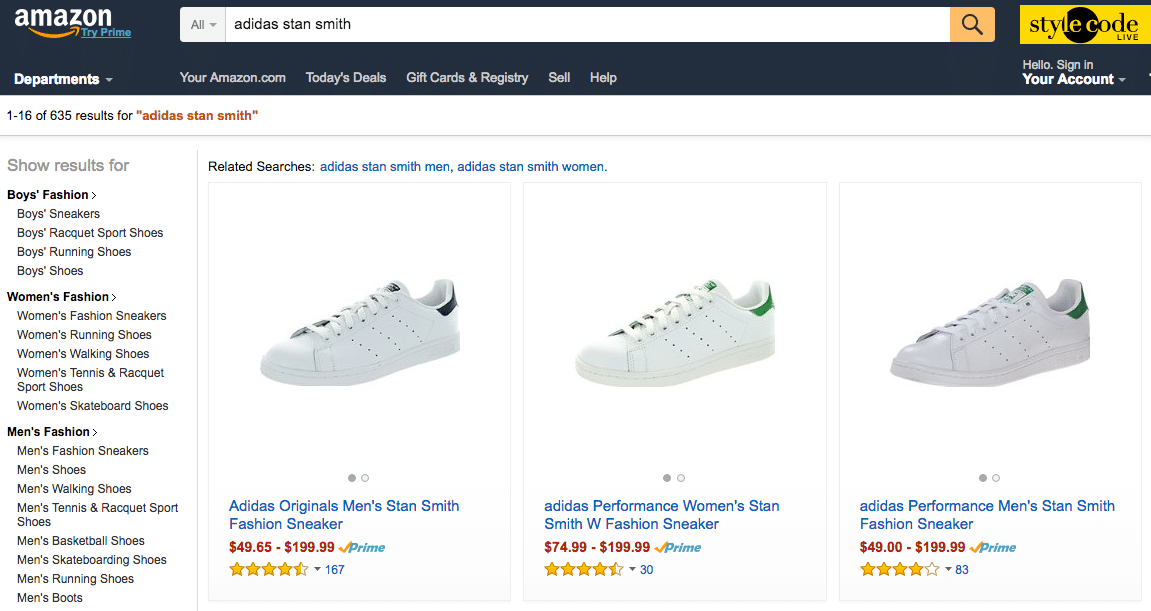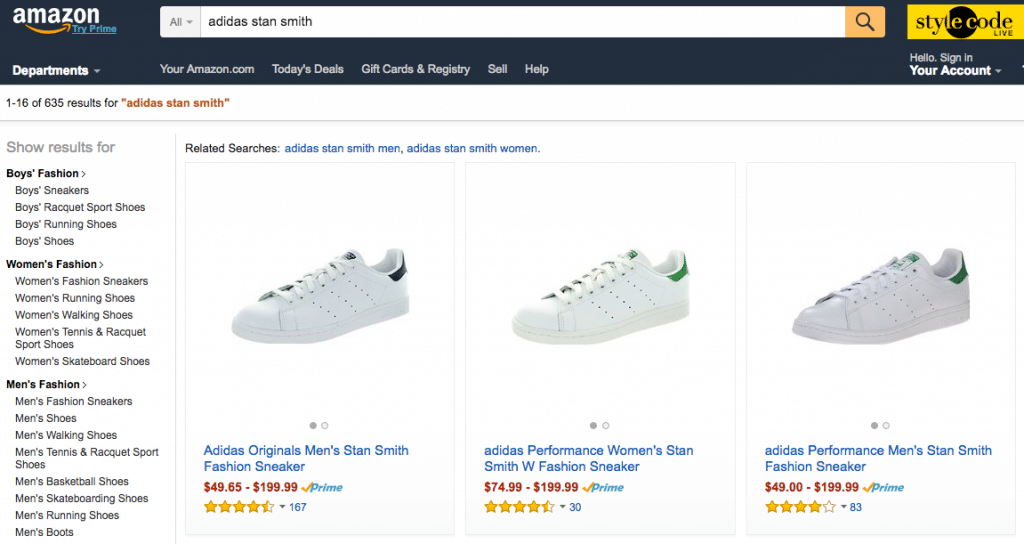 They are definitely original, but are they the cheapest?
Something you didn't know about Amazon results
When you search for something on Amazon, the system will select sneakers from the best sellers. As to be expected, they will put their own products above those of other parties (not necessarily a bad thing, considering they tend to have better prices), but sometimes they will overlook better prices by placing above a seller with a better reputation.
How do we avoid this?

Easy. Instead of searching as you usually would, take a look at this search. As you can see, it looks a bit different: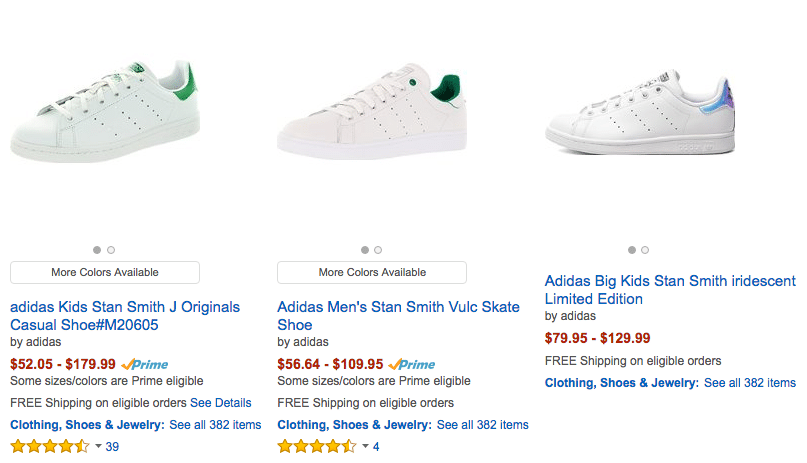 Once you find to the model you like, just click on "New":

Then, to filter the search even more, pick the color and size you want (in this case I'm looking for green ones in a size 44):

Finally you will find a complete list of sellers offering this model with specifications of both ratings and shipment fees: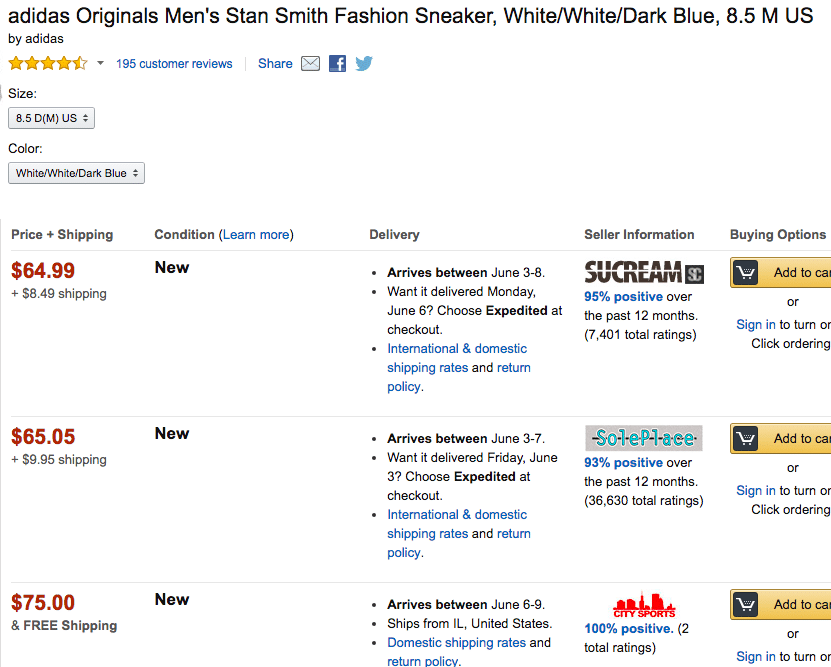 Once this is done, all you have to do is:
Add the price of the product and shipment to find the cheapest one.

Avoid new sellers.
This last one is especially important. Take a lot at Prince One shown in the picture above: it ships from Hong Kong and has no sales history to speak of. Like AliExpress, if you were to have any problems Amazon will protect you, but I wouldn't waste any time with new sellers shipping from Asia.
Not only is there a bigger risk of them being replicas, shipments from China tend to charge a lot more. You may want to pay an extra 20€ for a product that cost 50€ less on AliExpress, but paying an extra 20€ for product you can find for more or less the same price in Europe, not so much.
Finally, we recommend you take a look the Sport-Group on Amazon.
3 –

 

eBay, an option for those of you looking for outlets or second hand sneakers
eBay might be loosing terrain to Amazon and AliExpress, but it's still a pretty to good choice to buy some cheap shoes online. Nevertheless, there is a few things you should know.
eBay also has replicas
No matter what you might think, replicas aren't limited to AliExpress and China, well established shops such as eBay also has tons of them.
Unlike AliExpress, it can be hard to tell the difference between an original and a replica. Let's see an example: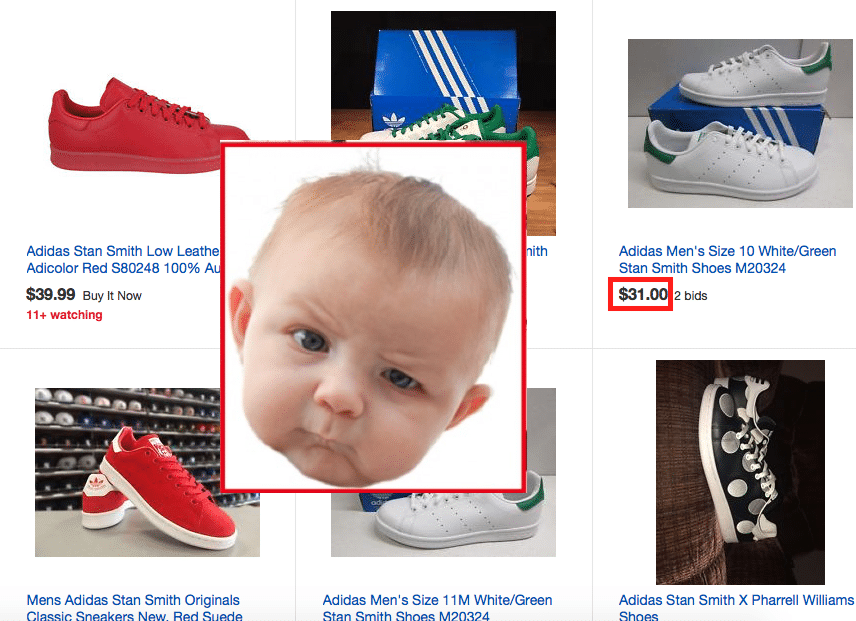 New Adidas Stan Smith for 23€? That can't be right, can it?
Drop shipping: reselling Chinese replicas on eBay
Chances are, the person offering Stan Smith for 23€ on eBay is getting them from a Chinese replica supplier and asking them to send them to you. It's not a con, but if he's doing this, he's definitely found a way to get them cheaper, and of course, they are fake.
Another eBay option: outlets and second hand sneakers
If you take a look at the left side of the page you will see a filter called "Condition":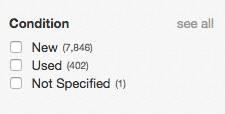 The first and the second option are new sneakers, the third is what we would call outlet, and finally the fourth category is second hand sneakers sold by individuals.
Make sure you take a look at the last two options, you might just find the deal you were looking for. But keep in mind that among the "new with defects" you might find some Adidas Stan Smith replicas.
That's it for today! Need any extra help?
That's it for Stan Smith, but if you are still having doubts or are still trying to find them in AliExpress and need some help, leave us a comment and we'll get to you as soon as possible.