Finally! We're updating our article on where to buy cheap Nike Roshe Run sneakers in 2016. In this post we will be comparing prices and advantages of the three online shops where you can find these fashionable sneakers. Are you ready? Let's get to it!
Shop 1 – AliExpress: they are cheap, but are they original or replicas?
This is the most frequently asked question about AliExpress, and the answer is simple: There are both originals and replicas. Unlike other famous sneaker brands sold in AliExpress, some of the Nike Roshe Run sold in AliExpress are original (like the Air Force One, Air Max or Nike Janoski), so if you are looking for originals all you have to do is type in Nike Roshe in the search tab and then check a few things.
How to know if Nike Roshe Run sneakers in AliExpress are fake or not
The easiest clue is simple, price.
If they cost 25€ instead of the usual 75€ or 90€, you can be sure it's a replica. AliExpress may be cheap when it comes to Chinese brands (especially technology ones) and white labels, sometimes even for occidental brands, but don't expect to find to many original products at a third of their regular price.
The authenticity icon
To help customers, AliExpress created an authenticity icon. When a seller has one of these stamps on the product, you can be sure the product is 100% original. And if by any chance the product turns out to be a replica, AliExpress will give you back the full amount of the product (including shipping) and you might even get to keep the sneakers :).

I'd even dare to say that there aren't any original Nike Roshe Run sneakers in AliExpress without this logo. To see these products that feature this icon, just use the new brand filters:

Click on the Nike logo on the top pf the page to filter the ones that are original. To go to this search click here.
As you can see there aren't many original Nike Roshe Run (there is never more than a dozen sellers offering them) and as a general rule, they aren't very cheap. Usually costing about the same or even more than in the regular or online shops from our country.
Seller's reputation in AliExpress
Generally speaking, sellers with original products in AliExpress tend to have a good reputation and antiquity. On the other hand, shops offering replicas, don't usually accumulate more than a medal. In reality, it has nothing to do with them being unreliable, they are simply caught by AliExpress for infringing copyright and closed down… bye bye ratings.
As you many already know, AliExpress isn't an ordinary online shop, but rather a huge sales platform that allows Chinese sellers and suppliers to sell their products to the rest of the world (a little like eBay but a bit more professional). That's why its of uttermost importance that you purchase from a seller with good reputation. Reputation in AliExpress is structured in the following way: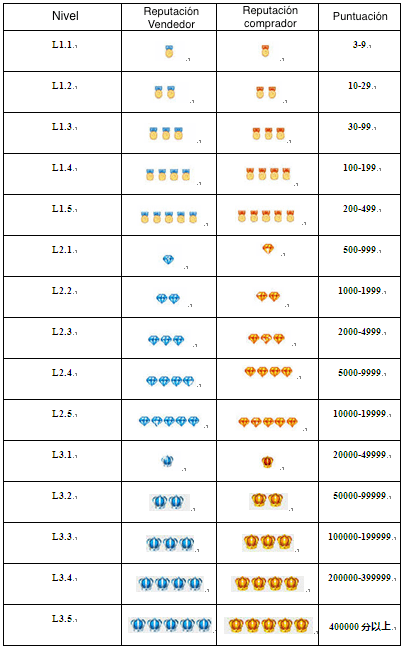 If you make a purchase from a seller with low or no reputation, look for one that at least has good ratings on the product.
How to control and compare ratings and feedback of the Nike Roshe in AliExpress
Other than the seller's reputation, it's also important to check out ratings of the products and comments by previous customers. All you have to do is look at the stars and the percentage of satisfied customers:

Also, if you click on the stars you can go to the rating area and read what other customers said about their purchase, a very useful tool to get a better idea about the quality of the product, shipping and packaging information and if the communication with the seller is good or bad.
Is there anything else you would like to know about Nike Roshe Run and AliExpress? Leave us comment, we'll be happy to help!
Shop 2 – Amazon: Nike Roshe original, cheap and with free shipping within 24h
Amazon is my favorite option for this kind of product. If you don't to run into any replicas and get yourself some original Nike Roshe as soon as possible, check out this section of the article.
My personal method to find the cheapest price
As we already mentioned, Amazon is slightly different from AliExpress: as well as allowing other sellers to use their platform for their products, they also offer their very own products. Their own stock tends to be better priced than the one offered by external sellers, but this isn't always the case. And, since Amazon tends to show their own products above those of other sellers, you have to follow some steps to make sure you find the best price.
1 – Search for Nike Roshe without filtering by category
We've not quite sure why they do this, but if when yo look for Nike Roshe Run on the Amazon search tab and select one of the categories of the drop down menu, you will only find results for products sold by Amazon. Considering the fact that you are looking for the cheapest price, no matter the source, this is probably not the best way to proceed.
To see all results, you have to make sure your search is in "All departments" (click here, to go directly to the search).
You'll see something like this:

2 – Click on "New"
I know your natural instinct is to click on the left button and select "Sneakers for men/women", but don't do it! 🙂 If you do, you'll lose sight of what we want: the "New" button.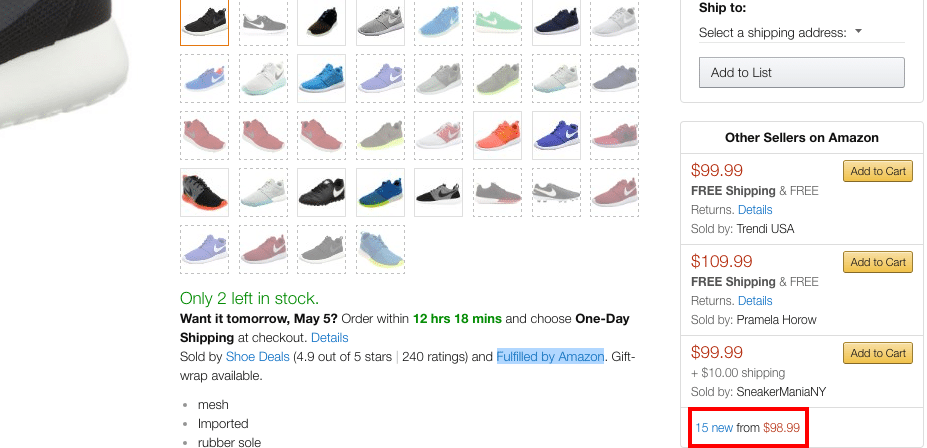 Instead of using filters, all you have to do is scroll down until you find the model you want. Once you do, click on the button "New".
3 – Compare prices
Why do we do this? Because Amazon highlights products that might not be the cheapest (they tend to highlight their own products or products offered by the seller with best feedback). On the other hand, if you click on "New", you'll see something like this: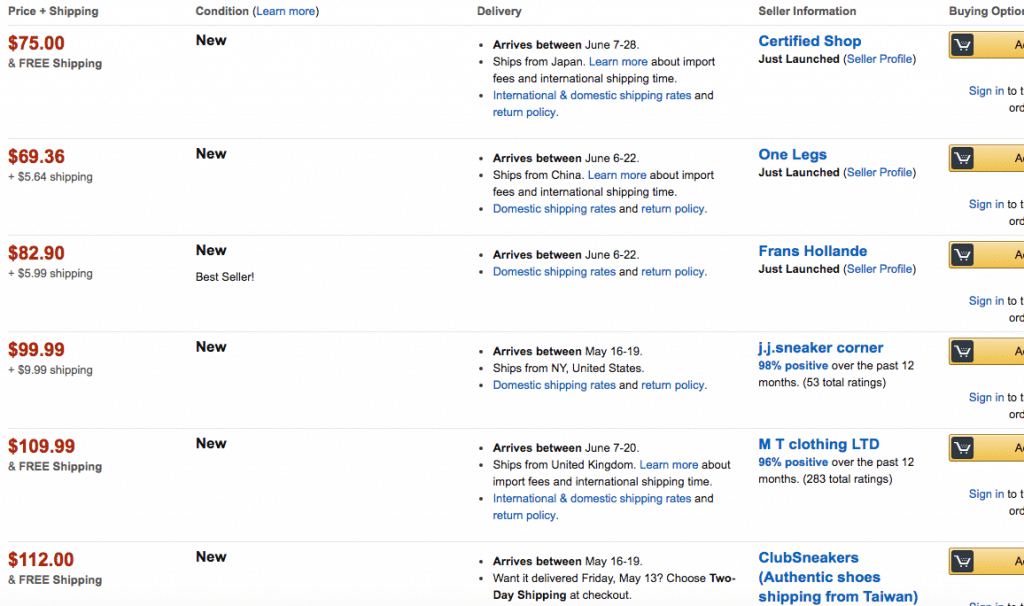 That's better isn't it? We've old enough to decide what seller we want to purchase from, aren't we? 🙂
In this case, as you can see, Amazon was highlighting a product by Outlet46, but there are cheaper offers out there.
4 – (Optional) Sign up for Amazon Prime
Like we showed you above, most of the times you use Amazon, chances are, you are going to end up buying something from Amazon or someone selling products "fulfillment by Amazon". Without going into details, these sellers let Amazon manage their stock, both with shipping and storage. You can tell them apart from other sellers by this banner:

Whenever you buy something from Amazon or a seller using Amazon, you can benefit from a trick I just learned: use the 30 Amazon Prime trial to get your purchase within 24 hours.
Amazon Prime is a basic premium service offered by Amazon, it costs 20€ a year in Spain, but you can get it for free during 30 days. Take advantage of this by signing up, getting the 24 free shipping and then unsubscribing by clicking here, in the section "Manage my Amazon Prime:: and then clicking on "Unsubscribe".
They won't charge you anything and you will get your purchase within 24h for free! 🙂
Shop 3 – eBay: the original outlet and replica online shop
There is a lot of talk about replicas sold in AliExpress, but eBay doesn't fall far behind. Just type in Nike Roshe Run in the search tab to find results with prices and pictures that look like they were taken straight out of AliExpress: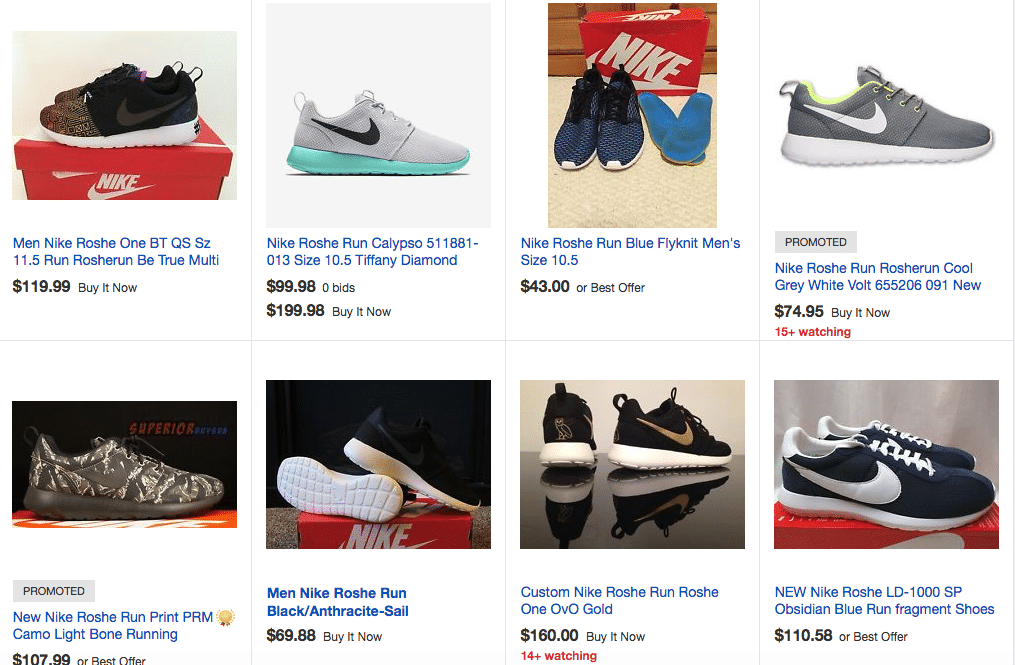 Do you see those for 20€? Those are being sold by someone who discovered AliExpress and is taking advantage of it. If you look at the shipping time you will see it says something in between three to five weeks… exactly how long they take to ship from China.
Basically what this seller is doing is selling products worth 15€ on AliExpress for 20€ on eBay: when someone makes a purchase, they go to AliExpress and have the product shipped directly to the buyer. Then they keep the 5€ for themselves.
Not everything on eBay is a replica: lets talk about outlet and second hand originals
A more interesting side of eBay is their outlets, as in shops offering original products with small defects. If you are looking for Nike Roshe with a small tare making them cheaper than usual, eBay can be a good option. The best way to know if a product is outlet is to check if the option "New with defects" is available on the left: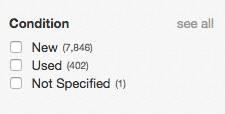 This time, there's no such luck.
To buy second hand sneakers, follow the exact same process: Click on the option "Pre-owned" and look at the results. However, in this case, we recommend you take a close look at the pictures of the product, because the "pre-owned" covers a wide range of possibilities, from "like new" to "time to get some new ones" 🙂
Do you need more help shopping?
If you'd like to know more, or you need any extra help with your shopping, just leave us a comment below and we'll answer as soon as possible.