Many of us fell in love with Zara's clothes because we could afford to sport the latest designs without going broke.
Sadly, as you may have noticed, the prices of this are not what they used to be.
But don't worry because we have the solution: Zara clones on AliExpress and Shein.
How to find: you can find the best Zara clones here.
What are Zara dupes?
Remember that clones (or dupes) are totally legal, since they don't copy logos or distinctive signs and the materials can vary from the one used in the original store (although this is barely noticeable).
And on AliExpress you can find legal Zara clones at least a 40 and 80% cheaper than the original garments and with a very similar quality.
Do you like the idea?
Best AliExpress stores
Here are the best AliExpress stores to buy Zara clones.
Keep in mind that all stores have a lot of clothes from different seasons. We recommend that, to see the latest additions, go directly to "what's new" in each store.
1. Tangada Oficial Store
Official store: Go to store
Tangada offers free returns on all its items.
This store is undoubtedly at number one on our list: they have very good quality clothes, with lots of sales and reviews with real photos and the latest trends.
Tangada clothing is a very close second to the original Zara. But you will not only find Zara clones: you also have many models in the style of Shein and also not that popular, if you're someone who likes to stand out.
In addition, this store is 11 years old, which makes it a safe bet for your purchases.
You can check out Tangada's new products directly here.
2. Amy Mujeres Store
Official store: Go to store
Amy also offers free returns on all its items..
If you are looking for something in particular, do not hesitate to look for it in Amy and, if the store doesn't have it, don't worry! It'll most likely be available soon.
In Amy you have all the new items sorted by month, so you can easily find what you are looking for.
Among all the clothes they have, you can also find some clones from other Inditex stores.
3. TFMLN Official Store
Official store: Go to the store
TFMLN offers free returns on all its items.
In this store you will be able to have a good time with their entire assortment of dresses, tops, two-piece sets…
Don't miss the selection of items on sale by clicking here.
4. KPYTOMOA Official Store
Official store: Go to the store
KPYTOMOA offers free returns on all its items.
They have many garments to make you a good closet and with all the bestsellers of other seasons available.
You can see the bestsellers here.
5. BBWM WOMAN
Official store: Go to the store
BBWM WOMAN offers free returns on all its items.
This store is famous for the amount of leatherette jacket clones it has (perfect type, lined with sheepskin…).
If you want to see their best-selling items click here.
6.WXWT Store
Official Store: Go to the store
WXWT Store has free returns on all its items.
WXWT Store is also one of the most reliable stores to buy Zara clones on AliExpress.
7. Bling Blingee
Official Store: Go to the store
Bling Blingee has free returns on all items.
This store is a great surprise in terms of clothing for summer and winter. There's so much stuff to choose from!
So if you want to start thinking about the new outfits that you will wear for the new season, this is your store.
8. VUWWYV Official Store
Official store: Go to the store
VUWWYV does not have free return.
What it does have is a great variety of models and quality. Despite not having free returns, prices are a little cheaper and you can be guided by people's opinions and measurement tables.
Check out all their new products here.
9. KarolyiDora
Official store: Go to the store
KarolyiDora has free returns on all its items.
In this store you have clones of Zara clothes and also clothes of different styles.
10. XIN TAO
Official store: Go to the store
XIN TAO does not have free returns.
Despite not having free returns, it has a lot of variety on clones of every new season.
How to find clones by category
Earrings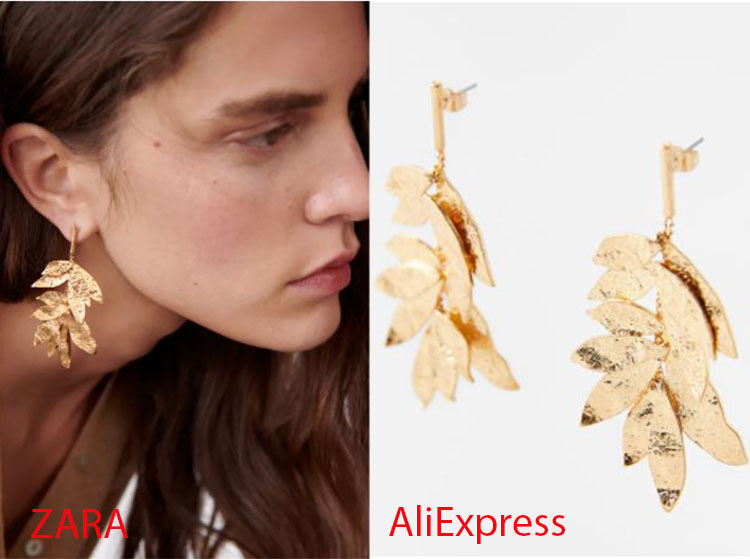 Most of Zara's accessories stir some sensation, although their prices seem a bit high for something that after all is costume jewelry.
On AliExpress, there is a wide variety of clones of Zara earrings up to 80% cheaper than the originals (both this season and the past ones).
With accessories, is where you can find the biggest price difference between the original Zara and AliExpress clones.
Necklaces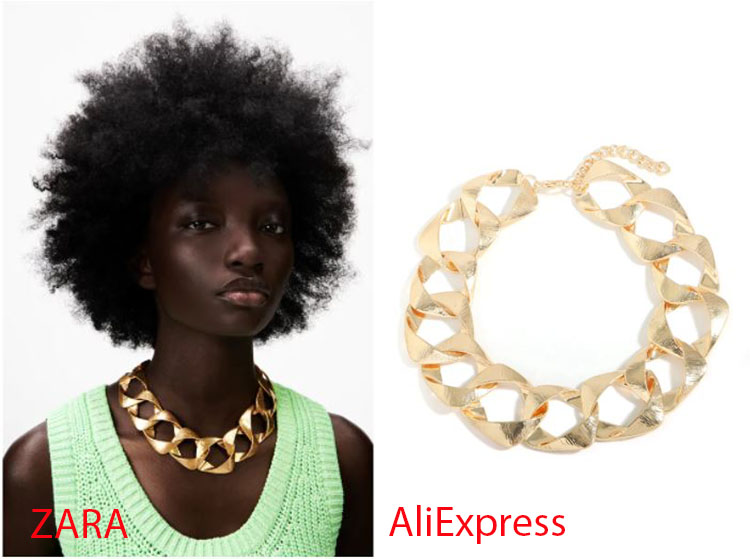 Zara necklaces also had a very important peak and frankly, we think they are essential to wear a complete look.
Here you can find a good selection of clones of Zara's necklaces, even the ones from previous seasons.
Dresses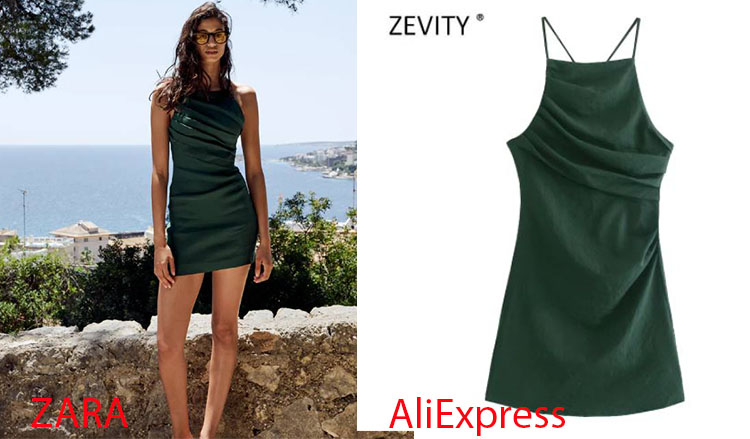 Midis, short, long, floral…. It's hard to choose just one.
In AliExpress it's very easy to find Zara clones dresses from this season and previous ones.
Also, if you want a specific model that you can't find, you can try AliExpress' photo search.
Pants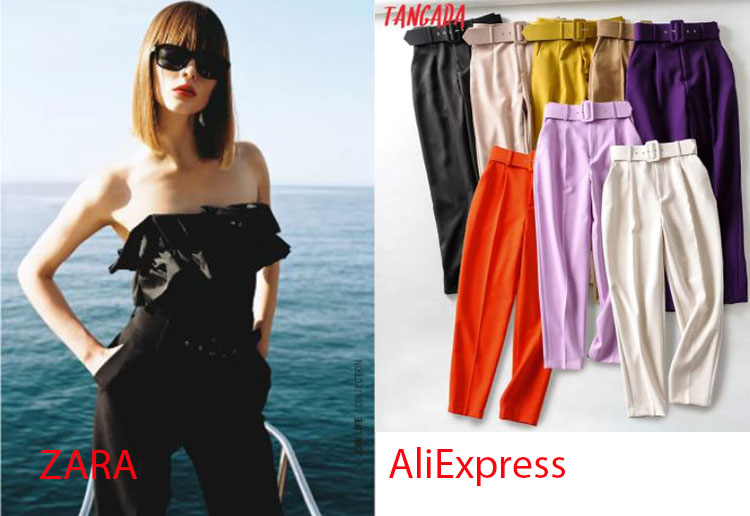 Here you can see a wide variety of pants, although if you want a better result, we recommend that you look directly at the stores we have selected above and look in the sections they have for each item.
Sandals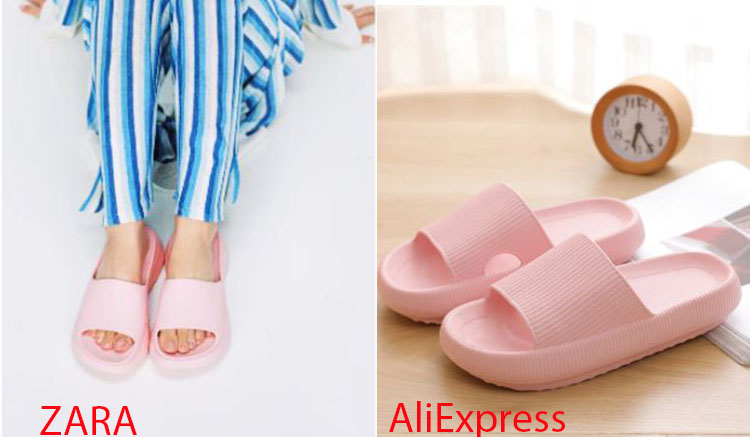 In the case of sandal clones, keep in mind that the materials may vary from the originals, so it is best to check what they are made of in the seller's description.
If the price is very cheap, they may not be leather (although many of the original Zara sandals are not either).
Zara Home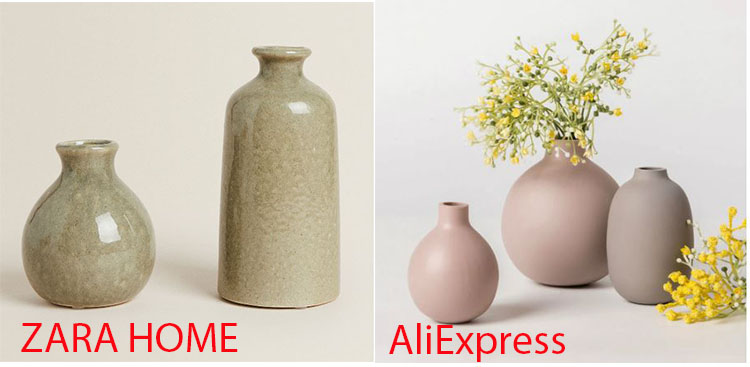 The truth is that Zara Home clones still resist us because it's not easy to find them in AliExpress.
Although there aren't clones per se, you can find many similar products, that will help you set your home with the same elegant style of Zara Home.
Here, we leave you with a selection of items inspired by this brand, such as decorative figurines, glass and ceramic vases, artificial flowers, plates…
Our opinion
We are big fans of this kind of garments and not only because of the savings.
Have you ever liked a garment from a new collection but it is completely sold out in Zara's store or on their websire?
Well, with Zara clones on AliExpress you will no longer have that problem: if any of the sellers we proposed has a sold out garment, you can look for it in another seller's store and you will surely get it.
In facr, you won't have to wait for sales to buy what you want, because on AliExpress you have the cheapest collections all year round.
How to find Zara clones at Shein
On Shein it is also possible to find Zara clones, although it is not as easy as it is on AliExpress: instead of stores or keywords, you'll have to search items by image using this Chrome Extension.
Simply go to the page of the Zara product you want to search, right click over it and click on Search on Shein. You will see all Shein products that look like the one in the image you chose.
You can use this extension in any other website, it is great for checking if any garment has a cheaper version in Shein.
Install Chrome extension for free
Shopping tips
Free returns on many items
If until now you had doubts about buying clothes on AliExpress because you didn't know how they were going to fit, you can forget about this by buying clothes marked with "Free Return".
This way, don't worry if something you bought is not as you expected: you will have 15 days to return it to the seller for any reason and AliExpress will refund the money to your account.
You can see how to return an item on AliExpress in this article.
Trick to get a garment correctly
Our advice is that if you like a clone but it does not have a free return, try it first in a Zara store to see if it really suits you.
Although the garments are not exactly the same, it will help you get an idea of how it may look on you.
You can also look at the photos of real buyers and of course you should always check the measurement chart (although the measurements usually match Zara's, you should not trust them blindly).
Fast shipping
As a finishing note, we want to add that AliExpress shipping times have improved a lot and many of the clothes will arrive at your place in 10 days (just a little more than it would take if you bought it on Zara's official website).