Is there an easier buy of purchasing whatever you need? You go to AliExpress, take the time you need to consider your options, compare prices or just look around and see if anything catches your attention; then you pay, and in one or two weeks, your order is at your doorstep. These days, it is even more advisable to order from your home, and if you get the shipping for free, it seems like everything came together for making our lives simpler.
If you live in Saudi Arabia or The United Arab Emirates, you can receive your packages from China without having to pay any extra amount, VAT Included. Orders are delivered directly at your home through AliExpress Direct, a new facility from this online sales platform.
Your purchases with free shipment directly to your doorstep
Many Chinese brands on AliExpress offer to send their products for free with AliExpress Direct. You just have to make sure that the minimum amount for your purchase is US$40 if you are in UAE, or US$50 if you are in Saudi Arab. You can even order different products for different stores, the only requirement is that the sum of all reaches the mentioned amounts or more.
Once you make the purchase and do the payment, the different sellers (if it is the case) will proceed to send the products to the AliExpress hub in China. Once everything is there, AliExpress takes care of the packaging and send your order via courier directly to your home. If they don't find you there the first time, they will try again. If they fail at the second attempt you will have to pick your package at a post office.
You can check the steps of the process here (there is also a video).
Security measures
Right now, all commercial activities that return to their regular operation require extra security measures. AliExpress is very aware of this, that is why they are very careful and have all the staff health checked. Also, packages are completely sterilized before sending them.

How to order with AliExpress direct Free Shipping
As we mentioned previously, the minimum order is $40 for UAE, or $50 for Saudi Arabia. This amount can be from a single product or from different articles, even if you buy them from different stores. Also, products have to qualify for this kind of shipment, you can check this easily on each article's profile, or even in the search results, as you can see below. You will be able to track your packages to know their exact location during the shipment process, and this is also indicated.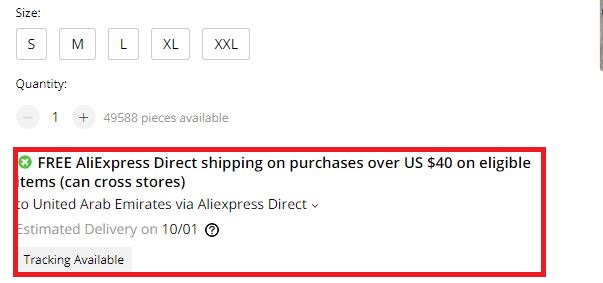 Add the qualifying products to your cart and make sure you choose the AliExpress Direct Shipping method since there are other methods available for each product. The shipping discount will show automatically below the purchase subtotal. Keep in mind that all the products must be in one single order. If you split the order, the discount won't be available.
Nevertheless, here's a useful tip: if the amount of your purchase doubles the minimum (for instance, if you are in UAE and you are making a purchase for US $80 or more), some buyers say it is better to split the order in two. You will still have the discount for both of them and, if by any chance one of the items of the package is delayed (which causes a delay for the whole package), at least you will receive one of the packages earlier.
How much does it take my order to be delivered?
But the time of shipment is not something to worry about. Even when the order should be at your door in a lapse between 10 and 20 working days, it is common that they arrive earlier.
If you don't get your package in 30 days, you can ask for a total refund of your money.
What if I am not happy with the product?
Recently, AliExpress has implemented a new modality to make sure buyers are always satisfied. If you are not happy with your product, you cand ask for a refund within 15 days since the moment you receive it. Your requirement will be processed between 1 and 3 days, and you can have 100% of your money back. However, make sure this option is available in your case since this doesn't apply yet for every country, and not all sellers offer this benefit. If you want to know more, we recommend reading our Claims, Disputes and Returns in AliExpress Guide. We also have a section with tutorials, where you can find lots of tips and useful information for buying on this sales platform.
You are most likely to be completely satisfied with your purchase and to receive it very quickly. If you already tried this shipping method, we would love to know all about it. Do not hesitate and leave your comments below, we are very interested in your opinion.