---
Attention: If you've already purchased from AliExpress, you will have already accumulated member points. You can see how many points and rewards you have in this section.
---
For a while now, AliExpress has been trying to build customer loyalty with a point system based on the level of purchases. Formerly, this system wasn't very trustworthy, but now this famous website is trying to modernize it, to make it more understandable. Now, according to our level of purchase, we will be a Silver, Gold, Platinum, or Diamond Member.
If you don't buy often at AliExpress but want to get discounts, take a look at our coupon guide. We'll show you some tricks to save money and we'll give you promotional codes.
We will explain to you below the advantages of being a member of AliExpress and how to get more points.
Membership levels: now and then
As we've mentioned previously, this system is not new. For a long time now, AliExpress buyers have been accumulating points with every purchase, thus earning different levels. In the past, the score was divided into 5 levels, depending on the number of points they had accumulated.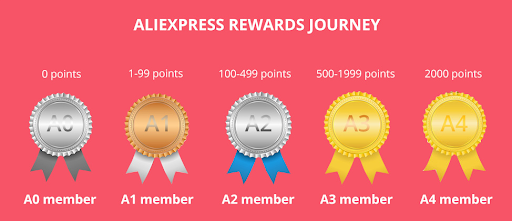 Now, the membership system works with ranges of 4 points and is much easier to understand and navigate through. The range goes from Silver Members (between 1 and 100 points) to Diamond members (with more than 1500 points). This system is much more intuitive than the previous one, and now you won't need as many points to reach the maximum membership level.
How to earn AliExpress points to increase your membership level
The point level is based on the points we have accumulated during the last 12 months, and at the end of the month, they're updated. So if in the past month we haven't been active, it's likely that our score will drop. Getting points is very easy and there are 3 ways to get them.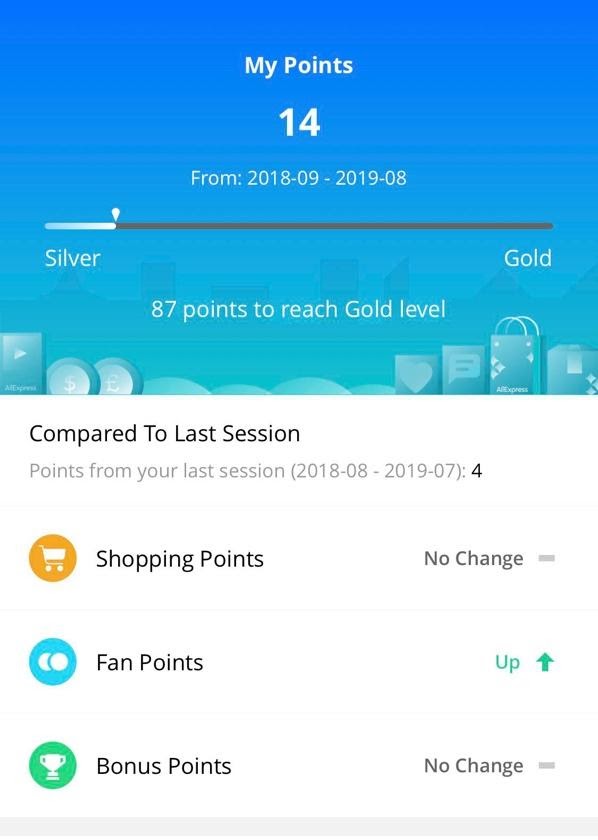 Shopping Points
We will receive points for every purchase we make (with exceptions being if you return an item or if the transaction is deemed fraudulent). You will receive these points when you confirm that you've received your order. You'll earn 5 points for every order of $2 or over (with the maximum being 5 points per day) and you'll even receive extra points for buying items from different categories on the same day.
Fan Points
Being proactive on AliExpress has its rewards, so the point system rewards us with 1 point for each review we make of the products we've received and 1 point for visiting the website on a daily basis (with the maximum points being 10 per month). Additionally, if we publish on AliExpress Club, we will receive 2 points (maximum 10 per month, also).
Bonus Points
These points can be obtained in events and special promotions, so it will be more and more frequent to see promotions linked to this point system on 11/11, Christmas, or all kinds of discounting worthy days.
AliExpress Member Program Rewards and Coupons
Having a good membership level will not only be an advantage in the next sales of AliExpress, but there'll also be advantages during the rest of the year. For the time being, the rewards are the following.
Silver and Gold Members: Birthday rewards, anniversary rewards, level-up rewards, and top weekly brands.
Platinum Members: Birthday rewards, anniversary rewards, level-up rewards, top weekly brands, exclusive event benefits, and fast refunds.
Diamond Members: Birthday rewards, anniversary rewards, level-up rewards, top weekly brands, exclusive event benefits, fast refunds, and limited daily coupons.
As you can see, the levels are very similar, with the two higher levels having more benefits. Let's review each one of these benefits so you know what to expect from them.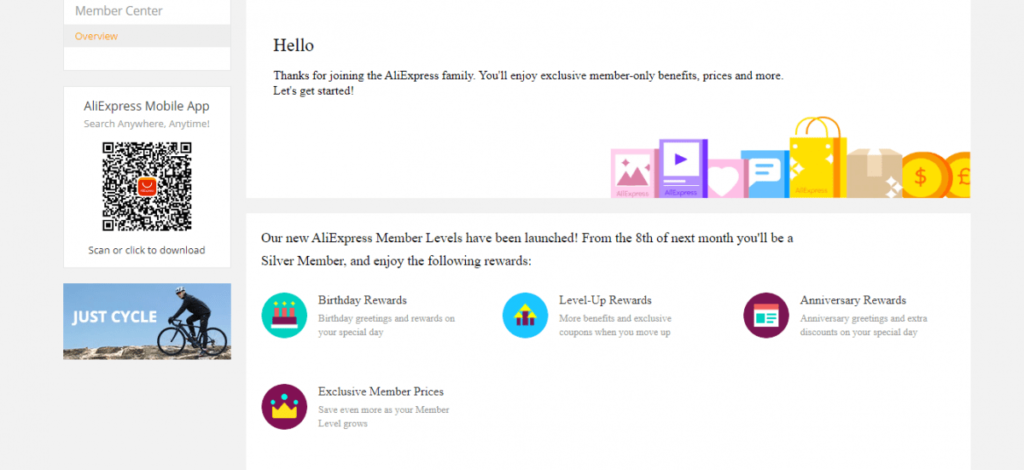 Birthday Rewards
On your birthday, AliExpress will send you a personalized congratulation message and offer you special discounts on the top branded items on the website. To be a part of this, you must have your date of birth updated on your AliExpress profile at least 2 days before your birthday.
Anniversary Rewards
Every time our "registration anniversary" (the date of the day we registered at AliExpress) comes up, we will get a personalized message and discount coupons. Similar to birthday gifts and available within all membership levels.
Top weekly brands
Members will find extra discounts on AliExpress' favorite brands. Each week, the platform will choose a featured brand and the members will bet more discounts on said brand.
Level-Up Rewards
Each level has a defined discount on previously selected products that you can find through the member section. Silver Members have a 5% discount, Gold Members have an 8% discount, Platinum Members have a 10% discount and finally, Diamond Members have a 15% discount.
Exclusive Member Prices
On the platform's promotions and discounts, Gold, Platinum, and Diamond members will get exclusive discounts and coupons. You will be able to get exclusive prices on selected items, especially at the big 11/11 AliExpress discount festival.
Fast Refunds
This benefit is only available for Platinum and Diamond members, who can request faster refunds on purchases of a certain value. Platinum members can request this fast refund on purchases up to $24 and Diamond members on purchases up to $100.
How can I find out my AliExpress membership level
To find out if you are a Silver, Gold, Platinum, or Diamond member, just go to "My AliExpress" and click on the "Member Center" sections. There you'll be able to see all the advantages and benefits of AliExpress' point system.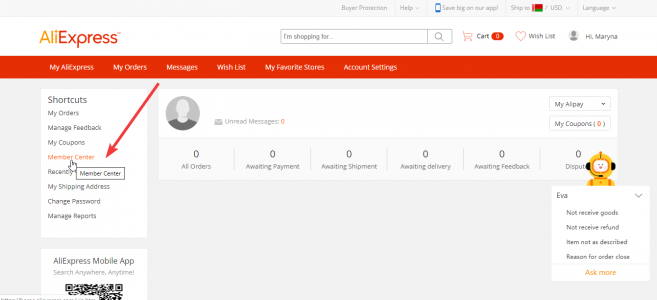 If you're accessing from the AliExpress mobile app, just go to "My Account" and look for the "Member Center" option.
VIP Member Benefits and AliExpress Rewards Day
AliExpress Members have advantages every day. It seems like the point system is succeeding and the platform has found a good way to rewards its more regular buyers. There are more and more advantages for members, such as the AliExpress Rewards Day, a discount promotion where we can find exclusively discounted products for members, and there's also a VIP benefits program, where partners of all categories can earn more discount coupons and fast shipping. The best way to get these benefits is to keep an eye on AliExpress' home page, especially the partner sections of your account, where you'll always be able to find the latest news.
Our opinion about the AliExpress membership club
So far, AliExpress' Member program didn't have many advantages. However, it seems now that they've made a radical change to this system and it can be beneficial for buyers. As time goes by, we'll probably find more promotions and discounts within this club, so don't forget to log in often or rate and review the products you've received to get even more points.
More tips and tricks for shopping at AliExpress: Want to get more coupons?
In our tutorial section, you will find more tips and tricks to buy anything from AliExpress in a safe and reliable way. A good read to get started on your purchases on this famous website is our Essential Buyers Guide for AliExpress, where we explain everything you need to know before you click that buy button.
Do you find this AliExpress point system useful? We'd love to hear from you, so feel free to drop us a comment below!
GuardarGuardar
GuardarGuardar