---
Attention: If you have already purchased from AliExpress you will have already accumulated member points. You can see how many points and rewards you have in this section.
---
Those of us who buy regularly on AliExpress have long claimed more benefits from our purchases. In this sense, this website has been able to adapt to the demands of its buyers: freebies, games to win coins, the possibility of exchanging these coins for coupons, group purchases… But now they also surprise us with a day of rewards for AliExpress members. This promotion comes out once a month and holds interesting surprises. Let's analyze how it works and if it's worth taking advantage of their offers.
How Member Rewards Day Works
Mark your calendars: On the 8th of every month AliExpress will launch a special member promotion under the title "AliExpress Rewards Day". Each month there will be different promotions and offers, and some surprises can be incredible! The last promotion involved a raffle to stay in a 5-star hotel in Northern Italy between Diamond and Platinum users only, but there's much more. We've summarized a little of what we've seen in the last two promotions so you can get an idea.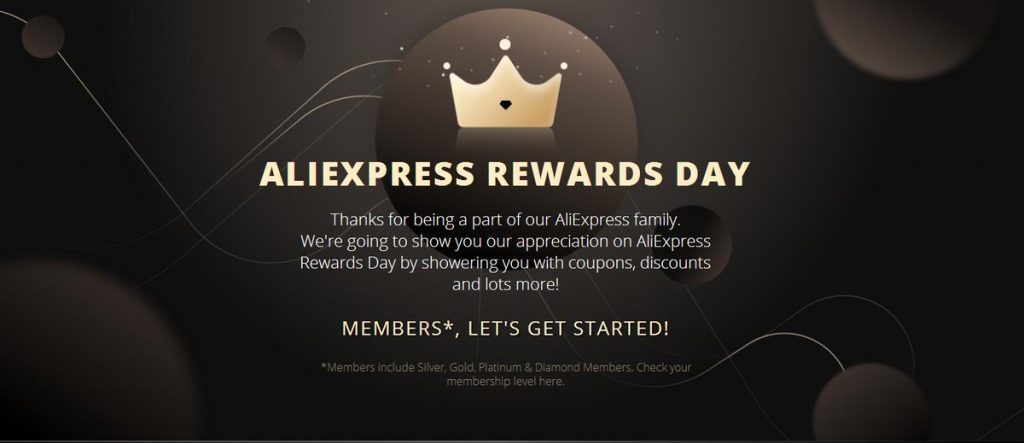 Featured Discount Brands
AliExpress chooses one or two outstanding brands with products that are interesting for the buyers, and you get discounts. These can be technology products such as Xiaomi, DJI, Hasee, Meizu… But also fashion or beauty brands. Discounts can be up to 50%. If it's not long before reward day and you have to buy something from popular AliExpress brands and it's not long before this monthly discount, you might find a good deal that day.
Trendy products at the best price
Every month AliExpress will choose trendy products and include them in this promotion with a discount. These are products with various themes: sports accessories, clothing, beauty products, smartphones, technology… Most of them are cheap products that we can buy if we need them without much difference from any other day of the year. Where we can save money is if there are smartphones or electronic products that are usually more expensive.
Exclusive offers for European buyers
Europe has more and more buyers on this website, and to increase its sales volume AliExpress offers exclusive discounts for the European region. Here you will find products with a good reputation in these markets: international branded clothing, products made in the European continent, or electronic and small household appliances. At the moment we have not seen many offers but if you live in Europe we recommend you to be aware of these promotions because they seem to be interested in this territory.
Offers by category
As in almost all AliExpress sales, there is never a lack of a section in which we will have a selection of products on offer from the 6 best-selling categories: Women's Fashion, Men's Fashion, Beauty, Accessories, Technology or Sports and Adventure. These sections are always useful to discover new products and brands, as well as to take advantage of the discounts applied.
Other advantages for AliExpress members
As you can see, this rewards day is very similar to other promotions, but it's always worth looking at what other discounts are available. In addition to this monthly reward day, being a member of AliExpress also has other advantages. Although we explain them in detail in our AliExpress Members Guide, let's take a look at them:
Level-Up Coupons: Every time you level up, you receive an exclusive coupon.
Birthday Rewards: You can get surprises and special items.
Exclusive Member Prices: In promotions like this you will get better prices the higher level you have.

How to take advantage of AliExpress' member benefits
So far the member program has not been promoted enough, but it may be that with this day of rewards, there will be more advantages. To become a member you just have to be registered on AliExpress and start shopping. The more you buy the more points you will accumulate. You will also earn points by shopping, interacting, and visiting the site daily.
To see what level of partner you are and your advantages, just go to your AliExpress profile and click on the "Member Center" button. You will be able to see the points you have accumulated, tricks to move up a level, and a selection of products with a special price for members.
And if you want to keep up to date with all the new features of AliExpress and other offers like these, remember to visit AliXBlog to keep up to date. In addition to analyzing the best products and brands of this famous Chinese online sales platform, we also have a section with tutorials in which we explain everything you need to know to buy safely on this platform.
What about you? Did you know about this new promotion for AliExpress members? We would love to read your opinion, so don't hesitate to leave us a comment below.