On more than one occasion you have asked us what the symbols on AliExpress meant. Well, in this tutorial you will learn how to identify national shipping symbols, local returns, the guaranteed authenticity logo, the rankings of medals, diamonds, and crowns in the reputation of the different sellers… in addition to other tips on how to buy from this Chinese website. Once you know them you will save more time and get better located while you take a scroll through AliExpress.
Local Shipping Symbols
The local or domestic delivery of AliExpress is called that way because of the speed with which you receive an order. Items with Domestic Shipping are sent to your home from an existing warehouse in your country, so it only takes 72 hours. It usually takes 3 days or less to have your order at home. It has several advantages such as an express reception, easier returns, and tax-free. In our guide about local returns and national shipping with delivery in 72h, you have more information.

Sometimes a product can be shipped from different national warehouses, so you must choose which one is the most convenient or closest to you. It may be that the product is cheaper if we buy it from China, but we will not have all those advantages. Don't forget that it is much easier to solve a problem if they send you a product from your country than if they send it from Asia.
We will be able to detect the products with the national shipment when in the own announcement the option appears to us to choose between different warehouses. In our AliExpress shipping guide, we explain other methods of fast shipping.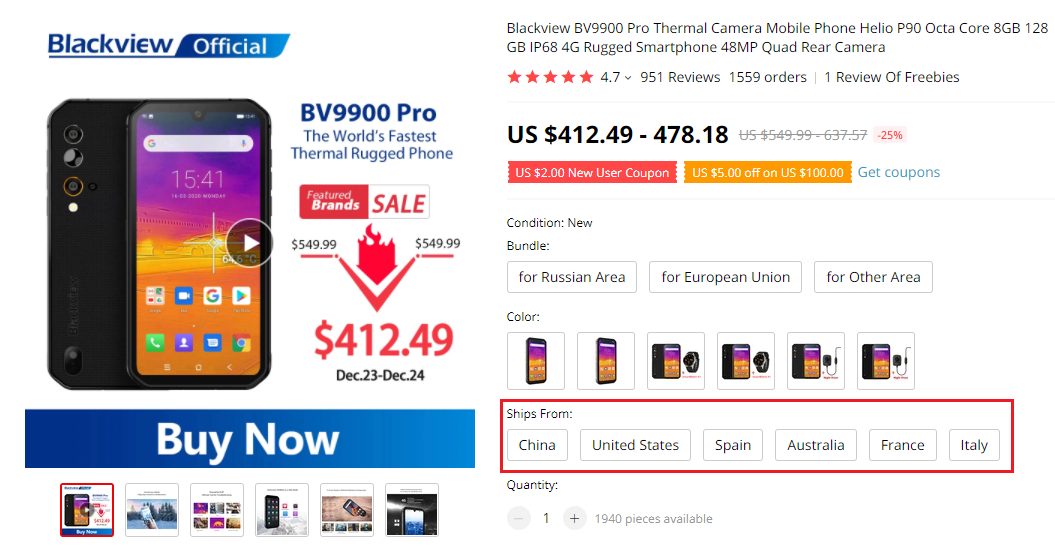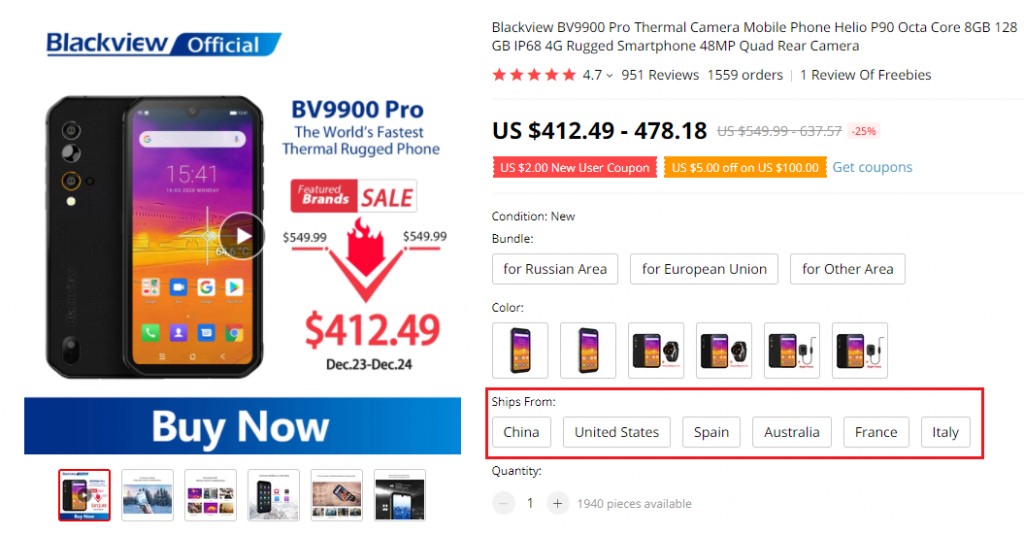 Fast Delivery symbols in AliExpress
This online sales platform is reaching agreements with different transport companies to make shipments faster even when we buy from China. So if you want to receive your AliExpress orders faster, just click on the "Fast Delivery" button when searching for an order. There are sellers that have fast shipping in 10, 5, and 3 days, depending on the warehouse from which they ship (this filter includes orders with shipping from China and also national warehouses that we have already told you about).
Therefore, whenever you see this symbol it means that the product has a fast delivery option. Sometimes this type of delivery has a small surcharge, so it may not be the default. Check the delivery time or shipping methods.

Return symbols on AliExpress
All orders sent from your own country are included in the Simple Return policy. The buyer will have 15 days to decide whether to keep the product or return it. The cost of shipping will be paid by us. However, returns are only accepted if the item has not been opened and comes in its original packaging.
Steps to follow to return purchases from AliExpress:
Request a refund. This must be done before sending the product back to the recipient. This is done from the user's personal account, within 'My Orders'. Open a dispute or access it from 'View Details' within the product page in question.
You will choose 'Simple Returns', or what we call local returns within the drop-down form that AliExpress makes available to you to find out what has happened. Once you have requested a refund, the seller has 5 days to respond to your request. During this time you have the possibility to modify or cancel the dispute: you can think about it and rethink it for a few days, up to a maximum of 5 times.
Finally, wait and check the seller's response. And then, 4 options: accept, reject, modify or cancel the dispute, and once you have reached an agreement with the seller, you have to send the product in a maximum of 10 days. Don't overdo it or the dispute will be cancelled. And finally, once returned, it is up to the seller to confirm that he has received it. And your refund will be available!
However, some sellers now offer the possibility of a free return provided the product is in perfect condition and unused. Without having to explain anything, very simple. You can search for products with this service by filtering the search with the option "Free Return". This service is currently only available in certain countries, you can find more information here.
The steps to make the return are similar, we will have to select the option "Return of Items" when we open a dispute, but in this case, we will receive a return code and the transport company will pick up your package at home or you can take it to a collection point. When the local warehouse confirms receipt, you will receive a refund. Only one free return can be requested per order so if you have bought several products from the same seller, please request a refund at the same time.
If you have a problem with your purchase and you are asking to return the product because it does not match the description (and especially if the return is not free) we recommend that you continue reading our tutorial on refunds, disputes, and returns at AliExpress in which we explain how to solve the most common problems when we want to recover our money and what steps to take.

Symbols of guaranteed authenticity: original products on AliExpress
To end the confusion among users with originals or replicas, until a while ago, AliExpress was flooded with replicas and created an authenticity icon to identify 100% original products. However, for some time now this platform has completely eliminated its replicas and has incorporated quality Chinese brands and authorized international brand stores. In our AliExpress best sellers guide we provide you with a list of reliable sellers.
If the item is counterfeit, when it arrives at you, AliExpress will compensate you with twice the value of the product and punish the seller. Chinese stores are not interested in receiving penalties. As a general rule, you will not be scammed.

If you have doubts about whether an AliExpress product is original, we have an article that explains how to differentiate between original and replica products. And if the product you receive is a fake, you can request a refund.
AlixBlogger tip: Price can be another great indicator of originality. As a general rule, if a product is infinitely cheaper than in your official store, it will be a replica. On the other hand, if the figures are similar, it will probably be an original.
Evolution of seller rating symbols in AliExpress and top brand
We arrived at one of the most used symbols on the web. The reputation of sellers (and also buyers). Very important when choosing a reliable and secure seller. A few years ago, we could classify sellers according to symbols that affected the reputation of the sellers. From lowest to highest, we found symbols of medals (good reputation), diamonds (very good), and crowns (excellent reputation).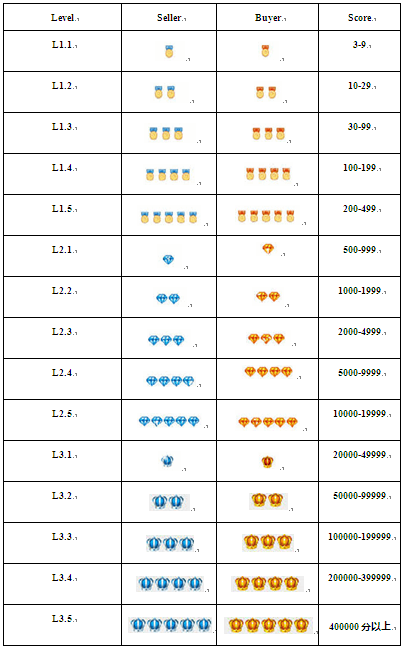 However, the system was somewhat confusing and impractical. That's why the symbols have been eliminated and the system has been simplified to make it easier to recognize a good seller. When you access the store, at the top, you will find how many years the seller has been with AliExpress and the percentage of positive comments. It is easy to locate and gives us a lot of information since a good seller is the one who makes their buyers leave positive comments.

If we click on it, we will see a detailed score of the seller evaluating if the product is as described, if there is good communication with him, and if his shipments are fast.
Look at the seller's average scores: "Item as in description" "Communication" and "Shipping speed". If the ratings are in green it means that they are above average. If they are in red, be careful.
Read user ratings and comments: Who better than a buyer who has just received your order to inform you about it? And while you're at it, look at the stars and the percentage of the products.
In addition, AliExpress has created a symbol to differentiate the best AliExpress stores. This is the "Top Brand" symbol that can be found next to the seller's rating. This seal is only awarded to stores with excellent ratings, known for their high quality, or for being the official store of a prestigious brand. Find more information at this link.
One last warning. Just because a seller has a good reputation doesn't mean you forget to read product reviews. You can be a very good distributor of a range of products but fail in other families. Take a look at their comments and you'll be out of the woods in no time. There are also vendors who have a low reputation but are reliable, we call them on AlixBlog express vendors.
IMPORTANT: Remember that a seller's reputation can change over time. Always check out the latest consumer reviews and opinions before you buy.

More tips for safe shopping
On AlixBlog we always bet on sellers with good ratings, although a good trick is to contact the sellers directly. Frequently asked questions, additional information, sizes, doubts with authenticity, photos… they will be happy to help you, and usually, answer quite briefly.
If you want more tricks to buy safely in AliExpress, in our blog besides analyzing the best brands, stores, and news of this platform, we also have a section dedicated to tutorials. If you have a specific problem and do not want to waste time searching, we recommend reading our Essential Guide to AliExpress where you will find answers to the most frequently asked questions you leave in the comments section.