I'm sure at one point or another you have sat there wondering what a particular AliExpress symbols means. Well, let us start by telling you that each symbols on the platform has a specific use and can save you a lot of time when shopping on AliExpress.
This is a tutorial about symbols used in AliExpress, some of which you may already know, such as local shipping, domestic returns, the Guaranteed Authenticity stamp, and medals, diamonds and crowns indicating seller reputation. We will also be giving you some other advice how to shop in this great Chinese website.

AliExpress symbols: local shipping
Local shipping on AliExpress is called so because of how fast you receive the product. Articles with National Shipping will be sent to your home from a small warehouse in your own country. Therefore, they will only take 72 hours. We've tried it and can assure you its super effective.
Sometimes, a product can be sent form different local warehouses, so you will have to choose the one that works best for you or the one that's closer. In these cases, shipping will be cheaper than if it was sent from China, as you won't have to pay any additional expenses.

Returns will also be a lot easier, so it will take a lot less time. Of course, it makes it a lot easier to solve any problem if the purchase comes from your country than if it comes form Asia. Not only will you avoid importation charges, you also won't have to deal with any delays.
Domestic returns in AliExpress
All the products sent from your own country are included in the area of Simple Returns. Every buyer will have to 7 days to decide if they want to keep the product or return it. This being said, they only accept returns if the article hasn't been opened and comes in its original packaging. Steps to follow this AliExpress symbol:
Ask for a refund. To do this you have to send a product back to the warehouse. Do this from your account, inside "My orders". To open a dispute access through "See details" inside the product page.

The second step is to choose "Easy returns" or what we call domestic returns in the drop down menu

AliExpress

offers when this happens. Once you selected a refund, the seller will have 5 days to answer your petition. During this time you can modify or cancel the dispute: you can think about it and modify the state of your claim up to 5 times.

Finally, wait for the seller to answer. Once they answer, you have 4 options: accept, reject, modify or cancel the dispute and once you reached an agreement with the seller, you have up to 10 days to return the product. Don't go over the time or the dispute will be cancelled. Then, once it has been returned, the seller has to confirm they have received it and you will be reimbursed.
Guaranteed Authenticity: original products in AliExpress
To end the everlasting confusion among users between originals and replicas, AliExpress created this authenticity icon. When a seller has one of these icons on their products you can be sure they are 100% original. In fact, if the product you get is fake, AliExpress will refund you up to double the price you originally paid and will punish the seller, and believe me, this is not something they would easily risk.

If a seller isn't legal, puts the stamp on a product and AliExpress figures it out, they will close down their shop. The only thing you have to do is contact AliExpress and once they have checked and proved it, they will give you back the money. In fact, in some cases you may even be able to keep the product :).
It's happened to us a few times, and for what we've heard from our readers, to you too. In fact, sometimes telling an original product apart from a replica can be very hard, among other reasons because copies offered on this platform are really good quality. This symbol can also appear explicitly in the product description. If it used the words "100% original" or "Original" you can be sure you aren't going to get a replica.
AlixBlogger Advice: the price can also be a good way to determine if a product is original or not. As a general rule, if a product is a lot cheaper than you would expect, it's a replica. Instead, if you find that the price doesn't actually vary that much, it will be an original.
Seller's reputation in AliExpress
That leaves the most used symbols on the platform: the reputation of sellers (and buyers). It's super important when choosing a trustworthy shop. Take a look at the chart to make sure you don't make any mistakes when purchasing something on AliExpress. And remember, from least to most, you will find medals (good reputation), diamonds (very good) and crowns (excellent).
But before we take a closer look, there is something you should know. Even if a seller does have good reputation make sure you always check reviews for the products. A seller may be vary good when it comes to some products, but bad when it comes to others. Take a look at the comments to get a better idea. On the other hand there are also sellers with a very low reputation that are also trustworthy, these are what we like to call express sellers. If you want more information, take a look at this article.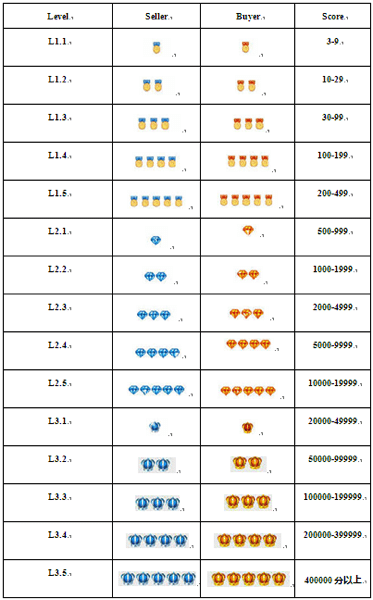 IMPORTANT: The reputation of a shop may change over time, so if you remember a shop for being well rated, make sure you check again just in case. It probably will be, but better safe than sorry, at least that's the policy we follow.
More tricks to choose a shop in AliExpress
Here at AlixBlog we always try to go for sellers with one crown. We've never had a bad experience with them. However, here are two more pieces of advice for your safety.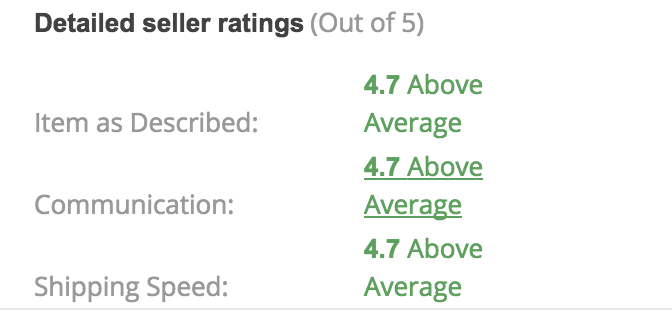 Check the seller's average for "Article like described" "Communication" and "Shipping time". If the ratings are green it means they are above average. If, on the other hand, they are red, be wary.

Again, read customer reviews and comments. Who better to tell you about a product than someone who has just purchased it? And take a look at the stars and percentage the product has as well.
IMPORTANT: The best way to ensure a good purchase is to contact the sellers directly. Questions, doubts, more information, sizes, doubts about authenticity, pictures… they can provide all the information you need to be sure you are buying the right product. They tend to answer fast and be very helpful, including any clarification on a symbol you might have not understood.