If you have decided to cut your hair at home, or if you own a barbershop, today we will review and compare the best Chinese and international brands of hair clippers that you can find on AliExpress.
We will review technical aspects such as the motor, the blades, the combs, and the materials used. Finally, we will give you some extra tips that you should consider to buy the best clipper for your specific needs.
Best brands of hair clippers available on AliExpress
As you can see here, there is a wide variety of clippers models, and almost all of them have lots of sales. If you want to investigate on your own, we recommend that you look at the number of sales that the product has, and check the consumer reviews. If, on the other hand, you find there are too many options for you to decide, we can help by showing you some incredible brands.
1 – Xiaomi hair clippers
The Chinese brand Xiaomi is one of the most popular. They started by making mobile phones of great value for money, but soon they began to partner with other companies to offer all kinds of products that have already succeeded in offering great quality, good features, and a very reasonable price. You can find their products in this link.
In this case, we talk about wireless clippers, since Xiaomi always seeks the greatest comfort. The length of the cut can be adjusted using a button that slides the comb, which is ideal as it will take up less space. The blades are made of nanoceramic, a material that is harder than stainless steel, needs less maintenance, and generates less noise.
They use a powerful engine with turbo mode as well as multiple energy efficiency and power management systems, to maintain power even when the battery runs low. It can also be used with children since its blades have a rounded shape on the edges to avoid cuts and have fast charging via USB, ideal for taking it on a trip.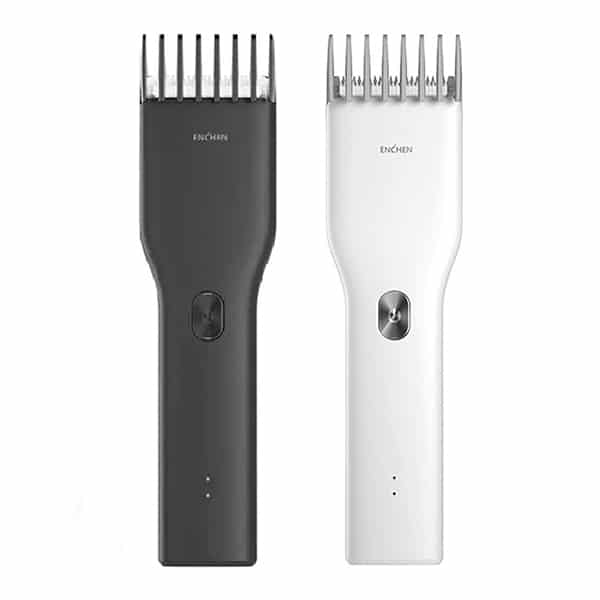 2 – Surker hair clipper
Surker has carved out a niche in the vast AliExpress market of hair clippers, with professional products that look a lot like Wahl, Artero, or Moser clippers. Their clippers resemble more classic models, and there are several low-priced models, as you can see by clicking here.
Again, these are rechargeable hair clippers, although in this case they are not charged by USB. They have an ergonomic design to offer maximum comfort and an LCD screen where you can see the remaining autonomy. Includes large-capacity batteries to maintain autonomy of up to 5 hours.
Some of their models have titanium blades, but most use self-sharpening stainless steel blades. With these latter, you will have to add oil continuously, but they offer a good result and great resistance. In some models, the machine itself will notify us when we have to add oil or clean the blades. This brand opts for the classic guide comb system with various lengths from 1.5 to 12 mm.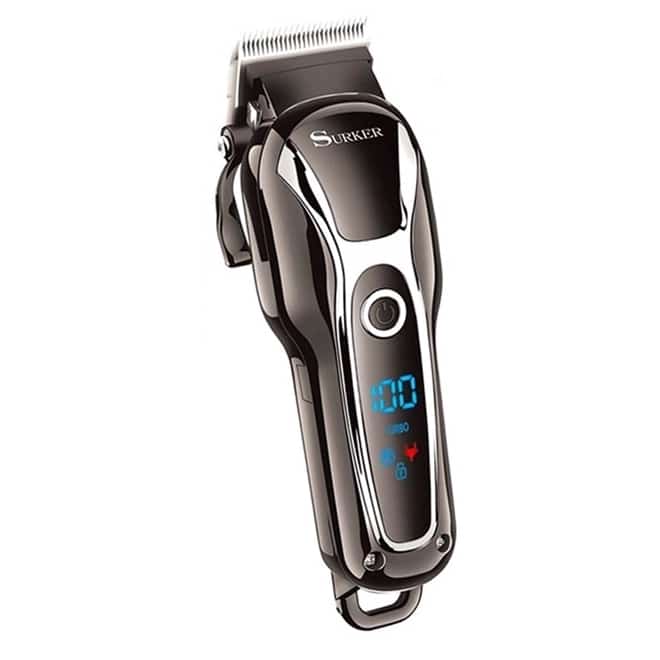 3 – Kemei hair clippers
Kemei brand is one of the best-known brands in terms of personal care products for men and women: epilators, razors, hairdressing utensils. You can find their products in many AliExpress stores. They have a wide variety of low-priced wireless hair clippers, both for home and professional use, as you can see in this link.
This brand characterizes for its wide variety of models and prices. Most of their Kemei clippers are cordless for easy hair cutting, fast charging, and long battery life. They use the classic system of guide combs to adjust the length of the haircut, some from 1 mm.
They have stainless steel or titanium blades in the most professional versions, with a minimum length of 0.1 mm or even 0mm in those designed to shave. Whether you are looking for a multifunction, professional hair clipper, or one for shaving, this brand offers the best prices.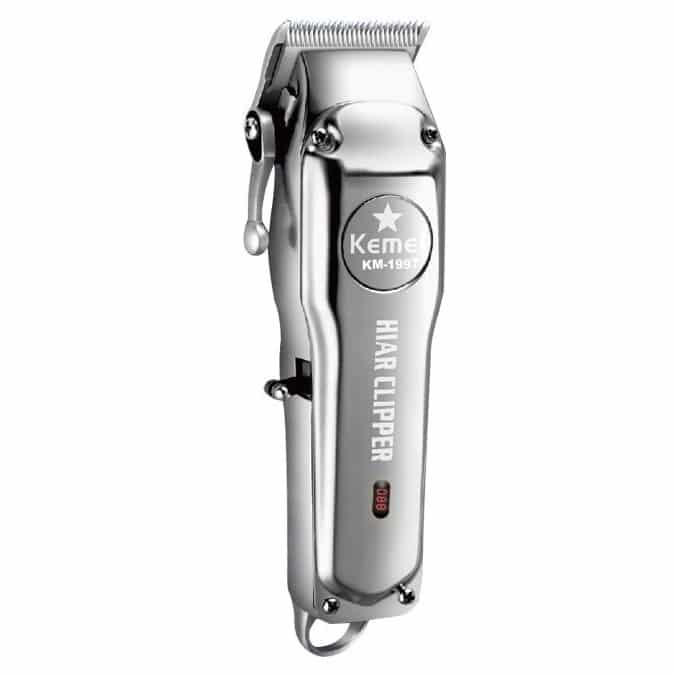 4 – Hatteker hair clippers
Besides hair clippers, many people also look for nose or ear trimmers, or razor hair clippers. Hatteker specializes in professional multifunction machines, so they are ideal for those looking for a product for various uses. Their clippers are cordless, provide great finishes, and remind us of Philips, Braun, or Panasonic clippers. You can find them at a low price by clicking here.
The key to the success of their products is in the quality of its components: for instance, the blades are made of a combination of titanium and ceramic, with a rounded finish to avoid any accident, and clippers also have a LED display. They are easy to clean because they are water-resistant. Some razors from this brand can cut from 0.5mm and can also use styling guides to adjust the length of the cut. Thanks to its charging via USB, you can charge them more easily.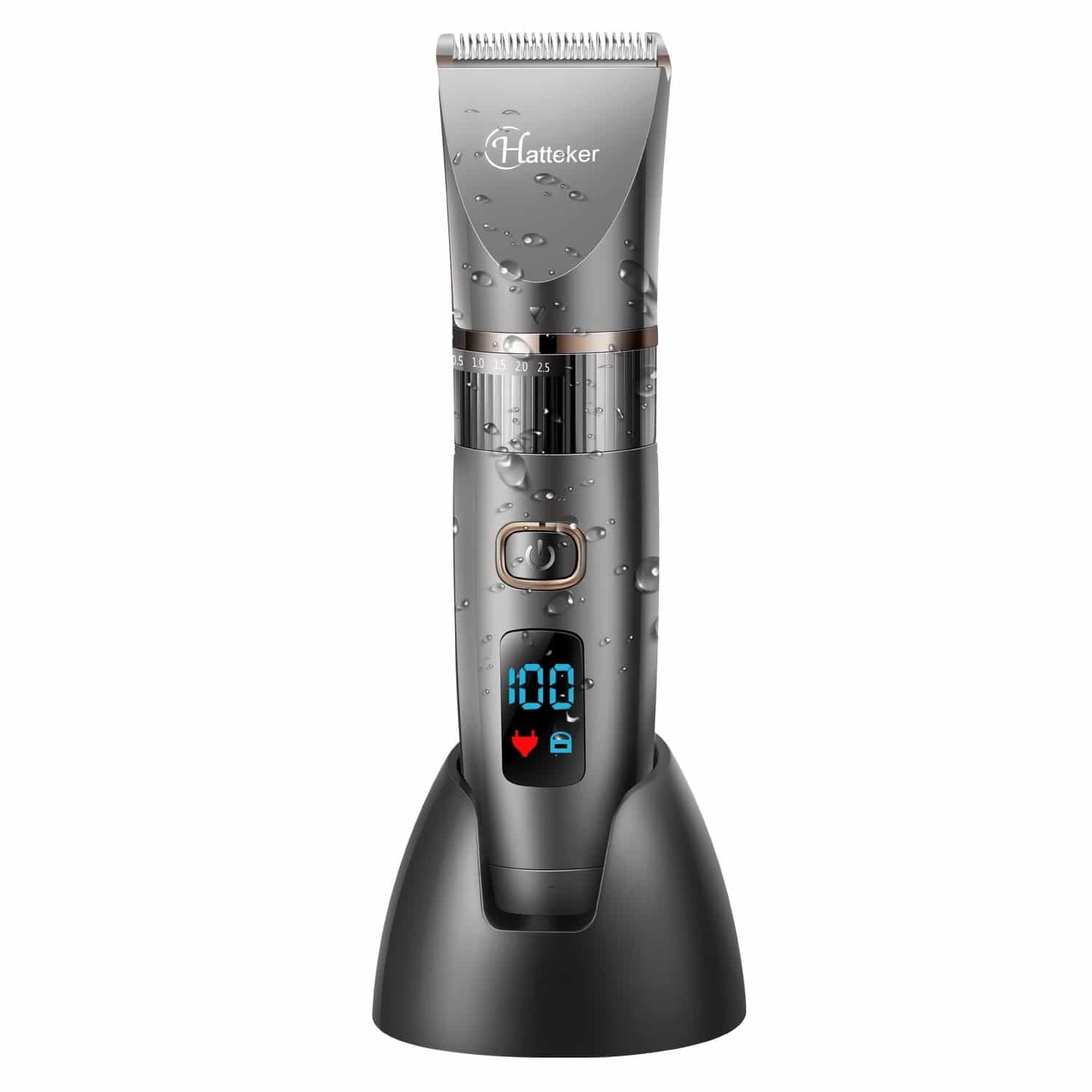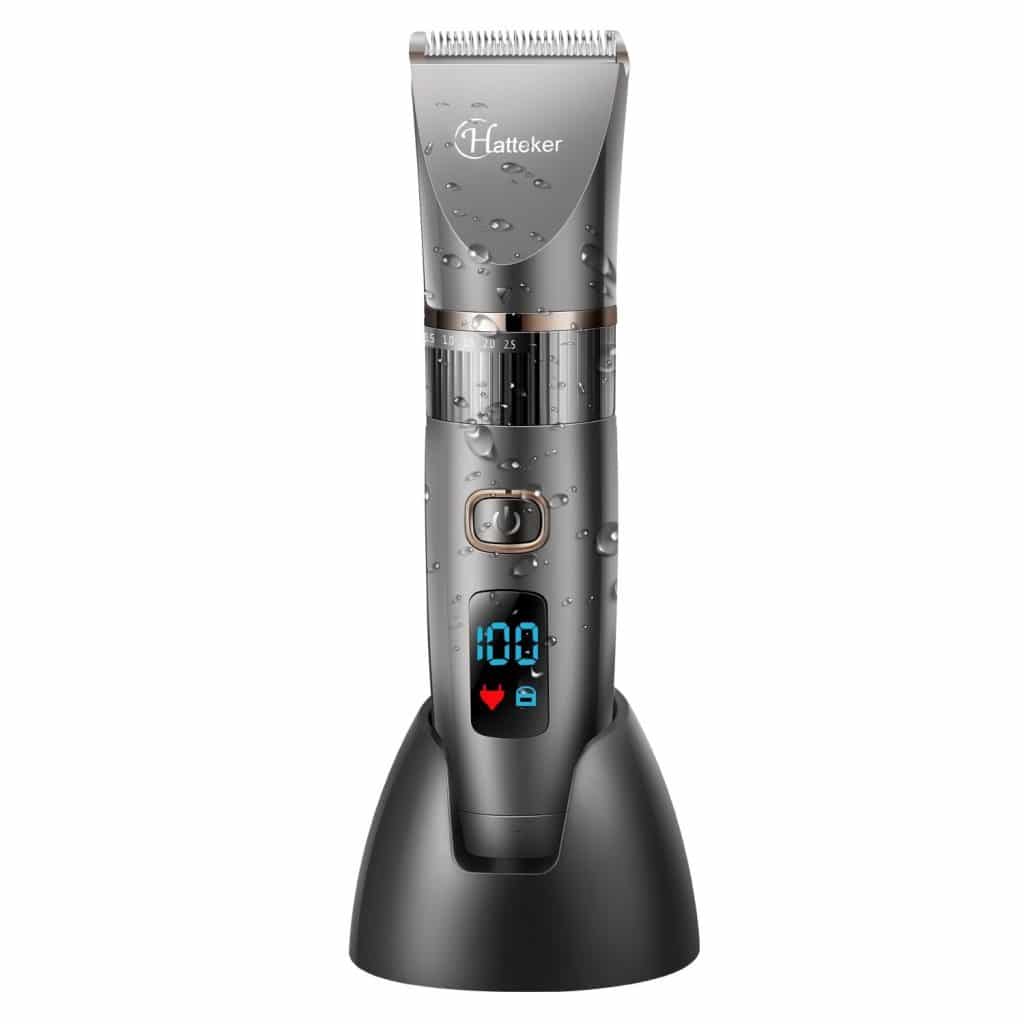 5 – Wmark hair clipper
If you want a professional hair clipper, there are also Chinese brands specialized in barbershop products. Wmark clippers are a good alternative to Wahl, Moser, Artero, or other brands used by experts, but for an incredibly lower price, as you can see at this link. They also have an official store on AliExpress that you can access by clicking here.
These are cordless hair clippers with a large capacity battery with which they reach an autonomy of up to 240 minutes. They use combing guides to adjust the height of the cut and their main blade is usually made of chromed metal or carbon titanium. The design of its machines also stands out, with colorful or completely metallic finishes.
But the main difference with other machines for domestic use is its motor. Wmark clippers use high-quality magnetic motors that can reach over 6,500 RPM for an even cut like in the salon. It also includes very interesting accessories such as a non-slip rubber ring to absorb impacts or white ceramic blades.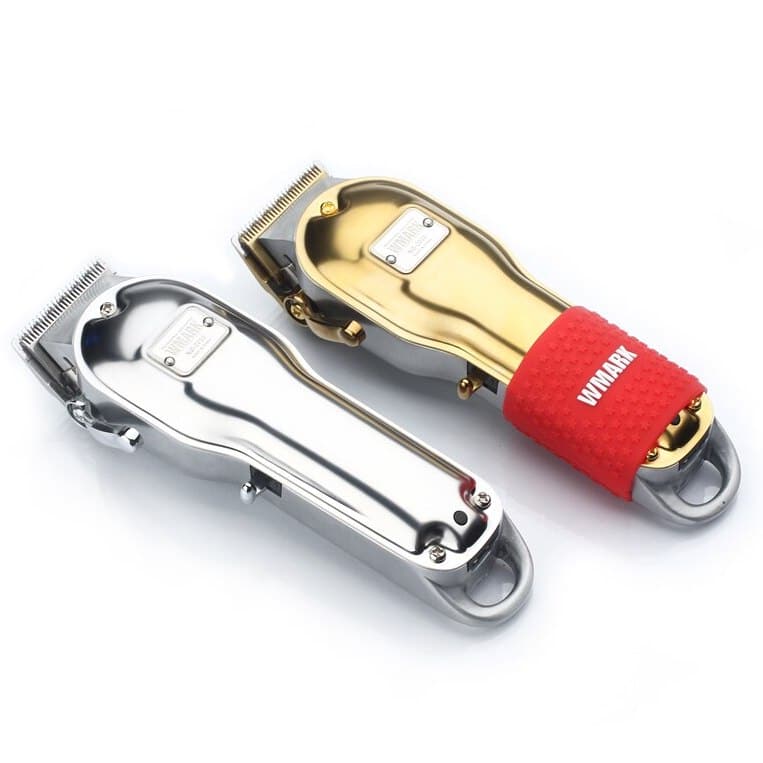 6 – Riwa hair clipper
Although is part of the Xiaomi group, Riwa çworks as an autonomous brand and has its own official store in AliExpress that you can access from this link. This brand specializes in small beauty devices for men and women, from hair dryers to razors. Their hair clippers are very interesting because, as is often the case with all the products that are part of the Xiaomi group, they have a lot of quality at a reasonable price. You can find them all by clicking here.
By the design of their machines, they remind us a lot of the clippers of Philips, Taurus, and other international brands. They are also very similar aesthetically to the Hatteker clippers but in this case, they are especially focused on cutting hair. Riwa's hair clippers work without cables with their long battery life of up to 4 hours in some models.
The blades can be adjusted between 0.5 and 2.5 mm and you can also use the guide combs. They have a practical LCD screen with a travel lock function and can be easily cleaned under water. In most professional models, we will find ceramic and titanium blades for a perfect cut. Their clippers have a system that reduces noise and vibrations.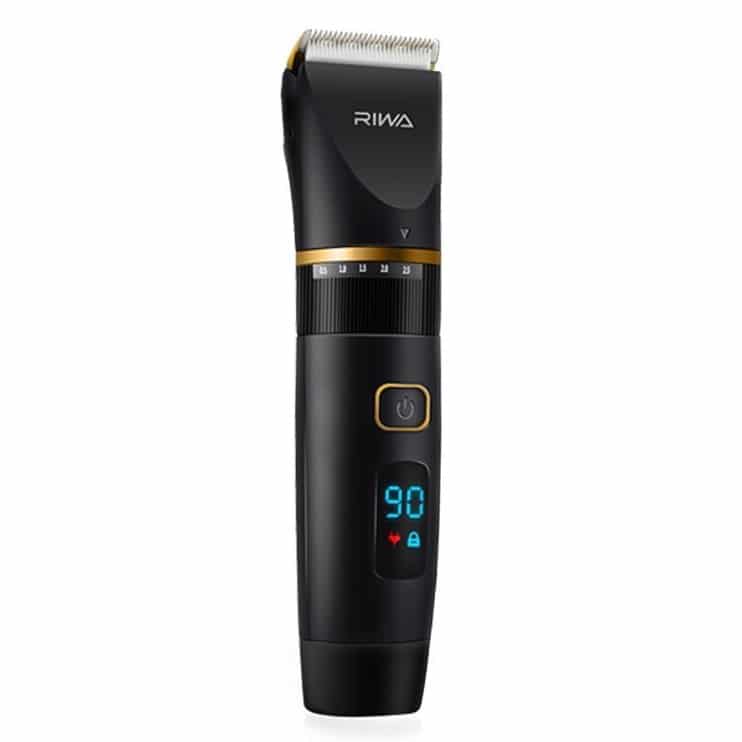 7  – Codos professional hair clippers
The best Chinese professional brand of hair clippers is Codos. This brand offers high-quality cordless hair clippers at an affordable price as you can see here. It is also very easy to find accessories and spare parts such as styling guides or replacement blades for their machines on AliExpress.
What is most striking about its models is that some have a practical LCD screen that allows us to fully adjust the cutting parameters, reminding us when we need to add oil or see the autonomy. They have a constant speed control system to choose the cutting speed between various levels, non-slip design, and other details such as their titanium and ceramic blades.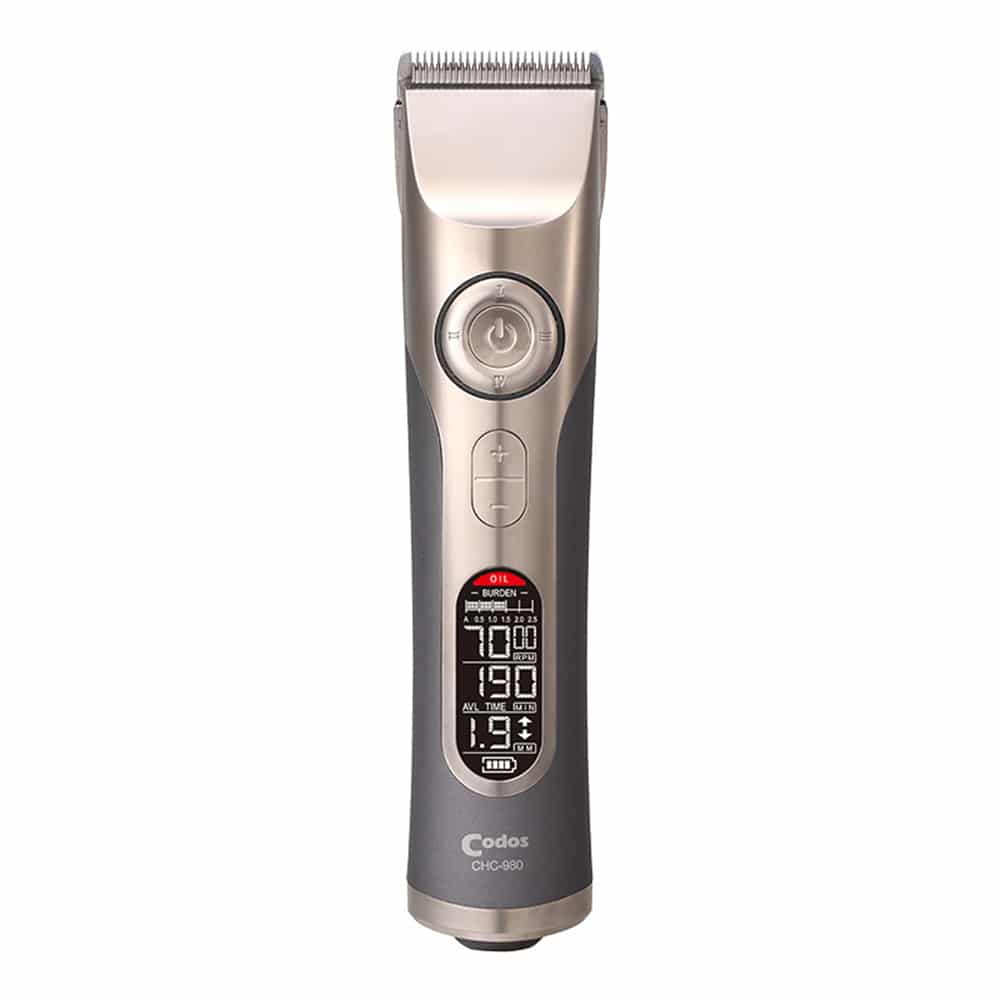 Other brands of hair clippers
But this online sales platform has evolved and now not only sells Chinese brands, but you can also find clippers from the best international brands on offer. Although with Chinese hair clippers you can get better features for less money, you may be interested in looking at some of these brands, or in checking the difference in price between a Chinese brand and a more popular one.
Types of hair clippers that you can find on sale in AliExpress
As you can see, not all clipper machines are the same, there are some differences within their features. We will explain briefly the advantages and disadvantages of each type.
Hair clippers for babies
Even the little ones need to cut their hair from time to time. Baby hair clippers are characterized by being silent machines so as not to scare children. Its blades are designed to prevent accidents or damaging the skin: rounded edges, wider angles, soft materials… On the other hand, they do not cut as much as professional clippers. You can find them by clicking here.
Corded hair clippers
These are hair clippers that must be plugged since they don't have a battery to operate wirelessly. The advantage is that they always maintain the same power during cutting and they are very low-priced, however, we depend on the distance of the cable or an extension cord, so it is increasingly difficult to find corded hair clippers.
Wireless hair clippers
Today almost all hair clippers are wireless as they offer infinite advantages over the previous ones: they can be used anywhere, you can take them on a trip, they can be used with a cable in case you run out of battery… The disadvantage is that some white brands of hair clippers use a low-quality battery, so we recommend you look at the brands that we have talked about above.
Hair clippers for cats and dogs
Our pets also need to trim their hair. However, dog groomers are quite expensive. With a little practice and a good pet hair clipper, you can save yourself quite a bit of money and have your furry friend happy. In AliExpress you can find very economic hair clippers for cats and dogs at this link.
Professional hair clippers
Professional hair clippers have the best features on the market, such as better materials in their blades or a more powerful motor, this makes them cut hair better and last longer. Their main drawback is that they are more expensive than household hair clippers, but on AliExpress you can find them at a better price by clicking here.
Things to consider before buying a hair clipper
But before buying your next hair clipper, we recommend that you take a good look at all the features, so you can better choose the machine that suits your needs. We are going to explain to you the main components of a hair clipper.
Motor
Without a doubt, the motor is an important part of a hair clipper, especially if we are looking for a professional machine. If it doesn't have enough power, cutting our hair at home will be quite an odyssey as it will take a long time. Ideally, it should have more than 4,000 rpm, however not all manufacturers provide this information. It is also interesting that it is quiet and reduces vibrations.
Blades
Nonetheless, the blades do the heavy lifting: shaving the hair. Therefore there are many aspects that we must consider in relation to the blades of a hair clipper. For example, if we want to cut our hair very short, there are some machines that cut at least 0.4 mm and cannot shave. The most accurate ones can reach 0.1 mm. Another important parameter is the width, the wider the hair, the more hair we will cut in one go.
They can also be made of different materials: titanium, ceramic, or stainless steel. The former are the most expensive, allow high cutting precision, and are highly durable. Ceramic ones are good value for money but are less resistant. Lastly, stainless steel ones are the most common.
Comb
Most hair clippers include multiple guide combs to define the length of the cut. It is a very reliable method, however, we will always need to carry the combs with the length that we want to use. Other machines have a single adjustable comb with various lengths, but this system can be less precise as they can be accidentally moved.
With cord or cordless
We have already seen that there are corded and cordless hair clippers. Each offers its advantages: cordless machines are more manageable and allow you great freedom of movement, but they must be charged and have a certain autonomy. Those with cables limit our maneuverability but they are simpler and more stable machines.
Cleaning and maintenance
Hair clippers are low maintenance: you will need to clean the blades to remove hair clippings and lubricate the blades from time to time. Some clippers facilitate maintenance with an on-screen notice when oil needs to be added, or some can be cleaned with water.
Digital display and other features
There are other secondary features that can be very interesting, such as a digital display to check the settings or the battery, the travel lock system, or the water resistance to easily wash the machine under water.
Price
Now you know what to look for in a hair clipper. The price of these machines in AliExpress may vary according to temporary offers but we are going to leave you a small guide so that you know how much they cost approximately:
Economic, corded, or basic hair clippers can be found for less than US$ 25 on AliExpress.

Cordless hair clippers or those with more advanced features such as titanium blades or screens are available on AliExpress for between US$ 25  and $50. A machine with similar features can cost twice as much at top brands like Philips, Braun, or Panasonic.
Professional hair clippers can cost between US$ 50 and $120 on AliExpress, although international brands such as Wahl or Artero can cost between US $100 and $350 depending on the model.
Is it safe to buy hair clippers on AliExpress? Which guarantees do they offer? Is it easy to return the product if I am not satisfied with it?
Hair clippers on AliExpress are very low priced and of high quality. Hair clippers on other platforms, such as Amazon or eBay are not competition for this platform. But you probably have some doubts about whether it is worth buying your next hair clipper on AliExpress. Well, the comments of other buyers make it very clear: the brands that we have told you about have great feedback and customers and are very satisfied.
Regarding the guarantee and returns, AliExpress is making all these procedures easier every time. The local guarantee in your country must be assured, and more and more sellers are offering free returns up to 15 days after purchase in case you change your mind. We recommend reading our Claims, Disputes and Returns in AliExpress Guide, which you will find in our tutorials section.
Get your hair clipper at the best price with special offers and coupons
As you can see, whether you are looking for a hair clipper for personal use or a professional hair clipper, on AliExpress you have high-quality brands that will save you money. If you also take advantage of the discounts and offers that the platform offers temporarily, you might spend even less. We recommend visiting the AliExpress home page frequently or looking at our blog, where we update you on the best sales and discounts.
Now you know which are the best AliExpress hair clippers. Are you thinking of cutting your hair at home? We would love to know your opinion, what your favorite brand is, or if you have already bought a hair clipper. Share with other readers if you liked this article.