If you want to have a good shopping experience on AliExpress, it is essential to pick the right seller.
That is why, in today's post, we will tell you some infallible tricks to differentiate a reliable seller from one you should avoid.
Why is it necessary to buy from a reliable seller?
You already know that there are millions of sellers on AliExpress and that you can find the same item in many stores at the same time.
That's why it's not the same to buy an item in a particular store: buying from a reliable seller is essential to ensure that the product will be of good quality, and that it will arrive on time and in good condition.
How to identify a reliable seller
Look for stores with the Top Brand label
This symbol of excellence is only found in the best stores of this marketplace: all of them have been verified by AliExpress and have very good ratings from buyers.
When you buy from these stores, you can be sure that you are buying directly from the brand or from an official distributor.
With this being said, it is very difficult to have problems when you buy in this type of stores. And if you do, you can be sure that the seller will respond immediately to continue to maintain this good status with AliExpress.

Percentage of positive store reviews
AliExpress specifies the percentage of positive reviews that all stores have according to buyer reviews. You can find it on the store's front page: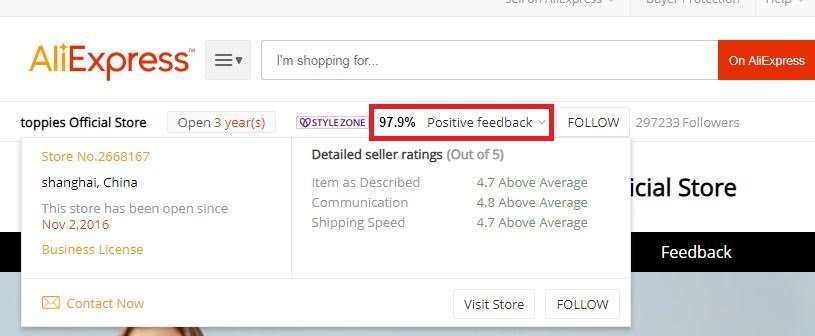 This percentage is obtained from the total number of buyer ratings in the last six months.
We recommend that you always pick stores with a percentage greater than or close to 90% to ensure that they are, indeed, a reliable seller.
Detailed seller rating
This rating on a scale between 1 and 5 stars (the closer to 5 the more reliable the seller) takes into account the following aspects:
If the item matches the description.
Communication with the seller.
Shipping speed.
By checking these three points, you will be sure that the seller does not usually fail in some important aspect of the sale.

Time the store has been around
Although there are new stores that are also reliable, buying in an established store gives you the guarantee that the seller will have a lot of experience.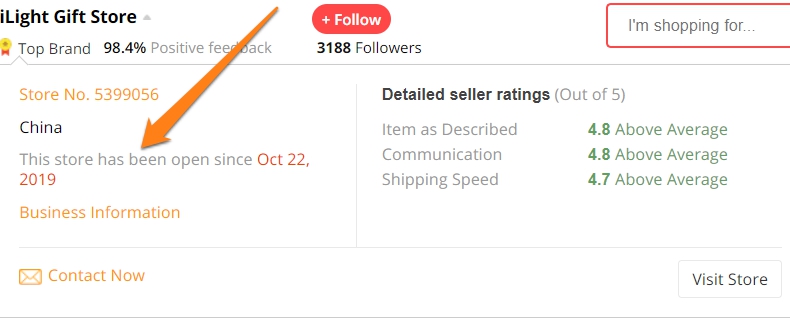 Number of followers of the store
Another thing you can look at is the number of followers a store has.
Considering the seniority, there are also stores with relatively few followers that can be trusted, but it will always be a safer bet to buy from those that have a larger number of people following them to be aware of their offers and news.
If they have so many followers it is because the shopping experience with these sellers has been good, don't you think?

Buyers' reviews and number of sales of an item
It is also very important to read buyer reviews on each item you are buying to ensure that you will receive a quality product.
Many buyers also value how the seller responds in case they have had a setback with their order, and this is essential to avoid future problems.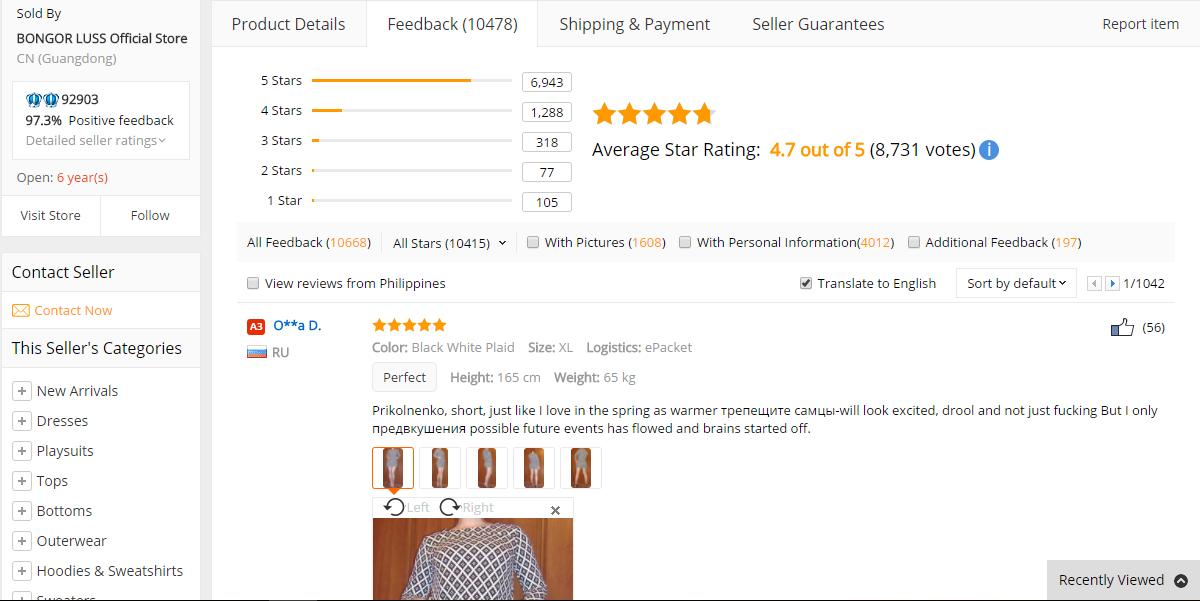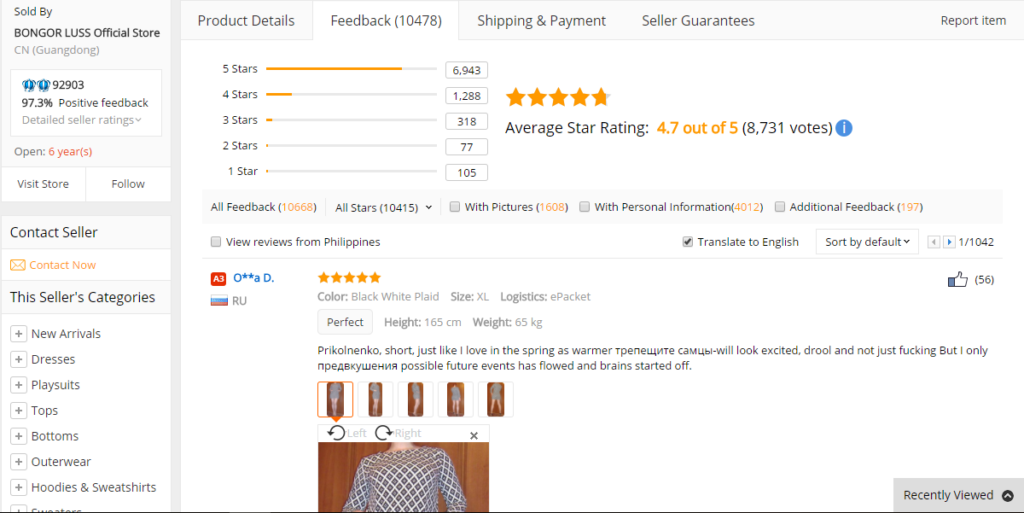 If an item does not have many sales, look at other aspects
If the item you want still has no ratings and also has few sales, it does not mean that the seller is not trustworthy.
You can always take a look at the reviews of other items in the store, at customer satisfaction or ask the seller directly.
Communication with the seller
As we always say: if you have any questions, contact the seller.
The seller's willingness to answer any question is essential to know if shopping is safe or not: if a seller ignores you, it is better to avoid buying from them.
It is up to the seller to make an effort to establish a trustworthy relationship with us, especially when it comes to expensive products.
In this article we already told you how you can contact an AliExpress seller.
Tip: search directly for items with good reviews
You should know that AliExpress always searches by default for items by their "Relevance". For this, it relies on an algorithm that takes into account the reliability of the sellers (among other things).
In addition to this, you can further narrow down your search by filtering the items according to the best ratings.
If you prefer AliExpress to filter your searches for you by items with good reviews: type in the AliExpress search bar (here, at the top of the page) the item you are interested in and then just click on the "4 stars or more" option.

This way, you will always get the highest rated items first and you avoid wasting time discarding sellers.
I have bought from a seller and he tricked me
We have told you all the tricks to avoid being scammed by a seller, although we all can make a mistake and trust the wrong seller.
If this has happened to you, don't worry: AliExpress takes great care of its customers, and you can claim your money back through a dispute.
Don't know how to open a dispute? Then read this guide where we explain it in detail.
In addition to the dispute, never forget to leave your negative feedback to the seller to warn future buyers.