One of the most frequent questions, when we start shopping on AliExpress, is: how do I know if the seller is reliable? That's why at AlixBlog we tell you everything you need to know to choose the best seller and buy safely.
Why is it necessary to buy from a good seller?
AliExpress is an online sales platform where you can find thousands of sellers. Payments are processed entirely by the platform (the seller only receives the money once the order is confirmed), and AliExpress can mediate claims in the event of not reaching an agreement with the seller. Nevertheless, finding a good seller is essential, as they are in charge to correctly send the order and solve any problem with it.
Finding the best sellers on AliExpress will improve your shopping experience and help you avoiding trouble.
How to find products from trustable sellers
Before explaining to you how to identify the best sellers, we would like to explain how to find, in a simple search, articles from a good seller.
When looking for an item on AliExpress, a good way to find a good seller is to narrow your search with the following filters:
Orders: Thanks to this filter, we can find the best-selling products containing the keywords that we have used to perform the search. Usually, the higher the number of sales, the more likely the seller is good, as well as the product (and if the product has reviews, take a look to see what other buyers think).
Rating of 4.5* or more: This filter can be combined with others. It is an effective way to find products with positive reviews from other buyers, but it can also discard some products that do not have a rating or have a lower rating for reasons beyond the seller's control (ratings are personal and subjective in many cases).

This search filter process helps us improve our chances of finding a good seller, but what if the product is very new and has no reviews yet? Many times we will be the first customer, and knowing if the seller is reliable can help us decide. Keep reading.
Seller classification system
Aliexpress has a seller rating system that depends on the points that buyers have given to the product, once they have received it. The valuation that we leave when receiving the products counts to the seller as follows:
A 4 or 5-star rating adds +1 points to the seller.

A 3-star rating gives the seller 0 points.

A 1 or 2-star rating deducts -1 points from the seller
The total of all ratings is summarized in a system of medals, diamonds and crowns, which is the most graphic way to identify a good seller. Sellers with crowns are the best on AliExpress by the number of sales, and the more crowns, the more reliable they are.

However, you have to look at another parameter, the percentage of satisfied customers, which is counted by buyers who have valued the seller with 4 or 5-star ratings. We can find sellers who do not have as many sales, and therefore do not have crowns but have a very high percentage of satisfied customers, a sign that they have been doing a good job.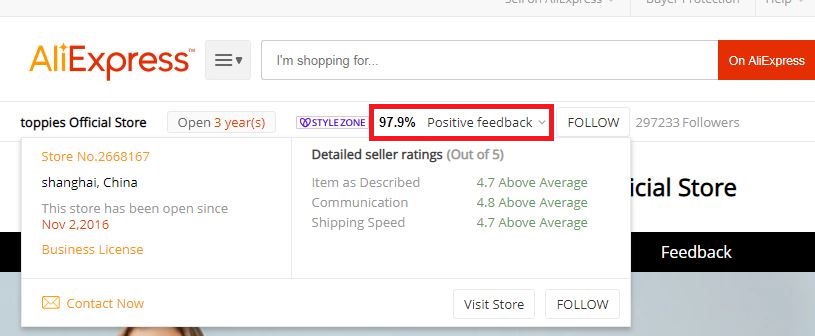 "Top brand" medal for the best sellers on AliExpress
In addition to the rating system, AliExpress has incorporated a logo to identify the best sellers on the page. This medal is obtained by the seller when they fulfill the following:
Have a record of good customer service, which means they offer great service.
Consistently receives positive feedback from buyers, which means they are reliable.
Approve the monthly reviews carried out by AliExpress to verify if they continue to meet the conditions for being one of the top brands.
To find sellers with this certification, we only have to look at the information at the top of each store's profile, and we will see the logo immediately.

In case of any doubt, ask the seller
If, despite having positive comments and a good rating, you have are not entirely sure, contact the seller. They are who can best solve all your doubts about shipping, size, available colors… From AlixBlog, we recommend asking the seller to send real photos, in case you don't see them in the ad.

But even if the seller is not up to par, AliExpress protects you
As we commented on a previous article, Sellers With Low or no Reputation and Express Shops on AliExpress, we want to remind you that a seller can be reliable even if they have no sales made or reviews received.
It is possible that they have just arrived at AliExpress, or that they have opened a new store. However, if you have just started shopping on AliExpress, making purchases from sellers with the highest valuation and number of sales will save you headaches. Once you know better how the page works, as well as the buyer protection system and the disputes, you can go ahead and buy from new sellers who are not as reputable.
Finally, remember that if you have any problem with the seller (whether you have noticed the valuation or not, there can always be an inconvenience), you can always turn to AliExpress's Dispute System. You can use it in case you cannot solve any issue directly with the seller. Remember that you can now open a dispute up to 15 days after confirming receipt of the order, and for AliExpress to intervene in the dispute you have to escalate it.
If you need further advice, in the tutorials section of our blog you will find articles focused on making better purchases on AliExpress.