You won't be able to find any original North Face products in AliExpress, and there really aren't any replicas to speak of, but don't worry: here are two great alternatives.
Cheap Chinese clones of North Face jackets
As you may already know, North Face is known for making amazingly warm jackets and for being pretty pricey. There used to be some replicas in AliExpress, but given their recent change of policy, it's impossible to find any at the moment.
However, you still have two alternatives: white label clones and Chinese brands.
North Face white label clones
The first alternative are cheap white label products. These are the same products that are later imported by occidental makers and branded to be sold three times more expensive.
To find them, all you have to do is start a generic search.
Let's see the types for jackets you can find:
Snowboard and skiing jackets

To find these ski jackets all you have to do is go to this search, filtered by sales. To see snowboard jackets, click here, but to be honest, the clothes are basically the same, the distinction is usually only made to reach sellers looking for something more specific.
Windbrakers

You can find windbreaker North Face style jackets by typing in the word Windbreakers in the search tab. You can find them for something in between 10 and 30 euros, depending on if you want a simple windbreaker (cheaper) or one with fleece lining (more expensive). And talking about cheap polar jackets…
Polar jackets
Finding polar jackets can be a bit more complicated as they don't have a specific category, but we've filtered a search for you here (sorted by number of sales). You can find them for anything in between 10 and 65 to 70 euros, for more sophisticated ones.
Feather jackets
Main article: cheap feather jackets

Like we mentioned in our article about feather Moncler style jackets: you can find super cheap feather jackets in AliExpress, sometimes for only 20€. The best part being that they use genuine feathers, so they are super warm.
You can find them for men here, and for women here.
Chinese brand making ski clothes and windbreaker jackets
On the other hand, you can find tons of Chinese brand making ski clothes and windbreakers inspired by North Face. Unlike the ones mentioned above, these brands have a recognizable logo and name. The top selling brands in AliExpress to buy winter clothes are the following:
Keep in mind that these brands are usually undervalued in AliExpress, so they won't even mention the brand name. This makes them harder to find, and again you will have to go to a generic search like the ones mentioned above.
How to find your size of jacket or winter clothes
Remember that AliExpress is an international online shop and the size of each shop can vary a lot. Therefore, whenever you are going to purchase something, make sure you take a look at the product description and the size chart provided by the seller.
Just to give you an idea, we've randomly selected this fleece jumper: as you can see you can choose among S, M, L, XL and XXL, and if you take a look at the product description you can see this size chart:
The seller also provided some extra orientation:
Relative clothing sizes too large, carefully read the size chart or contact customer service staff before you buy, thank you.
Important: take a look at the reviews left by previous customers
Almost as important as the size chart is reading reviews and comments left by previous customers. They can give you useful information about sizes. Take a look at what this customer has to say about the jumper we mentioned earlier: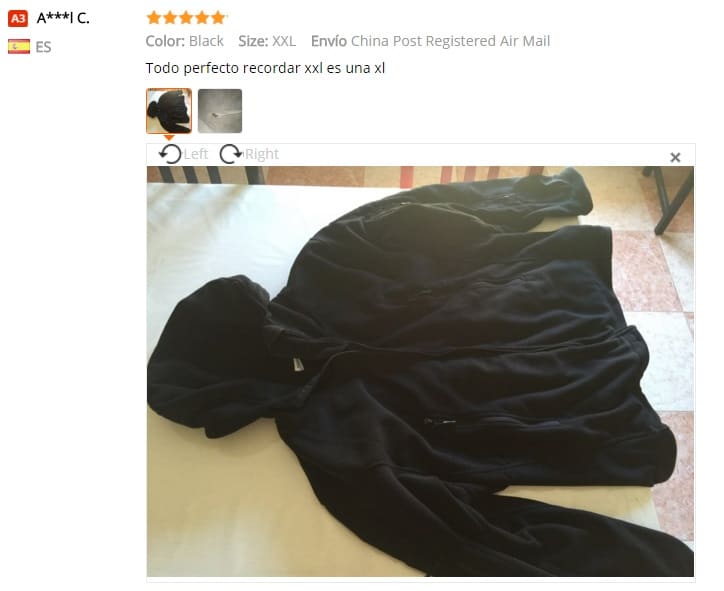 Do you need any more help with AliExpress?
If you need more help, don't be shy, leave us a comment! We are here to help.