If you're wondering if you can shop at Shein and pay cash, you've come to the right place.
Today, we will tell you about all the payment methods offered by this platform, and we are going to explain how you can pay cash without being linked to a bank card.
Warning: with this trick you can get unlimited Shein coupons. Click here to find out more.
Shein's most popular payment methods
These are the most popular ones on Shein:
Credit or debit card: from Visa, Mastercard, Maestro, or American Express companies.
PayPal: a known independent entity with which we can pay via credit card or bank account.
Other local payment methods: depending on the country.
You can see more details about these payment methods at this link.
As you can see, Shein does not accept other methods that allow cash payment, such as Western Union.
However, there are some tricks to paying cash for your Shein purchases if you do not have a card or bank account, as we will tell you below.
Can I pay cash on delivery?
An easy way to shop by catalog is to pay cash on delivery, however, in recent years fewer and fewer sites offer this payment method and Shein is no exception: it does not accept cash on delivery payments.
Although for the buyer it is a convenient way to pay, for the stores it gives problems, and they usually avoid it.
How to pay cash on Shein
Even if when you go to pay for an order on Shein you don't see the option to pay in cash, there are ways to get it.
Virtual cards
Using a card is the easiest way to pay at Shein. Although these cards are usually connected to a bank account, in recent years several virtual cards have appeared that allow you to top up your balance via bank transfer.
These virtual cards work like debit cards: they only use the money that is deposited and are very secure.
To pay with them, you only have to select the credit and debit card payment method and add all the data: cardholder, number, expiration date…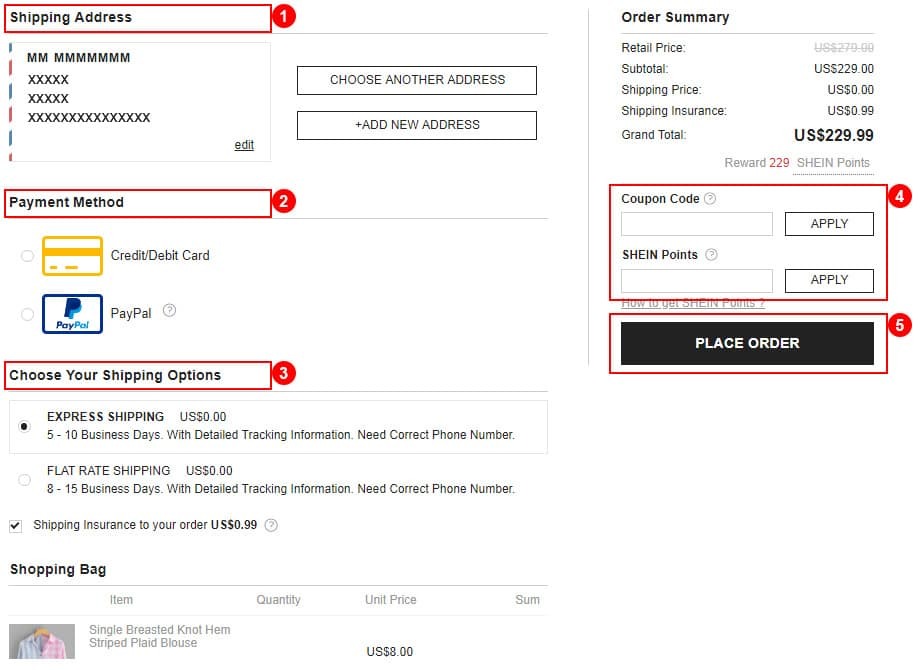 Refunds when payment is made in cash
Main article: Complete guide to refunds at Shein
Sometimes inconveniences may arise in our orders, and we will have to request a cash refund. We will have to manage it through Shein's customer service center, and we will be able to choose the refund method: to choose between the original payment method or deposit in our Shein wallet.
If you have paid with a virtual card through cash, and you select refund to the card, the money will arrive to you in the form of a balance to the same card you used to pay. In case it has expired, check with the issuing bank to find out more.
On the other hand, if you have paid in cash through certain branches, the payment platform will email you between 3 and 5 business days after you request it, with the necessary instructions to deposit the money in your bank account.
Is it worth paying cash to intermediaries?
A third option that often occurs in some countries is the possibility of buying from Shein through resellers, who apply a commission to your purchase in exchange for taking care of everything. However, with the options we have given you above, anyone can buy from Shein in cash without having to pay commissions.
We assure you that once you try Shein, you'll want to buy more, so maybe it's a good time to get a bank card. Debit cards usually don't have many requirements, as they deduct money directly from your bank account every time you use it, so you don't need credit from the bank, just an account and, in some cases, an annual fee.
You can also pay with PayPal and have the expense transferred to your bank account.
In addition, if you have any problem with the clothes, if you buy directly from Shein you can solve it directly with the platform, but if you have bought it through a mediator, you will have to communicate it to them, and maybe they won't give you the solution you were expecting.
If you have reached this page, I assure you that you can learn how to buy on Shein and other sales platforms without using mediators with our articles.
Is it better to pay cash on Shein?
In short, although buying in Shein in cash may be more comfortable for some people, any payment method Shein offers is safe.
In addition, to be able to pay in cash, you will surely have to pay a commission for each recharge or purchase. Choose the one that best suits your needs.
Warning: with this trick you can get unlimited Shein coupons. Click here to find out more.