From time to time our purchases from Shein are not what we expected. In that case we have to request a cancellation (if they haven't shipped our order yet) or return (if we have already received it and we don't like it), and consequently we will receive a refund of our money.
You can see Shein's return and refund policy here, but below you will find all the detailed information.
Warning: with this trick you can get unlimited Shein coupons. Click here to find out more.
How to ask for a refund at Shein
To get a refund for our Shein purchases we will have to be in one of the following situations:
The order has already arrived and the garments don't match the description or we don't like them. In this case we will not have to request a refund, but a return.
The order has not arrived and Shein customer service has confirmed that they will proceed to refund us by requesting a cancellation.
We cancel an order that has not been shipped yet. In a few days we will have a refund in our account.
In any case the money will arrive automatically to our account once we make the refund or request the cancellation.
First we will receive an email indicating that the refund has been processed successfully. In about 5-10 working days we will have the money in our account.
If we make a return, Shein will let us choose between several methods to refund us the money.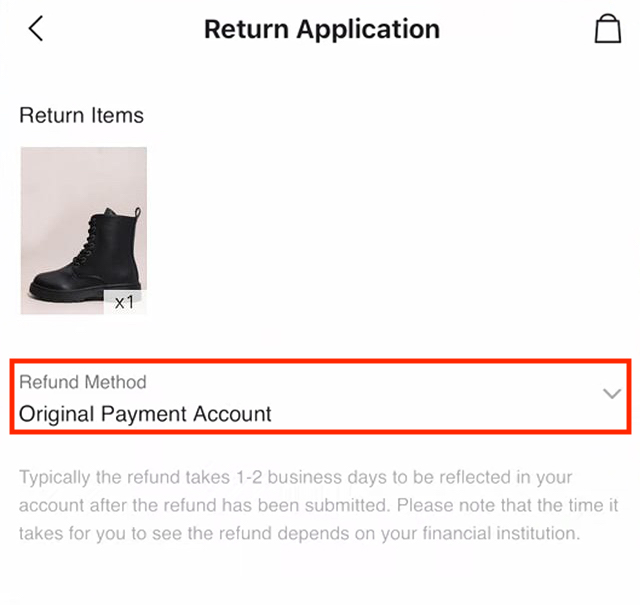 However, when canceling an order, we will also be able to choose between our Shein wallet or have the return made through the original payment method.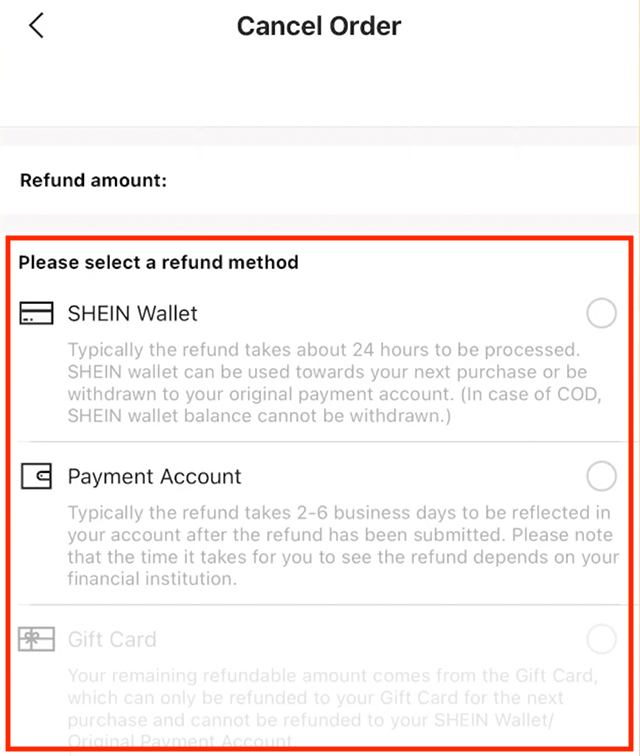 These are the characteristics of each refund method:
Refund Shein wallet
If you are a regular shopper, we recommend you to transfer the refunded money to your Shein wallet: it will be much easier and you will receive the money in maximum 24 hours. If in the end you don't want to buy anything, you will be able to withdraw the money and get it back.
However, sometimes the system does not allow you to get the money returned to the Shein wallet because it is under maintenance.
Credit card refund
In case you don't want to buy again or if the refund amount is high, the best thing to do is to request the money by the original payment method.
The problem is that if we have paid by credit card, the refund may take a few days to reach your bank. In some cases it has taken up to a month, although it is usual to receive it between 3 and 15 working days.
PayPal Refund
This method of reimbursement is a great option since PayPal is an accepted payment system in most online stores. So you can spend your money in Shein as well as in other stores, you can also withdraw the money to your credit card, debit card or bank account. The money arrives within 2 to 7 business days.
Gift card refund
If you have used a gift card to pay, you should know that it cannot be withdrawn as cash, it will be refunded back to a gift card. If you have forgotten your PIN, please contact support.
But if the system doesn't work they can also deposit it to your Shein wallet or through Paypal.
Clearpay Refund
In case you have paid in installments with Clearpay through your credit card, you will receive the refund directly on your card with which the payment was made in installments, and it cannot be changed.
If there are still payments to be made and you have cancelled the order in full, subsequent payments will be cancelled.
Warning: with this trick you can get unlimited Shein coupons. Click here to find out more.
How to view the status of a refund
It will take a few days between our request and the refund. If you want to see the status of your refund you have to go to the details of the refunded order and click on "Return & Refund Record". You will be able to see the status, amount and refund method, and if you want more information click on "Details".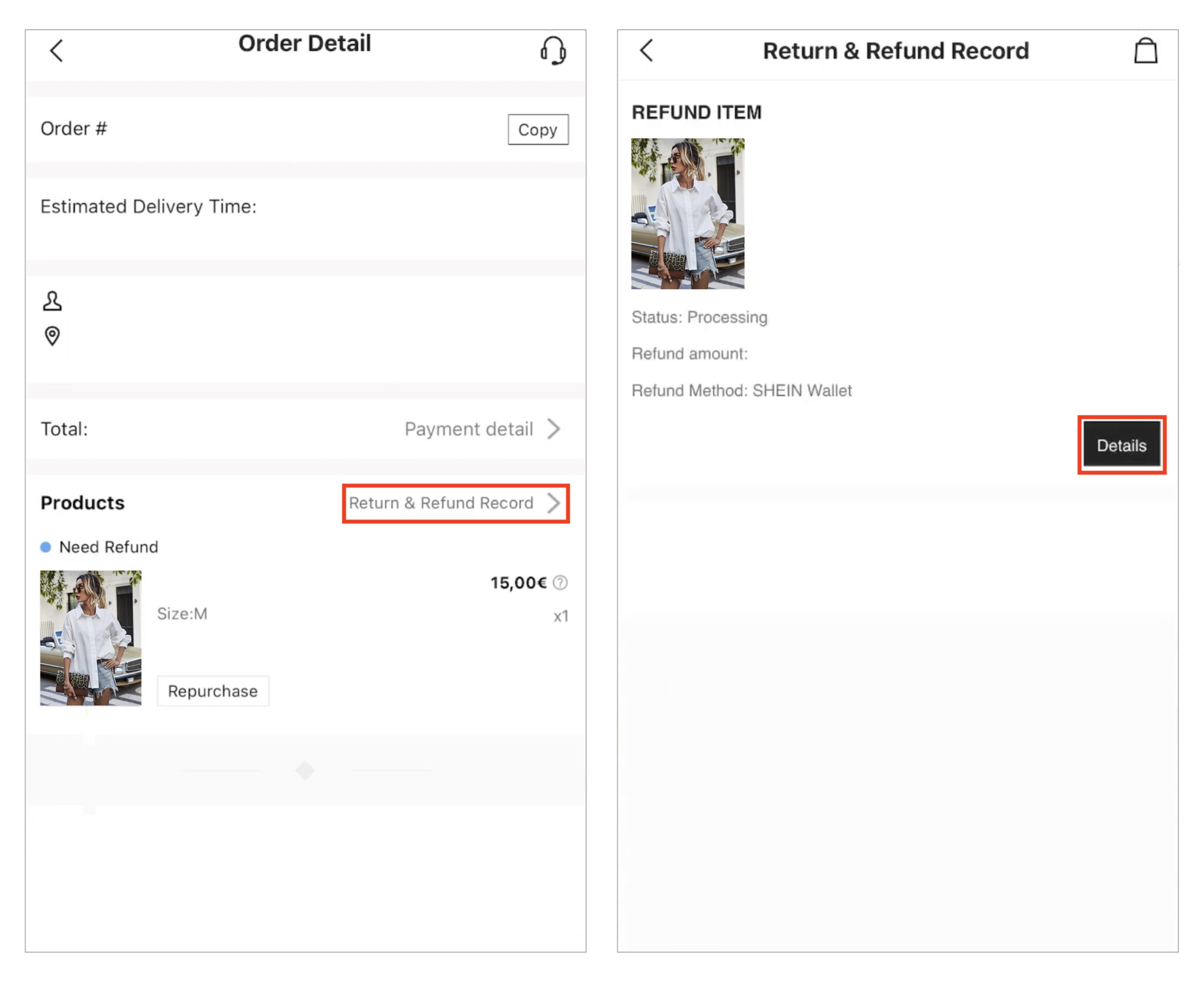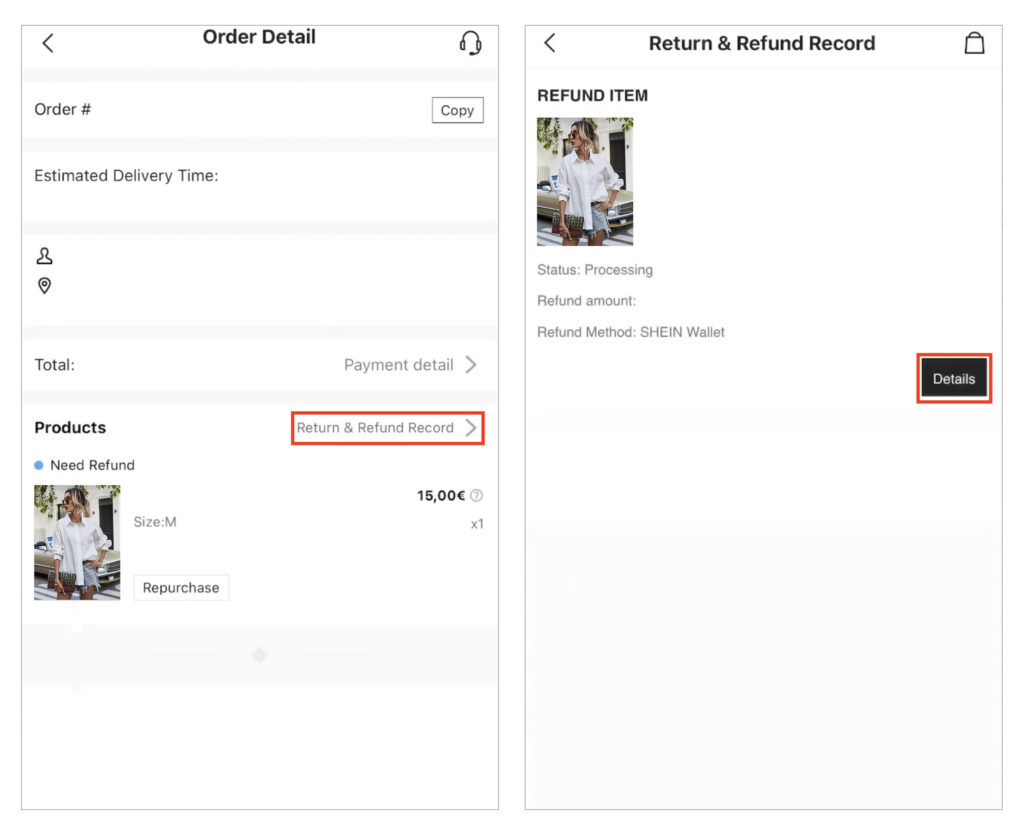 Then click on "Refund Track". We will be able to see if our request has been completed. From that moment the money has already been sent by Shein and it will take a few days depending on the method of reimbursement.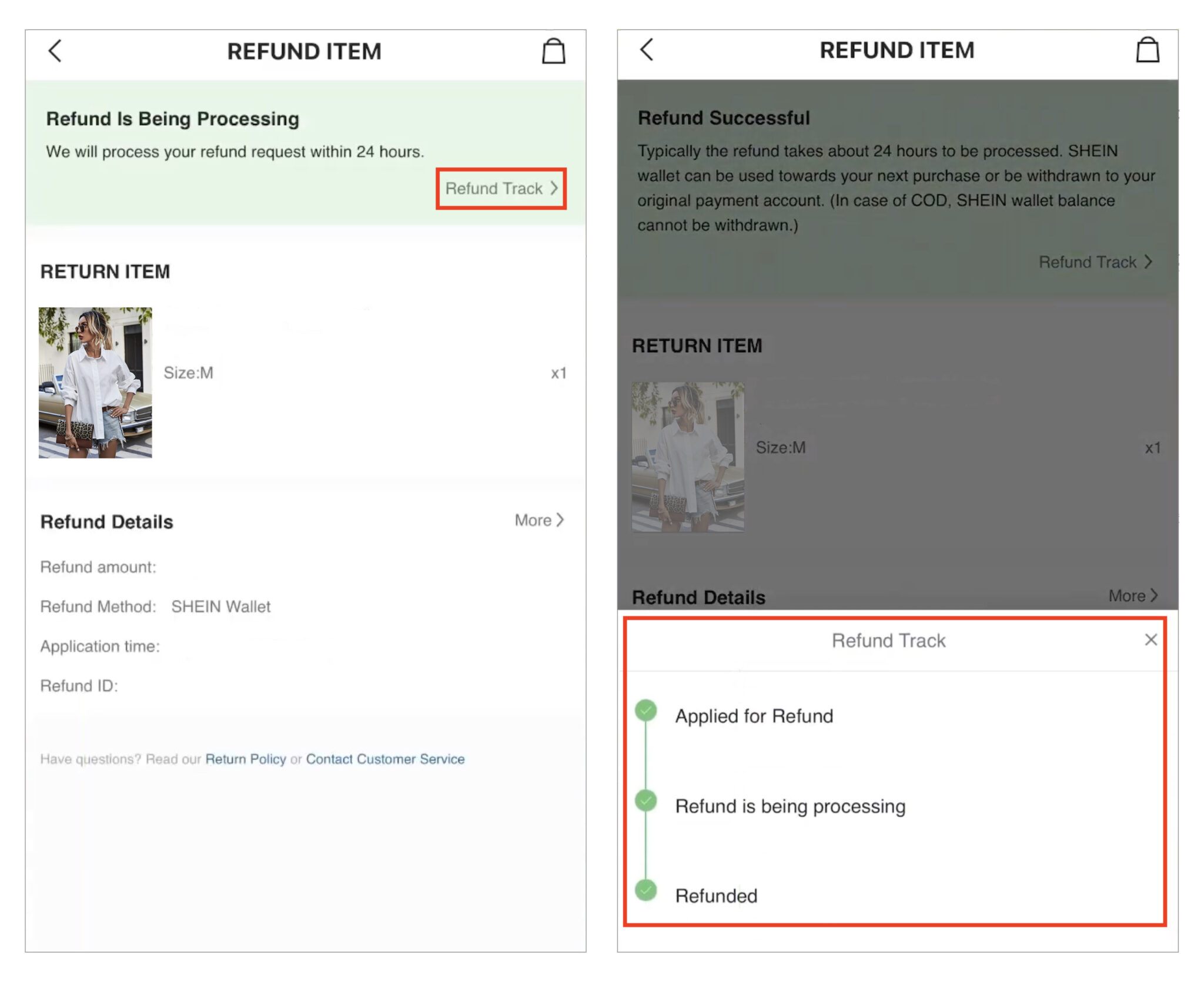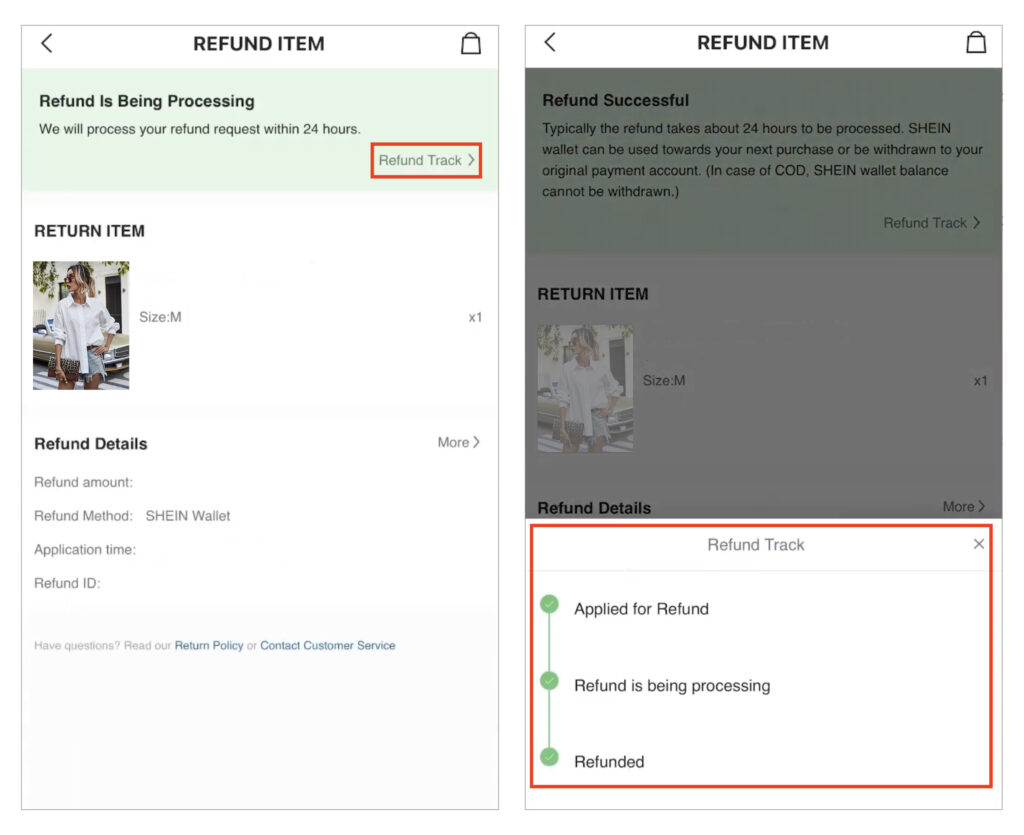 How long do Shein refunds take
This refund time can be hours or days, depending on the chosen method:
Shein wallet: the money takes less than 24 hours.
Credit card: it will arrive in about 3-15 business days.
Paypal: it takes 2-7 business days.
Gift card: your money will arrive in less than 24 hours.
Clearpay: your money will arrive in about 3-15 business days.
Other frequently asked questions
Although in Shein's FAQ (which you can access from this link) you can find answers to some frequently asked questions about refunds, there are some frequently asked questions that are repeated:
Why is the refund amount different from what I paid?
If you return several items, in some countries Shein will charge you the cost of the return label. And in no case is the cost of shipping or insurance refunded.
For those who used coupons and points it is important to note that only what we have paid for the garment is refunded after all discounts have been applied.
If I have paid customs, can I ask for a refund?
In Shein's terms and conditions, the site informs us that we will not have customs problems if we buy from Europe. However, if you have had any problems with customs we recommend you to get the proof of payment and contact Shein support to request a refund.
When you ask for a refund, do you get your points and coupons back?
Yes, when you request a refund for everything you ordered you will get your points and even coupons back. But there may be a problem: they may have expired.
If you make a partial return of the order you will be refunded the points proportionally but in that case it is not guaranteed that you will get back the coupon used.
I have received an order for which I have already received a refund, what do I do?
If you have requested a refund and the order has finally arrived, albeit late, you have several options. The most common is that they will make you pay again. You may also be asked to return the order (if it has not yet been delivered to you, it is sufficient to refuse the order).
As a last option, they may tell you that you can keep it for free. In either case, you need to contact Shein and they will tell you more about the process. If you keep the order without first consulting Shein, it may be grounds for sanction and expulsion from the platform.
How to contact Shein Customer Service
If you have any problem with your refund or return, it is best to contact Shein support, they will be able to guide us in our doubts and queries. Contact Shein by clicking here.
Warning: with this trick you can get unlimited Shein coupons. Click here to find out more.