Being a student is hard, but it has its advantages: some sites offer discounts, so you can buy clothes without worrying about your finances.
The Shein platform, known for its cheap and quality fashion clothing, offers a student discount of 15% on all purchases.
We'll explain how it works, what you need to get it, and if it's really worth it.
Warning: with this trick you can get unlimited Shein coupons. Click here to find out more.
How Shein's student discount works
In the old days, Shein had a student section on their platform. You had to register with your institutional address and validate that you were a student with a supporting document.
This gave you access to a "Student" section where there were some discounted products and Shein gave you 15% discounts on your purchases.
But since some time ago, Shein has deactivated this program. Currently, you can only get student discounts if you use the Unidays page.
This is a page for university students where you can get discounts for Shein and other online stores such as Asos, Nike, Apple, Adidas…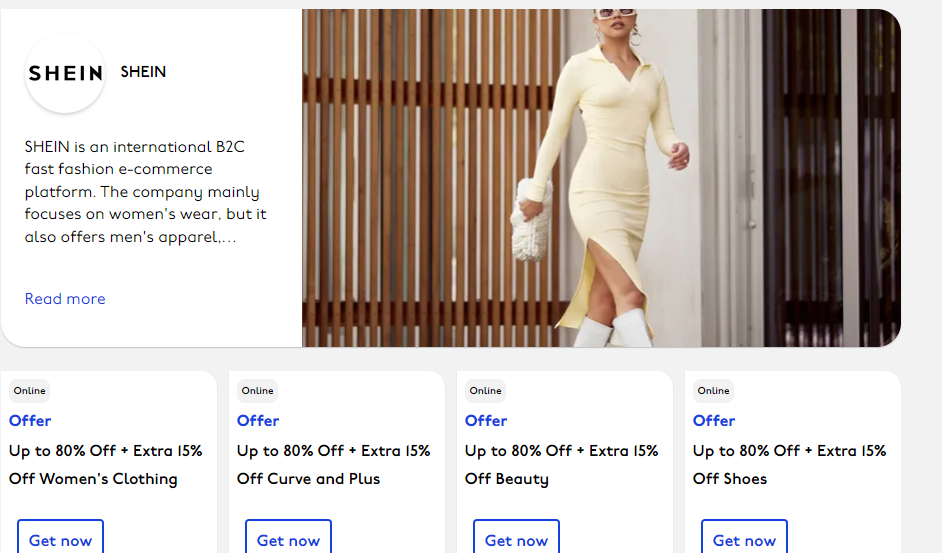 What you need to get the student discount
In order to get the student discount, you need to be a university student and have an educational email address, most of them end in .edu, and they usually include your name and surname.
We also recommend that you have your student ID issued by the institution or a document that proves that you are in official studies.
How to get the Shein student discount
To get your student discount, you have to register on the Unidays platform. It is best to register with your institutional account, although if you don't have one, you can also use your personal account.
First, you will have to give your personal details as on any other platform. Then you will have to verify your student data to be able to access the discounts.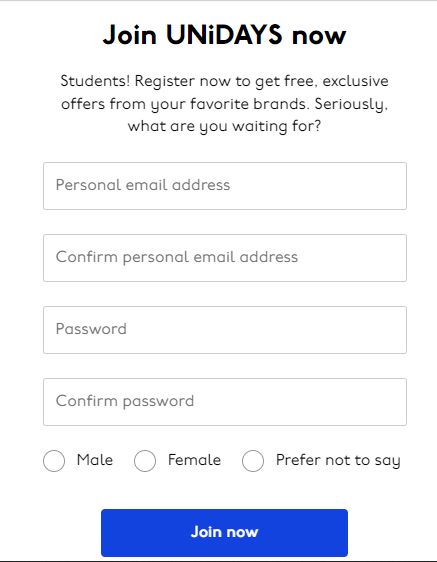 Verify your student details on Unidays
You will be asked for specific details such as when you entered the university and the approximate date of completion of your studies. You will need to send some evidence to prove that you are a student.
Not only that, but you can use your student card, a document from the student center, papers from an academic scholarship… Something that shows your name and school.
Then, Unidays will validate your account as a student. Sometimes it will be enough just to verify an e-mail in your educational account, but sometimes you will have to wait for them to verify your identity and your university document.
When your account is verified, you will be able to access the Unidays platform and get an extra 15% student discount.
In which countries does the student discount work?
The Unidays platform is designed for students from all over the world. It doesn't matter if you are from North America, South America, or Europe. You only need to be studying at a university and be over 16 years old to get your discounts.
Warning: with this trick you can get unlimited Shein coupons. Click here to find out more.
When does the student discount expire?
The discount is activated the moment you register and will expire on the date on your ID card but can be re-verified if there has been an error.
Please note that this discount may be deactivated if Shein ceases to participate in the Unidays student program.
How to apply the student discount at Shein
You will get a 15% discount on all your purchases. All you have to do is go to the Unidays website and search for the Shein promotion. Then, you will be presented with a button to get the coupon (only if you are already verified).
It will create a discount code that you can apply to your Shein cart, just like any other coupon. For that reason, it cannot be accumulated with other discount coupons. So if you have another coupon that is more than 15%, we recommend using that one.
Yes, you can use the coupon and the discount points or gift card at the same time. The interesting thing is that the student coupon is 15% with no minimum purchase.
How to find more coupons at Shein
Main article: How to get coupons at Shein
Shein always has deals and discounts, so saving is very easy as the platform itself shows many deals on the homepage for you to shop.
However, there are also discount coupons that you won't find advertised on their platform, but they do work. These discounts are between 10 and 20%, so whether you are a student or not, it is in your best interest to look carefully before you buy.
So that you don't waste time searching, we have created an extension with which you can find the coupons that are active before making your purchases at Shein.
It works with Google Chrome and with just one click, you can find out how much you can save on your purchases. Download it for free by clicking here. Don't worry! We explain how it works in our Shein Coupon Finder guide.
All in all, is Shein's student discount worth using?
Main article: 12 tips to save money at Shein
Getting this discount is easy if you're a student, so it's always nice to have additional discounts on hand. However, Shein usually has a lot of promotions and a 15% discount is usually common.
So we encourage you to always keep an eye out for the latest news, and check for other discounts before using the student discount – you can save more money with other temporary coupons.
You also have other ways to save money such as contests, gift cards, games or even cashback sites that allow you to receive a proportional part of what you spend on your purchases.
Warning: with this trick you can get unlimited Shein coupons. Click here to find out more.