Surely, when checking the status of your order on AliExpress, you may have noticed the progress bar below the estimated delivery date.
Remember: to see the updated status of your order, click here
In the middle of this bar you can read the message "US Customs". It is likely that when you read this you don't know very well what it means or where your order is, so today we are going to explain what "US Customs" is and what the next steps of your order will be.
What does "US Customs" mean on AliExpress?
When the progress bar of your shipment reaches "US Customs", it means that your package has already arrived in the United States and customs clearance is about to begin.
The abbreviations in front of "Customs" are indicative of each country, in this case the United States. In other countries, instead of "US" you will find "NL Customs" (Netherlands), "PL Customs" (Poland), "UA Customs (Ukraine)", "BE Customs" (Belgium)…
Therefore, if you see that the bar moves up to "US Customs", it means that your shipment is already halfway there and in a short time you will receive it at home.
If you want to know more about how customs clearance works you can read these two articles:
Why are the tracking bar and the breakdown of my order status not coordinated?
It may be that in the tracking bar you see that your order has already started customs clearance, but in the breakdown of the tracking of your shipment (which you have at the bottom) you do not see any message about customs.
Don't worry, many times the tracking of your order made via AliExpress doesn't work properly and that's the reason why they appear uncoordinated.
In the breakdown of some orders it can go from "Arrival in country of destination" to "Arrival at distribution center" without showing anything about customs. This does not mean that your shipment has not gone through customs: although you do not see it reflected, all packages go through this control.
If you have any doubts, we recommend that you consult an international tracking website such as ParcelsApp, Postal Ninja or Track17, which are much more detailed and reliable in this regard.
My progress bar is stuck on "US customs" and does not advance, what's wrong?
Main article: My AliExpress order is not arriving
This is a question that you ask very often: I have an order that has been stopped for a long time in "US Customs" and it is not moving. Has something happened in customs?
In that case the first thing you have to check is if your order is certified or ordinary.
Ordinary shipments are not tracked once they arrive in the destination country. For that reason, the progress bar stops when it arrives in the United States and customs clearance begins.
It will only advance again to complete once you receive your order.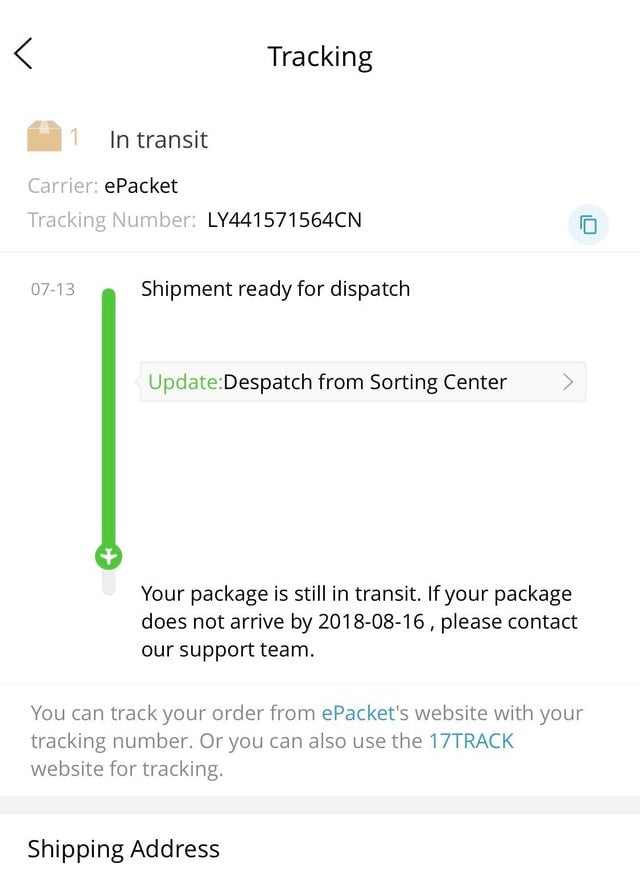 What steps come after customs clearance?
Accepted by last mile carrier
Main article: Accepted by last mile carrier
Once your order has successfully completed customs clearance, it will be accepted by the logistics operator (the local courier company that will deliver it to your home, as long as you have not chosen a Premium AliExpress delivery such as UPS, DHL, EMS,…).
Arrival at the distribution center
Main article: Shipment at local distribution center
In there, the packages are sorted and distributed in large mass distribution centers and then taken to smaller centers, depending on the area where they are to be distributed.
Arrival at the delivery office
Main article: Arrival at the delivery office
This is one of the last steps of your order: the package has already arrived at your local post office and the courier will shortly bring it to your home.
Mailman starts to deliver
When you see this message in the tracking of your order it is very good news: be attentive because today you will receive your order at your address.