If you live in Europe, you've probably already heard of About You, an online clothing store with a big advertising campaign on social networks and television.
Many influencers are promoting this store, but, is it really worth it as much as they say?
Let's take a look.
What is About You?
About You is an online store of German origin (where the acceptance has been insane). It is now available in most European countries and has more than 2,000 brands of clothing, footwear, and accessories for women, men, and children.
In addition to top brands such as Nike, Converse, Vans, Levi's, Adidas, and many others, About You has its own clothing brand, with prices very similar to those you can find in other department stores throughout Europe. You can see this brand by clicking here.
It also has a very interesting selection of premium brands in which you can find Hugo Boss, Calvin Klein, Polo Ralph Lauren, Michael Kors and so much more!
About You sets itself apart from other stores with its own line of curvy sizes (which you can find here) in Shein Curve's style and with other exclusive limited-edition collections, designed with the collaboration of influencers from all over the world.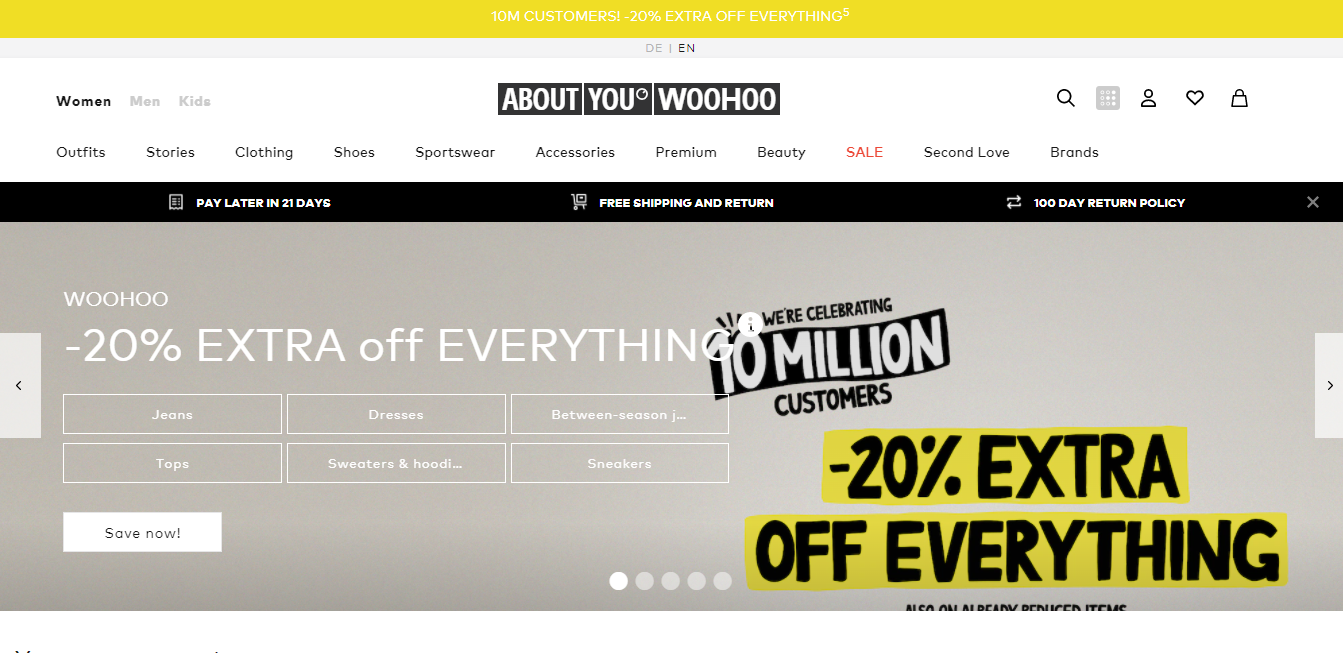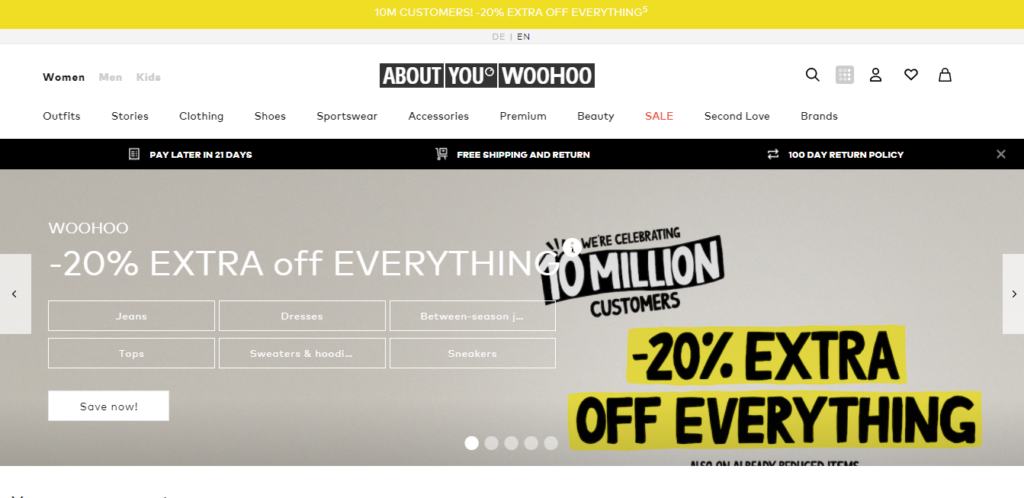 Variety of brands, models, and sizes
It is possible that all this does not impress you, and you are still wondering what is new about this online store, compared to other multi-brand stores.
In our opinion, the most remarkable thing is not only the variety of brands (which are many) but the speed at which they put on sale the latest releases. In addition, they usually have the latest models with all the existing color variations.
Another highlight of About You is their maternity clothing section, which goes beyond the typical leggings and wide T-shirts (you can see it here).
In addition, you have a section available that alerts you with a countdown of some of the most anticipated new sneakers from brands like Nike, Adidas, Converse, and more, so you can be aware of the day of its launch.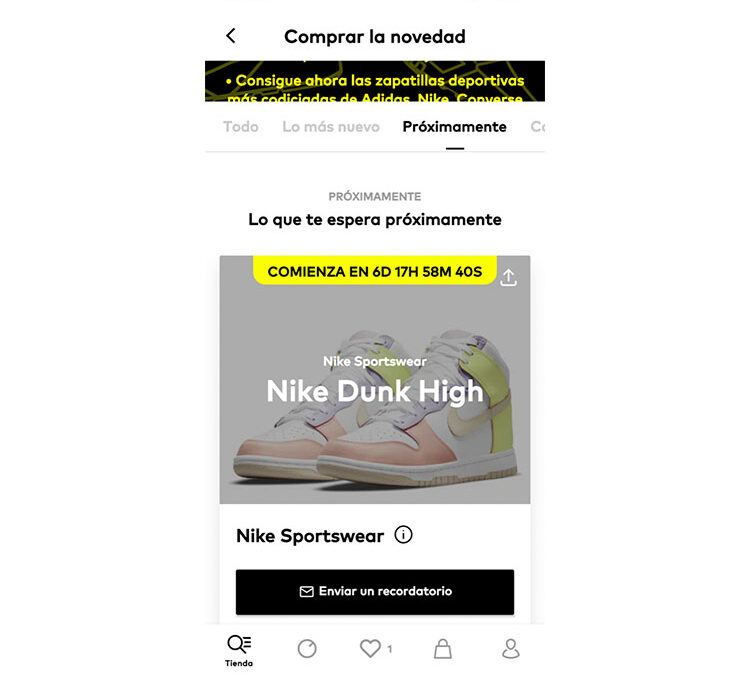 Finally, on About You, you can also follow your favorite brands to be always up-to-date with all their news.
Meet the figure advisor
The so-called "Figure Advisor" is a virtual assistant that gives you tips and advice based on your height and the shape of your silhouette. In addition, it also selects the clothes that can suit you.
If you do not really know what you want, it is quite useful to make a quick screening and not get lost among so many options.
You can also set up the "Size Finder" in your profile by filling in a form with your height, weight, contours, sizes you normally wear.
Remember that this section is only available from your profile in the app.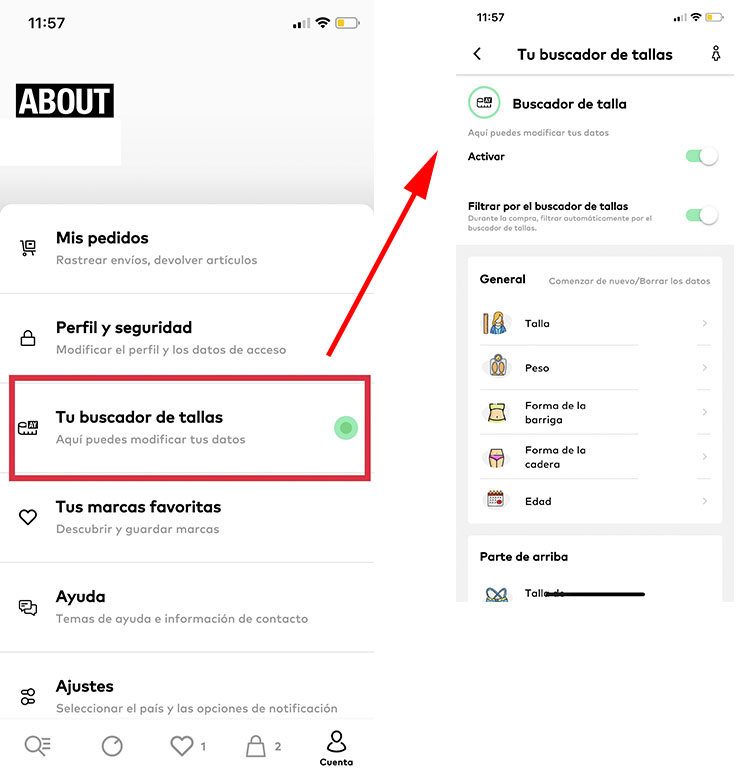 This way About You helps you to choose your size for each item, providing you with a green label that holds the percentage of probability of success, next to the size you should choose.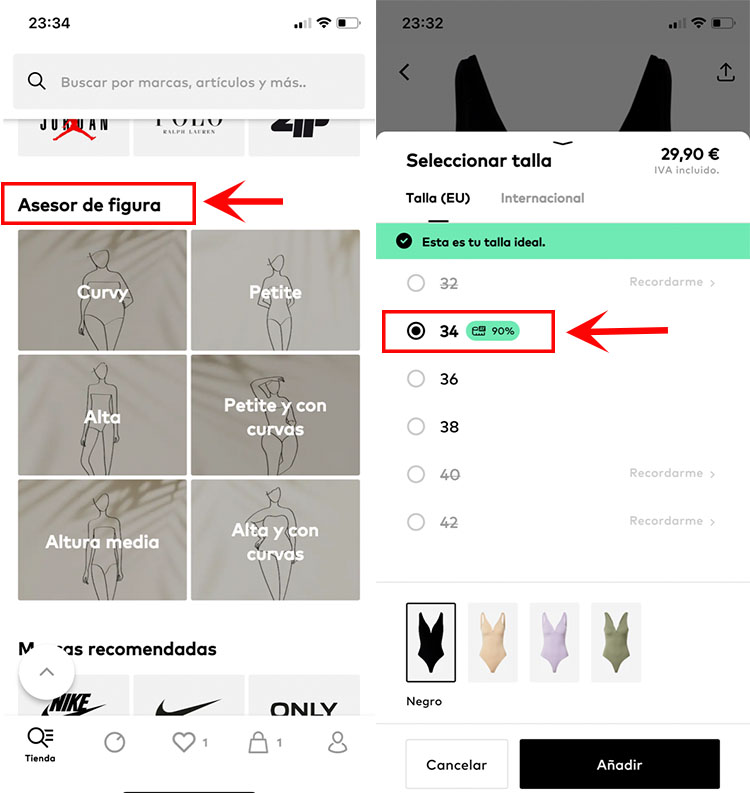 Is About You's clothing cheap?
The truth is that About You's prices are not cheap. They are similar to the prices of other competing sites like Zalando or Asos.
However, cheapness isn't one of the priorities of About You, since it wants to differentiate itself by offering a great shopping experience, a large catalog plus easy shipping and return methods (you have 100 days to return any garment).
Free shipping and returns and a permanent sales section
But, be careful, because in About You, you can buy brand clothes and also save money: the shipping and return costs are free, so this actually makes the purchase cheaper compared to most stores of this type.
On the other hand, About You has a permanent sales section (here) where you can find very good prices on brand name items.
Discount with coupons and discount codes
In About You, you can also save money with coupons or discount codes, so subscribe to their newsletter to not miss any of these exclusive discounts that will make your purchase worthwhile.
Is it safe to pay with my bank details?
This store has the usual security protocols that encrypt your payment details, so you have nothing to fear.
If you prefer, you can also pay with PayPal, the secure payment method par excellence. Although you can be sure that if you decide to do it with your credit or debit card you won't have any problems either.
Available payment methods
Although they vary depending on your country of residence, the most common ones you can find on the online store are:
Visa
Mastercard
Maestro
PayPal
Cash on delivery
Reviews on About You
Shipping
Rating: ⭐⭐⭐⭐⭐ (excellent)
In About You, all shipments are free and that is always appreciated.
As we have told you before, About You advises you on what size to choose or the clothes that can fit you better, but this is not something 100% infallible. So if you are between two sizes, you can buy both to try them on and keep the one you like and then return the one you don't want without problems.
The shipping time is 3-5 working days if the garment is in stock. And if a garment is not available in the following 2 days (which does not usually happen), they will divide the order into partial deliveries, so that the garments that are available reach you sooner.
Depending on the country you live in, the company in charge of delivering your package is probably your local post office or a particular courier. If you're not usually at home, don't worry. You could also pick it up at a delivery point.
Variety
Rating: ⭐⭐⭐⭐⭐ (excellent)
Another strong point of About You is, without a doubt, its variety of brands and models.
We have already told you before: in About You, you will find the latest of the latest, clothes or shoes that are not seen at all and especially, clothes you can make a difference with if you hate to dress like the rest of the world.
Whatever your style is, you'll find it at About You. And if you have an event like a wedding, baptism, communion… you have a great selection of dresses and suits of the best brands in season or discounted.
In addition, the curvy line of its own brand has youthful and modern clothes at a very reasonable price. It's very attractive for many people who can't find cheap clothes in large sizes that correspond to their age.
Prices
Rating: ⭐⭐⭐⭐ (remarkable)
As you know, their prices are not the cheapest on the market, but in the sales section, you can find many discounted brand name items. They are usually garments from other seasons or continuity items, but they have been less in demand than expected.
Another way to get very good prices is with the coupons or discount codes that About You provides in some of its campaigns.
If you don't want to miss any of this, subscribe to their newsletter.
Returns and guarantees
Rating: ⭐⭐⭐⭐⭐ (excellent)
About You is a totally reliable store, so if you have any problem with your order, such as receiving a damaged or incorrect garment, they will take full responsibility for the return.
Remember that you have 100 days to return any garment for free for any reason. This is more than enough time to decide if you really like something or not.
Customer service
Rating: ⭐⭐⭐⭐⭐ (excellent)
There are two ways to contact customer service:
Using the contact form (you can go directly from here).
By calling their customer service number, which will vary depending on the country you're located in.
The opening hours are quite long: from Monday to Friday 08 a.m. to 10 p.m. and Saturdays, Sundays and holidays from 09 a.m. to 08 p.m.
We are pleasantly surprised that they are available even on public holidays. And, according to several users, it is very easy to contact them for any problem.
Quality
Rating: ⭐⭐⭐⭐⭐ (excellent)
If there is one thing you have to be sure of when you shop at this store, it is that you are going to buy quality garments.
Although it may be a little more expensive than other stores like Inditex or Shein, the durability and appearance of these clothes don't compare.
Many times it's worth investing a little more in coats, shoes, pants, or bags to get a good closet, but then you also have cheaper clothes to combine with.
About You: Points to improve
Although its website and app are quite complete, we miss two aspects that could still facilitate our purchases: including videos of the garments worn and indicating the size worn by each model.
It often happens that in a photograph you can not really appreciate how a garment is, and seeing it in motion helps a lot when deciding.
If you also indicate the size and height of the model, you can get an idea if the garment is bigger or smaller to avoid confusion.