Given the number of questions you ask about AliExpress' refurbished products, in this guide, we will talk to you about the meaning of "refurbished", as well as previous user experiences. We will also tell you which are the main categories and product families that offer refurbished products and what things you need to watch out for if you decide to buy an item with these features.
Refurbished products can be customer returns of items that are essentially "new", in most cases, they haven't even been used. They may also be defective products that were returned under warranty and resold by the manufacturer after repairing the defects and ensuring proper functioning. For this reason they are cheaper.
Usually, you can find reconditioned products under the term, refurbished, depending on the version and language of the website you use. In any case, it is exactly the same. The first thing you need to know is that refurbished is not the same as used. That is to say, the product you are buying is not a second or third-hand product. This is very important, as it usually generates doubts in users.
What exactly is a refurbished product?
A reformed condition is equivalent to restored or repaired. In this case, a refurbished product is one that has gone through a transformation process, because in its primary use it was returned to the seller or because it had a factory defect and was sent to the factory for later repair.
Therefore, they have gone through a technical service that has solved the initial problem of the order. From this moment on, the product is sold again, but with less guarantee. The manufacturers assure that after this process they pass strict controls to verify that the problem is solved and the element is as good as new, ready to be put on sale.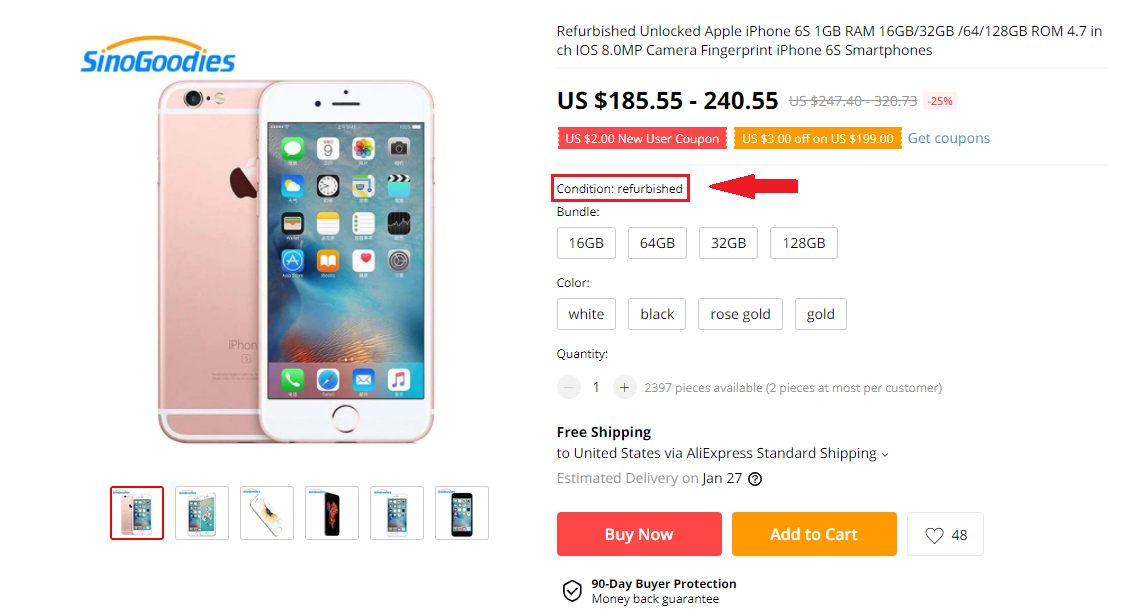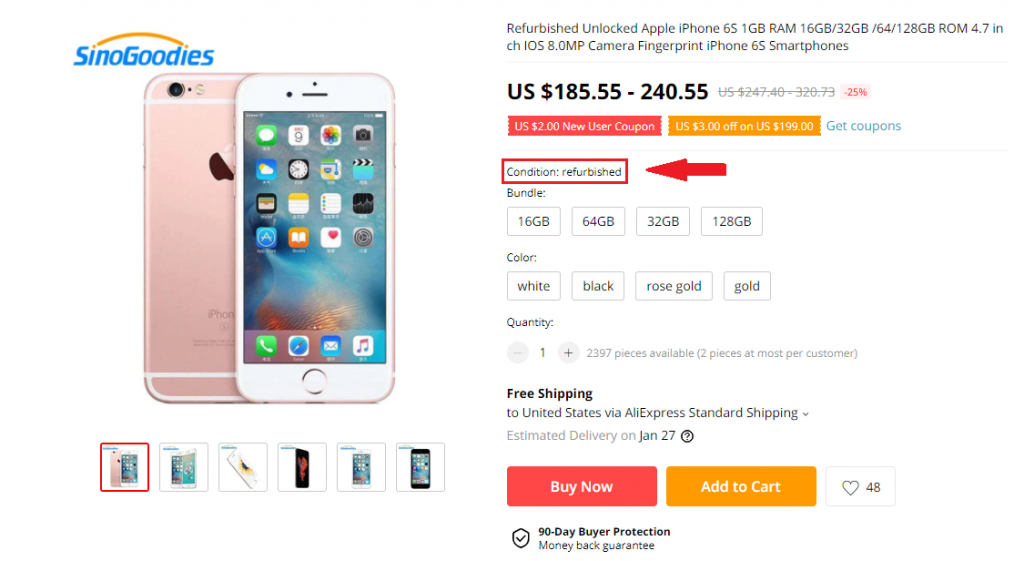 At AliExpress, it is very easy to know which product is refurbished, as it'll appear on the description of the product, just like the image above. If this condition appears, it will surely be 😉
Did the refurbished product break or stop working previously?
Not necessarily. In fact, it is almost certain that the item has neither stopped working nor isn't broken. Most likely, it was returned because the buyer was not exactly content with it, some manufacturing defect that had to be retouched, or similar reasons.
In most cases, the defects are not that important. For example, if some part is missing or arrived with a minor error or defect, that can be corrected with a simple pass through the factory. In this case, the manufacturer repairs with spare parts from their warehouse to correct the imperfections, and sells the product as 'refurbished'.
One of the advantages of purchasing a refurbished product is the price. Logically the amount will be lower than the original, so in this case, we can find real gains. Very cheap articles at our disposal 😉
Frequently Asked Questions about AliExpress' refurbished products
We know that you have many doubts about buying refurbished or used products from AliExpress. That's why we're going to answer the most frequently asked questions that you've sent us through the comments section.
Should I trust AliExpress when placing an order for a refurbished product?
By tracking comments from AliExpress buyers who have purchased a refurbished product, most of them have been happy with the acquisition. But, just like with everything else, we can't guarantee that 100% of the cases are positive. This happens in AliExpress and in all the platforms that sell items with these features. When it comes to choosing between a second-hand and a refurbished item, there is no doubt here. Manufacturers and sellers exchange the pieces for new ones. They fix and test the refurbished product, while a used product that comes from second or third hand… well, you never know what you may get!
ALIXBLOG TIP: If you have any questions about the status of the product or anything else, write directly to AliExpress vendors. Ask them to send images or whatever you need. This is a good way to ensure that the repaired product arrives to you in perfect condition.
What guarantee is offered by AliExpress when it comes to a refurbished product?
AliExpress adapts to the local warranty of each country, however as the seller is the one who must provide the service, it is best to look inside the product description of exactly what kind of warranty it offers. Most sellers of refurbished products offer a 6-month warranty. If you want to know what to do if we have problems with our purchase we recommend you to read our Guide about claims, disputes, and returns in AliExpress.
So, are all AliExpress mobile phones refurbished?
No, in fact, AliExpress is popular for offering technology from the best Chinese brands at a low cost. These are original and high-quality products. But refurbished or used products are a good option when it comes to buying an international brand mobile phone, at an incredibly low price.
AliExpress' flagship refurbished products are mobiles and tablets
Without a doubt, the reformed bargains that exist in AliExpress are cell phones. There are almost 12,000 remanufactured cell phone references on this great Chinese platform. And within the cell phones, those that are most successful are the refurbished iPhones, which you know that its factory price is very high. If you want a very cheap iPhone, this formula allows you to do it. You can buy an iPhone 5 for less than 200 euros!
Remember that the sellers have to warn the consumer that the phones have been reconditioned (such is the number of transactions that are carried out in this way, that this deal has been baptized with many names) and cannot be sold as new. Even if they are not new, the manufacturer makes sure that the device is fully functional and in perfect condition. It will always include all the accessories it would initially carry, although, for example, the box and packaging may not be the original.
In general, this condition is usually available on electronic and computer devices. To see the most sold and popular refurbished mobile devices, click on this link and you might find a bargain. Undoubtedly, these prices are low compared to brand-new models.
Find the best stores and other tips for shopping at AliExpress
If you have more questions, in our tutorial section you can find more tips and tricks for buying on this online sales platform. Our basic reading for all of you who are thinking of buying from it is the Essential Guide to AliExpress, where you will find answers to almost all of your questions concisely.
If you have any questions about how to buy a refurbished product from AliExpress, talk to us, and we will help you find a solution. You can also tell us your experiences (good or bad) with refurbished products.