---
You can see all guarantees and delivery times directly on AliExpress by clicking here. And see all the frequently asked questions answered in this other link.
---
"How does AliExpress work?" Although AliExpress has been around for a few years now, we still hear this question often, so in this article we're going to explain how to shop at AliExpress.
This is a detailed guide with all the steps to follow before buying a product in this famous online store and we will answer the most frequently asked questions made in blog comments. We'll show you how to find branded products, identify a good seller, what payment methods this Chinese online shopping platform allows, how to contact sellers… So if you're new or have any questions, keep reading! This article is going to be very useful to you.
What is AliExpress? Is is safe to buy in this Chinese platform?
AliExpress has become the worlds largest online store. The latest statistics show that the Chinese store is making 3 times more profit than Amazon and eBay together and is consolidating itself as the preferred shopping platform in many countries around the world. Millions and millions of people like you shop in AliExpress. Having said this, we have to clear something out: AliExpress is not a store, it's a platform that connects millions of sellers and consumers.
Therefore AliExpress takes on important functions, such as controlling that sellers are adhering to the stipulated rules,  protecting consumers if they encounter any problem with the platform, keeping your money safe until you confirm you received the product and mediate any possible problems between the seller and the consumer. It is worth mentioning that AliExpress is extremely intolerable with vendors that do not follow rules and will punish them closing their store and banishing them from the AliExpress platform.
How to identify trustworthy sellers
Like we mentioned before, AliExpress is a platform that mediates between buyer and seller, so the seller is responsible for sending the order correctly, making sure the product meets the  product description. Therefore it's very important to find a reliable seller. We will have to assess which seller provides the best products and has the best reputation. This will be done with the following steps: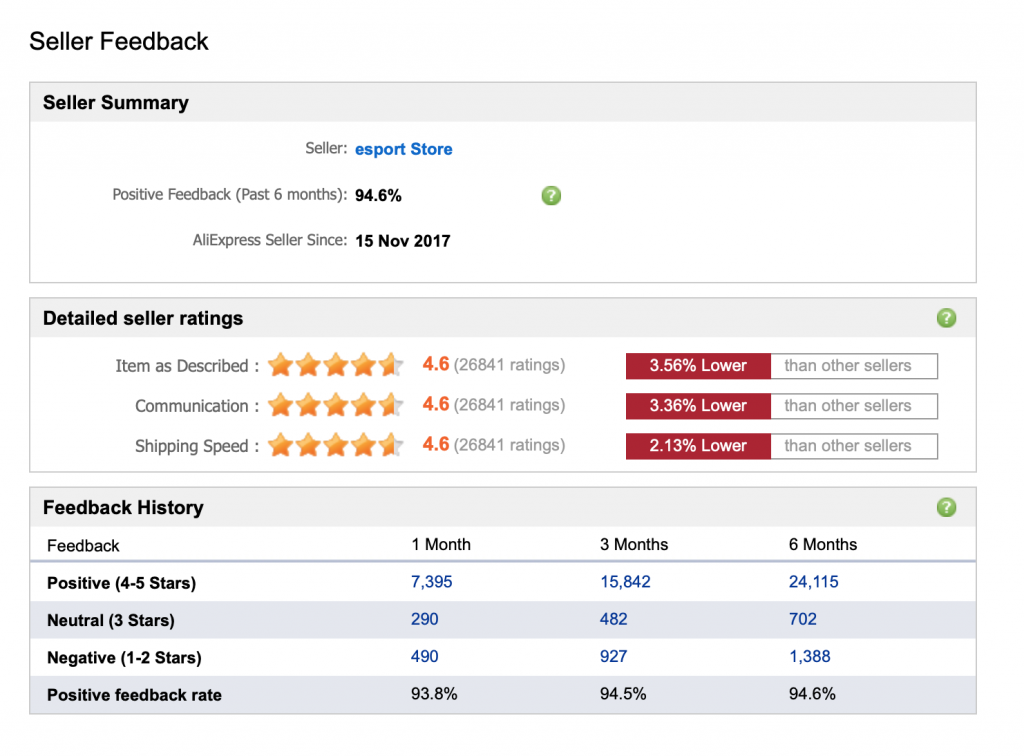 Check the seller's score, you will be able to find it at the top right part of the page. Here you will see either medals (good reputation), diamonds (very good reputation) or crowns (excellent reputation). When clicking on these you will be able to see the average scores of the seller when it comes to "item as described", "communication with customers" and "shipping speed". If the scores are above average they will be displayed in green, if they are below average in red. Remember that these scores are given by AliExpress through the ratings given to the seller by other buyers, so neither AliExpress nor the seller can change them.
The second aspect to take in to consideration when evaluating a seller are the reviews/ratings and comments posted by the consumers. This will give you a good idea about the quality of the product and the general satisfaction of the buyers. It will also give you information about shipping time and if the product is as described.
Finally, it is also very helpful to look at how many people have bought the product from the seller. If there are a lot of sales and customer ratings are positive (stars and percentage), we can be pretty sure that we are dealing with a trustworthy seller.
If you have any doubts (small as it may be) the best thing you can do is to directly contact the seller so he can resolve it. We can ask them about the authenticity of the product, if the product that is going to be sent to your home has the logo placed correctly or send you pictures of the original product. In short, whenever you have a doubt, don't be sacred to ask the seller, this way you'll avoid unpleasant surprises when the package arrives home.
You see, finding reliable seller is easier than it sounds.
How to distinguish a replica from an original
When we are searching for products in AliExpress it is hard to distinguish a replica from an original product. This is probably because the replicas sold in AliExpress are very well made. If you are trying to find a 100% original brand  there are a few things that will help you out. The first is the price: if we see that a product in not that much cheaper than in a official store across the road, then we can deduce that we are dealing with a original brand product (on the other hand replicas are a lot cheaper).
The second way to identify and original product is to look at the product description and see if it mentions the words "original", if this is the case the seller is has to send you an original product. Finally, similar to the a fore mentioned, but safer, is the "Guaranteed Genuine" badge you can find under a product description.

If you see this logo you can be sure that the product is 100% genuine. AliExpress is extremely strict with this. If a seller is not honest about this and has the stamp on his product, AliExpress will close down their store.  If you made a purchase and discover that the product is not original, you will only have to contact AliExpress prove that the product isn't original all you have to do is contact AliExpress so they take measures. Once you prove the product is fake, you will get your money back, the sellers' shop will be closes and in most cases you'll be able to keep the product.
How to make a purchase / Payment Methods / Buyer protection
Two of the methods we described below offer Buyer protection (YOU CAN FIND EVERYTHING DESCRIBED CLEARLY HERE). This means that you are protected by AliExpress if anything happens with your order. When you order something, AliExpress retains the money until you have received the product and you are completely satisfied with it. Only then will they release the money to the seller.
It basically uses an escrow system, in which AliExpress acts as an intermediary retaining the money, and only gives the money when we have confirmed the reception or when the protection time of the order has passed.
Escrow / AliPay  – Risk for buyer: None
The Escrow / AliPay method is very similar to PayPal. When you use Escrow the money is retained by a third party and will only release it once the buyer confirms his / her satisfaction with the product. Escrow is a very popular payment method in AliExpress as well as in general online purchases as it is a system that protects both the consumer and the seller. The only thing you need to do if you want to use this payment method is open an AliPay account and top the virtual card with the amount of money you want in the account. As mentioned, it's system created by AliExpress, thus you will have lots of guarantees.
Card  – Risk for buyer: None
When paying with card AliExpress will also use Escrow, so your money will be completely protected till we confirm we have received the product. It is a very easy way to pay. AliExpress accepts Visa credit and debit cards, Mastercard credit cards and Maestro debit cards.
And if you are afraid to pay with a card, you can also ask your bank about the famous "virtual cards" or "prepaid cards", which are specially designed for online shopping: they have a limited amount of money that we will recharge ourselves, but do check if they are Visa or Maestro.
Bank transfer  – Risk for buyer: Medium
It is a less used payment method, and in addition, orders can only be paid with an amount larger than $20 (and only in USD), so we do not recommend unless you have no other way to pay, as banks usually charge a fee for making transfers, even more if it is in a foreign currency and an international transfer. Even so, if you choose this form of payment, your money is also protected because AliExpress keeps it until you confirm it.
Other methods of payment
AliExpress also accepts: WebMoney, Western Union, Yandex.Money, QIWI, DOKU, MercadoPago, Ticket, American Express… But above all, and most importantly, never pay outside AliExpress because if you have a problem with the seller, they will not be able to help you. If you want more information about the payment methods offered by AliExpress click on the link and you will be taken directly.
Disputes and claims
Sometimes the product you ordered might have a defect, if this is the case you will be able to do two things. The first is to open a dispute with the seller, to solve the problem. To do this, all you have to do is go to the order and look for the button "open dispute", fill in a simple questionnaire where you have to upload images o proof so the seller sees the problem and offers a solution.
From this moment on, various things can happen:
The seller agrees with you. The dispute is resolved in your favor and in some days you receive your money.
The seller gives you a different solution, for example, less money. If it seems reasonable, all you have to do is click on "accept", the dispute will be closed with this decision you will receive your money in a few days.
The seller gives you a different solution and you don't agree with it. In this case you can reject the offer and offer a new proposal, or if you really think you are right, wait some days until AliExpress mediates automatically in the dispute to offer a new solution.
We want to make a very important point: pay attention to what you put when filling out the form, as we can choose between "only refund" (ie only ask for money) or "refund and return" with which we are agreeing to send the product back, so we have to pay the shipment to China, so shipment can be more expensive than the product itself.
Another thing that you have to notice is the following: if the seller asks us to close the dispute to be able to send the order again, you have to hit the "cancel" button, never "accept dispute", because when you accept a dispute, AliExpress will close the order and you can not claim it again if the end does not reach you.
Shipping times
Another frequently asked question is: How long will it take for my order to arrive? There is no single answer because this time depends on the shipping method, the country of destination, etc…. But the time of protection of the order is 60 days, so that is the maximum time it can take, it is very important that, if we have not received it in that time, we open a dispute to claim our money or extend the term of protection.
AliExpress Purchase Guarantees
For some time now, AliExpress has introduced a guarantee for many of its technological products: mobile phones, pendrives… But what does is it? Well, this guarantee, which has an additional cost that is usually included when you buy the product, is an independent service to the seller, so you do not have to worry if you have a bad seller, because you can use it without having to speak him. You can see more information here.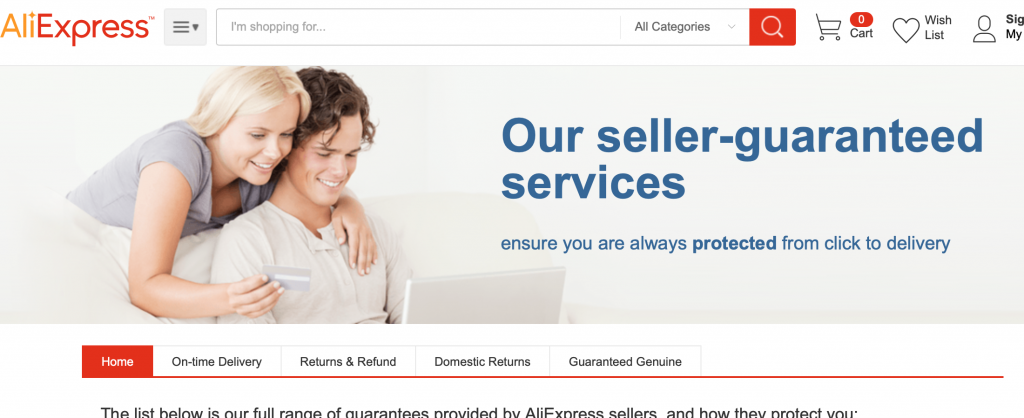 You will only have to make sure that the product you are buying includes this guarantee (since it is not available in all countries). If your product fails within one year of receiving the order, you will have to look for the order in your AliExpress account, click on the "request guarantee" button and fill in a form. Once they receive the request, you will have to send the mobile to a national warehouse and within 10 working days you will receive your new mobile.
Important note: As of July 2017 AliExpress no longer offers this guarantee for its mobile devices. We believe it is a temporary measure until they find a new SAT that can offer a quality service, so we will continue to inform you if AliExpress offers the guarantee again. If you bought your mobile and paid for this guarantee you will still be able to use it. It is also possible that the seller offers some kind of guarantee, so we recommend you review the ad, although we will still have to send the mobile to its warehouse of origin.
Other Frequently Asked Questions
In this guide we have tried to include everything you need to know to buy, but there are some questions you ask us often in the blog comments, so let's review the most popular ones to help you. If your question doesn't appear here, we recommend you go to this page where AliExpress solves most of the frequently asked questions you ask on the blog.
AliExpress / AliPay cancels my order when I pay by credit card and asks me to send documentation…
Lately we are seeing an increase in blog comments on this particular topic. Seeing this, at AlixBlog we have taken matters into our own hands and contacted AliExpress directly for explanations. Also, as a result of your comments we have given them a list of things that should be improved in the platform. They have sent us a rather long e-mail and we have chosen the most important parts:
AliExpress – "We have noticed an increase in questions about the AliPay payment system. We are aware of the problem and apologize for any inconvenience it may cause. We are working hard with AliPay to solve this problem as quickly as possible to make the shopping experience much more intuitive and comfortable for AliExpress shoppers."
We also made them understand the general frustration you feel when the order is cancelled. We mentioned that buyers feel a bit helpless in cases where money is withdrawn from the bank account and then the order is cancelled. They answered this:
AliExpress – "Please note that the money is safe. The money is held back due to security checks, AliPay will not make any deduction on the amount paid".
It seems that AliExpress knows that there is a problem and wants to solve it as soon as possible because they know that it is harming them a lot. They also want us to know that if an order is cancelled our money will be safe.
As a result of the e-mail we received, we sent them another e-mail asking more specific questions. When they answer us we will extend this section :). For now, we leave the steps you have to follow, which are explained on this page.
Can I cancel an order?
Another very frequent question is this one. And it has an easy answer: currently, AliExpress allows you to cancel an order automatically while payment is being verified (a few hours after the payment) and the money will be automatically refunded. But if you have already passed the verification process, you may ask you to cancel the order, but the seller will have to accept it, and there is a possibility he won't if he has already shipped it.
I haven't received the money for a refund
Whether we cancel the order or have won a dispute, we will receive the money in the same payment method we used. But it is not an immediate process, as AliExpress will first have to make certain arrangements and then start the return process, which may take a few days.
To find out the status of your return, go to the order (from your PC) and hover your mouse over the "Refund Status" button. When the 3 points are orange, the return process has already begun and we will receive the money in about 3-15 working days. You can find more information about returns by clicking here.
Our final thoughts
Well, here you have it! A complete guide on how to buy in AliExpress. All in all we consider that AliExpress is a excellent online store where one can find all sorts of quality products for very cheap prices. Of course, like in any online store, have to take precautions when making a purchase. But we feel that if you follow this guide you will minimize almost to zero the risks that are associated with buying in these macro stores