---
You can see all the guarantees and delivery times directly on AliExpress by clicking here. And see all the frequently asked questions resolved in this other link.
---
"How does AliExpress work?" Although AliExpress has been around for a few years now, we still hear this question often, so in this article, we're going to explain how to store at this online store.
This is a detailed guide with all the steps to follow before buying a product, plus we'll answer the most frequently asked questions through the blog comments. We will teach you how to find branded products, identify a good seller, what payment methods this Chinese online shopping platform allows, how to contact sellers… So if you are new or have any questions, keep reading! This article will be very useful.
What is AliExpress? Is it safe to buy from this Chinese site?
AliExpress has become one of the largest online sales platforms in the world. This Chinese store is billing three times more than Amazon and eBay combined and is consolidating as the first shopping platform in many countries. Thousands and millions of people like you buy from AliExpress. But one thing must be clarified: AliExpress is not really an online store, but a platform that works as an intermediary and connects sellers with buyers.
Therefore, AliExpress takes care of very important issues such as checking that sellers are complying with the stipulated rules, protecting the buyer if any problem occurs, saving your money until you have confirmed receipt of the product, and mediating possible problems between buyer and seller.
In fact, AliExpress is very intolerant of sellers who do not follow the rules and punishes them by closing their stores and expelling them from the platform. If you want to know more about why this page is so reliable, we recommend that you continue reading our analysis of security parameters and how to avoid scams on AliExpress.
How to identify reliable sellers
As we have already said, AliExpress is a platform that mediates between buyer and seller, so the seller is responsible for sending the order correctly, and that the product fulfills what was promised in its description. Therefore, it is very important to find a reliable seller. We will have to assess which seller provides the best products and has the best reputation. This will be done by following these steps: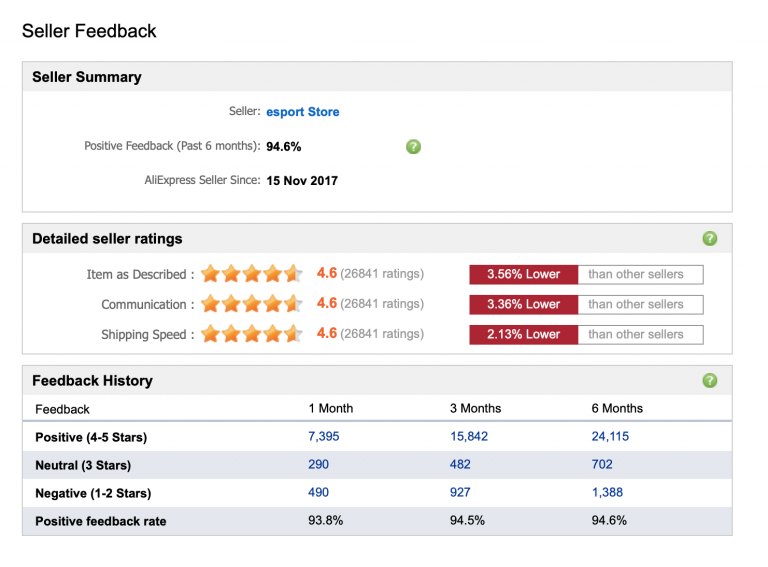 Check out the seller's score at the top of the page. You can see the percentage of positive votes, the average scores of the seller in terms of "Communication" (with the customer), "Items as Described", and "Shipping Speed". If the ratings are in green, it means that they are above the average for AliExpress, and the opposite if they are in red. Remember that these ratings are given by AliExpress through the ratings given to the seller by other buyers, so neither AliExpress nor the seller can modify them.
The second step is to examine the ratings and consumer comments. This will give you a very good idea of the quality of the product and the overall satisfaction of the buyers. It will also give you information about the shipping time and whether the product is as described by the seller.
Finally, as an extra step, you can look at how many people have bought the product from the seller. If there are enough sales and the consumer ratings (stars and percentage) are high, you can be sure you are dealing with a reliable seller.
Whenever you have a question (however small), the best thing to do is to contact the seller directly to resolve it. You can ask them about the originality of the product if the product has the right logo or ask them for real photos. In short, when you have any doubt, it is very important not to be afraid to ask, so you can avoid surprises when the product arrives at your home. If you don't know how to do it, read our article on how to contact AliExpress sellers.
You see that finding reliable sellers is easier than it seems. If you want more information, we recommend you read one of our articles about reliable AliExpress sellers: which ones are the best and how to identify them.
Differentiating an original product from a replica
For some time now, AliExpress has totally banned replicas from its website, but there are still sellers selling fakes. When we go shopping, in many cases differentiating an original product from a replica on AliExpress is very difficult since the copies are very well made. If we are looking for a 100% original product there are some tips that will help us determine this.
The first is the price: if you see that a product is not much cheaper than in an official store, we can deduce that we are looking at an original (replicas, on the other hand, are much cheaper).
Secondly, you have to look at the number of sales and how long the seller has been selling on the platform. Normally, stores that sell replicas close quickly so they don't even get any feedback from other buyers.
Third, look at whether the product name includes the word "original" because if it does, the seller is indirectly committing to sending you an original product. And something similar, although even safer, are products with this "Guaranteed Genuine" seal.

What if they sell you a replica?
If any seller is not honest and sells replicas, AliExpress will close the store. If you have made a purchase and it turns out that the product is not original, the only thing you will have to do is contact AliExpress to take action. As soon as you prove that your product is counterfeit, they will give you your money back, close the store to the seller, and in most cases, you can keep the product.
Finally, authorized sellers usually put it in the description and include the brand in both the title and the description. If you've found a branded product and the seller seems to be covering up the logo or information, be wary. Remember that if you buy a replica knowing that it is one and that you don't like what you get, AliExpress will only be able to help you if it puts all the brand information, details, sizes, and everything else in the description. That is why we do not recommend buying replicas with the wide variety of original brands that can be found in AliExpress.
Payment methods and buyer protection when buying from AliExpress
All payment methods on this platform have AliExpress Buyer Protection (explained in detail here). This means that you are protected by AliExpress if something happens to your order.
When a purchase is made and payment is made, AliExpress holds the money until the product reaches your home and you approve it. Only when you confirm that everything has arrived safely will AliExpress release the money to the seller. This payment system is an "escrow" system and prevents the seller from keeping your money and not sending anything. Below we tell you the best payment methods on this website:
Card – Buyer Risk: None
When paying with an AliExpress card, your money is fully protected until we confirm receipt of the product. It is a very simple form of payment. AliExpress accepts Visa credit and debit cards, Mastercard credit cards, and Maestro debit cards. And if you are afraid to pay by card, you can also ask your bank for the famous "virtual cards" or "prepaid cards", which are specially designed for online shopping: they have a limited amount of money that we will recharge ourselves, but make sure they are Visa, Mastercard or Maestro.
Paypal – Buyer risk: None
Although it disappeared for a while, you can now pay again with Paypal, a secure method with which we can also pay if we do not have a credit card. This entity works as an intermediary and holds the money of your purchase, which only releases the money when the buyer confirms his satisfaction with the product.
The only thing you will have to do is open a Paypal account and recharge it with the amount of money you want in the account. However, you must take into account that not all sellers offer this payment method and Paypal service fees are paid separately. In our article about how to buy on AliExpress with PayPal, we give you all the details.
Bank transfer – Buyer risk: Medium
It is a less used method of payment, and in addition, you can only pay for orders over $20 (and only in USD), so we do not recommend it unless you have no other way to pay, since banks often charge a fee for making transfers, even more so if it is in a foreign currency and an international transfer. Even so, if you choose this form of payment, your money is also protected since AliExpress holds it until you confirm it.
Other forms of payment and which to avoid
AliExpress also accepts WebMoney, Western Union, Yandex. Money, QIWI, DOKU, MercadoPago, Ticket, American Express… But above all, and most importantly, never pay outside of AliExpress because in case you have a problem with the seller, they will not be able to help you. In this article about the payment methods of AliExpress, we explain everything in detail.
Warranty on AliExpress purchases
For some time now, AliExpress has worked on several warranty systems for its products and has different warranty conditions for each country: in Russia and Ukraine, we will be able to buy an additional warranty to have local repairs without shipping costs, while in Mexico, Argentina, Chile, Peru, Colombia, Ecuador, France, Germany, Poland, Belgium, Italy or the Netherlands we will have a 1-year warranty service when buying a cell phone or tablet, offered by Allianz insurance company.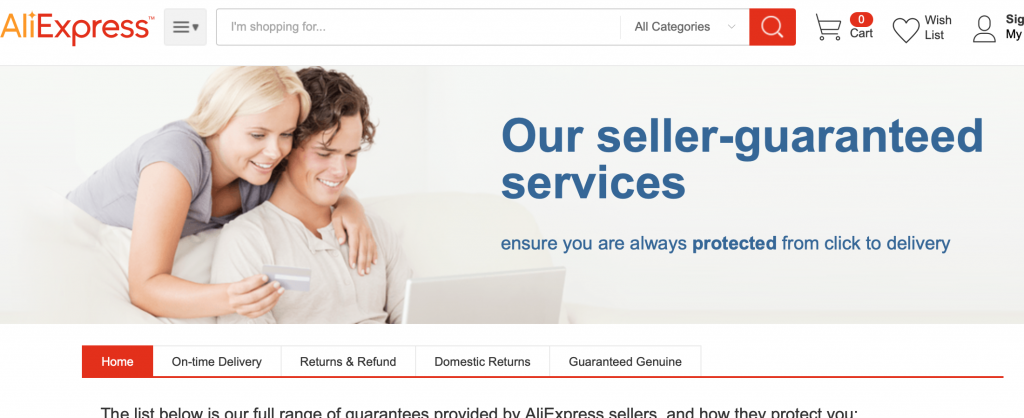 In general, the site has determined that the seller must comply with the relevant legal warranty obligations that apply to your location of purchase. This means that if you are buying from the European Union (for example) you are entitled to a 2-year warranty and can return the item within the first 14 days (although the cost of shipping may be borne by us). We recommend that you check the After Sales section of the AliExpress customer service section for more information, which you can access here.
Refunds, disputes, and claims
Not all buyers confirm receipt of the order, some forget to notify the page that their purchase has already arrived, so after 60 days AliExpress closes the order and delivers the money to the seller. In case your order does not arrive on time, does not comply with the description or there is any other problem, you can claim your money as it is in the custody of AliExpress. If you encounter any of these problems, AliExpress' guide to buyer protection, disputes, and returns will help you solve them.
Sometimes it can happen that the product comes defective, if this is the case, you should contact the seller for more information. You can then open a dispute with the seller to resolve the problem. To do this, you just have to go to the order and look for the "open dispute" button, fill out a simple questionnaire where you will provide images or evidence so that the seller can see the problem and offer you a solution.
If you want more information on this link you can see how it is done step by step.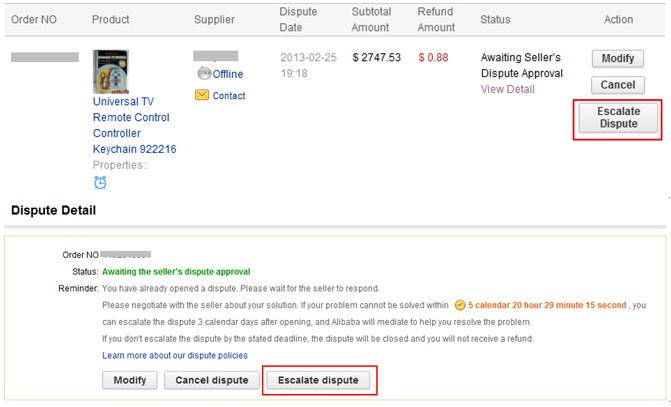 From that moment on, several things can happen:
The seller agrees with you. The dispute is closed in your favor and in a few days, you receive your money.
The seller gives you a different solution, for example, less money. If it seems reasonable to you, just hit "accept", the dispute will be closed with that decision, and in a few days, you will receive the money.
Have the seller give you a different solution that you do not agree with. In this case, you can reject their proposal and offer them a different one, or if you really think you are right, wait a few days until AliExpress automatically mediates the dispute and offers another different solution.
We want to establish a very important point: pay attention to what you put when you fill out the form since we can choose between "Refund Only" (that is, we only ask for the money) or "Refund and Return" with which we are accepting to send the product back, paying for the shipping to China, which can be more expensive than the same product.
Another thing you should look at is if the seller asks you to close the dispute to send the order again, you have to hit the "Cancel" button, never "Accept Dispute", because by accepting a dispute, AliExpress will close the order and you can not claim again if you do not get it.
Shipping times
Another frequently asked question is: how long will it take to get my order? There is no single answer since this time depends on the shipping method, the destination country, etc… In our articles about shipping methods of AliExpress, we solve your most frequent doubts about shipping.
As we have already said, the order protection time is 60 days, so that is the maximum time it can take. It is very important that, if you have not received your order within that time, you open a dispute to claim your money or extend the protection time. In addition, all shipments have a code with which you can follow your AliExpress orders to see where they are.
Local guides to buy from AliExpress from any country
Although there is no equivalent to AliExpress in most countries, it is more common to buy AliExpress with shipping from China. That's why our local guides offer you some extra tips to buy safely on this platform: payment information, shipping, customs…
How AliExpress can help your business
This website is not only a great platform for shopping for individuals. There are also people who take advantage of the low prices of suppliers by creating a dropshipping business with AliExpress or buying in bulk from Alibaba and AliExpress.
Other Frequently Asked Questions
In this guide, we have tried to include everything you need to learn how to buy, but there are some questions that you often ask us in the blog comments, so we are going to review the most popular ones to help you. If your question doesn't appear here, we recommend that you ask it in the blog comments.
– AliExpress or AliPay cancels my order when I pay by credit card and asks me to send documentation…
Lately, we are seeing an increase in blog comments on this particular topic. From AlixBlog we have taken action and have contacted AliExpress directly for explanations. Also, as a result of your comments, we have given them a list of things that should be improved on the platform. They have answered us with a long e-mail. Here are the most important parts:
AliExpress – "We have noticed an increase in questions about AliPay's payment system. We are aware of the problem and apologize for any inconvenience this may cause. We are working hard with AliPay to resolve this problem as soon as possible to make the shopping experience much more intuitive and comfortable for AliExpress shoppers."
We also made them understand the general frustration felt when the order is cancelled. We mentioned to them that buyers feel a little helpless in cases where the money is withdrawn from the bank account and then the order is cancelled. They answered this:
AliExpress – "Please keep in mind that the money is safe. The money is withheld due to security checks, AliPay will not make any deductions on the amount paid".
It seems that AliExpress knows that there is a problem and wants to solve it as soon as possible and they already know that it is hurting them a lot. They also want us to know that in the event that an order is cancelled our money will be safe.
As a result of the e-mail we received, we have sent them another one asking more specific questions. When they reply we will expand this section :). For the moment, we leave you with the steps you have to follow, which are explained here.
– Can I change or cancel an order?
Another very frequent question is this.
And it has an easy answer: currently, AliExpress allows you to cancel orders automatically while the payment is being verified (a few hours after payment) and the money will be automatically refunded. If it has already passed the verification process, you can ask to cancel the order, but the seller will have to accept it, so it may not accept it if it has already sent the order.
If you want to change the details of an order, you will have to cancel the order and place it again. Another option is to talk to the seller to make the changes without canceling the order, but you must do so before he sends it so that he can apply the changes. In our blog, we explain how to change or cancel an AliExpress order step by step.
– I do not receive a refund
Whether you cancel the order or win a dispute, you will receive the money by the same payment method you used. But it is not an immediate process, since first AliExpress will have to make certain arrangements and then the return process will begin, which may take a few days.
To find out the status of our return, we will have to go to the order (from the PC) and pass the mouse over the "Refund Status" button. When the 3 points are orange, as in the picture, the return process will have already started and we will receive the money in about 3-15 working days. You can find more information about returns by clicking here or in our AliExpress Refund Guide.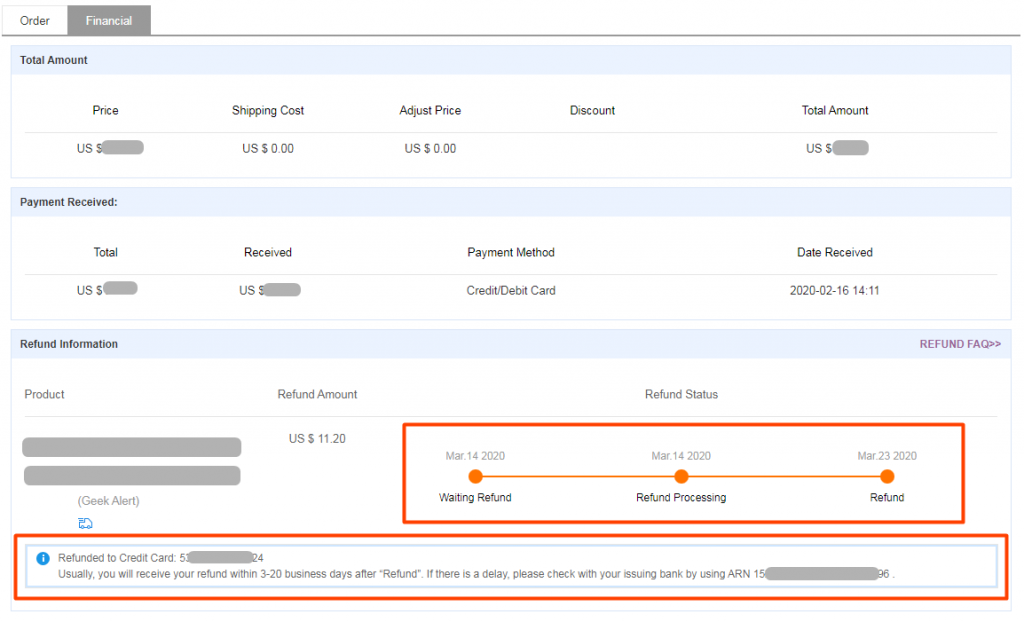 – How to choose your size in AliExpress
Another of the most frequently asked questions in your comments is how to choose a size when buying from AliExpress. Well, shopping on this platform is very easy since all the clothes, shoes, accessories, and accessories come with the necessary details to choose the size. Within the product description, you will find a table of measurements to compare with ours, we explain it in more detail in our article on how to determine our size in AliExpress.
– How to get discount coupons and promotional codes
Unlike other sites, at AliExpress it is very easy to get discounts and offers. Every day you can find new offers on the main page of AliExpress. For example, it is common for the page to offer welcome discount coupons to new buyers. In our blog we keep you informed about the latest coupons and discounts, but if you want to learn how to get more out of them or understand how they work we recommend reading our Guide to AliExpress coupons.
Other tips and tricks for safe shopping at AliExpress
Now you have everything you need to know to buy safely on this platform. But in our blog, we still have more tips and tricks. In our tutorial section, you will find answers to other frequent questions that may arise as you buy more often on this page. Here you have the direct link to the most important ones:
Tips for managing your AliExpress account
Our opinion about buying at AliExpress
So far the complete guide about buying on AliExpress. From our point of view, AliExpress is a bargain with all the letters, a store where we can find all kinds of products. Obviously, as in any online store, we will have to take precautions before making a purchase. But if we follow the steps of this guide we will minimize almost to zero the possible problems that can happen when it is bought in this type of macro store.
Go to AliExpress.