AliExpress has been around for more than a decade, but there are still people who ask us how it works, so we have prepared the Definitive Guide On How To Buy on AliExpress.
Let's get started!
First steps
Do I need to be a member to order goods from AliExpress?
Yes, the first step you have to follow so you can start buying on AliExpress is to register.
To do so, all you have to do is:
Click on My Account > Register
Sign in with Google (or click on "See more registration options").
Since this is your first purchase, you can also go to this page to see a selection of products with great discounts (some are worth $0.01).
Remember that these discounted prices are only available for your first purchase, so choose wisely.
How to set AliExpress in your language and national currency
The next step is to select the country you're located in and then, pick your national currency.
On the web
Click here to enter AliExpress. In the upper right corner, you can change languages if you need to. Then, choose "Ship to" your country and in "Currency" put your national currency.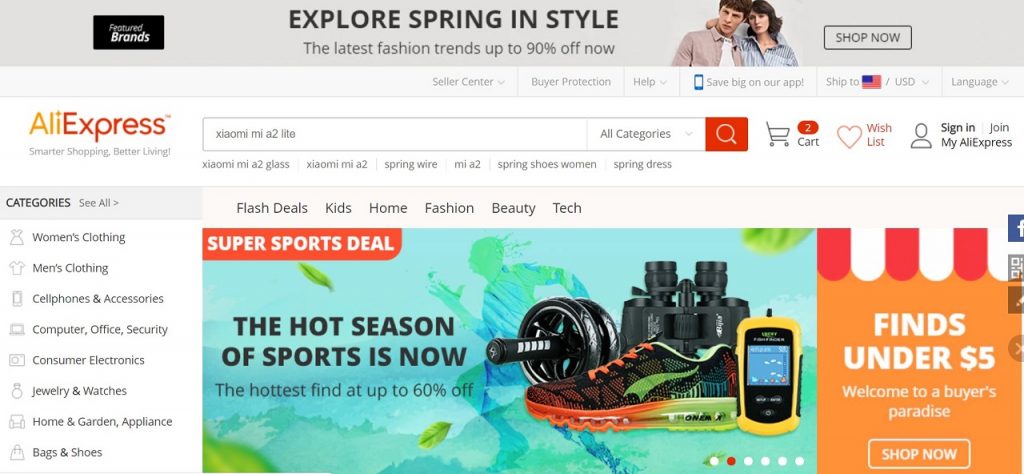 This way you will see AliExpress in your preferred language, you will be shown products that can be shipped to your country and these will appear with the price in your national currency, if available on the site.
On the app
Enter the app and click on the bottom right corner, where it says "My Account". Then click on the flag at the top right of the screen and there you will be able to choose country, currency and language: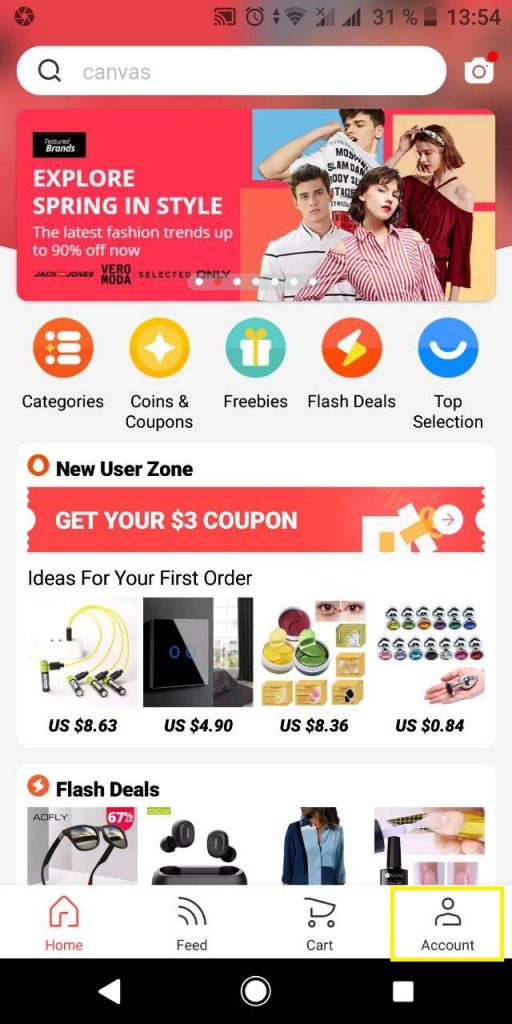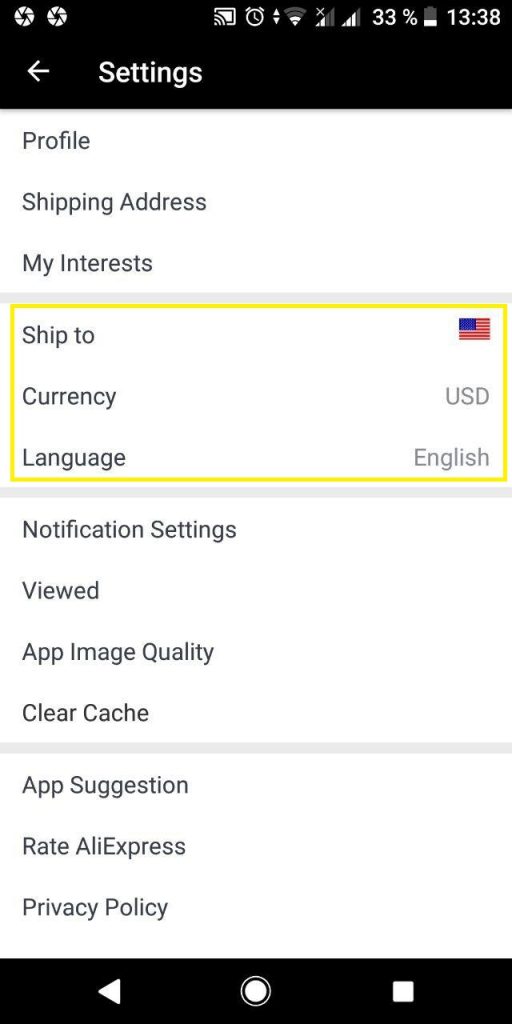 How to fill in the address
To enter your delivery address, both on the web and in the app, just click here and add as many addresses as you want.
From there, you can also choose your default address, which is the one that will appear by default when you go to finish a purchase.
How much can I buy on AliExpress without paying taxes?
It depends on your country. You can read our guide about US, UK, UE, Canada & Australia customs.
Is it safe to buy on AliExpress?
Very often we receive the question "how reliable is it to buy on AliExpress".
The answer is simple: it is completely safe to buy on AliExpress from any country.
AliExpress is a company that has been around for many years and has millions of successful shopping experiences behind it.
But what makes AliExpress so reliable is that it is not a store as such: it does not have its own stock, but offers its platform for small Chinese merchants and manufacturers to sell at low costs all over the world.
You can picture AliExpress as an intermediary that makes sure everything goes smoothly: when you place an order, AliExpress holds your money until you confirm that you have received the product. Only then does it make the payment to the seller.
This way you are always completely protected because if the product does not arrive, arrives late, arrives broken, etc… you simply open a dispute and AliExpress refunds your money.
In short, with AliExpress you have it all: very low prices and the guarantee that the service will be perfect.
What to buy
On AliExpress you can find almost anything: from cell phone chargers to prefabricated houses.
However, the products that sell the most on AliExpress are usually cheap and small (gadgets, accessories, clothing, small technology…), as shipping bulky items from China can be tricky.
You can find a ranking of the 100 best products on AliExpress on this page.
Can I buy just one item in AliExpress?
Yes, of course. AliExpress is the retail store of the Alibaba Group, do not confuse it with Alibaba.com, a portal specialized in wholesale purchases.
How to save money
Use coupons
AliExpress coupons help you to reduce the price of your purchase but they can be a little difficult to understand because there are several types of coupons. In this article you have the full explanation, but here is a summary.
Coupons and promotional codes are almost always found on the product page itself, and if there are several you can see them all by clicking on "Get coupons":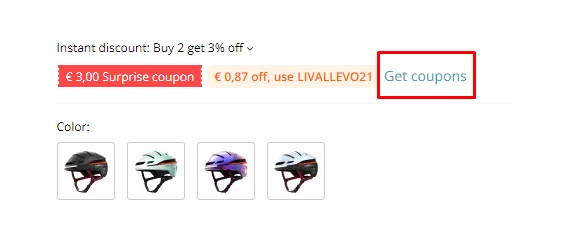 On the app it's practically the same.
As you will see, almost all the coupons have a minimum spending amount to be used. If you see that your purchase is going to be more than that amount, click on "Get" and the discount will be applied automatically at checkout.
The only exception is in the case of promotional codes: when one is applicable to your purchase you will have to click on the "Copy" icon and, as with the welcome coupon, enter it in the last step of the purchase: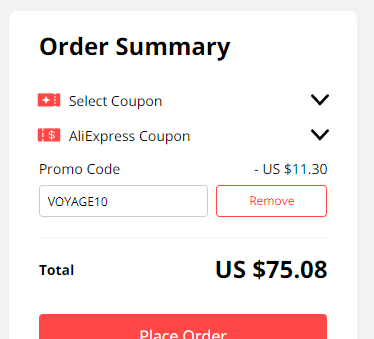 Play in the app
On the AliExpress app there are a few simple games. If you complete tasks in these games you can earn coins that you can then redeem for discount coupons or directly for items.
Here is an example of a game (only available from the app).
How to know if a seller is reliable
As we said, AliExpress is not really an online store, but a "marketplace" where you can find a wide variety of sellers.
This means that on AliExpress there are good and bad sellers, and it is very important to know how to differentiate them. The good news is that this is very simple: you just have to look for the information of the store.
It is in the tab of each product and it looks like this: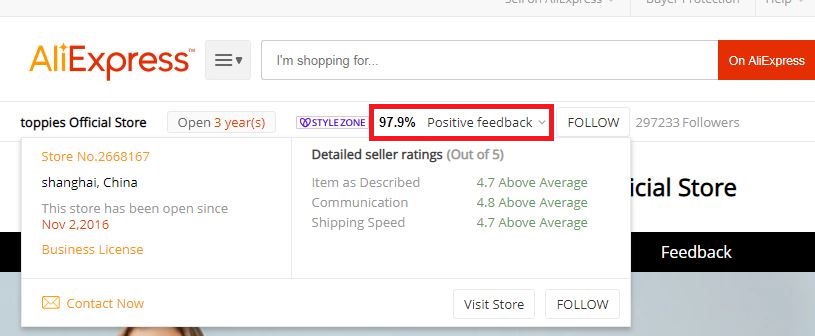 As you can see in the image, there are several aspects to take into account:
In the tab itself you can see:

Percentage of positive ratings: do not accept less than 90% and if it can be more than 95%, the better.
Number of followers: several hundred thousand followers is always a good sign.
Top brand award (or "Top brand"): it means that this store is the official one of a popular brand.

Accessing the seller's details:

Year opened: the older the better, although there are excellent sellers who have only been around for a year.
Seller ratings: if all three dots are green, it's a very good sign.
This is the seller's rating, but you should also look at the rating of the product itself. Although a seller with a very good reputation is unlikely to have bad products, it doesn't hurt to check what previous buyers think of the product.
Under the product description you will see the average star rating (4.9 out of 5 is a great rating) and the number of sales (the more the better). And if you click on this information, you will access the reviews section.
There you will find:
Written reviews.
Most repeated phrases in the reviews ("the fabric is very dense", "excellent quality…").
Actual photos of the product.
Additional comments.
The "Additional comments" are comments that users can add to the original review after having used the product for a few days.
Sometimes the user gives a good rating as soon as he receives the product but after a few days of use he finds flaws in it. Therefore, if the product has excellent additional comments, it's a sign that it is of very good quality.
Payment methods on AliExpress
Main article: AliExpress payment methods
Once you have all the products you are interested in in your cart (remember that each seller will ship separately from the rest) it's time to pay. AliExpress offers several payment methods for its buyers, so you have many options to choose from.
Now, we'll explain the most popular payment methods on the site.
Credit or debit card
The most common payment method on AliExpress is by credit or debit card.
AliExpress accepts Visa and Mastercard, as well as Maestro debit cards and American Express cards. Remember that the payment will be made in dollars, since AliExpress does not accept certain currencies yet, but your bank will make the conversion automatically.
In addition, your card must allow online purchases: if you encounter errors when paying, we recommend that you check with your bank to see if this option is enabled.
PayPal
AliExpress has returned to accept PayPal as a payment method on its platform. Not all sellers accept this payment method, and those that do accept it charge a small fee.
The positive aspect is that PayPal's buyer protection is very good, so by paying this way you will be even more protected against possible complications.
To find out which sellers accept PayPal you can check in the article PayPal and AliExpress.
AliPay
AliExpress created Alipay to handle payments on AliExpress. Their system is very similar to PayPal: they hold the payment, until we confirm that our order has arrived in good condition.
All payments you make by debit or credit card are made through Alipay, so if you have ever paid by debit or credit card on AliExpress, you may have already set up your Alipay account without realizing it.
You can read more about this payment method on our AliPay article.
How does shipping work?
Main article: AliExpress shipping methods
Shipping methods
Shipping methods can be categorized in two types:
Ordinary: the most common for cheap products. They do not have tracking.
Certified: for higher value products. You can track them all the way and you have to sign for the package.
The most common shipping methods are:
AliExpress Standard Shipping: certified shipping.
Private couriers (EMS, DHL, e-EMS, Fedex…): certified shipments.
AliExpress Premium Shipping: certified shipping.
Cainiao Super Economy Global and Cainiao Super Economy for Special Goods: standard shipping (no tracking).
How much does shipping cost?
There are three price levels:
AliExpress Standard Shipping: cheap.
Private couriers and AliExpress Premium Shipping: expensive.
Cainiao Super Economy Global and for Special Goods: very cheap or free (paid by the seller).
How long does it take to reach my country?
AliExpress Standard Shipping: 3-4 weeks.
Private couriers and AliExpress Premium Shipping: 9-20 days.
Cainiao Super Economy Global and for Special Goods: 30-50 days.
How to get free shipping?
Main article: Free shipping on AliExpress
There are no coupons or magic tricks to get free shipping on AliExpress.
But there is something that can help you: the same product is usually available within several sellers, so you can search to see if another seller has that product at a similar price and with free shipping.
To do this you can use the app's image search tool, or type descriptive words in the search engine and apply the "Free Shipping" filter.
How to buy several products and pay only one shipment?
Main article: Combined delivery on AliExpress
More and more products on AliExpress are offering combined delivery. You will be able to differentiate them because in the checkout you will see this: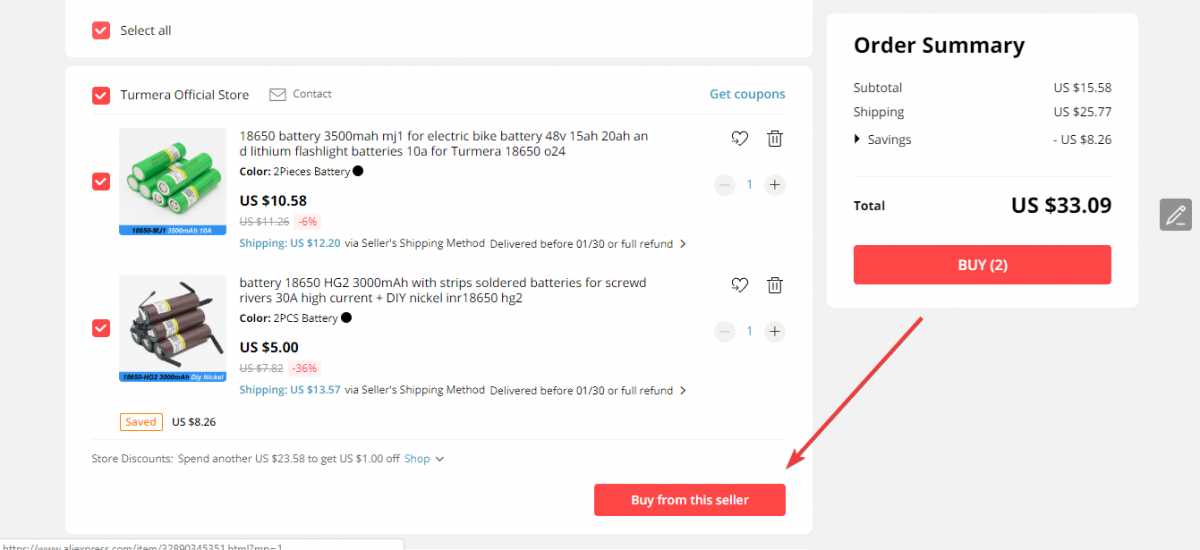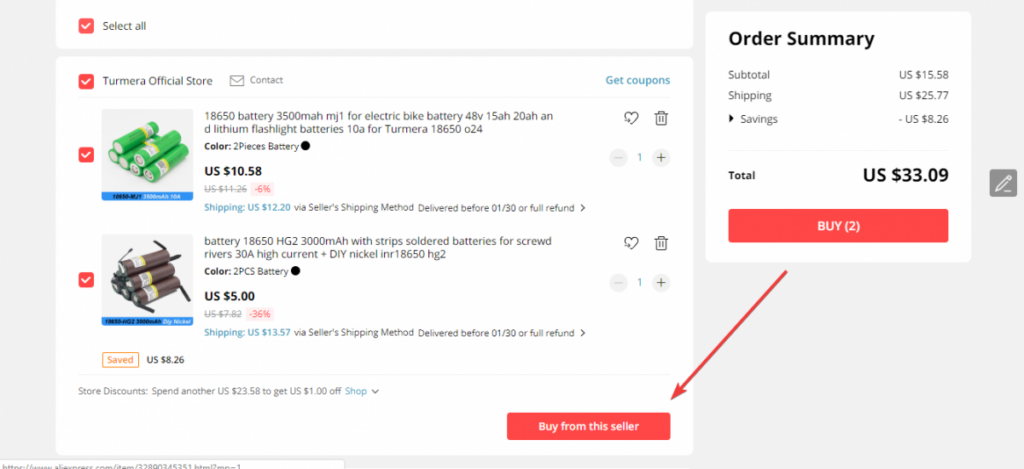 Combined delivery is a breakthrough, not only because we save shipping costs (you only pay once), but also because it gives priority to our order and makes it arrive sooner.
What courier delivers AliExpress packages to my country?
If you have chosen certified shipping, depending on the country, a company will ship from China to your country and then pass it on to local couriers. Sometimes, however, the certified shipment can also reach you through the post office in your country.
On the other hand, if you have chosen an ordinary shipment like Cainiao, the delivery is always through your country's post office.
Remember that with the ordinary shipment you have no information about where the order is from the moment it leaves China until it arrives at your home.
Where does the order arrive?
Main article: Where do AliExpress orders arrive?
Unless you order it from a pickup point, in all countries AliExpress' orders arrive at your home without any problems.
You can see the address you have set as "Shipping Address" in your AliExpress account by clicking here.
Customs
Does AliExpress charge you customs?
AliExpress does not charge customs, but your country may. If you have been assigned a customs tax, you will usually be charged the tax at the post office when you pick up your order.
Also, be aware that certain products may be liable to be stopped at customs if they do not comply with customs.
In this regard, your country's customs website can provide guidance: check the customs regulations if you are thinking of importing something that you think may be liable to be detained by customs, and remember that if it is detained you should be contacted.
What does it mean if my order has a particular acronym followed by the word "customs"?
Don't worry if the status of your AliExpress order says "US customs", for examples, this does not mean that it has been detained by customs or that you have to pay extra.
It simply means that the package has arrived in the United States (or your country's acronym) and will soon be delivered to your home.
If you see that the order has been stopped at "XX customs" for a long time, it is probably because it is an ordinary shipment (i.e. not certified). The cheapest shipping methods do not have tracking outside of China, so the status of your order will be frozen when it arrives to your country and will only be updated when it is delivered to you.
Disputes and refunds
Main article: Claims on AliExpress
On AliExpress you "open a dispute" when you are not satisfied with your purchase and want to claim a full or partial refund.
These are the most common reasons:
The order has not arrived.
The product is defective and does not match the description.
Parts of the order are missing.
The product is a fake.
These things don't happen very often, but when they do, they are resolved satisfactorily thanks to the AliExpress dispute mechanism.
This is how disputes work on AliExpress:
You open a dispute (from here), submit evidence and request a partial or full refund.
The seller makes you a proposal.
If you agree, you accept it; if not, AliExpress intervenes to mediate.
AliExpress gives its resolution (which is usually more favorable than the seller's).
You receive the refund.
You will receive the refund from AliExpress in a few days and by the same payment method you used for the purchase.
Returns
Do you want to buy a piece of clothing on AliExpress and you don't know if the size will fit you?
In that case we recommend you to make sure that the seller you choose offers free returns:

If you buy a product with this badge, you will be able to return it to the seller without giving them any explanations and without paying shipping costs. And, of course, you will receive a full refund.
Returning a product without free return
You bought a product without a free return and you still want to return it?
Depending on the case you will have to do one thing or another:
I want to return a product because it is defective: forget about the return, what you have to do is open a dispute and ask for a full refund.
The product is fine but I don't want it anymore:

If it is a very cheap product, it is likely that sending it to China will cost you more than the product itself.
If the product is expensive, read our article on returns to China.
Frequently Asked Questions
There are some recurring questions in our comments section, so in this segment, we'll answer the most common ones so you don't waste your time searching through the comments for an answer.
My order has been stopped at customs, what should I do?
All orders go through custom. That does not mean that the package has been stopped for review, so the first thing you should do if you see a message in your tracking that has to do with customs is to wait, because if it has been stopped they should contact you to ask you for the documentation.
If you don't provide it and the order is returned, you can still open a dispute although it is the buyer's responsibility to complete the customs formalities.
My order is listed as delivered but I have not received anything
Main article: AliExpress order delivered but not received
If the order appears as delivered but you have not received anything, before opening a dispute it is important to get proof because AliExpress will not be able to prove that it has not been delivered to your address or city.
This is why it can be useful to visit the page trackitonline.ru where sometimes we can see the city where it has been delivered. A screenshot can be part of the proof you attach to the dispute.
Can I buy from another country and send it to mine?
If you are in a particular country and want to send your packages to other countries, there is no problem. AliExpress is a global platform so you can buy from anywhere in the world, just add the address with the country where you want to send your order and choose it at checkout. The address must include the name of a physical person who can pick up the order.
Is it possible to send my orders to the post office?
No, AliExpress only accepts addresses of natural people. If you send your order to a post office they will not know who the order belongs to and will return the package. But you can send your orders to your work and other addresses where you may be available during the delivery time.
I want to change some details of my order, what do I do?
If you have made a mistake in the size, color or any other detail of the order, the best thing to do would be to cancel the order and reorder it. However, our advice is to contact the seller first and explain your problem. Some sellers can make modifications without the need to cancel the order. We explain more in our tutorial on canceling orders on AliExpress.
I sent my order to the wrong address
Depending on how long it has been since you placed the order, you will have to follow certain steps. You have the full explanation in the article Change delivery address on AliExpress.
Can I buy on AliExpress or Alibaba wholesale?
Many people see AliExpress as a good source of income, since the prices of their products are very low and they can make money reselling them later in their country. In the Buy wholesale on Alibaba guide we show you what steps you need to follow to buy on AliExpress or Alibaba wholesale.