AliExpress only allows us to send a review of our purchase for 30 days after receiving our order, so we often give our opinion without having tested the product much.
Is it possible to change the review of an AliExpress product? In their customer service center, they don't give many clues as you can see here. So we are going to explain more below.
Can I change my feedback on AliExpress?
Unfortunately, once you've published our rating on a product, it can no longer be changed. This is part of AliExpress' policy to avoid feedback manipulations, as many people could use it to force certain situations with the seller.
So it's best to try the product a few days before adding a rating, so you can also open a dispute if there's a problem with the product. And your opinion will be more reliable for other buyers.
But there is a solution if you have already rated the order: you can add additional comments. Here's how to do it.
Alternative: leave an additional feedback
Since you can't change the rating, the best thing to do if your opinion has changed is to add another comment.
This second comment is important for the rest of the buyers since when checking the reviews of a product you can even filter by those that include additional comments. Many times, it's worth reviewing them to check if the product has defects that are not visible to the naked eye.

To leave an additional comment, just go to your order list, search for the order in question and click on "Leave additional comments". If you are browsing AliExpress from a computer, you will have to look for the tab "Manage Feedback". You can also access it from this link. Then click on "Published Feedback" and "Leave additional feedback".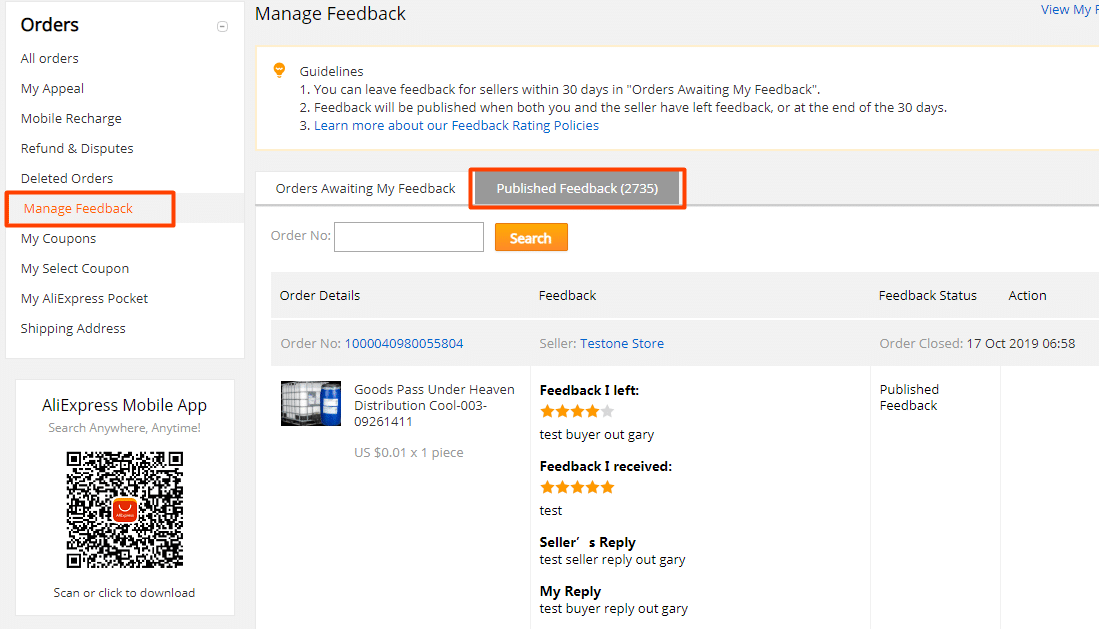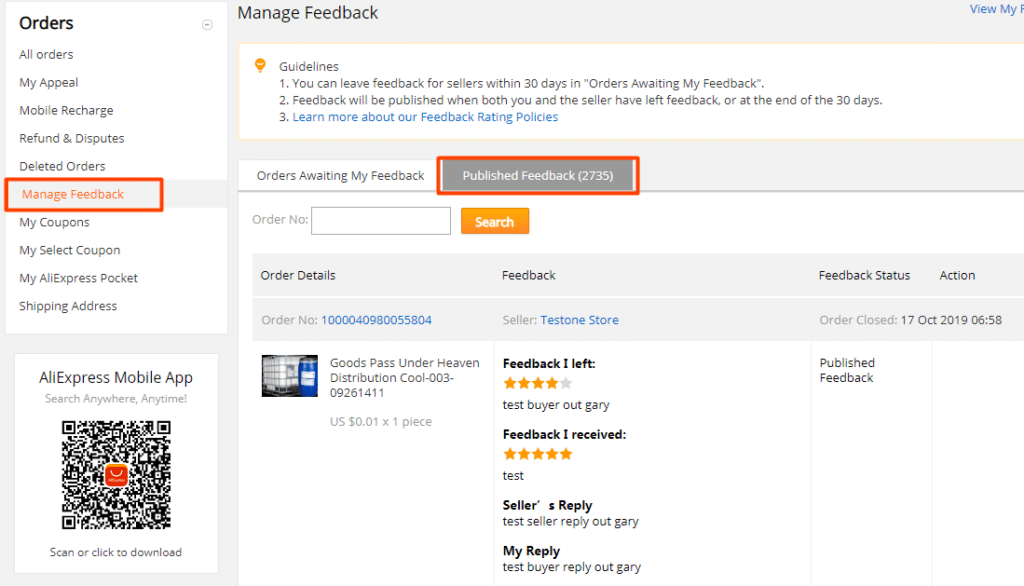 AliExpress will allow you to add a comment of up to 1000 characters, including pictures of the product. This time you will be able to say how the product has worked for you after a while: durability, functionality, quality…

How to reply to an AliExpress seller's review
Many sellers respond to your feedback. In general, they always leave positive feedback, but if you make a negative comment, they may respond by explaining their point of view. In this case, AliExpress also offers you the possibility to respond to this comment (without making an additional comment).
To do this you will have to access the reviews from your computer as you've seen before. This time, you will click on "Send reply". You will be able to use this if the seller is lying in their comment, although we recommend you to be careful with your language as they may delete your comment.

As we have already said, this can only be done from a computer. From a smartphone, you will only be able to add additional comments, but you won't be able to see the seller's response to our comment or reply to their message.
AliExpress review policy
Finally, we would like to review with you how AliExpress reviews work. As we have seen, there are different reviews and each one has a time limit within which you can make it:
First appraisal: Up to 30 days before confirming the order or after the protection time is over.
Additional valuation: Up to 150 days after issuing the first comment.
Response to seller's comment: Up to 30 days after the seller issues a valuation and response to our comment.
You must take into account that the first valuation will be issued when the seller also adds their opinion about you or when 30 days have passed since you added the comment. But there are some cases when they can remove your review. The seller can report your review for AliExpress to remove it for the following reasons:
Offensive language: if you use threatening or offensive words or phrases, they can report your comment. Try to show your anger by using appropriate language.
False information: in case you're showing information that isn't true, the seller can report your comment and if they have proof that you're lying, they will remove your comment.
Private information: if you show the seller's private information such as conversations, phone numbers, websites… Your comment could be deleted. It is better to show pictures of the product that is of interest to other buyers.
AliExpress customer service
AliExpress has a chat open 24 hours a day, 7 days a week. Here you can find answers to the most frequently asked questions and in addition, if you contact an agent, you will also be able to solve some doubts that they have not solved in their help center. Whether you want to report a seller or remove one of your comments, we recommend you to contact them by clicking here.
Remember that rating the products you receive is important for other buyers, but try to be as honest as possible. And if you have had problems with your order, it's best to open a dispute as soon as possible or request the use of a warranty from the seller in case it applies to your order.