In this article we are going to deal with infrequent errors that can occur in AliExpress, when logging in, browsing or getting coupons.
They are different from the errors that appear at checkout that we have talked about before. We will explain how to solve some common problems and what we can do in case our account has been deactivated.
I cannot access my AliExpress account
Check that you are entering correctly the e-mail address and password you used to register. Remember that the password is case sensitive and that blanks are not accepted. If the problem persists, the best thing to do is to follow some (or all) of these steps:
Clear cookies, change browser, or try accessing from another device.
Recover our password, in case you do not remember it well and are entering it incorrectly.
If all this doesn't work or you get a message saying that you are not authorized to log in, contact AliExpress through the Customer Service chat, which is now also available 24/7. Access it by clicking here.
It tells me that my account is not available, why?
Most likely your account has been deactivated. There can be several reasons, but the most frequent is to open disputes in bulk.
It is also possible that your account has been deactivated for security reasons due to fraudulent activity or for violating AliExpress rules.
It is important to check the e-mail linked to your account, you may have a message explaining the reasons. If you have pending orders and you cannot access your account, the only solution is to contact AliExpress through their customer service chat, as in the previous case.
I can't follow other users
Another error that can occur in our account is that we cannot follow other users (and they cannot follow us). In this case, we will be able to continue shopping but our account is partially blocked for having violated any of the rules of the web.
Also in this case the best solution is to contact AliExpress, as only they will be able to fix the problem and prevent it from escalating.
Errors when getting coupons or playing on AliExpress
Occasionally problems also appear when, from the app, we try to play on AliExpress or get coupons in games like Flip 'n' Win. Some of the messages that may appear are:
Service is unavailable, please retry again later.

For security reasons this process cannot be continued.

To protect the security of your account, please use another device to sign in.

Use another device to sign in (9001).

Please reactivate your account to be able to place this order.
Sometimes it is solved by switching from the app to the computer or waiting a few minutes but if it doesn't happen you have to follow other steps. There is no single solution as there are several reasons for these errors to appear, and you will have to try more than one solution.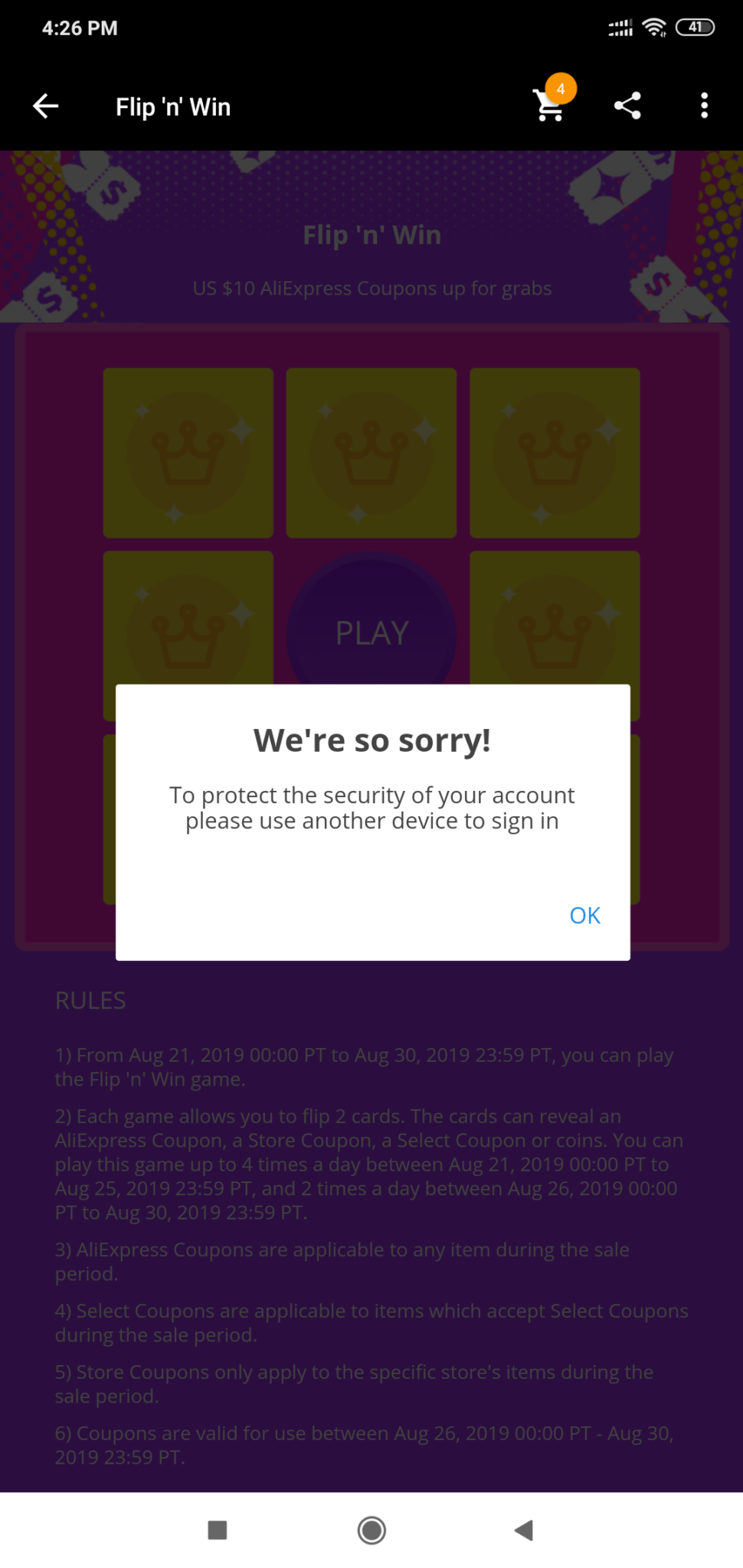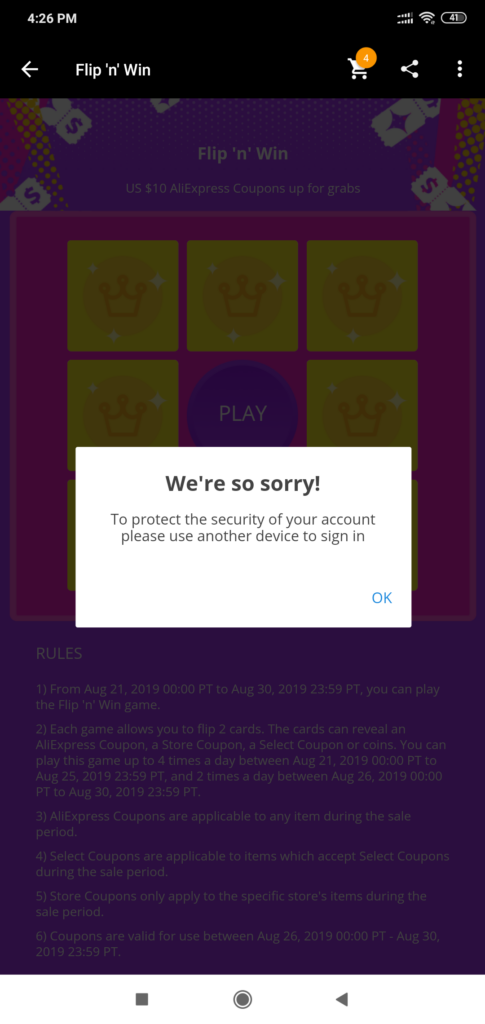 Clear your app's memory data
It may be a bug in the app itself so clearing the app's cache and retrying sometimes solves the problem. To do this, go to your account, click on the settings button and then you can clear the cache.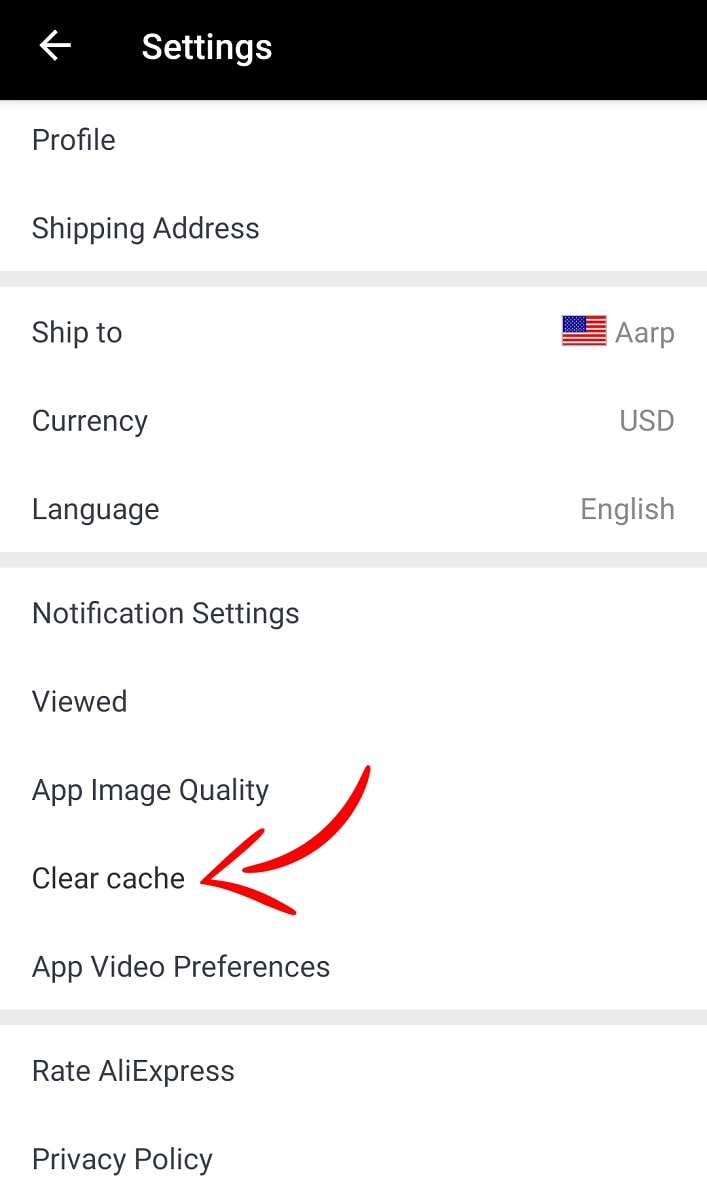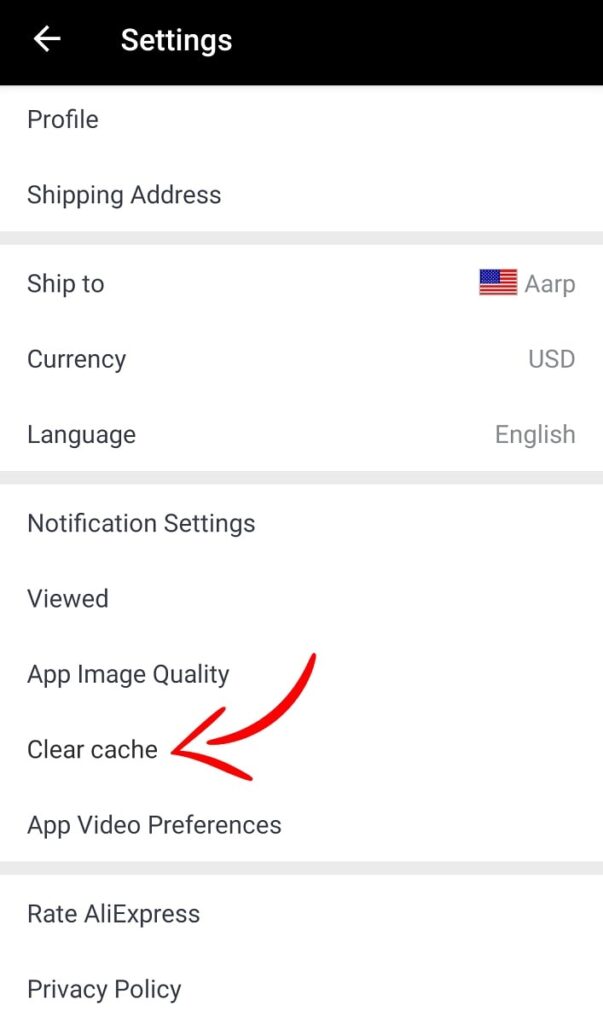 Uninstalling and reinstalling the application
Other users have also confirmed to us that they have had to uninstall the app and reinstall it to make the error go away. If you do this, you will need to log in again.
Open your account on another device
Indeed, sometimes it's just enough to log in on another device as you are asked to do. Sometimes it takes a few hours for AliExpress to verify that it is an error and remove the block.
Wait for IP unblocking
There are many sites that can block you when they notice an increase in activity. This is an IP blocking, and can happen when you share WiFi with several people or when you are on a public WiFi.
The solution is to wait a few hours for AliExpress to check that you are not doing anything wrong. The IP will be unblocked and you can continue with your usual activity.
Stop using two accounts
If you have two AliExpress accounts or have opened more than one account through the same device, the platform may block you as you are not allowed more than one account per person, to avoid cheating when it comes to getting coupons and discounts.
So if you have received an error message and you have several accounts, you already know why. Some users confirm that it can also be due to having the same payment card saved in two accounts. Delete one of the accounts and wait 24 hours.
The solution to most problems
If none of the above measures have helped, the best thing to do is to contact AliExpress customer service from this link. We have two options: talk to an agent via chat or send a message.
If we decide to contact by chat, first we will have to explain a little what is happening, they will try to answer us with something that appears in the FAQ and if they do not solve our doubt they will pass us to an agent who can check the status of our account and help us.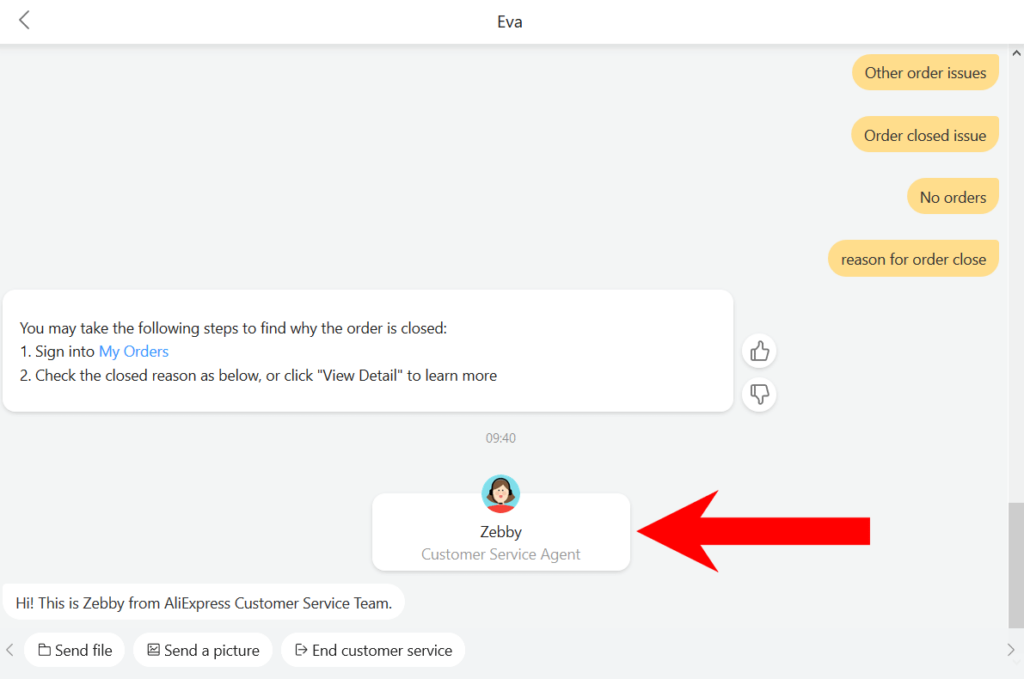 How to avoid being blocked on AliExpress
AliExpress buyers also have to follow some rules: as we have already said, the page only allows to have one account per person to avoid fraud with coupons and discounts, and this is one of the most common reasons why we can be blocked, but there are also other reasons.
On the website itself, AliExpress informs us of the rules that buyers must follow, as you can see here. In general, these are very simple rules, but let's review them.
Unpaid orders: We can buy products and leave them unpaid in case the seller has offered us a discount, and this is the only way for the seller to change the price of the purchase. But if we leave unpaid orders (and do not end up paying for them) very often, we can get our AliExpress account suspended or deleted.
Manipulating the seller's feedback: If we try to modify the seller's rating in any way (either to benefit the seller or to lower the seller's score), this can lead to the suspension of our account.
Extorting the seller through the rating: Although it is okay to leave a negative product review, AliExpress reserves the right to remove or block a review if it is excessive and is perceived as extortion or threatening to the seller.
Opening false disputes: Undoubtedly, if the product has arrived wrong, or has not arrived and there is no tracking information, it is time to open a dispute. But some facts such as opening a dispute saying that we have not received the product when we have, asking for a refund if the seller has already done it by another way, opening too many disputes at once or opening a dispute that is considered extortion (to get discounts or other things) if the product has actually arrived correctly, can lead to the suspension of our account for fraudulent use of the account.