If this post doesn't clear up any doubts, I recommend you contact AliExpress' customer service directly at the following link.
When buying on AliExpress, it is important to have the details of your order at hand to consult where it is or to make a claim in case it is necessary. More than once you've contacted us because you do not find your orders so we will explain the possible reasons why this happens and how to solve it.
How to find all AliExpress orders that are not showing
After buying, the products disappear from your shopping cart. Now you can see them by logging into your AliExpress account and accessing the "My Orders" tab. Here you will be able to see everything you have ordered. If you have bought a lot, use the filter that allows you to search for orders by status, tracking number, store, keywords, date of purchase…
You might think that you now have control over all the orders you have placed, but this is not the case. Orders can be removed from the default list manually. If you are using AliExpress from a computer, you can view these orders from the "Deleted Orders" section.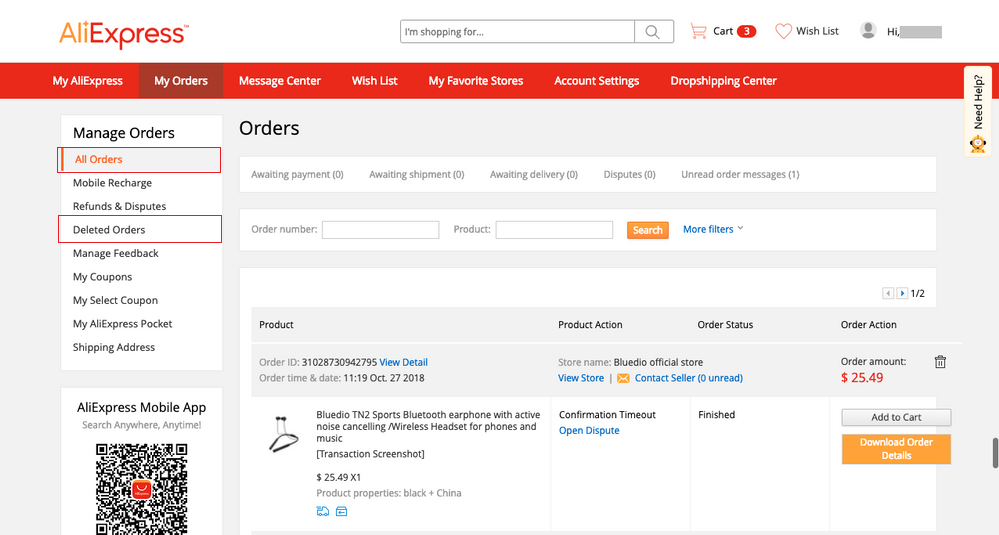 If you use AliExpress from your mobile application, when you access the "My Account" tab you can choose to view several types of orders:
Awaiting Payment: These are the orders that you have not paid yet. If you don't pay them in a few days, they will cancel themselves without any problem. If you have orders pending payment, the seller may send you a message to remind you.
Awaiting Shipment: These are the orders that you have already paid for but haven't yet been sent. At this point, you can still make changes or cancel your order with the seller's permission.
Awaiting Delivery: Orders that have already been paid for and sent.
Pending Evaluation: Orders that have recently expired or have been marked as confirmed.
Disputed Orders: These are the orders where we have opened a dispute.
In the mobile application, in addition to the list that we have already mentioned, you would need to be able to access the orders that have been closed and the orders that have been deleted, which is why we recommend that you click on the option "see all orders". However, deleted orders can only be viewed from the computer.
So our recommendation, if you do not find your AliExpress order, is to look from the computer in the section "All Orders" and "Deleted Orders". Another trick is to use the Eva robot that appears in the Help Center, when we check the option that we have not received our product, we get a list of everything we have bought recently.
I still can't find my order, what else can I do?
Although with these tricks you will surely be able to find your orders, we are going to give you some tricks that you may not have thought of if you still can't find them. Yes, we know that now you will be uneasy and looking for a quick answer but keep reading our tips and put them into practice.
Login with the same account you made the purchase with
Yes, we know it sounds absurd. But AliExpress has many ways to register. The most common is to use your email account. However, you can also register using your mobile number or a social network account: Facebook, Google, Instagram, TikTok, Twitter…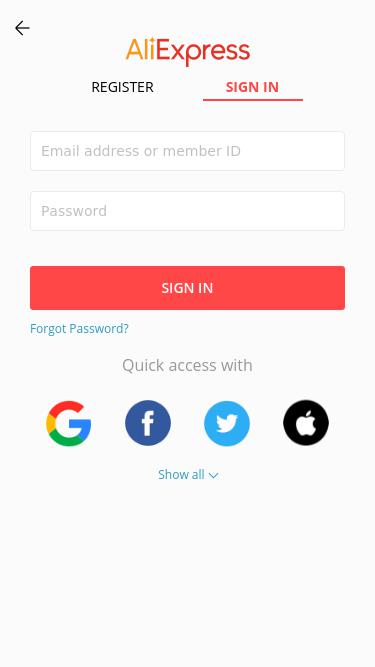 But even if you are registered in all these social networks with the same email account, AliExpress creates separate accounts. That is, if I log in with my email address, log out, and log back in with the "Gmail Account" option, I am logging into different accounts.
In short, if you log in with several accounts or you are not the only one using your computer, think about whether you logged in differently last time. This is something that can happen often, especially the first few times we buy with AliExpress.
Try logging into your account with a different method
Although nowadays there are fewer and fewer failures of this type, we also recommend you to enter with a different method than the one you are using: if you use the application and when reinstalling it the orders do not appear, try to enter from the browser. If you are using a specific browser, try another one (Safari, Google Chrome…). There are some small failures that can be solved with this trick.
Another trick: get your account back with your card
You can't find your order, but you have the details of the payment with the card of the order. Luckily, AliExpress has thought about the people who have suffered this problem and have created a way to recover your account by providing the details of the card used in the payment.
First, you will have to enter this form. The link is provided by the customer service through the EVA robot, if you want you can get it yourself by accessing the chat and asking the question: "I forgot my account information".
They will ask us a series of questions related to the payment: reference number, date of payment, the amount paid in the local currency, and if you used the card, the first 6 numbers, and the last 4. As you can see, you have to enter 6 numbers of the card, the 3 CVV numbers on the back, the name of the card, or the validity date, so it is impossible for these data to be used fraudulently.
I have reinstalled the app and the orders are gone
This is a question you ask us regularly, but the problem is the same: you enter your account and your orders don't appear, although in this case there are none. Well, we recommend that you follow the same recommendations we have already mentioned: check if you are logging in with the same account and enter from a different browser to your AliExpress account.
How to contact AliExpress customer service
If you still haven't found your orders or simply want to talk to AliExpress customer service (here), we explain how to do it. Currently, this platform has a customer service chat, but like most pages, they try to solve the most frequent questions using a robot.
When accessing the chat, the first thing they will do is ask us about which order we want to consult, a list of all the orders will appear. At the bottom there is a button to notify us that the order we have doubts about does not appear in the list, it will take us to another survey where they will ask us for more information.
It's really not easy to access an agent through this chat, but we've found out that by writing "I need to contact an agent" and trying to insist on the forms until the system finally detects that we can't solve it by ourselves works. You will see what has happened to you with an agent when you see a message like this one below.