If you love Gibson guitars, pay close attention to this article, because AliExpress offers a wide range of Gibson inspired guitars at a much more affordable price, with a similar finish and an incredible sound for what they are worth. You can also find tons of other Gibson style guitar (acoustic and electric) and bass models.
Les Paul, Custom SG, Firebird, Flying V, Explorer, ES, the acoustic Hummingbird… and even the Angus Young. You can find Chinese equivalents for the most mythic Gibson guitar and base models.
But are they Gibson Guitar replicas? Or originals?
Truly they are neither. There might be some replicas, and maybe even an original second hand Gibson, but in this article we are going to talk about white label ones, also called OEM.
What are these cheaper white label Gibson style guitars?
As you may already known, every day there are less and less replicas in AliExpress. Even if you  do find some sellers in the guitar category offering replica Gibsons, each day there are less of them, most of their shops having been closed down by AliExpress.
As we mentioned in our article about brands, or in the one about Louis Vuitton, the fact that replicas can no longer be found, doesn't mean we are left without alternatives. Products inspired by famous brands may be sold legally as long as they don't feature any distinctive signs.
That's why, just to give you an idea, you can find tons of models inspired by the Ray Ban Aviator. The same things happens with Gibson guitars.
How to find these guitars in AliExpress
There is two ways to find these Gibson inspired guitar models.
1- Looking at the AliExpress guitar category
Through this link you will be able to find the guitar category sorted by number of sales. As you can see, Chinese Les Paul / Gibson inspired guitars sell very well, even better than Fender style guitars, the best selling ones having thousands of sales.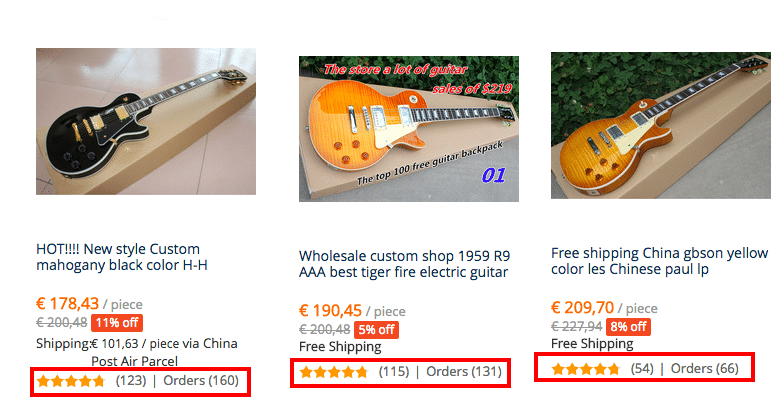 The fact that they have thousands of sales proves that what they are selling is not against the AliExpress replica policy, because if they were they would have been closed down a long time ago.
2 – Try using the name of the model the guitar is inspired in
The other option is to look by the name of the guitar model: much like the sunglasses sellers can't use "Ray Ban" to describe their product, but can use "aviator", sellers offering Chinese Gibson style guitars use the name of the model. So try using one the following terms:
The same thing goes for models inspired by famous guitarist, such as Angus Young or the Slash guitar.
What's better, a second hand Gibson Les Paul or a Chinese one from AliExpress?
I honestly prefer the second option. If you are an instrument collector such as me, purchasing one of these Gibson style guitars is much more affordable than getting a second hand one, the only alternative we used to have.
I have an original Les Paul, but I bought one of these Chinese versions to play around and tweak it a little bit. In fact, my case is pretty similar to the one of this Canadian guy who made a video on youtube comparing an original to an AliExpress one, which he calls "Chibson", that he bought in this shop.
Basically, the guy is amazed by the price-quality ratio of the guitar he bough from Angela's Guitars. However, all must be said, the guitar of the video isn't actually a white label, it's a replica, but the quality of its production is basically the same: the only difference is that before they put Gibson logos on it, while now they'd rather not risk it so they leave them out, or label it with a new brand.
That's why it's important to check on the comments to see pictures uploaded by previous customers to check what logo is featured in the guitar (if there is any).
The best guitar for beginners
These guitars are great for beginners, not only are they cheaper than second hand ones, they are in a better state and they have all the charisma of a Gibson. They won't have the same sound as an original (the wood isn't the same, nor is the electrical part), but they are cheaper, they look pretty awesome and with a couple of modifications you can get a pretty good guitar.
We are talking about a considerable amount of money, so you have to follow a safety process to  ensure the guitar you get is good. Make sure the guitar you purchase has good rating and plenty of sales, like the one we mentioned above. And always take into account reviews left by previous customers.


Opinions and advice on purchasing a Gibson online
If you decide to purchase a Gibson in AliExpress, make sure you choose a seller with good sales and reputation. Keep in mind this is an expensive product, you don't want to risk it with a doubtful seller.
Trustworthy sellers in AliExpress
One of the shops with the best stock for Gibson style guitars is Keving Shi Guitars: specialized in the area, it features 11 different models and prices in between 200-300€ depending on the guitar. Furthermore, the shop has a rating of two diamonds which speaks pretty well about their quality.
If, on the other hand, you are looking for variety, another great seller (with an incredible catalogue) is G Era Musical Instrument Store (5 medals) with tons of cheap Les Paul models. It's a pretty good shop. There are more shops they aren't as well rated as these ones, but make sure you check them out as well, you never know what you might find.

Warning: You are probably going to have to pay something to customs
As you read in the comments above, many of the guitars shipped to other countries are intercepted at customs because they are very bulky items (unlike other items such as the cellphones sold on AliExpress), so keep in mind you are going to have to pay an extra 30 or 35€ extra in taxes.