In today's article we are going to about how to find cheap Nike Air Force in AliExpress and other online shops. We promise you, after reading this article, you are going to know exactly how to find the best deals. We'll also be giving you some advice on picking a good Nike Air Force seller in AliExpress, explain the steps you need to take to get them and give you a few warnings about shopping on the platform.
Frequently asked questions about Nike Air Force Once in AliExpress
Are they replicas or originals?
Like the Nike Roshe or other Nike products found in AliExpress, you will find some replicas. That's why, to find original Air Force One, you are going to have to go to this search and look for products featuring the "Guaranteed Authenticity" stamp.
If a product features this icon, not only is the product 100% original, you are also protected against fraud. That's to say, if by any chance you get fake Nike Air Force One, you can make a claim and AliExpress will have to refund you up to double the price you originally paid for the it. What's even better? You might even get to keep the fake ones. Obviously if this was to happen, AliExpress would punish the seller to make sure it doesn't happen again.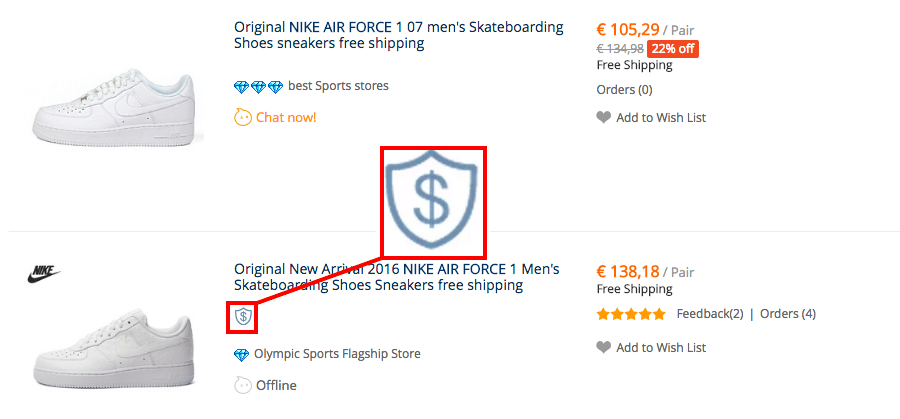 When you are purchasing this kind of products, its super important to make sure you purchase from a seller with good reputation. To do this, make sure you filter results according to these parameters:
Choose a seller that has a sales history (trust me, you don't want to be the guinea pig).

Pick a product with positive reviews: never make a purchase from a seller with ratings lower than 90-92%.

Look for a seller with good ratings.
Can't I find some cheaper ones? You can, but be careful with replicas.
As you can see in the pictures above, original Nike Air Force are cheaper here than in any other regular shop. However, if you still find this expensive, you might wan to look at white label brands, just make sure they aren't replicas.
Its pretty easy to tell the difference: sneakers inspired by Nike Air Force One won't feature any logos or other distinguishing features. On the other hand, when it comes to replicas, telling the difference can be harder. Here you can see a picture of the three kinds of products you can find on AliExpress.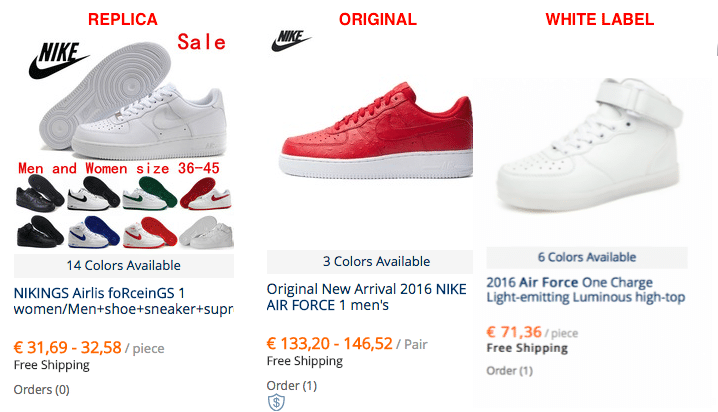 As you can see, its pretty easy to see which one is white label: it doesn't have any logos and it's cheaper. The originals feature the authenticity icon and the first ones are clearly a replica. Don't be fooled by descriptions like this one: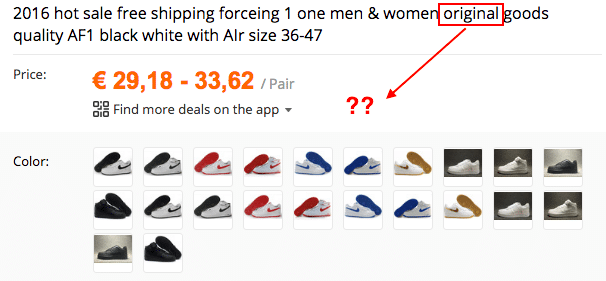 The seller might claim they are original, but its pretty clear they aren't. And if you are still having doubts, the best way to resolve them is to contact the seller directly via chat. If they are really replicas, the seller will be penalized by AliExpress and their shop may be closed.
Why do some pictures feature an alternated version of the Nike logo?
You might also run into pictures with altered logos; when you find one of these, you can sure they are replicas. As many of you may know, sellers offering replicas alternate or even hide the logo in their pictures so AliExpress doesn't catch them. That's why, if you see a pair of sneakers with a logo similar to the Nike one, you are probably looking at replicas.
How's the quality of white label brand Air Force sneakers in AliExpress?
This depends a lot on the seller. If you look at reviews, you'll soon notice customers are very happy with their sneakers. In fact, as a general rule, they tend to be very good quality, but ALWAYS make sure you are purchasing from a good seller.
Other online shops to buy Nike Air Force 1: Amazon, eBay and Asos
Some alternative shops to purchase cheap Nike sneakers are Amazon, eBay and Asos. They have some pretty interesting discounts and they all have their advantages and disadvantages.
Amazon:
The best option to find Nike Air Force One is probably Amazon. Given the competition within the website itself, sellers using the platform offer incredible discounts in the hope of becoming more visible to buyers.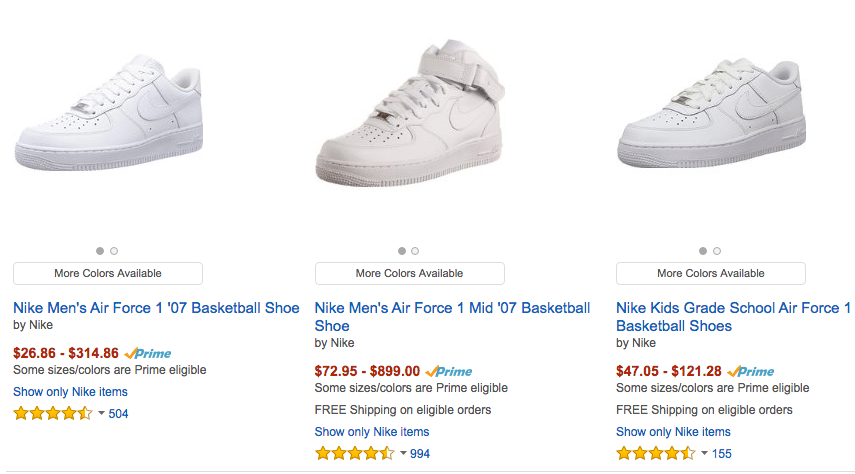 If you'd like to get some Nike Air Force One as soon as possible, take a  look at the promotion Amazon right now. If you sign up for Amazon Prime, you can get FREE shipping within 24h. Then, if you don't want to pay for the service, just remember to unsubscribe before the 30 day free trial ends.
One thing to keep an eye out for: if you see super cheap sneakers check the description to make sure they aren't for kids. It's happened more than once. Changes are you won't have this problem, but it's always better to be safe than sorry.
eBay:
eBay is also a good option, but keep an eye out things like replicas, second hand sneakers and dropshipping.
The first thing you need to do when you look for Nike Air Force 1 on eBay, is click on the option "New". By doing so, you filter out all the results for second hand sneakers. Click on the link to go directly to the search.


The next thing you need to do is filter the results mentally, noting which ones are originals and which ones are replicas. Like you would in AliExpress, use the price as a reference.
Finally, remember a lot of sellers on eBay use dropshipping. This is what happens when sellers receive your order and instead of getting it from their own stock, they ask another shop to send it directly to you. It's not really worth it: it's slower and if you might as well go directly to AliExpress (that's what they are doing).
Asos:
Asos isn't as cheap as your other options. They products usually are more expensive, but you can find some bargains. Check out Asos to see if they have any going on at the moment :).
So, where should I get them?
If you are looking for originals, the price doesn't vary much from one shop to another. So when it comes to these specific sneakers AliExpress is not necessarily the best option.
The same thing happens with eBay, they have affordable prices, but shipping can be expensive. AliExpress may be cheaper, but you are going to have to wait at least two weeks to get your Nike sneakers. Finally, just look at the cons and pros of each shop and then decide which one is the best suited for you :).
By the way, you may want to check out our articles on Nike Run Roshe and Nike Air Max as well.
Go to AliExpress