Shein packages can go through different statuses as you can see in our complete list of Shein order statuses. Here you can see all the messages that appear in the tracking of a follow-up of this platform.
If you want to know what "Out for delivery" means, how long will it take until your package arrives and other frequently asked questions, keep reading to get all this information. Remember that Shein also answers your frequently asked questions here.
When does "Out for delivery" or "In dispatch" appear on Shein?
A bunch of times people think that their order will appear as "Out for delivery" or "In dispatch" right after the order is shipped by Shein. However, the warehouse of this platform is in China, so other order statuses will appear first.
When a Shein order appears as "In dispatch" it means that it's already at the local office in charge of delivering your order to you. Therefore, once this status appears, the package will get to you the same day or the next day.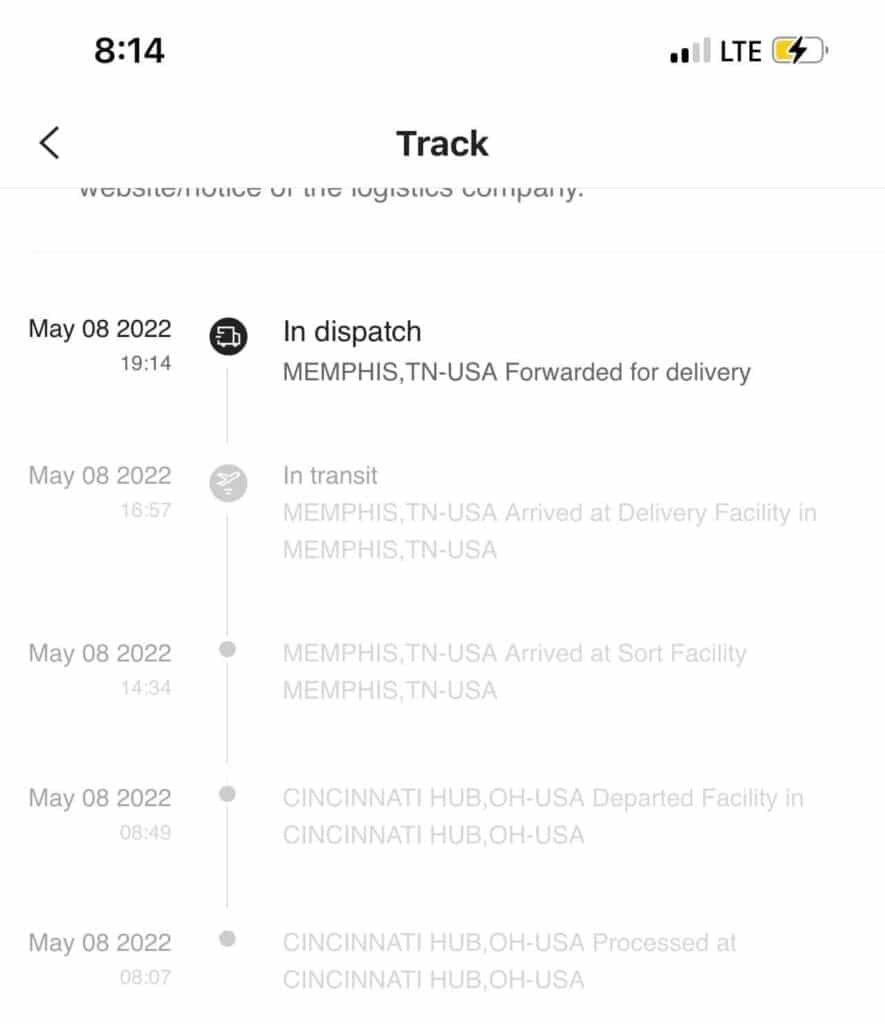 In some countries, the message "In dispatch" may also appear when the package is in our region and moving between different offices, but this isn't usual. Usually, a message appears just below "In dispatch" with more details like the office it is in or if there are any incidents, amongst other details…
How long will it take for me to receive my order?
Main article: Shipping at Shein
That being said, this message will appear at the end of the delivery process. If you want to know how long Shein packages take to arrive, you just have to click on this link and put in the country where you'll be receiving your packages to have an estimated delivery time.
In general, Shein orders take between 2 and 4 weeks depending on the destination country and the selected shipping method. If you choose express delivery, you can receive your orders in just a few days.
Who delivers the packages? How does this work?
If you want to know which company will deliver your package, it's very easy. Shein's tracking usually shows which company dispatches your package.
Problems that arise with the delivery of your order
Main article: How to contact Shein
If your order has appeared "In dispatch" but several days have passed, and you still haven't received anything, we recommend you call the company that delivers Shein's packages.
In some cases, this simply happens due to lack of time; but in other cases it's possible that the company has come to deliver the package and if you weren't there, they will leave it at the agency and wait for you to pick it up.
The messages to appear after the package is "In dispatch" are the following:
Package delivered: When the package has already been delivered. If you haven't received it, contact the courier service or Shein.
Delivery failed: If they have tried to deliver the package, but you weren't at home, this message will appear. Sometimes they will try to make another delivery, but the best thing to do is to call the courier.
If you're unable to solve your problem with the courier, the next step is to contact Shein to help you solve the problem. Click here to get in touch with a Shein agent.