PayPal is undoubtedly a good payment method for your online purchases, considering the fact that it adds another layer of security to your purchases. Although for a while it couldn't be used on AliExpress, it's now available again.
But you can't always pay with PayPal. Here we are going to explain in which cases you won't be able to use it and what's the reason. You can also see the explanation given by AliExpress customer service from this link.
Why won't AliExpress let me pay with PayPal?
Main article: Does AliExpress accept PayPal?
If you want to use this payment method to make your purchases, it's very easy. You just need to be registered on PayPal and have a bank account or credit card associated with it so you can pay for your purchases.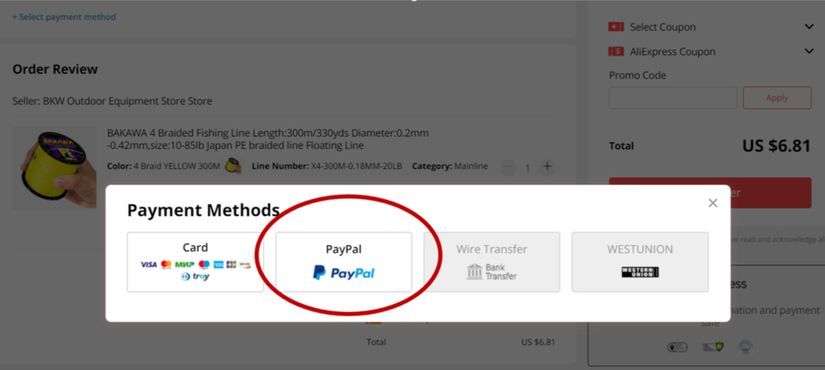 On AliExpress, you just have to add your favorite products to your cart and when it's time to pay, PayPal will appear as a payment method. You'll be redirected to the PayPal page to confirm all the details of the purchase: delivery address, payment method, and purchase amount.
The payment will be verified in a few hours (as it also happens when paying with your credit card). The rest works the same as with any other payment system. The only difference is that the payment movement on the card or through your bank will be in the name of PayPal and not AliExpress.
I can't pay with PayPal. How can I fix this?
Do you want to pay with PayPal, but it doesn't appear as a payment method? These are the reasons why AliExpress doesn't allow you to use this famous online payment platform.
Not all sellers accept PayPal
Although most sellers try to have as many payment methods available as possible, you'll only be able to pay with PayPal if the seller accepts PayPal as a payment method.
This happens because when you pay by PayPal, the money reaches the seller through the account on that platform (always after confirming that the order has arrived correctly).
Therefore, the seller must open a PayPal account as a store, and small merchants may not be very familiar with this system, since it isn't as well known in China.
You can only check if the seller accepts PayPal when you go to pay. If it doesn't appear, this is usually the main reason. The best option is to pay with another available payment method or look for the product in another store that does accept PayPal.
It can only be used in some countries
One of the features of AliExpress is that in each country it offers compatible payment methods, to facilitate the purchases of its users. 
Therefore, PayPal payments aren't available in all countries. However, PayPal is accepted in Germany, Saudi Arabia, the United Arab Emirates, Spain, the United States, France, the Netherlands, Israel, Italy, Norway, Poland, Portugal, the United Kingdom, and Sweden, to name a few.
But don't fret! It may be that when you read this article PayPal is also accepted in your country. AliExpress always tries to add payment methods whenever it benefits their users.
Technical problems
All sites can have problems and both AliExpress and PayPal are no exceptions. So it's possible that at some point you won't be able to pay with this payment method. We recommend you check the solutions above, but if you've already been able to pay with PayPal and now it doesn't appear, it's possible that it's temporarily unavailable.
Why pay with PayPal? What are the alternatives?
Main article: Payment methods on AliExpress
There are several payment methods available on AliExpress depending on the country you are buying from. PayPal is one of them, but you can also pay directly with your credit or debit card.
The advantage of paying with PayPal is that your money will be more protected and in case of problems with AliExpress, you can still contact PayPal for help. However, this doesn't mean that we don't have to open a dispute, and they will give you the money without further ado.
If you buy on AliExpress with a currency other than your local currency (for example, you pay in dollars, but your local currency is pesos), you should be aware that PayPal will apply a conversion fee that includes a commission. So sometimes it's better to pay with other methods for this reason.
You have more details about how PayPal works and its advantages in our article: How to pay with PayPal on AliExpress.
Other payment issues
Main article: Contacting AliExpress
We've already mentioned some of the reasons why you may have problems paying with PayPal. But if you have a more specific problem, we recommend contacting AliExpress through their customer service center, which you can find here.
If the problem occurred when paying with PayPal, then it's best to contact the customer service center of this site, as AliExpress will not be able to access the necessary information to help you.
Check out today's deals on AliExpress