The Xiaomi company is always on the cutting edge of technology products. Beyond its world-famous smartphones, it is also known for other devices as diverse as the Mi Band quantifier bracelet, its cheap Mi Air laptops, its famous Xiaomi Yi action camera or its Xiaomi Mi Robot, a robotic vacuum cleaner almost as good as the Roomba. All of them are products that we have already talked about in the blog and that are very useful for our lives, also all of them have the great value for money that the brand Xiaomi is known for.
Today we are going to focus on Xiaomi products that can turn your home into a Smart Home, products that help us in our daily lives but are often dismissed because they are expensive. These can be controlled efficiently and remotely through their own mobile application called Xiaomi Mi Home, and they can be connected to expand their functions and you can find all this for less money than you think in AliExpress. Ready to discover all these Xiaomi devices? Just keep reading!
Xiaomi Home products that turn your house into a Smart Home
The first question we might ask ourselves is: what kind of Xiaomi products will we find to turn our house into a Smart Home? Well, if Xiaomi is known by something, it is that most of its devices have the ability to connect via wifi to an app in order to analyze its data or program its on / off (such as, for example, with the smart Xiaomi robot or its intelligent scale). In today's article we are going to talk about those focused on security and control of the conditions of our home, to make it much more comfortable and control it remotely. If you are curious to see other interesting articles from this company I recommend you go through our article "50 Xiaomi products that maybe you didn't know about".
Xiaomi kit My Smart Home
If you want to start enjoying the benefits of a smart home, the Xiaomi Smart Home Kit is a good choice. It incorporates the most common devices for a smart home and is relatively inexpensive, as you can see by clicking here. The kit includes the 6 products we are going to talk about now, although looking through AliExpress you will find sellers who offer the kit with 4 of the 6 devices, but we recommend the 6 one as it is the most recent. You can also buy them separately, so if your home is very large you can buy sensors separately, combine them with the ones you already have and synchronize them, which is a great advantage. Finally, remember that except for those devices that are powered by electricity, the rest are powered by a button type battery that will last approximately 1 year.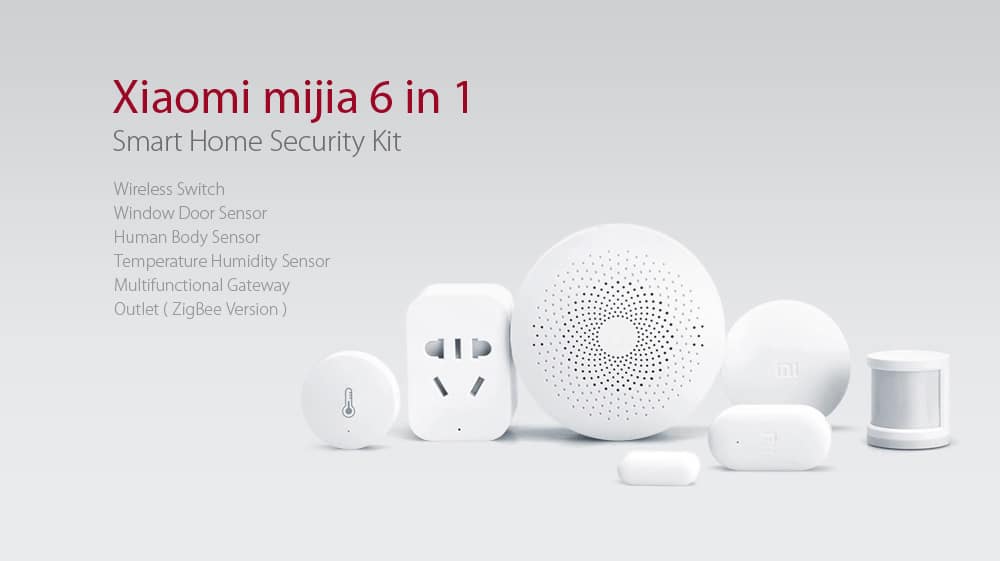 Gateway o centralita
This device, the Xiaomi gateway, is the central base of all devices, and is responsible for controlling their proper functioning, but is also capable of emitting sounds and light remotely if they are programmed. It is very useful if, for example, we go on vacation and we want to turn on a light at a certain time to give the feeling that there is someone home: just enter the application and program the gateway to turn on or off. We can also control the intensity of the light emitted and the color: red, yellow, blue … This light can also be turned on to detect any movement in the sensors that are connected to it.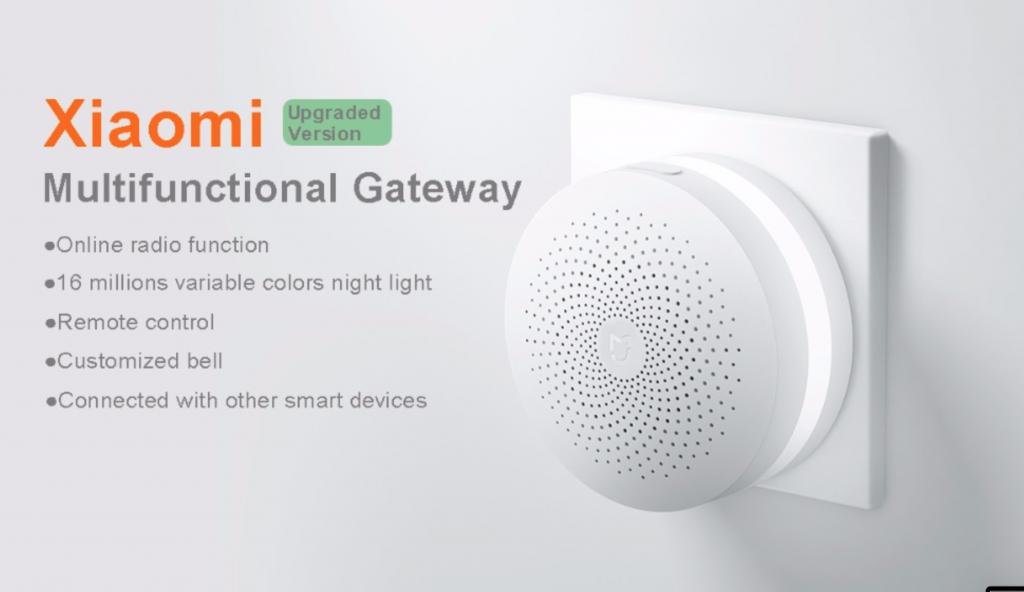 As for the sound it emits, it is not a kind of "loudspeaker", but in the application we will find some predetermined sounds (telephone bell, security alarm…) and we can configure it so that the switchboard emits that sound when it detects changes in any of the other sensors and Xiaomi devices. In the image below you can see a sample of the lighting changes we have told you about above, a really interesting option.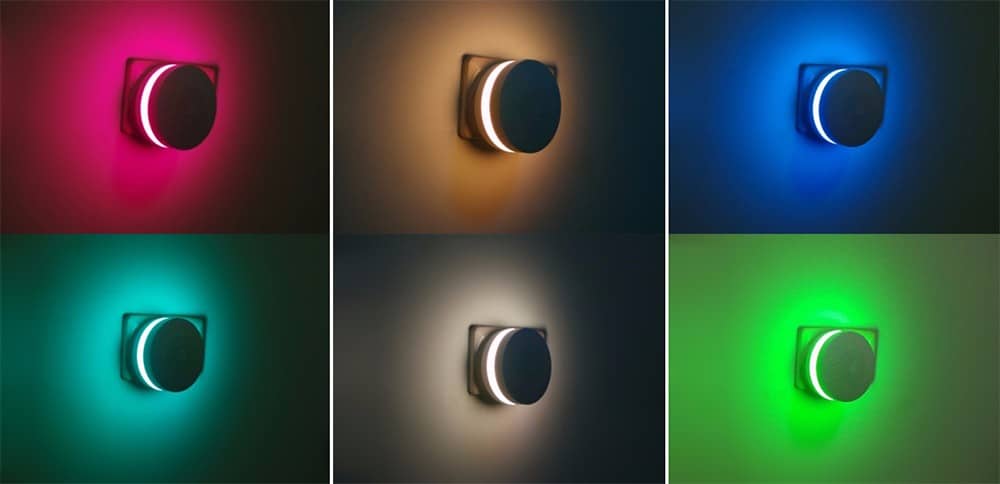 Switch
It is a small device that, when pressed, will perform an action that we have programmed. The most common is to use it as a doorbell, ie, when you press it will emit a sound in the switchboard (gateway) we talked about earlier, which is a good option if, for example, we are sick and want to warn someone who is at home that we need help. But it can also be configured to turn on or off lights or other compatible Xiaomi devices. In addition, you can configure 3 types of pulsations: simple, double or long. Some of the utilities that I like most of this device is the ability to press and turn off all connected devices, or turn on a night light through the gateway. It comes in the Xiaomi basic kit that we talked about before but if you want to get an extra one you can find it here.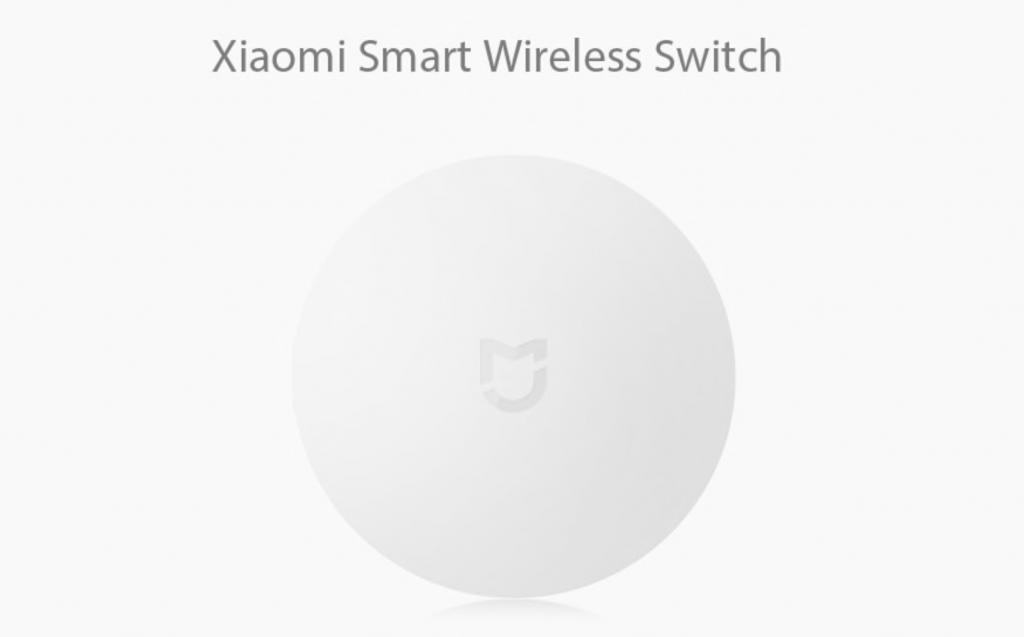 Motion and light sensor
This sensor is an essential of the kit if we want to add an extra security to our home. It's a small device that registers all the movements that takes place within its radius of action of 170º. When it detects movement, it can be configured to turn on the light or emit sound at the gateway, send a notification to our mobile, or turn on a passing light when the sensor detects low brightness. Not only does it allow us to control if there is an unwanted visitor in our home, it can also be programmed to turn on or off a certain device if it does not detect movement in some time. Combined with other devices that we will talk about later it can be very useful.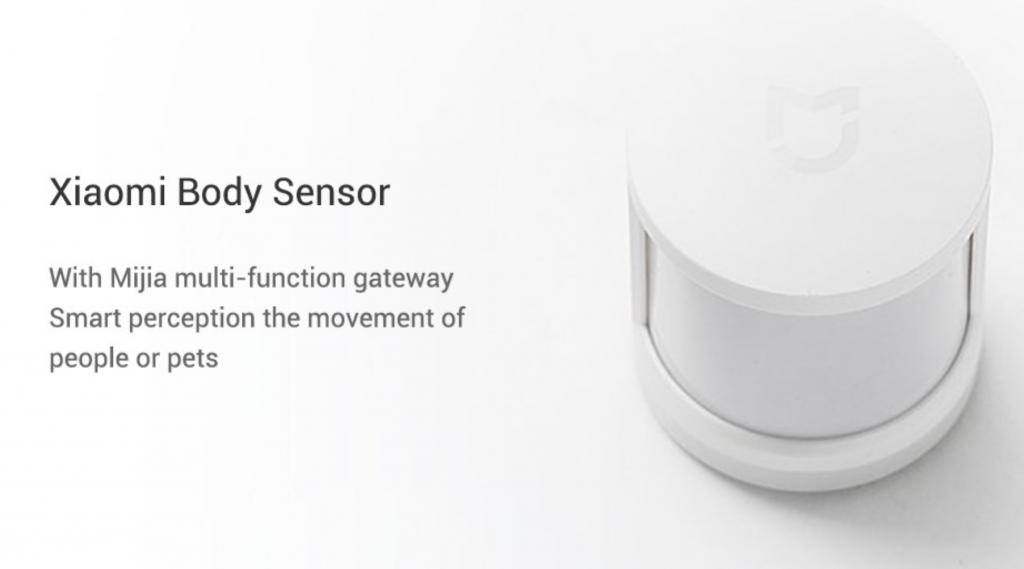 Door and window sensor
These are actually two sensors that go together, and are placed on the frame and on the door leaf or window. When the door or window is opened, the sensors detect it and an action can be programmed in the app to respond to this, such as, for example, making the lights of the gateway turn on or the alarm goes off and, if we have the IP camera of Xiaomi linked, it starts recording as soon as it detects the opening of windows or doors. You can find it for less than 10 dollars here.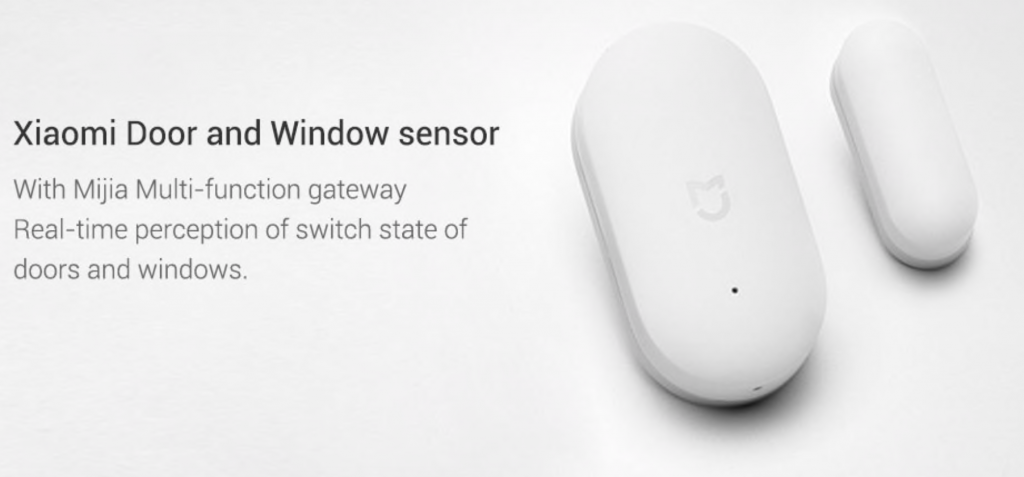 Temperature and humidity sensor
As its name suggests, this sensor allows us to see the temperature and humidity conditions of the room where it is located. It records changes throughout the day, at 45-50 minute intervals to save energy, and can be programmed to warn us if the temperature and humidity are abnormal (very useful for detecting water leaks or fires).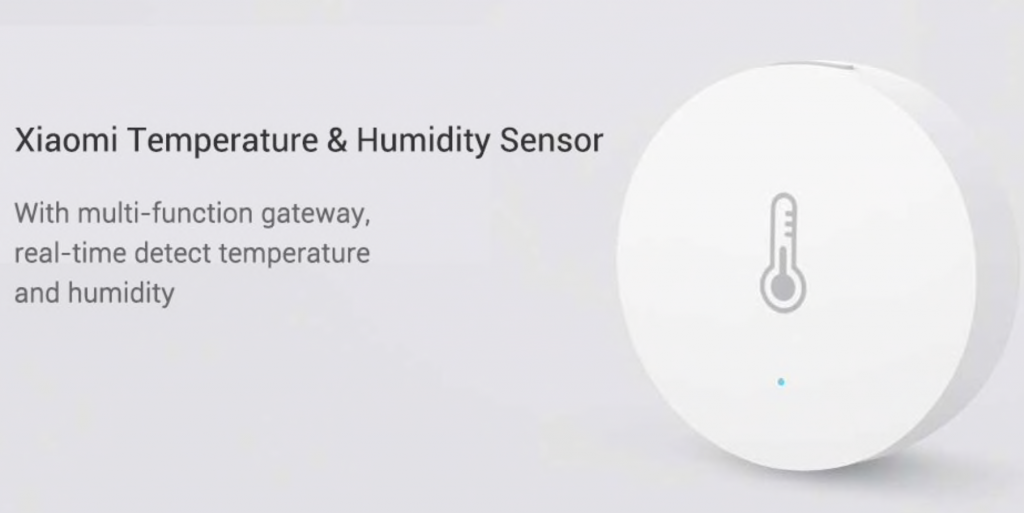 Smart outlet
This smart outlet is one of the more interesting devices included in the kit, because it allows you to control other devices that are not part of the Xiaomi range. By plugging any device into it we can detect its power consumption and record for a period of time, protect the device against an electrical overload or program it to turn on and off. The only problem is that we will need to plug it through an adapter, as it only comes with a Chinese plug.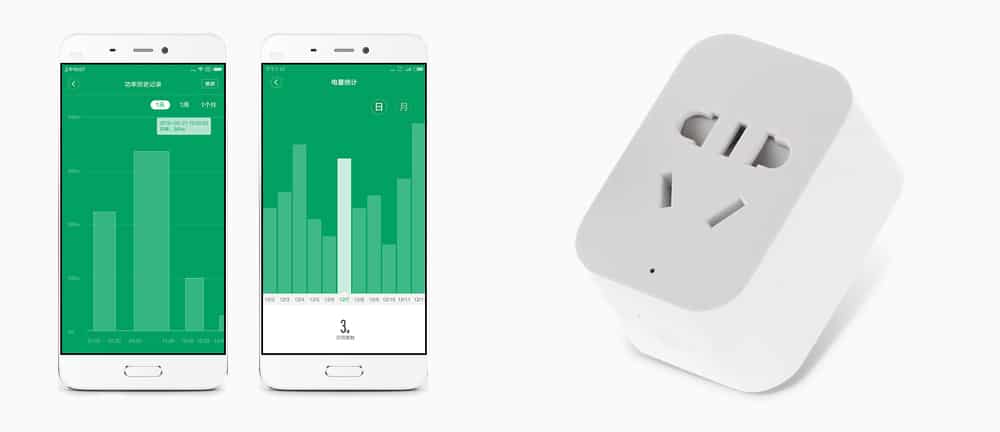 Xiaomi universal infrared device remote
How many remote controls do you have in your home? Right now, on my desk there are an average of three: the television one, the amplifier one and air conditioning one, not counting the thousands of controls of other devices that I have stored in a drawer to avoid having them sight. Well, Xiaomi created this practical universal remote that is compatible with all infrared devices. But not only that, it works via WIFI, so you can control your devices remotely. This is very practical: imagine an extremely hot day when you know that, when you get home, you can lie on the sofa and be cool because you turned on the air conditioning without being present, or turn on the television so that it seems there is someone at home even though we are thousands of miles away. To control all this we only need to download the My Home tool and its Xiaomi IR plugin.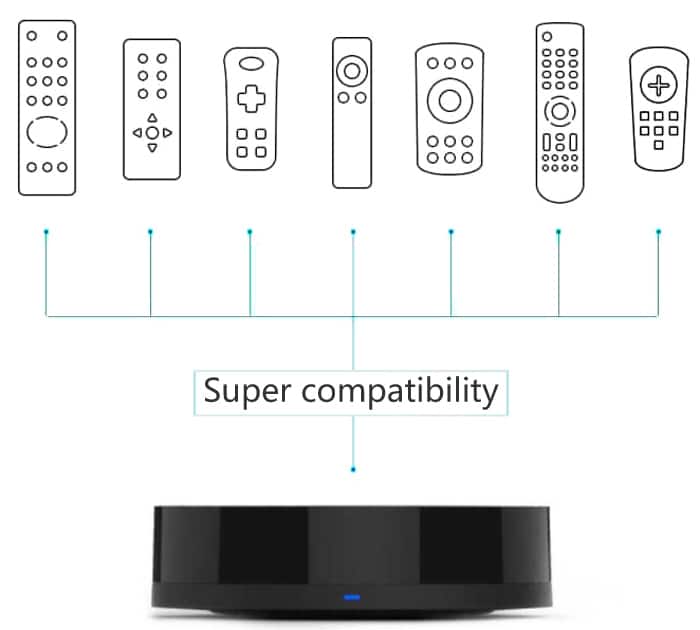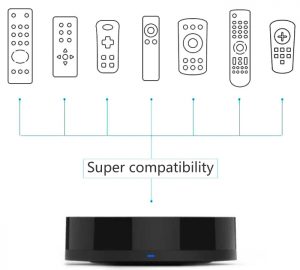 My Cube Controller, Xiaomi's magic cube
Do you already have some of these devices we are showing you? Now you have to learn how to control them in a comfortable and practical way. The Xiaomi Mi Cube is a small cube of just 4.5 cm with which you can handle all the devices of the Xiaomi platform very easily. It recognizes 6 actions: 90-degree turn, 180-degree turn, double touch, rotation, push and shake. Through the My Controller application, you can make sure each of these actions translates into a response in the different devices we have in our home: turn lights off or on, air conditioning, speakers …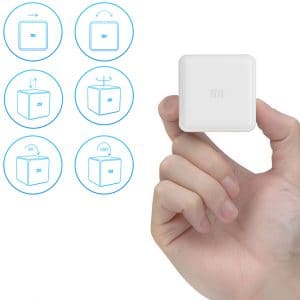 Although the best way to control our devices is with your mobile using the My Home application as we'll explain below, we should not detract from the idea of Xiaomi, as this cube is a great idea to control our devices quickly and without having to take out our mobile. You can find it in AliExpress for less than 10 dollars, clicking here.
Xiaomi Air Purifier My Air Purifier 2
China is one of the cities most affected by pollution, so it makes sense that Xiaomi thought of creating an air purifier, but every day are more cities are affected by this problem, so this purifier has become a good choice for any of us. The second version of this purifier, the Xiaomi Mi Air Purifier 2, can recirculate up to 380m3/h and in operation, its range is up to 48m2 around the appliance. It occupies some space because its measures are 52 cm high and 24 cm side, and has 3 modes of operation: automatic (adapts its rotation to environmental conditions), silent (low 380 to 330 m3 / h, so it produces less noise) or health mode (maximum capacity).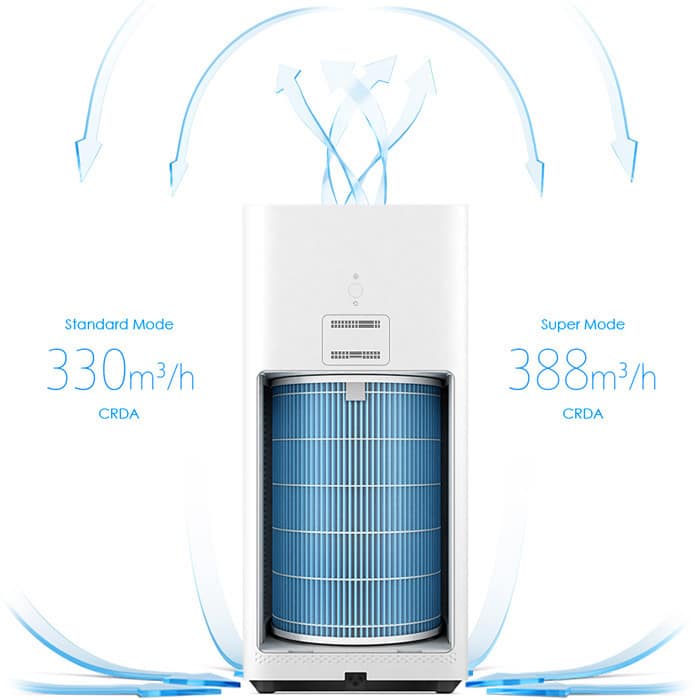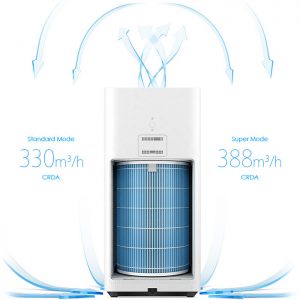 It is quite silent and as expected, by using the Xiaomi Mi Home app you can control the amount of recirculated air and how much time is left till it needs a filter change. In short it is a great purchase especially for those who suffer from allergies, although its high price and the cost of replacement filters, can put us off if we really don't have breathing problems, because its effects may not even be perceivable.
Xiaomi Mijia PM2.5: air quality monitor
This device is the perfect complement to the previous air purifier, because, although it can be controlled by the app, it does not analyze the quality of air. To do this we have to buy this small monitor with oled screen where we will be able to see the conditions of the air of our environment. The monitor analyzes the amount of pm2.5 particles , microscopic particles that are the result of car pollution, and accordingly you can turn the purifier off or on depending on the amount of particles found in the air.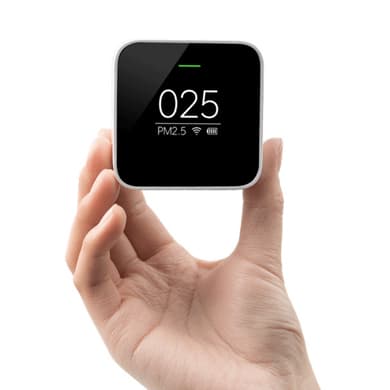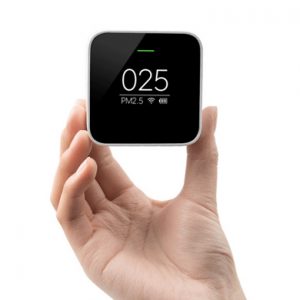 But again, the price is super high. However, in AliExpress, we have found it from about 50 dollars, cheap if we think of the benefits it can bring us if we have breathing problems, but a bit steep if it is something that does not worry us too much.
Flora Monitor: Xiaomi Mi Plant
Don't remember the last time you watered your plants? Did you even kill a cactus? Well, Xiaomi can help you with this small device that allows you to control the state of your plants, and it seems to work quite well because it has quite a few positive sales. All you have to do is stick it in the flowerpot, making its sensors able to detect the state of the earth, synchronize it with the Mi Smart Home application and connect it.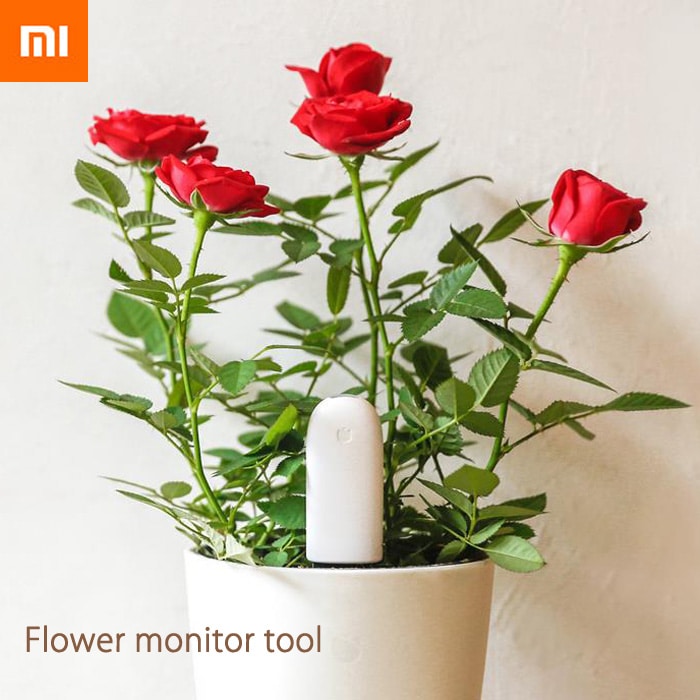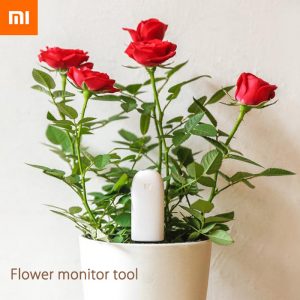 When we link it we will have to choose which type of plant we want to monitor, as each one has different needs. The device will record data such as the lighting, humidity, pH level, nutrients and temperature of the plant, allowing us to visualize if the plant grows correctly. It is an ideal device if you like gardening and it also has a relatively cheap price, you can find it for less than 20 dollars looking here.
Xiaomi Flowerpot: Xiaomi flora smart flower pot
Although we believe that the previous device is more than enough and also very affordable, Xiaomi also decided to make it in flower pot version. As in the previous case, it connects via bluetooth and incorporates a logo that, according to a color code, will inform us if the pot needs to be loaded to continue monitoring the results, the plant needs to watered or more fertilizers need to be added to the soil. Remember that you can monitor the plant using the Xiaomi Mi Home or Flower Care application. We'll find it for about 35 dollars in AliExpress by clicking here.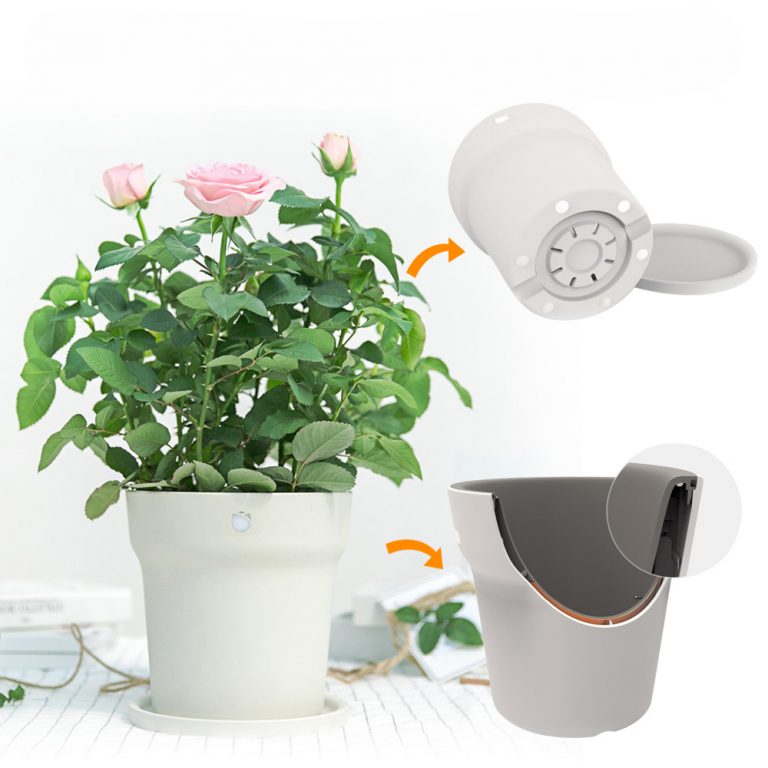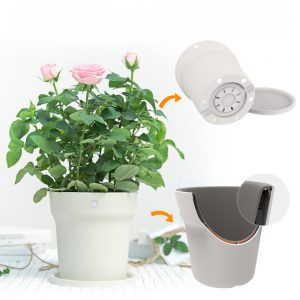 Xiaomi Yeelight: LED lights with remote control
Xiaomi has a wide variety of LED lamps and lights with remote control. Of all Xiaomi's smart devices, this one is my favorite, as light is essential in our daily lives, and being able to adapt and control the intensity or color of light to different scenarios can be very interesting. The whole range of intelligent Xiaomi lights are called "Xiaomi Yeelight" and we will find bulbs and lamps, at a much more competitive price than to their competitors. In the field of "lamps" one of the best known is this one we are showing you, as it allows you to change colors and control their intensity from the application. It's perfect for the bedside table.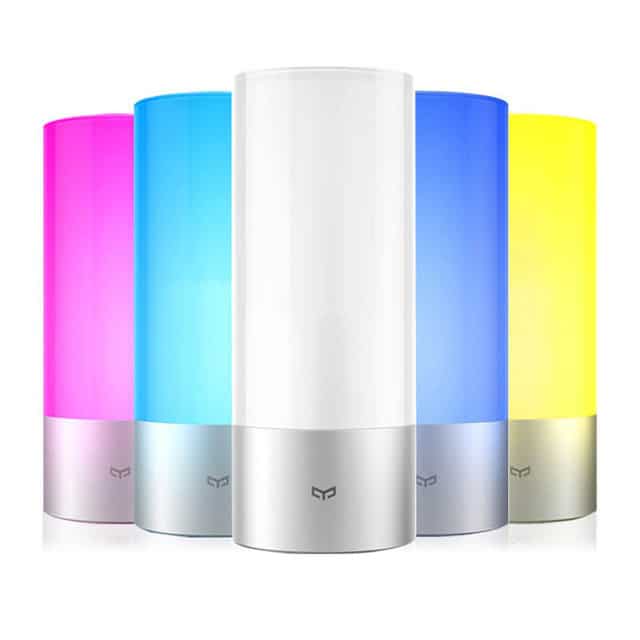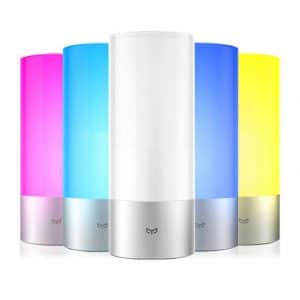 As for light bulbs, the most famous one is this 9w one. By placing it in any compatible lamp (it has an E27 cap, the most common one in domestic lamps) we can configure its use through the application Yeelight. This is a bulb with a range of RGB colors, so we can control the color and intensity, as well as controlling it remotely from its application, so not only can we change the color and intensity, we can also turn it off and on remotely. In addition, its lifespan can reach 11 years, so although it may seem like an expensive investment at first (even when we assure you that its price is much more reasonable than any offered by its competitors) in the long run it can save us money.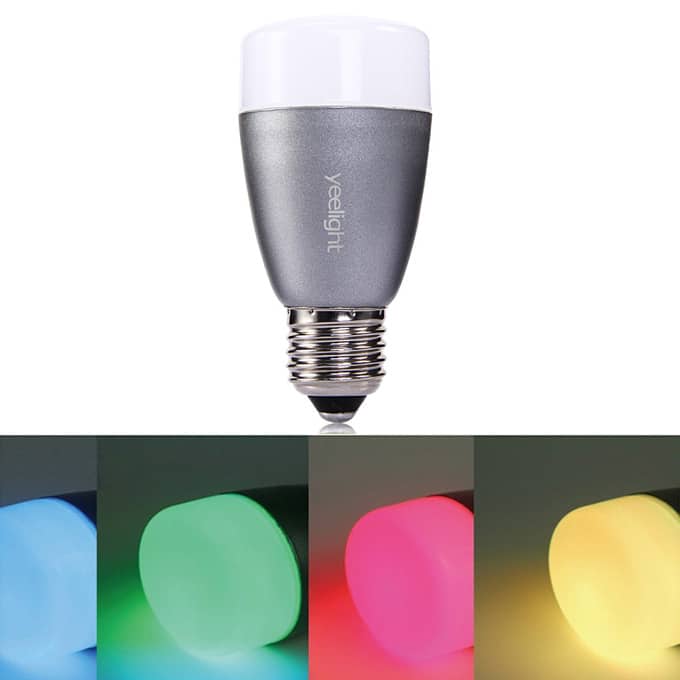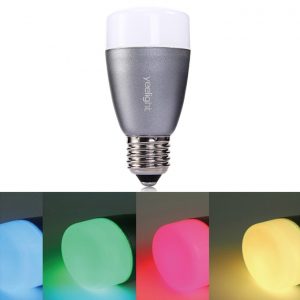 Xiaomi surveillance cameras
IP cameras are a fantastic solution if we want to control our home remotely and make sure everything goes well, in fact in the blog we already talked about how these IP cameras work and the variety of models that we can find in AliExpress at ridiculous prices. Naturally, the ones made by Xiaomi are the best-selling ones, with really good value for money. Currently Xiaomi offers 2 different models we will be looking at now.
Xiaomi Mijia 720P 360 degrees
This is a surveillance camera with a 360º rotation angle, which will allow you to rotate it up to 360 degrees. It has a resolution of 720P, accepts a storage card up to 32 GB, has night vision function up to 9m, and incorporates a microphone, speaker and motion detection. But without a doubt the most interesting aspect is that we can control it remotely using the Mi Home application. You can find it in AliExpress for about 40 dollars here, and if you want a camera with 360º rotation function and 1080p quality, the company has recently released the new Xiaomi Mijia 1080p 360º, with the same features but more resolution, with a cost of about 70 dollars.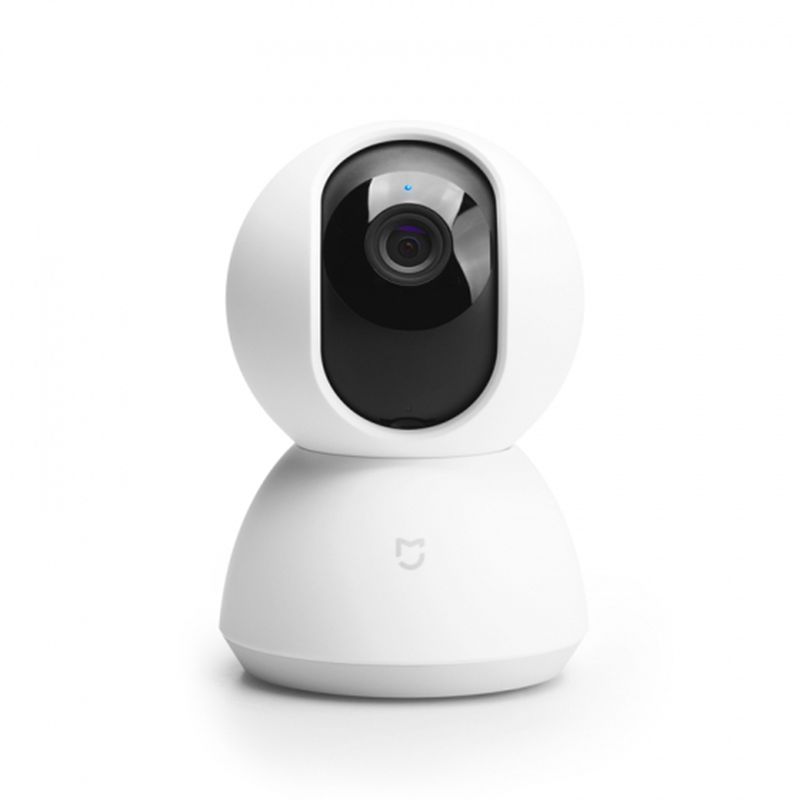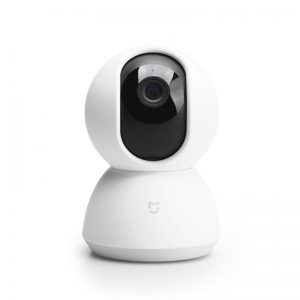 Xiaomi Mijia 1080P
If you're looking for a high-resolution surveillance camera (or webcam) at an impressive price, the Mijia 1080P is the best choice. It includes 1080P FullHD resolution, 130-degree field of view, microphone and loudspeaker, motion detection, night vision up to 10 meters, microSD support for up to 64 GB and the ability to select zones where you get a warning if the camera detects changes in the area.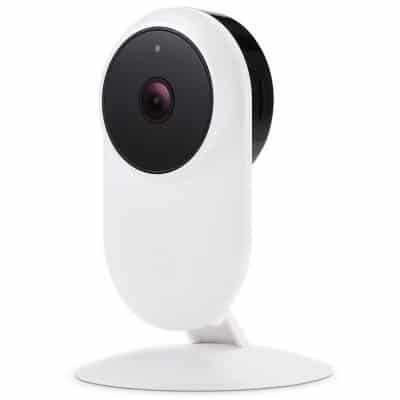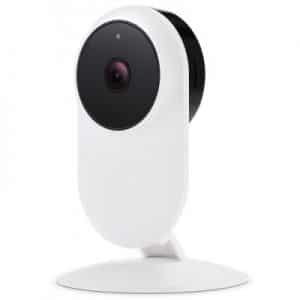 In short, it is very similar to the previous camera but not having the ability to rotate 360 degrees, its price goes down to approximately 36 dollars, so it is a great option to take into account: good quality and good price.
Xiaomi MiJia Honeywell Gas Alarm y Fire Alarm
Earlier we talked about some products that can help improve the safety of your home, but without a doubt, a completely safe home needs these two devices: a gas leak detector and a fire detector. These are two detectors created by Xiaomi in collaboration with the famous brand Honeywell, which has a long history of creating thermostats (boiler, heating) and detectors. Having these detectors can avoid unnecessary risks, and they are also very affordable.
Both devices work remotely so if they detect that the levels of gas or heat in the room are above normal, they send a notification to our mobile, and we can also set it to trigger the gateway alarm.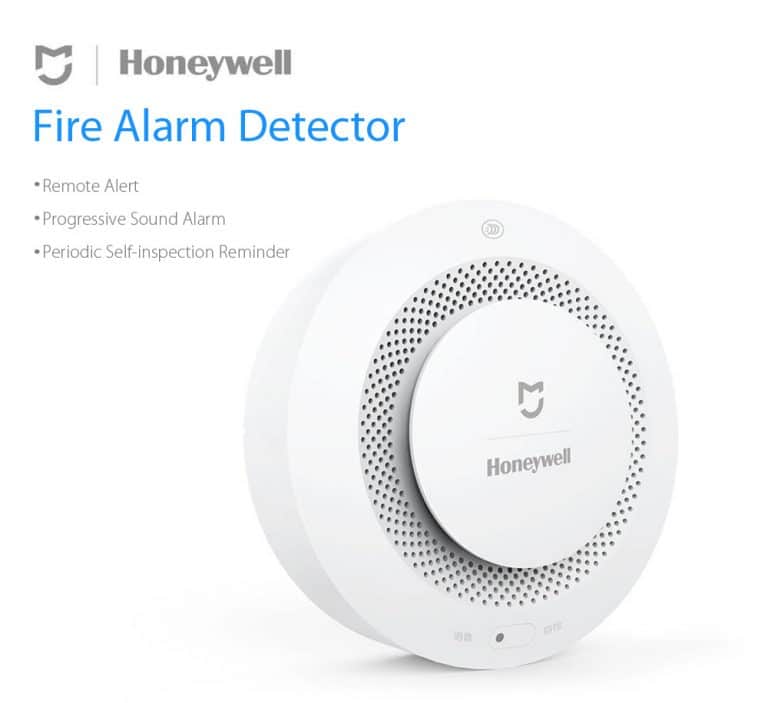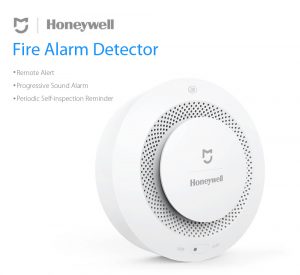 The gas detector can be found for about $35 in AliExpress by clicking here, and the fire detector from about $25 here. A relatively cheap price considering what we can save. The alarm function can work independently but if we want it to send us notifications we need the gateway.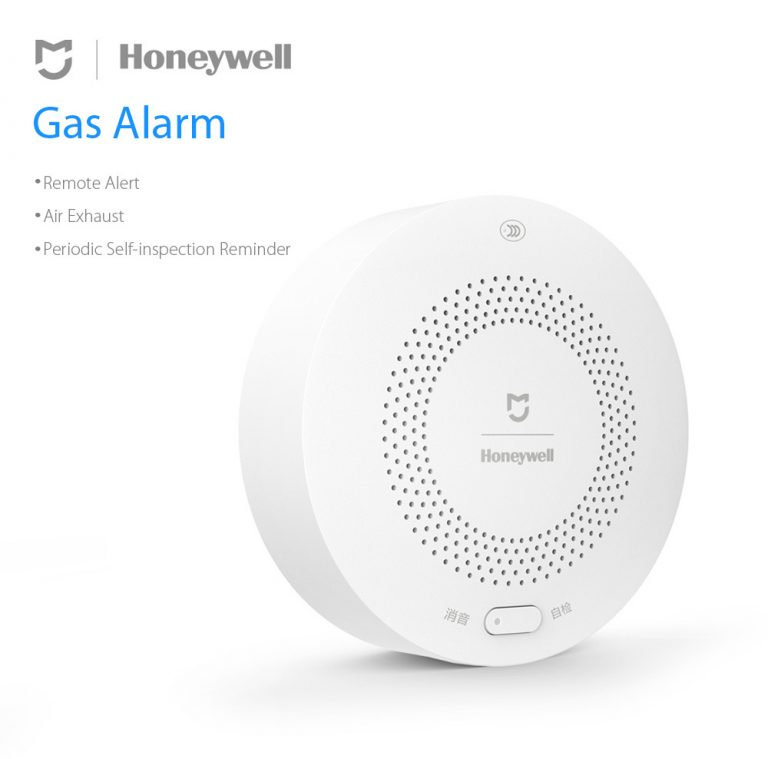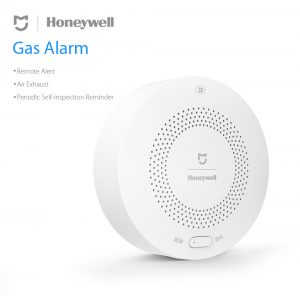 Xiaomi Aqara wall switch
One of the first premises of home automation is the remote control of all elements of our home: lights, curtains … Therefore, an intelligent switch was essential to complete the product catalog for Xiaomi Smart Home. By replacing our current switches with these, we can control turning on and off the lights remotely. We will have to rely on the Xiaomi gateway to be able to use them remotely and control them through the Mi Home app. We can find it in a version of a channel (a button), which supports up to 800W of power, or up to 1600W if we opt for the double button.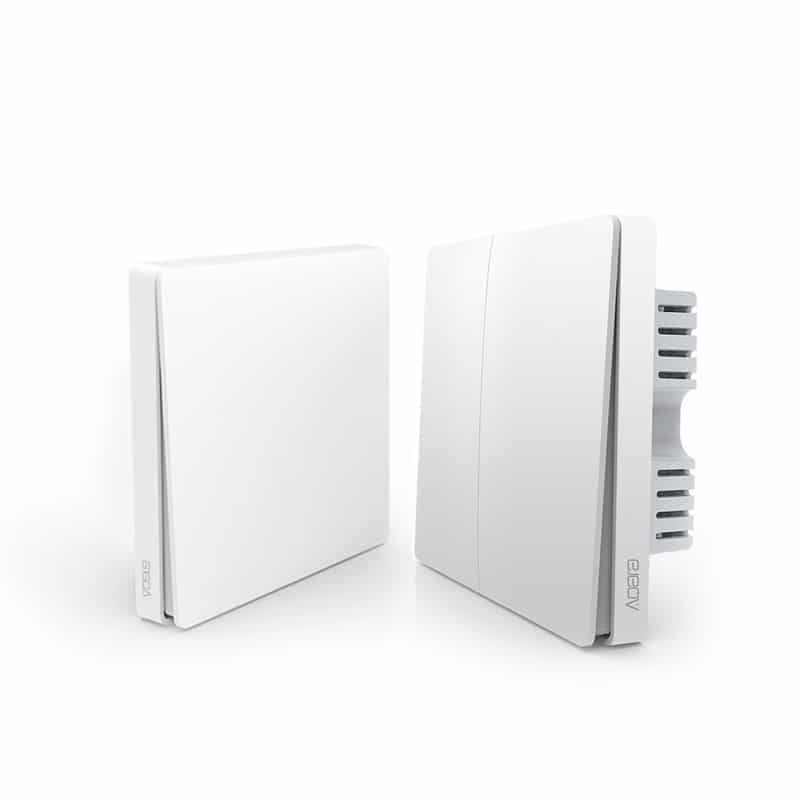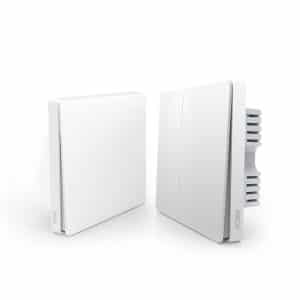 Aqara Curtain Controller
The second device of the Aqara range is basically a curtain controller that works via WIFI. If we also have the Smart Home kit, it can be connected through the gateway and we can control it with our mobile through the Mi Home application, which will expand its functions: we can program the opening and closing time of the curtains as well as how open we want to have them. It can also be configured so they are opened by means of the push-button or opened when we pass in front of the motion sensor, in addition if we touch the curtains and we push them softly, they will be open or close alone. The price depends on the size of the curtain rail, but we have found it from $44 here.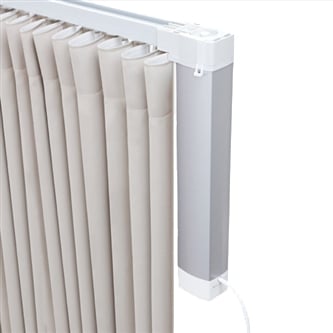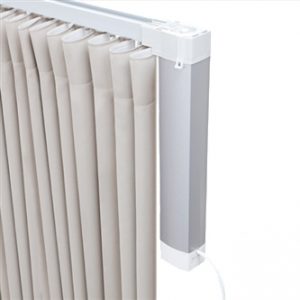 My Home: one application for all your Xiaomi devices
Finally we want to talk about the application that allows you to control all these devices: the Xiaomi Mi Home app, which you can find in Google's play store or Apple's app store. Currently, we will only find it in English or Chinese, although there are translations in Spanish made by independent people.
The first thing that we will have to do when downloading it is to create an MI account, by means of the app or in the web https://account.xiaomi.com. When accessing it for the first time we will have to select as a country "Mainland China", so it gives us access to all Xiaomi devices and their functions. Then, click on the "profile" button, log in to your account and you will be able to add the devices you have purchased.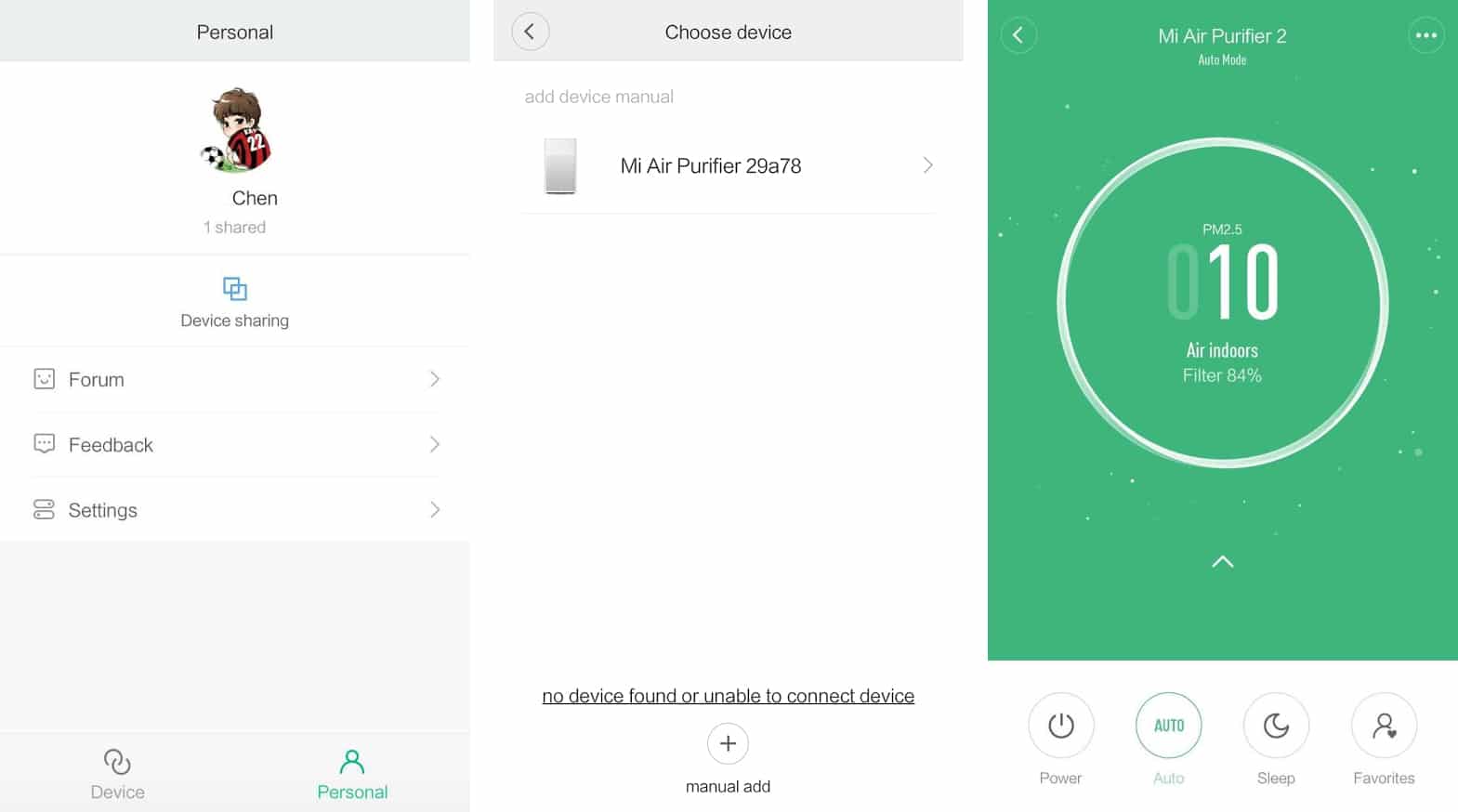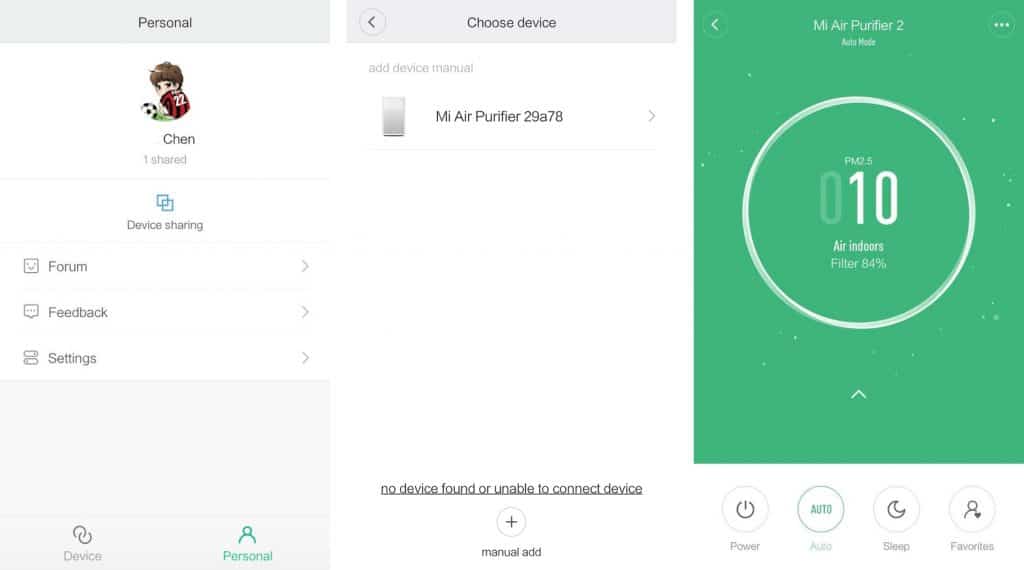 Through this app we will be able to control each and every one of the devices that are part of the ecosystem "Smart Home Xiaomi" of which we have spoken before. The only "but" that we find so far is that we cannot choose more locations and that the time used by the application is Chinese, so we will have to make calculations if we want to program some action at a certain time.
How to automatize our home in an easy way using the Xiaomi eco-system home and the rules in the App?
This is the fun part, customize your home with different rules / scenes. With the Xiaomi Home application you will be able to create different rules in a very intuitive way so that your house adapts perfectly to your needs. For example, if you have the Xiaomi motion sensor installed, you can create a scene where as soon as you enter a room the lights turn on automatically, and when it stops detecting motion they turn off.
The good thing about the App is that it lets you customize everything in detail, for example, let's say we've installed the motion sensor with the light in our room. It's obvious that we don't want the lights to turn on if it detects that we're moving while we sleep, the App allows you to set time ranges in which you want the rules to be active. In this case we would put the deactivation rule in the App from 11 o'clock at night and activate it again at 8 o'clock in the morning, just to give you an idea. 
Here are some ideas to automate your home:
1 – Movie mode:
You'll need: colored Xiaomi smart lights, here
We love this feature, just install the Xiaomi lights in the room where you have the television. Now in the App create a scene called "movie mode" and customize the lights and intensity however you want, we recommend a low intensity with cool colors such as blues and lilacs. Now when you want to watch a movie you can click on the "movie mode" and all the lights will be configured to create an atmosphere that that feels just like going to the cinema 😉.
2 – Hallway lights for nighttime
You'll need: Motion sensor here and Xiaomi lights here.
This function is perfect if you have children. First of all, install the motion sensor in an area facing the hallway, then install the Xiaomi lights. Now we will create a rule that starting from a certain time of the night, if the sensor detects movement in the hallway, the lights will automatically turn on at a very low intensity, and then after X minutes without detecting movement is turns off again.
3 – Turn on the coffee machine and put on the news on the TV in the morning.
You'll need: Mijia Smart Power here and optional a motion sensor here
Xiaomi's smart plug is very versatile as you can turn any appliance in your home into a smart device. Simply plug your coffee maker and your TV into two Smart Power devices, then you can configure them via the App so that at a certain time in the morning, the TV turns on and the coffee machine begins to warm up.
Now that you have your TV connected to the smart plug, you can do more. For example, if you have a motion sensor installed, you can create a rule to turn off the TV if it doesn't detect motion in a certain period of time.
4 -Turn on the lights on the terrace or balcony
You'll need: Xiaomi My door sensor here and Xiaomi lights here
This feature is not bad at all. First of all, install the Xiaomi lights and sensor on the door to your balcony or terrace. Now create a rule that the lights turn on when the door is opened. Remember to set the time range you want the rule to be active (at night).
…
Here we've only given you a few examples to inspire you, but there are infinite options to automatize your home. Leave us a comment with some of the functions you use! It will be super useful for everyone.
So: what do we at AlixBlog think about the Xiaomi Smart Home product ecosystem?
After analyzing the different devices that are part of this ecosystem, we believe that many can be very useful (our favorites are the yeelight lights, the IP camera and the Xiaomi Smart Home starter kit) and we are sure that others will be very practical for people with certain problems or hobbies (such as the smart pot or air purifier). In addition, all the products we talked about before are relatively cheap in AliExpress. In short, it's a great idea and we're looking forward to seeing how it evolves in the near future. In this video you can find a summary we found very interesting on how these Xiaomi devices can change our lives.
Before you buy: check our blog
Finally remember that in AlixBlog, in addition to reviews of interesting AliExpress products, we have a lot of tutorials where you can find the best tips to make safer purchases. If you still don't know this website well, I recommend you to start with our definitive guide on AliExpress, where we explain everything you need to know before you start shopping.
What did you think about these Xiaomi products to create a Smart Home? Have you already bought any of them? We'd love to hear from you, don't hesitate to leave us a comment below with your experience.