Update November 13th: Even though this years 11 11 is over, there are still plenty more shopping festivals to come along the year. Just to name a few, we have Black Friday, Cyber Monday, AliExpress Spring and Summer Sales…
If when you are reading this article you are caught between sales festivals, you can always take a look at our AliExpress Coupon guide where we show you how to save the most on every purchase. In addition you can also check out the offer pages of the following categories, here you will find daily discounted products.
---
Note: this post is a guide to the 11.11 offers, perhaps you are more interested in this other article where we talk about how the 11.11 AliExpress coupons work and how to get the most out of them.
---
The 11.11 Shopping Festival is a date that no longer needs introduction. This popular Asian tradition has become the biggest discount party for pages like AliExpress. A few days away from this much awaited date we already have all the information on the main events.

As every year in our blog we bring you an article that summarizes all the offers, news and bargains that you can find during the 11.11 AliExpress festival. Saving is even easier this year as you will find more discounts and coupons than previous occasions. Ready to start the coupon hunt? 🙂
How to take advantage of the countless offers and coupons to get the best deals
The most interesting thing about this years offers is that we can get endless discounts and coupons to save money on our purchases. There are many ways to get ahold of these coupons:
October 28-November 1: Get selection coupons and coins by adding products to the basket.
November 1-6: Games to get coupons and exclusive coupons from the best sellers.
November 6-11: If you're late, don't worry, you can also get the last discount coupons for 11.11.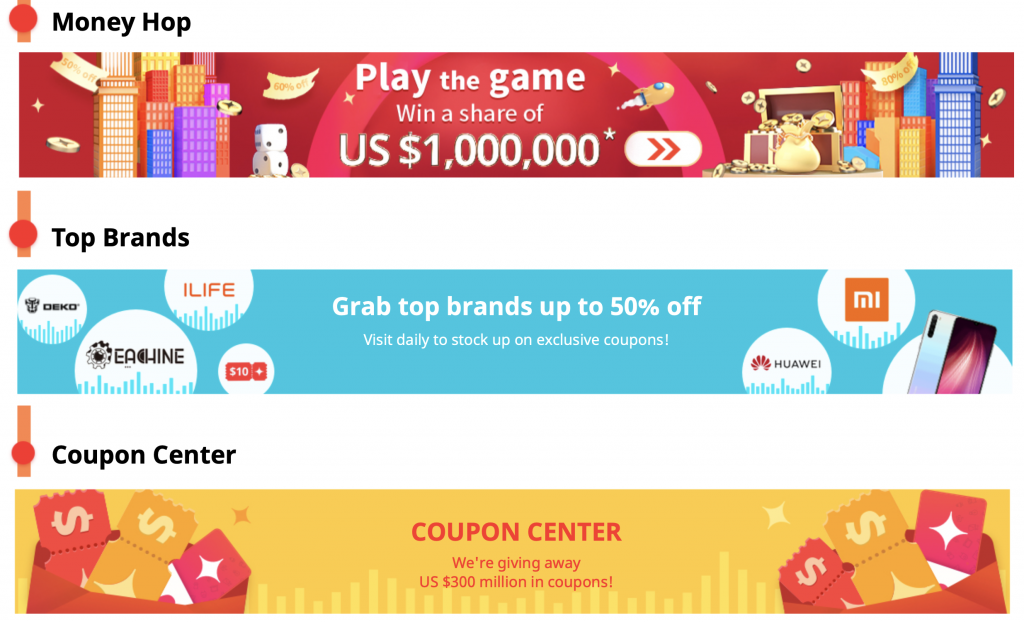 In order not to miss out on any promotion we recommend you access the 11.11 Shopping Guide by clicking here. In it you will find all the promotions that are already active.
How do the AliExpress coupons work during the 11.11 Shopping Festival
Remember that there are several types of coupons, all of them are cumulative and will allow us to save more money:
Select Coupons: They are easily available through the stores or on the 11.11 promotion page. They can only be applied in stores that accept them and with a minimum purchase amount.
AliExpress coupons: They are suitable for all products and shops, whether or not they participate in the 11.11 festival offers, and you can even apply them to shopping baskets of several vendors, which is why they are very interesting. They have a minimum purchase amount
Welcome Coupons: If this is your first time shopping on AliExpress, you can get discount coupons.
Seller Coupons: Can only be applied to the selected store, and with a minimum amount.
Discount Codes: Apply when paying, they are hard to find, we recommend you to pay attention to AliExpress' social networks.
Find out more about these coupons and how to combine them in our Definitive AliExpress Coupon Guide & our 11 11 Shopping Festival Coupon Guide. In the Coupon Centre, which you can access from this link, you'll also find more information and a short guide to understanding how all these coupons work.
AliExpress Featured Brands and Offers for 11.11
To get the best deals you need to be pay attention to the AliExpress 11.11 Promotion Home Page, which you can access by clicking here. You can quickly find at a glance a selection of products and featured brands on offer, access the coupon centre or see more offers in each category.
This Eleven Eleven Shopping Festival is the best opportunity to get great bargains from AliExpress' featured brand, these are products that AliExpress vouches for and certifies they meet high quality standards.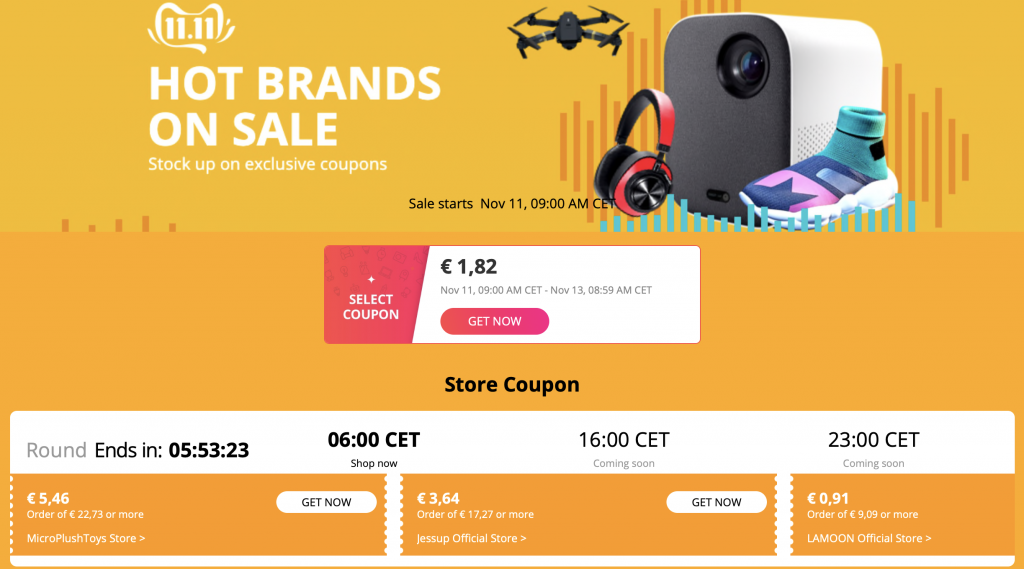 Also, this year you will find discount rounds in which we can get discount coupons for sellers, so checkout this link. We'll leave you with our favourite featured brands but you can find way more by accessing the different categories in the 11 11 sales page.
Electronics from the best brands
Find all top brands, featured stores and discounted products here. These offers are worth considering:
Smartphones for everyone
If you want to renew your phone, don't miss all the offers on the best mobile brands this 11.11 here. These are our favorites:
Low cost appliances
With the expansion of the AliExpress Plaza portal, finding cheap appliances is easier than ever.
Cecotec: The Valencian brand offers very interesting discounts and coupons during the 11.11 as you can see in this link, do not think about it too much, their products sell quick.
Robot vacuum cleaners iLIFE: Clicking here you will find all the offers of one of the best brands when it comes to cheap Roomba robots.
KBAYBO aroma diffusers: It is the most popular brand to buy aroma diffusers, a small appliance that perfumes our home. Find all their offers in this link.
Toys for the little ones
The AliExpress sales festival can help us save money this Christmas, already buy some toys with all the offers you will find here. The most successful toys are:
Do-it-yourself
For those who want to always have their home in perfect condition, this 11.11 is the best time to save money on your tools. In this link you will find all the discounts, and below our favorite brands:
Deko Tools: A brand that's been time in AliExpress. Here you can see all the offers.
Livolo Mechanisms: If you want to change plugs and switches in your home without spending a lot of money, take advantage of these offers from Livolo, experts on intelligent switches.
Pro Stormer Tools: Now you can get their products clicking here.
Clothes and accessories to renew your wardrobe
Like every year, the 11.11 shopping festival is the best opportunity to renew your wardrobe and get ready for the new season. You will find clothes, accessories and complements for the whole family:
What is the AliExpress global shopping festival?
In China, the 11th November is  known as the 'Day of the Bachelors' (also referred to as the Chinese anti-saint valentine), this is due to the four '1's that formulate the date (11 – 11) and that, according to popular belief in China, resemble leafless trees. The Chinese consumerists celebrate this day enjoying a great number of promotions and sales provided by major e-commerce corporations.
For these e-commerce companies, this is the biggest party of the year on an international level. Big companies such as Alibaba, Group China, Jingdong or Dangdang become the main protagonists when dealing with online transactions. Just looking at last years 11 11 Shopping Festival, the Alibaba group made no less then 5,7 billion dollars in 24h, beating all global online sales records.
AliExpress, one of the largest online sales platforms of Chinese origin, always offers discounts and coupons and every year beats online sales record. During 11.11 you will find millions of products with discounts of up to 70%, coupons, promotions and express offers.