If you have already tried the solutions proposed by Shein and you still can't find a solution to your payment failure, here we will explain which are the most common errors and how you can solve them.
Warning: with this trick you can get unlimited Shein coupons. Click here to find out more.
How to solve the error when paying at Shein
Usually, we always get a message that tells us that the payment of our purchase could not be completed and we should try with a different payment method.
Although we will talk about the most specific errors, there are different generic tips that can help you to solve the error:
Check if you have enough balance on your bank.
Check that your card is active and available for online or foreign currency purchases.
Review the data you have entered in case you have made a mistake.
If the problem is from Shein's side, you can also try this:
Switch browsers or try from another device (e.g. pay from your computer if you are using the mobile app).
Use another payment method (find them all at this link).
Contact customer service (access directly from here).
Error when paying with card
If you are paying with your credit or debit card (also with virtual cards) there are several reasons why your payment on Shein may be failing.
Blocking after entering wrong card details
One is if we enter card details that are not correct. Shein's security system can detect this and block you from making payments after three failed attempts. It is also possible that the bank may block your card for misuse.
You will need to contact your bank to check if it has been blocked and also contact Shein, in case the error message is not removed.
Card not enabled or with limitations
Other times the issue is that the card has some kind of problem. For example, it is disabled to buy online or it has already passed the enabling time. On other occasions, it is possible that you do not have enough credit to make your purchases.
The best solution is to explain to your bank that you have had trouble processing your online purchases, and ask if there is a problem with it.
Card blocking for security
If you are trying to pay with a card that is not in your name and you get a payment error, please be advised that this can sometimes occur to prevent fraudulent use. You will have to use a card with your name or buy in a new account in the name of the card holder.
Error when paying in Shein with Paypal
Although Paypal is a very reliable option, sometimes it can also fail. The first error we have detected is that sometimes an "Error 403 Forbidden" message appears when trying to pay with Paypal.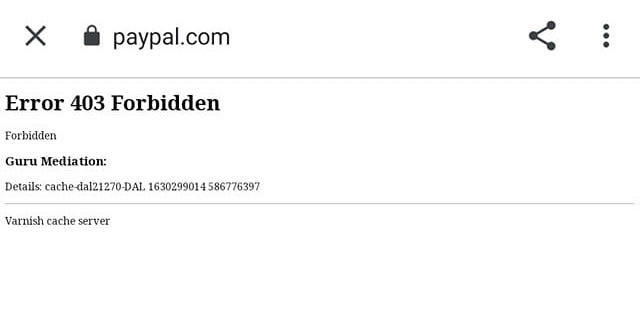 In that case, the best way to solve it is:
Download the PayPal app to have it on your smartphone.
Access your PayPal account from your mobile browser.
With both ways you can solve this problem: Shein will detect your PayPal account and will be able to link the payment. In case it does not work, we recommend you to complete the purchase from another browser or from your computer.
In some cases, the card or bank account you have associated with PayPal may also be rejected, in which case you will have to check if there is a problem, for example:
You have changed your card and you have not updated the data.
Your card has been duplicated at your bank and the expiration date has changed.
You do not have enough credit to complete the payment.
Your card or bank account has an additional problem that has nothing to do with PayPal.
If none of the above works, we recommend that you contact PayPal customer service and, if necessary, your bank to check what the problem is.
Warning: with this trick you can get unlimited Shein coupons. Click here to find out more.
Other common errors
Here we have compiled other common errors related to Shein payments.
My payment was duplicated
Most commonly, the same order has been placed twice. You can check this by accessing the order list and you will see two identical paid orders.
In this case, the solution is to cancel the order. You only have to access one of the two and cancel it. In a few days, you will receive the money back through the same system you used to pay for it.
If a duplicate order does not appear, we recommend you contact Shein with the screenshot of the charge to your card. Sometimes this can also be solved by contacting your bank directly.
What happens if I don't pay on time?
If your order has been left pending payment and you have not been able to manage it, do not worry. The order will be cancelled and your points will be refunded so you can buy again. The money will take a few days to arrive.
My money has been deducted and my order is not being shipped
If you have made a mistake during checkout, it is sometimes possible that the money is deducted but the order does not appear on Shein. In this first case, we recommend you to talk to Shein to verify that the order has not been placed.
You will then have to speak to your bank. Normally the charge will be pending, i.e. you have not yet been charged. In a few days, it will be cancelled and nothing pending will appear on your card.
Shein asks me for security verification
On some occasions Shein may request a security verification. This is a standard procedure to confirm that the card is not stolen. Check your email, you will find the instructions to verify the payment.
You will need to respond with the requested documents. When Shein verifies all the data, the order will be unblocked and shipped as usual.
How to contact Shein for payment problems
Main article: How to contact Shein
If you have tried all of the above and have not been able to solve your payment problems, we encourage you to contact Shein from this link. You can rest assured that this online store is known for its excellent customer service.
It is advisable to have the necessary documents at hand to be able to explain your problem: screenshots, e-mails, order number… You do not need to show personal documents.
Warning: with this trick you can get unlimited Shein coupons. Click here to find out more.