---
Attention: All purchase guarantees, refunds, and returns offered by AliExpress are explained in this section of its website.
---
This article was written when AliExpress was beginning to hit the web. Although it has only made its platform better and it is very rare to get ripped off, it never hurts to have the article for more information.
At AlixBlog we don't just analyze the best products you can buy at AliExpress: we have been buying from this page for years. Over time, we've learned a lot about how this famous website works, so today we bring you an article full of recommendations to avoid scams on AliExpress.
How an AliExpress seller could scam you
If we know how the AliExpress purchase process works, being scammed is almost impossible. To begin with, the payment data (whether by card, Western Union, and other payment methods) never reaches the hands of the seller, and the payment operations are fully protected by security systems such as Verisign SSL, which encrypts all AliExpress transactions.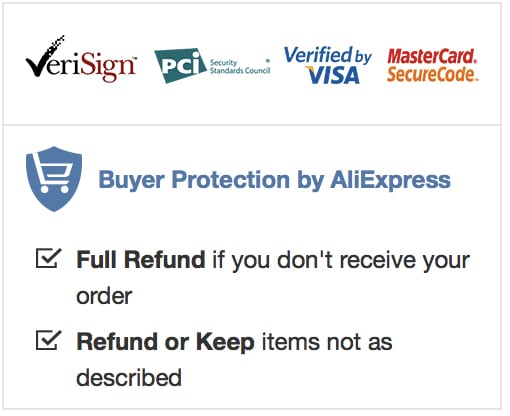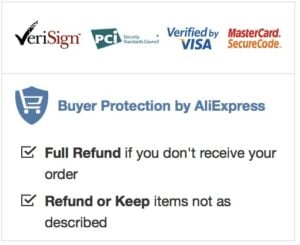 Therefore, the seller can only scam us on what he can act on: the shipment of the product, and the clueless buyers who ignore the protection time to claim. We are going to explain the most frequent methods a seller can use to scam us.
Send different products different from what was advertised
It is true that some sellers may send something different than advertised, either by mistake or consciously. In general, this is something that can be easily solved by opening a dispute and attaching a picture of what we have received. If the seller does not give in, let the days go by and AliExpress will mediate the dispute automatically, providing a solution based on the evidence.
Giving a false tracking number
Although this is not a common occurrence, there are still sellers who give a false tracking number. This way, you will think that the order has been sent, but one day it will appear as delivered and you will not have received anything. In this case, as we explain in our guide to learn how to track your AliExpress orders, we will have to open a dispute justifying that the package has been delivered to someone else. The best way to justify this is with a letter from the shipping company assuring that the package has not been delivered to you, but this is sometimes impossible due to the data protection law, so another way to justify this may be a screenshot of the page trackitonline.ru, which shows the city where the package has been delivered.
How to avoid scams in AliExpress
As you can see, there is not much mystery in the different types of scams that can occur as they are quite simple and can be solved by claiming AliExpress. But the best thing is to try to avoid being scammed, so we're going to give you a few tips to buy safely on AliExpress.
Try to buy from sellers with good scores
Not all sellers without a score have to be bad. All sellers were new someday and became popular thanks to buyers who trusted their store. However, if you see products that the seller puts a few real photos and their ads are not very detailed, etc. It is better to look for the products in another store. In our guide to finding reliable sellers, we explain how to find stores you trust in AliExpress.
If the product is too cheap, it's probably a bit suspicious
If in addition to being a new seller, you see that their products are excessively cheap compared to other sellers, you should definitely think about the possibility that the seller has made a mistake (and then canceled the orders) or that it's a scam. While these types of stores, without valuations and with very cheap products were quite common years ago, it is very difficult to find them now, so we can be reassured in this sense.
Read the description of the product you'll buy
Many times we think that we have been scammed, but when we read the product description, we see that what we receive actually complies with what was advertised. Therefore, it is essential to read the product description carefully and see the characteristics of what we are buying: measurements, materials, colors… These are things that will help us get an idea of what we are going to receive.
In addition, it is also very important to check what other buyers think of what they have received by accessing the "ratings" section within the ad. Finally, if there is something the seller has not specified in the ad, we can always send them a message so that they can clarify it for us before buying.
And if the seller has scammed me, what do I do?
With all this information, you can avoid scams in AliExpress and solve them in case you are in one of the situations we have explained above. But we want to emphasize something: it is very important to be aware of our orders, and if we see that they do not arrive within the protection time of the order, we will have to open a dispute or extend the protection time of the order.
Many people let time pass and when they want to complain, AliExpress gives a protection time of 60 days, if this protection time runs out and we do not claim, our order will be closed since AliExpress will assume that the order has arrived at us but we have forgotten to confirm the reception of the order. Most often, AliExpress will send us an e-mail to inform us that the protection time of the order is running out.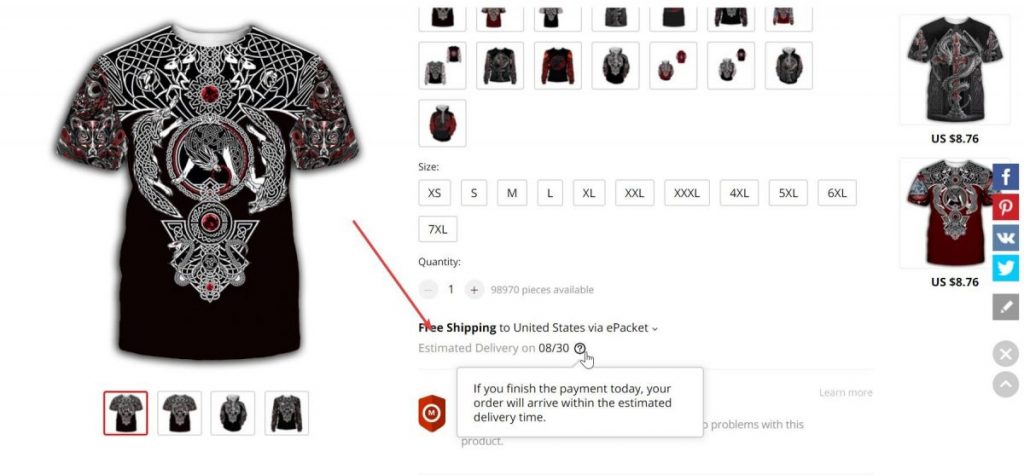 Even so, if you have suffered some kind of scam that has nothing to do with what we have mentioned before, the best thing to do is to open a dispute and provide all the evidence you can: photos, screenshots… And in case the seller does not give you the reason for the dispute, wait for AliExpress to intervene to provide a solution. If you want to know more about the AliExpress dispute system, click here.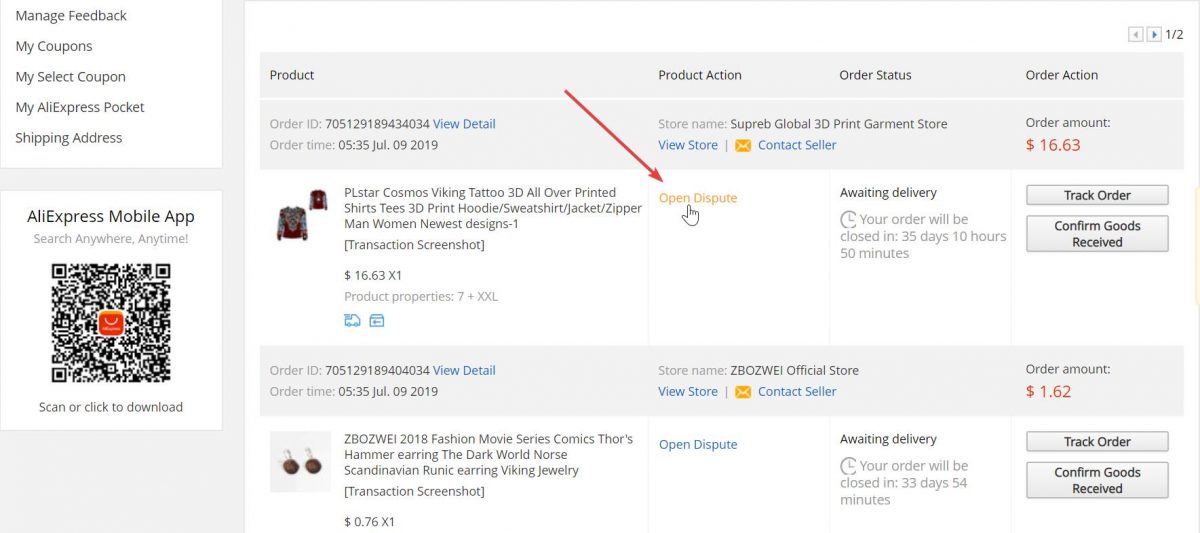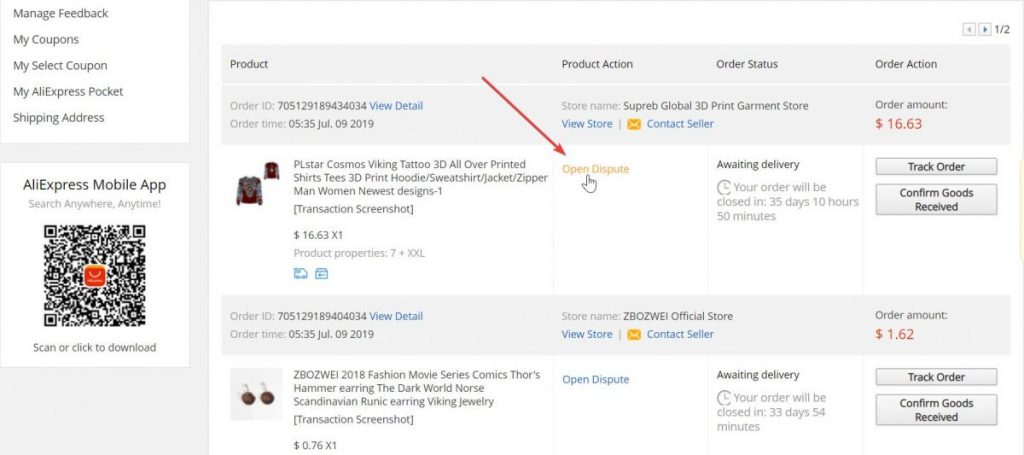 Other tips before buying from AliExpress
This is one of the many articles that you can find in our tutorial section, where you will find many tips to learn how to buy in AliExpress in a totally safe way. If you still don't know AliExpress, we recommend you to start with our Essential Guide about AliExpress.