Are the products on AliExpress original? Ever since we opened this blog, this has been a constant question among our readers. That's why we are writing this article to try and answer all your questions. Let us start by stating that you can find both originals and replicas on AliExpress. To know the difference between them, keep on reading.
As you will soon notice, if a Chinese seller says the product is original, it probably is. And if it turns out not be, they will give you back your money. Another useful way of telling the difference is looking at prices. Use your common sense: if you see Swarovski jewelry (be it rings, earrings or any other product) for 10€, they are probably NOT original…originals go for more than 200€. Needless to say, in cases like this one, the answer is pretty clear, but let's take a look at other less clear ones. 🙂
The quality of AliExpress products
Before we talk about differences between originals and replicas on AliExpress, let's talk a bit about quality.
As a general rule, replica products won't have the same quality as originals. That's why we insist so much on choosing a good seller, or in this case, a product with good reviews. However, AliExpress is known for the quality of its replicas, so if there is something you like, go ahead!Their products are known for the quality/price ratio.
Again, especially when it comes to replicas, remember to check the sellers reputation. Here is how it works: medals<diamonds<crowns. But just in case you need more information, take a look at the chart bellow.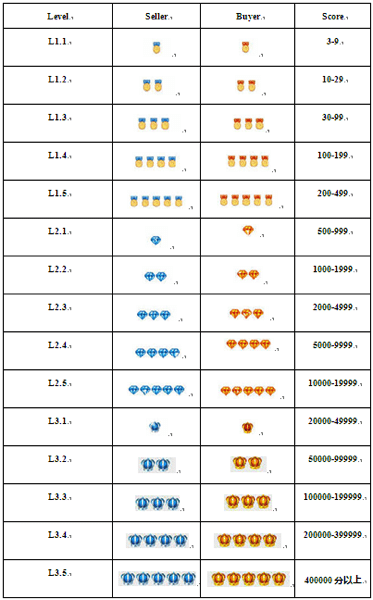 Remember there are also stores that may not have such a good reputation but are still completely trustworthy. To know more about how this is possible, take a look at our article on shops with no reputation in AliExpress.
I can't find a brand: what should I do?
Most of the bargains for AliExpress products are hidden behind acronyms. Replica sellers aren't allowed to use the original name, so it can sometimes be hard to find a specific brand.  If you are having trouble, take a look at our super popular article on how to find brands on AliExpress, you will find tons of key words and acronyms used by sellers to identify certain brands.
Another trick that works is to type in the generic name of the product + an adjective that describes it, the first letter of the brand + generic product, or even typing in the name of the brand with no vowels. Finally, some brands can be also found by the name of the country they come from.
Original technology brands on AliExpress
One of the most popular sectors in AliExpress is technology. The platforms sells thousands of sales phones and other products such as tablets every day. Part of the reason is that you can find a lot of original Chinese brands on the platform. In fact, many cellphone manufacturers come from China, so sellers on the website can offer them at discounted prices, without the need for intermediaries.
Another way to know if a product is original or not is to look at the description. If it features the "Guaranteed Authenticity" stamp, you can be sure it is. In fact, if it turned out not to be, all you have to do is make a claim and AliExpress will immediately give you a refund. To know more about refunds and claims, take a look at the tutorial we published a few days ago.

You should also pay attention to the words used to describe the product, if it features the word "Original" or "100% original". In this case, like when it features the Guaranteed Authenticity stamp, you can be sure it's an original. Furthermore, replicas are usually found in the fashion sector, not some much when it comes to technology.
IMPORTANT: keep in mind that, in 99% of the cases, if the description states the product is original, it's going to be. However, make sure you read the description well, sometimes it can be confusion, especially when it comes to sellers that mention the originality of materials. That is to say, there is a difference in between a "Belstaff made of original leather" and an "original Belstaff made of leather". This being said, as long as you keep an eye out and read the descriptions well, there shouldn't be any problems whatsoever.
Some original phone brands
Samsung

(some of the cellphones offered may be refurbished)

LG

(most of them refurbished)

… try typing in any other band and follow the advice we gave you to ensure it's an original.
WARNING: comments left by users are also important, especially when it comes to figuring out how long delivery is going to take. Just so you get an idea, here is a comment about a Cubot X16 phone.


And if you are thinking about getting an iPhone, AliExpress also offers originals. Most of the iPhones are used or refurbished, but are getting them at a much more affordable price.
Finally, products such as GoPros aren't original, but they are super affordable and work very well. If you want to know more about them, take a look at our article about GoPro on AliExpress.
As for where to get these products, we recommend using Hong Kong Goldway, it has incredible ratings. If you would like to find more about it, take a look at this article.
Shoe and clothes brands: original or replicas
Unlike technology products, when it comes to clothing or shoes, products can be original or replicas. Just to give you an idea, take a look at the price of these 3 Nike sneakers found in AliExpress.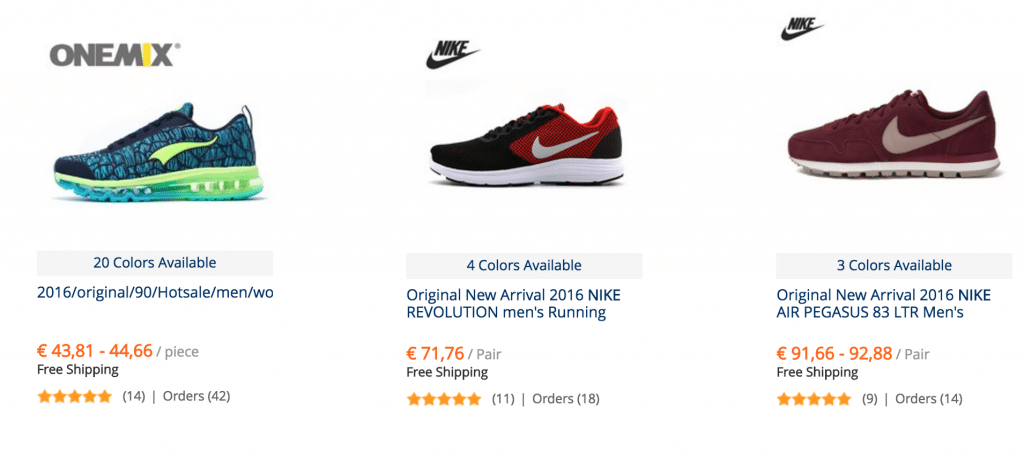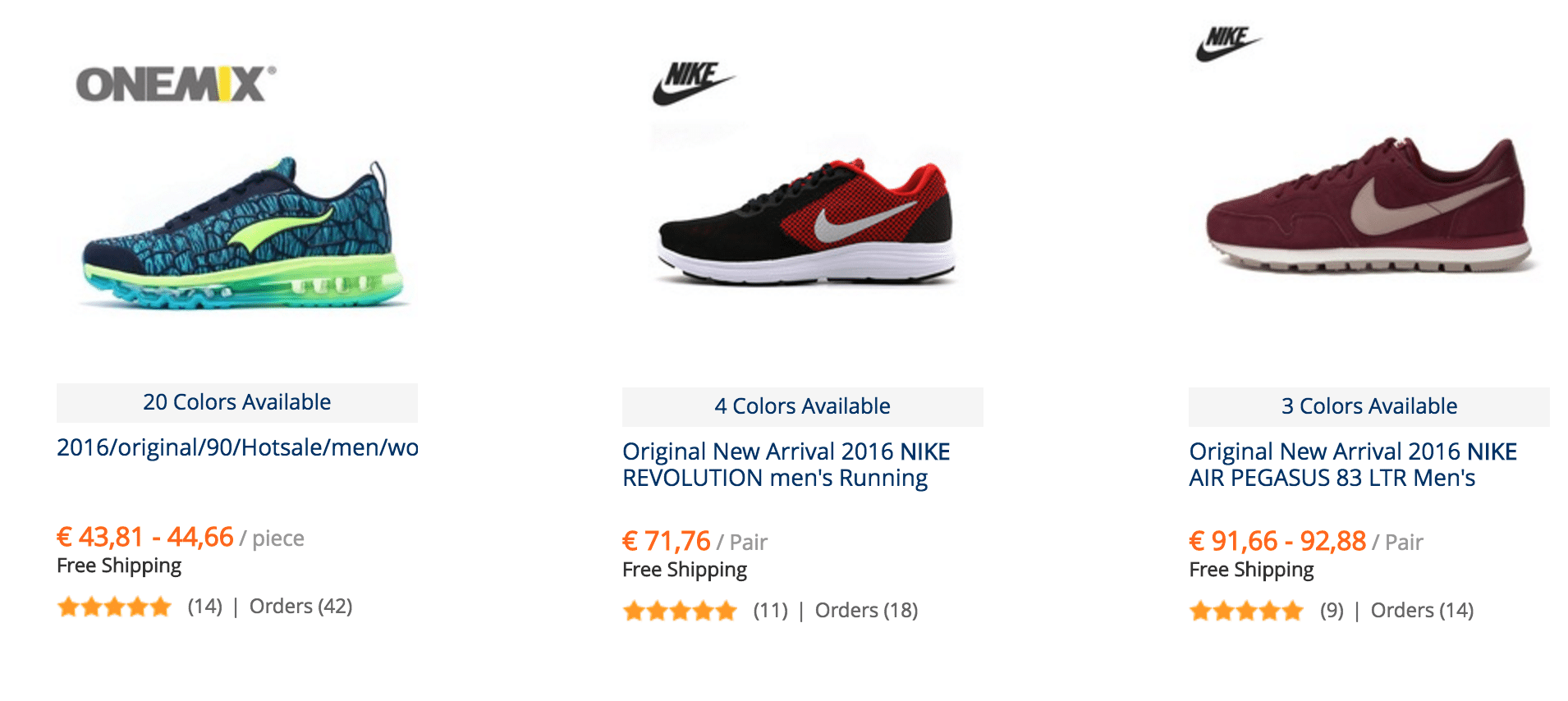 The firsts ones are original, the middle ones are cheap replicas, and the last ones are actually Onemix, a Chinese brand that copies (it doesn't use the logo so cannot be considered a replica) Nike and is very well rated by users. This is an example to show you all the kinds of products you can find on the platforms and how important it is to check comments by other customers.
Other brands such as Adidas or Pumas also have very well rated replicas, such as the Adidas Ultra Boost or Rihanna's Puma Creepers.
We've also been asked and written articles about Zara clothes, Sheinside and some other cheap clothing brands for women men and children.
Modified, erased or retouched logos
We've mentioned this before. The same way shops use acronyms and key words to avoid copyright issues, they also modify picture of their products so it doesn't feature the same logo,  sometimes even erasing it completely. Other times they just put up a drawing and ask you to contact them for more pictures. As a general rule, the product you receive will have the right logo, but it's never a bad idea to make sure and contact the seller to ask for some extra pictures.
That's it for today, now its up to you to choose what kind of product you want to buy on AliExpress :).