Sometimes what we receive from Shein is not what we expected: what fits the model like a glove, fits us very differently because we didn't get the size right or for whatever reason.
That's why we are going to analyze Shein's return system and explain you in detail how to return clothes for free.
Warning: with this trick you can get unlimited Shein coupons. Click here to find out more.
Review about returns on Shein
If you are thinking of buying at Shein but you are worried about how returns work, we are going to give you our opinion, taking into account the different aspects involved in a return.
Return's policy
Rating: ⭐⭐⭐⭐⭐ (excellent)
You can return any product except:
Bodysuits and underwear.
Products in the "beauty" category.
Party and event products.
DIY supplies.
Pet accessories.
Jewelry, costume jewelry and other accessories (except scarves, bags and blankets).
As you can see, swimsuits and bikinis can be returned except if they do not have the hygienic protection or it is damaged. Shein will not accept returns of broken, stained or used products.
When a product can not be returned you will see a notice in your basket or in the summary of your order.
Methods of return Shein
Rating: ⭐⭐⭐⭐⭐ (excellent)
You have several methods to return your Shein orders:
Post Office: as above, they will provide us with a label with which we will have to go to the Post Office to return our order.
Own method: you can also send your return by other methods, but the shipping will be paid by you.
Return costs
Rating: ⭐⭐⭐⭐ (remarkable)
Shipping is free 
on your 
1st return 
for any order. You must use the shipping label we provide (See "How do I make a return?" section for details), then send back and postmark the package within 45 days from the purchase date.
After you have already returned items from an order but would like to make
additional returns 
for additional items, you must do so within 45 days of the purchase date. There are two ways:
You can use the shipping label we provided and

pay a $ 7.99 shipping fee

, which will be deducted from your refund.
You can use your own shipping method and at your own cost.
Deadline to request a refund
Rating: ⭐⭐⭐⭐ (remarkable)
Shein has a very good return policy. You can make returns up to 45 days after making your purchase. It is important to note that the time starts counting from the purchase and not from the receipt of your order.
Refund times
Rating: ⭐⭐⭐⭐⭐ (excellent)
The money refund will be made 10 days after Shein receives your package. It will arrive to you through the Shein wallet or in the account you used to buy, depending on what you tell them.
Of course, you will only be refunded the cost of the garment. Shipping costs, shipping insurance and other associated costs are not refundable.
How to make a FREE return
It's very simple, just follow these steps:
Go to your order from this link and select "Make a return".
Select all the products you want to return.
Choose the return method, refund method and follow the steps (below we explain in detail how to do it).
Prepare the package, placing each garment in its zip bag. Place all the garments in a box or envelope.
When the package arrives at Shein, they will perform a small check and issue a refund (usually fast).
Wait for your money to arrive, in about two weeks you should have it.
Return orders with your country's post office
This system is much easier because you don't need to print your label or place anything inside your return package. To prepare your return through the post office, just do the following:
Download the return label. No need to print it, you just need to scan the code.
Go to any post office and show the return label.
You will receive a confirmation email with the number to track your return.
How to return by your own method (paying)
Depending on where you live, it is possible that the only method of return available is "by your own means".
You may use any company or shipping method you wish, but the shipping costs will be at your own expense, except in exceptional cases when stated by Shein customer service.
The steps to follow are the same as before, but when selecting a shipping method for the package to be returned we will select "return by my own means".
Shein will provide you with the shipping address. It is important to send the package to that address, and not to the address that appears on the package received.
Please also note the following points:
Return the items in the original bags if possible, with all tags and barcodes intact.
Indicate the return number next to the recipient's name for faster processing.
Enter the tracking number or shipping receipt provided by the carrier through "My Orders" > "Return History".
Warning: with this trick you can get unlimited Shein coupons. Click here to find out more.
Frequently Asked Questions
If you still have some soubts, we have compiled the most frequently asked questions:
How to return unbagged orders
As you know, Shein garments come in a zip bag. It is best to place each garment in its corresponding bag. If you don't remember which bag your garment came in, go to Shein, look for the garment and in the description you will see the reference, which says SKU.
But if for some reason it has broken or you have thrown it away, there's no problem. From experience we can confirm that whether you use the zip bag from another garment by removing the reference label or if you send your garment without the bag, the money will be refunded.
Shein customer service also offers another alternative: place each garment in a transparent bag by writing the SKU reference on the outside, so that Shein's control of the returned garments is faster.
How to find the SKU reference
To find the SKU reference of any Shein garment, go to the garment. From the computer you will see it under the name.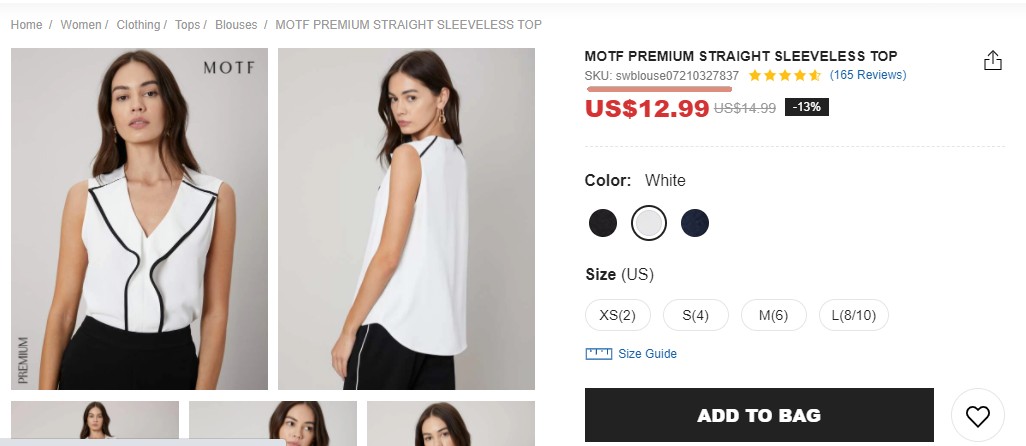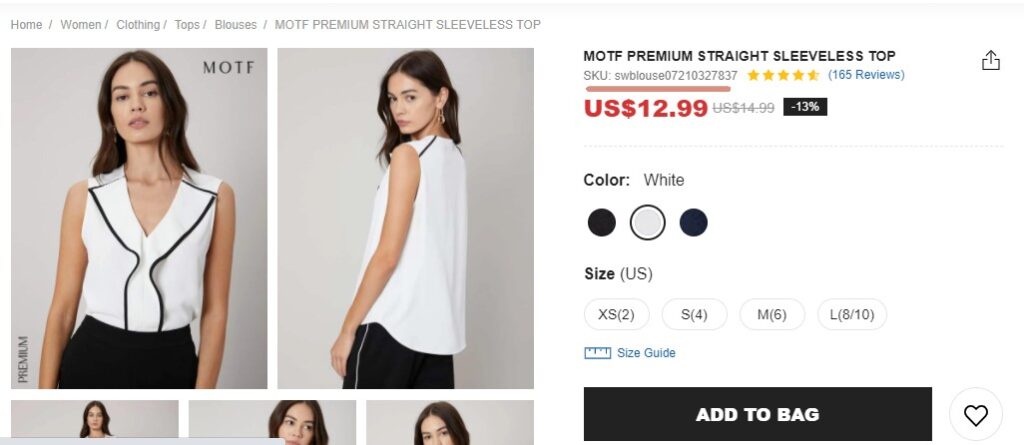 From the mobile application you will have to go to the description section and look for the SKU reference.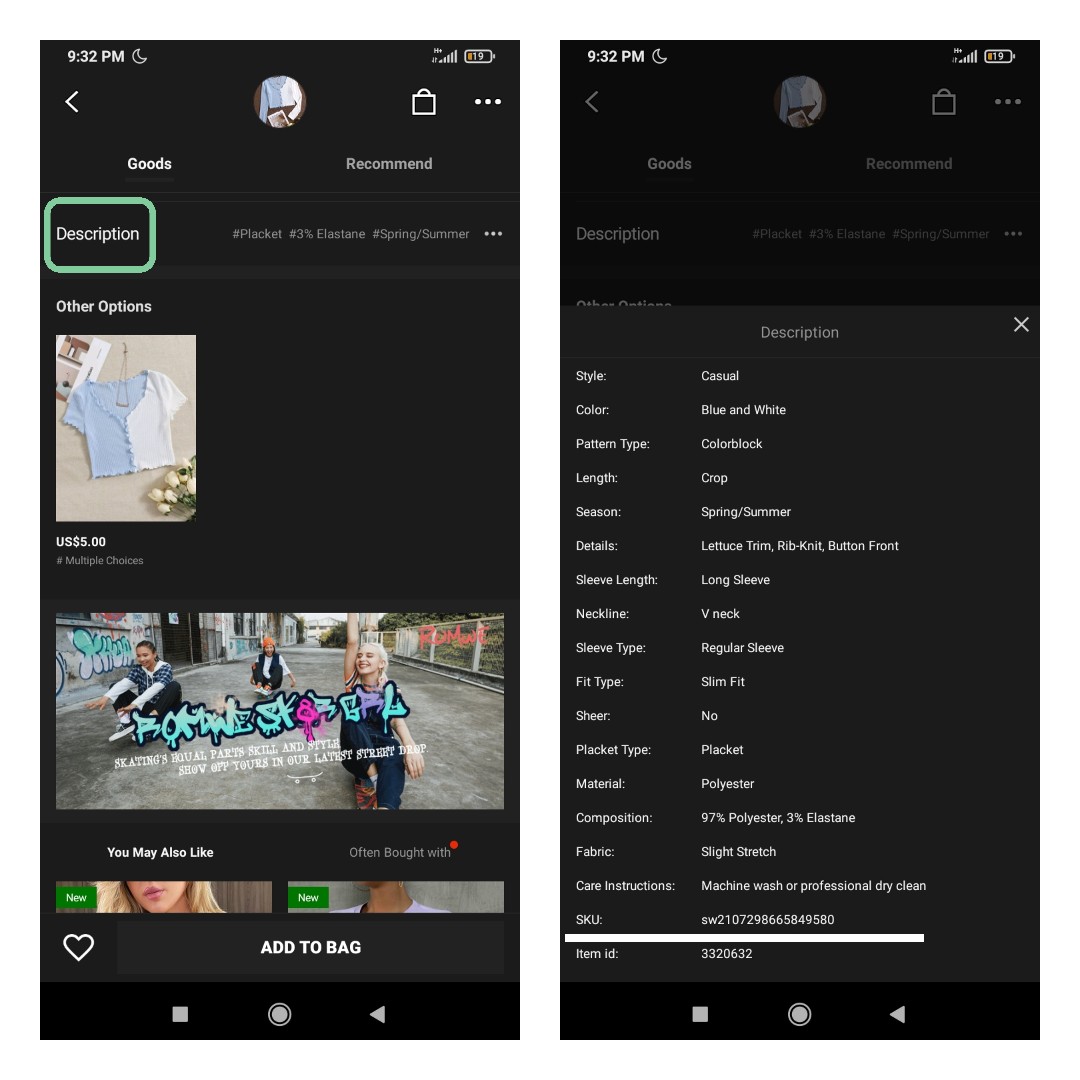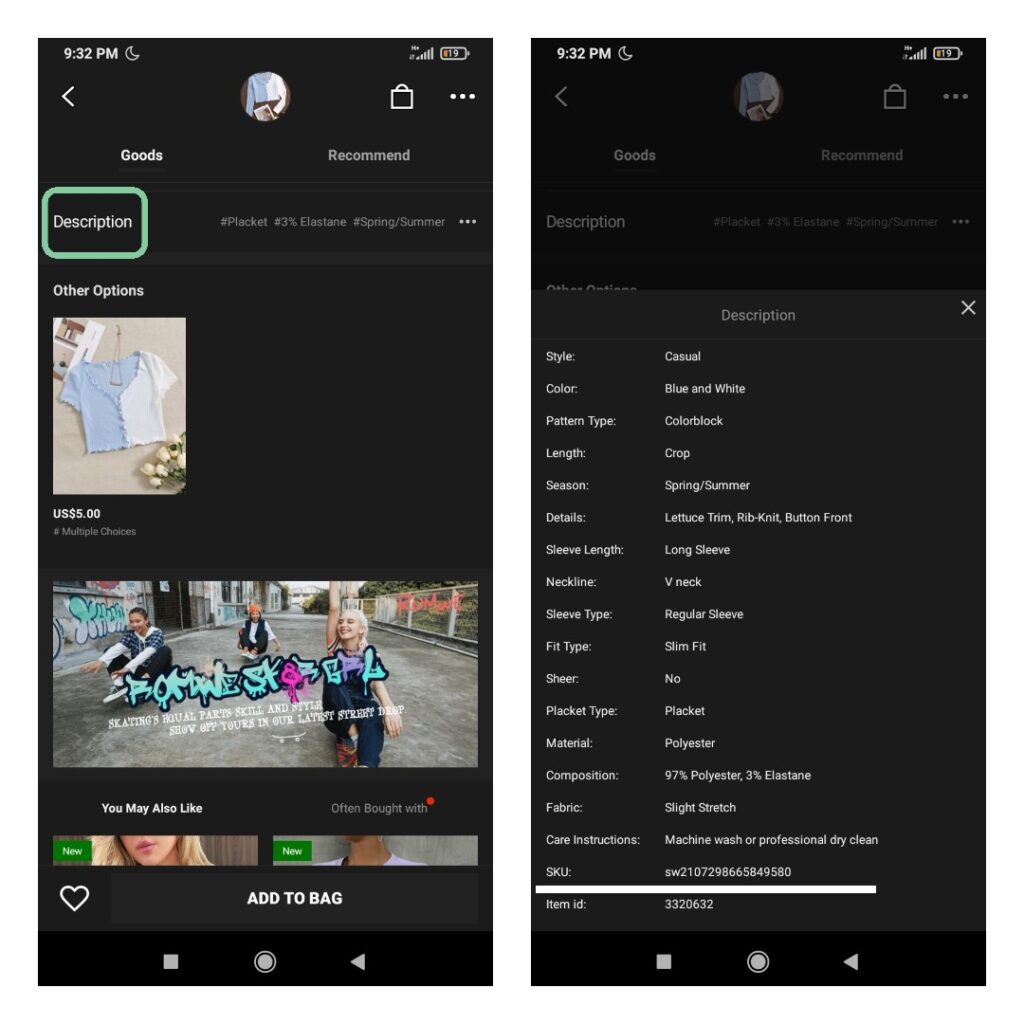 How to request a refund from PayPal
Until recently, if you paid with a gift card and requested a refund, this was done in the form of a gift card. Now, however, the refund must be made through PayPal.
To receive the refund, all you have to do is register with PayPal, link your credit card, debit card and bank account. Then you have to provide Shein with the email address you used to register with PayPal and you will receive the money.
Once you receive the money in your PayPal account, you just have to choose where you want to transfer the money to receive it as soon as possible. Another advantage is that if you use PayPal, you also get the money back for the shipping costs (but not the shipping insurance).
Can I return to change a size?
If you need to change the size of the clothes you have received, you can make a return but you will have to place a new order with the correct size. Although coupons are non-refundable, you will be refunded the points you have used.
What to do if the return label is used?
On some occasions it has happened that when returning the product the label appears as used and we cannot use it. In this case, we recommend that you contact customer service so that they can provide you with a new label.
How to contact customer service
If you have a problem with your return, you can contact customer service via chat, phone or message. Just click here and select the contact method that suits you best.
Warning: with this trick you can get unlimited Shein coupons. Click here to find out more.