---
DOWNLOAD THE ALIEXPRESS APP HERE.
---
The AliExpress Shopping App for mobiles and tablets is a must-have application! If you like to shop online and you're going to do it on AliExpress, it's a basic app for any buyer on this platform. We have received many emails asking us to review the app and give our opinions. As it could not be otherwise, we are going to explain the best tricks and tips so that you don't miss anything when buying through the AliExpress application.



First impressions of the AliExpress Shopping App:
The truth is that when we downloaded the free application to the mobile and tablet we were extremely surprised at how complete and easy to use it is. It really is like browsing AliExpress with your computer. We find it quite intuitive and fun in terms of navigation. Normally the applications for purchase are quite limited, so little functional that they end up with our patience and we end up returning to the computer to make the purchase.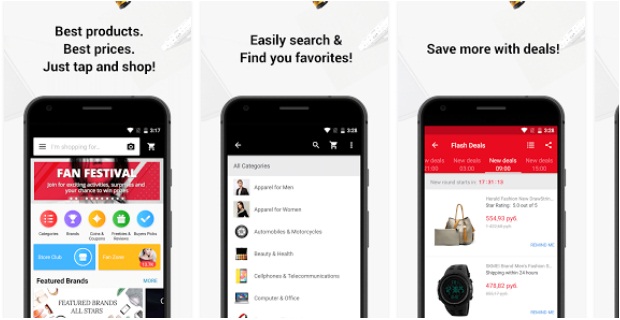 Android and Apple iPhone / iPad iOS
In our opinion, with the AliExpress application, the opposite happens, as it allows us to do the same as in the desktop version. In addition, they update the application quite frequently incorporating new improvements. If a few years ago there were functionalities that were lost when using the mobile app, now almost everything is integrated into it. For example, one feature that we loved is that within the same application there is a message center where we can contact the sellers if we have any questions.
We will also be able to follow the status of our orders, search by category, filter our orders (e.g. so that they only show us products with free shipping or that are on sale), add products to our list of favorites, there is also a section where we can see the best deals of the day… These are just some of the features that the AliExpress App offers.
Ah! We almost forgot we will also be able to share products with our friends through Facebook, e-mail, or other social networks such as Twitter. It's really useful to be able to show and comment on products with friends or family.
How to download / Is it safe?
The AliExpress shopping application is very secure and is used by millions of people around the world. There have been people who have asked us how we know if the application we downloaded is the real one. As far as we know, there is no fake AliExpress application.
Even so, to make sure it is the 100% original app, here is the official link to AliExpress.
Determine if a seller is reliable from the application itself
One thing that was clear to us was that a prerequisite for considering that this was app good was that you had to be able to look from your mobile device at the reputation that AliExpress gives the seller, the reviews along with consumer reviews, and finally the number of sales of the product. And I have to say that the AliExpress Shopping App passes the test with flying colors.
When you enter a product you can see all these things that we consider to be fundamental to making a great purchase on AliExpress. In addition, the interface is extremely simple and clear, so you can determine if a seller is reliable or not in moments. Watch out! As we've said before, if we have any kind of doubt, from the same application we can contact the sellers directly so they can solve it for us.
Receive alerts and promotions in your AliExpress application
Something we also like a lot about the AliExpress application is that you get notifications of your purchases, promotions, and other discounts from the platform. It's great to be able to receive a message when your order has been sent or to be notified of good discounts. Also, when you enter the platform you will find the home page with the latest promotions and discounts so you don't miss anything.
Obviously, all these notifications can be configured through My Account. On the top right you will find a cogwheel to set up your profile where you will find the "Notifications" option. You will be able to choose what kind of notifications you want to receive on your mobile and if you also want to receive these notifications through your e-mail. Unlike other mobile applications, we have to say that the AliExpress application is not very intrusive with its messages and we have all the notifications activated so we don't miss anything
My AliExpress account: everything that interests you is just a click away
Through the website the section "My Account" is not very intuitive, however, through the mobile application, we can find everything related to our purchases with a single click. You can access all your orders divided by status or see the status of your orders with a dispute, access your wish list, see what coupons you have active, see your AliPay wallet, the delivery address…
From time to time this section changes incorporating new improvements or sections, but if you have any problem for sure you will find help in this section of the application, as you will also find the option to contact AliExpress or the seller of your products. You can also configure your buyer profile or access the application settings.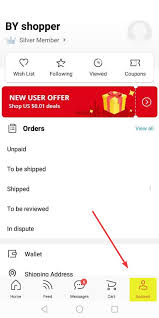 Search by image: find just what you need
We have to admit that there is something we like a lot about the AliExpress mobile application: the possibility of finding something by taking a picture. I don't mean uploading a photo that you find on Google (you can also do that), but taking a photo of that beautiful vase or accessory that you are looking at in a physical store and see if you find it in AliExpress. You'd be surprised at the amount of money we've saved buying something we didn't need immediately and we've found cheaper in AliExpress thanks to its application.
In addition, we can search by entering keywords on a regular basis. Thanks to the filters of the search engine we will be able to adjust our search just like if we were doing it from the computer: from which country you want to receive your order, find products of a certain color or size, with free shipping or return, order the results by the number of sales or score…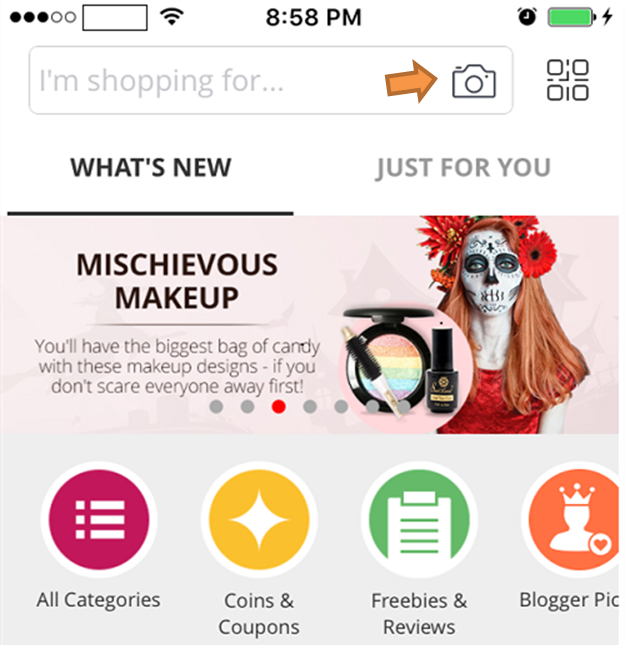 Earn points and interact with other AliExpress buyers
Something that is better achieved in the AliExpress application with respect to your website is the social part of the platform. Did you know that you can see and follow other AliExpress buyers? Through the "Wall" section you can find reviews of other buyers, direct from the platform itself or from the best AliExpress stores and brands. It's a great way to find new products or inspiration to buy gifts.
You can also get points, coupons, and discounts for your purchases through games as we explain in our article freebies and coins to save on your AliExpress purchases. You can also invite your friends to use and buy from AliExpress and both of you will get a discount. In our AliExpress referral tutorial: invite your friends and earn coupons you have more information.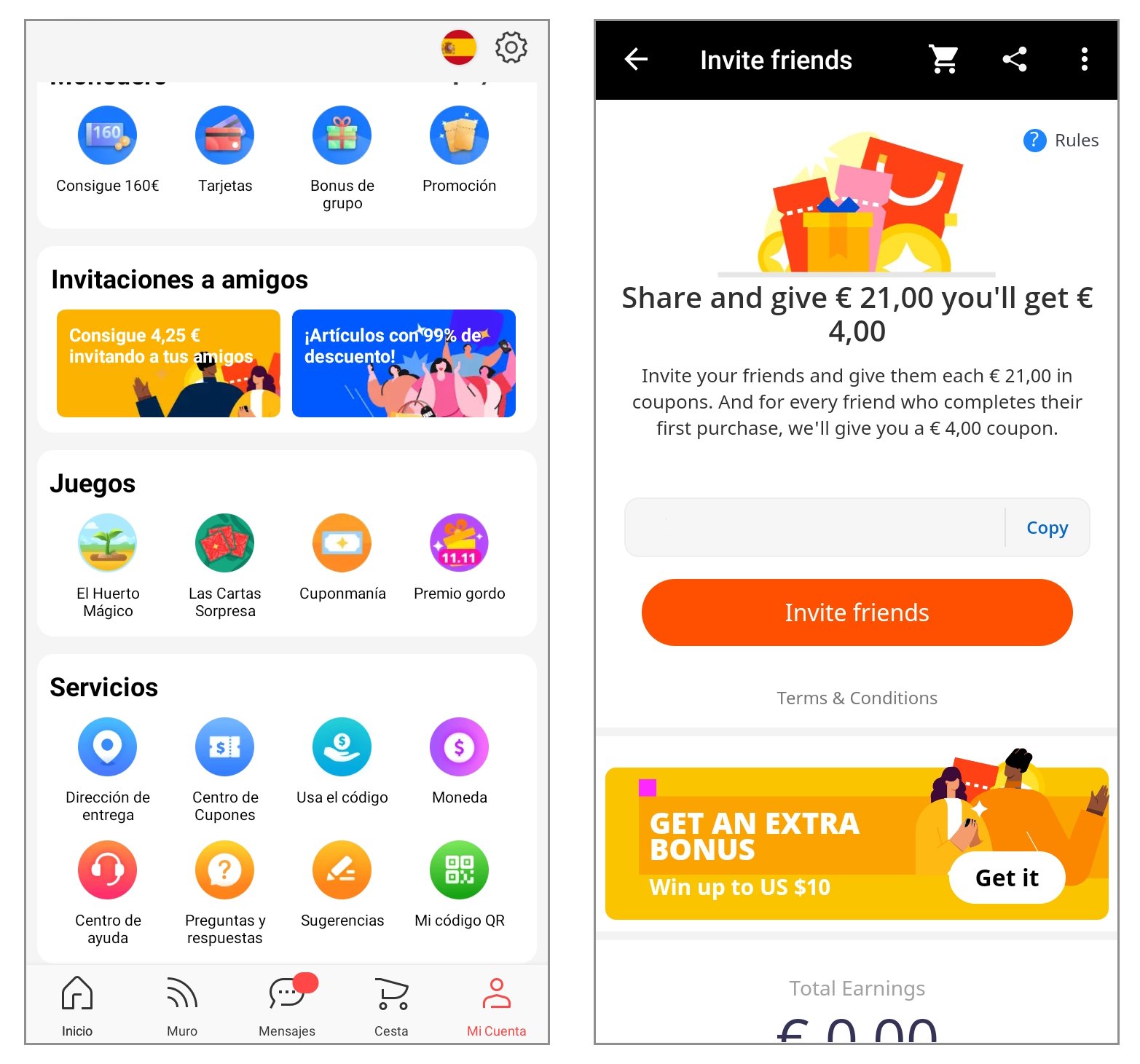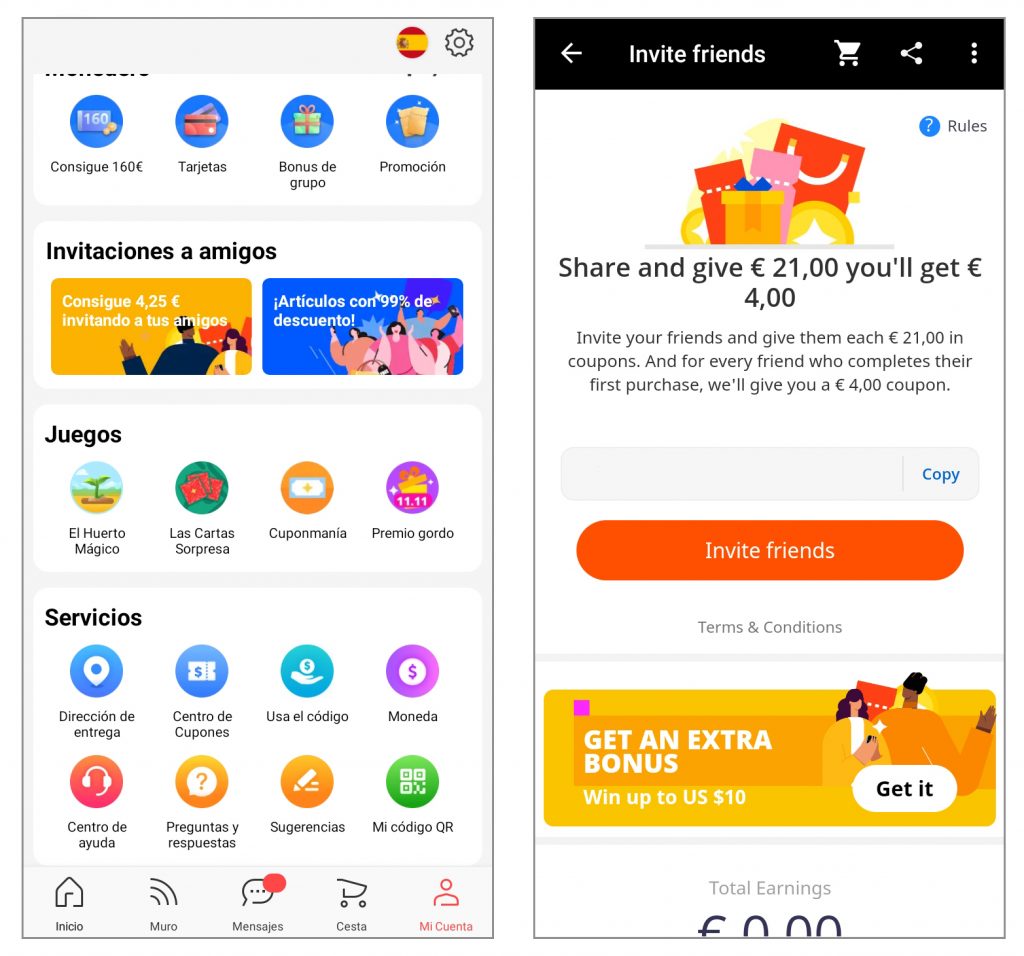 How do I pay with the AliExpress application?
The AliExpress application also allows you to make secure online payments quite easily. You will be able to use the same AliExpress payment methods as through the website and thanks to AliPay, which securely manages AliExpress payments, you will be able to pay in one click if you have saved your card. The AliExpress app offers many payment options such as bank transfers, the Qiwi Wallet system…
Without a doubt, the most popular is to pay by credit or debit card (AliExpress accepts Visa, MasterCard, and Maestro). When paying you will be protected by AliExpress' protection and encryption systems. In addition, buyer protection protects you at all times and the money will be held by AliExpress until you receive your order and verify that it is as described by the seller. If this is the case AliExpress will release the money to the seller, if not, you will get your money back.
And if something goes wrong, don't worry because in the mobile application you can contact the seller and AliExpress just like on the website. If you don't manage to solve your problem, you can open a dispute with the same conditions as if you were doing it through the web page. If you do not know how to do this, we recommend that you read our Guide to Disputes, Claims, and Returns at AliExpress.
The AliExpress App passes with an EXCELLENT
In short, after a long time testing the AliExpress application we can confirm that it is worthwhile to make purchases through it. Many times you ask us how to solve a payment problem or a bug on the website, and the reality is that through the application many of these problems are solved or do not appear. Besides, it is very easy to buy and search for products, sometimes even the price is better through the application.
We only have to remind you that if you want to learn more about how to buy safely on this website you can access our tutorial section, where you will find our best tricks and tips. If you want to start shopping at AliExpress but don't know how it works, we recommend you read our Ultimate Guide to AliExpress, where you will find everything you need to know about this online sales platform.
We've been really surprised by the application and it's no wonder that millions of customers around the world find their favorite products with this application every day. Why don't you try it too?