---
You can see all the guarantees and shipping times directly on AliExpress by clicking here. And see all the frequently asked questions resolved in this other link.
---
AliExpress is one of the world's best known online sales platforms. Today it has millions of successful purchases under its belt and has significantly improved conditions for its customers. It has earned the reputation of being the Asian alternative to "Amazon" and has an increasing presence in different international markets.
It is one of the world's benchmarks in the field of online shopping, yet one of the most frequent concerns among consumers is whether it is safe to buy from AliExpress. First of all, we recommend that you take a look at the section dedicated to Consumer Protection on the AliExpress home page. This may help answer your questions more quickly.
In fact, shopping at AliExpress from anywhere in the world is just as safe or unsafe as shopping at any other website. AliExpress works basically like Amazon or Paypal: the platform acts as an intermediary between you and the seller, ensuring that your data is safe at all times.
Therefore, when you buy from AliExpress the platform notifies the seller that the product has been paid for, retaining the money until you receive the purchase and the value; if everything is correct they will pay the seller. For more information read our definitive guide on how to buy on AliExpress. Next, we will explain the most important points that make AliExpress a reliable shopping platform.
Platform Security: Encryption and Secure Payments
A large part of AliExpress' security is based on the website itself. To begin with, this website uses the HTTPS protocol, which in addition to providing a fast connection prevents the page from being intercepted by third parties.
The data between server and client is sent with SSL encryption and the server has to be authenticated. Your data and navigation are protected by this system. In the case of AliExpress, it uses VeriSign SSL encryption, which currently has the highest level of commercial protection, so it is completely impossible for your data to reach a third party.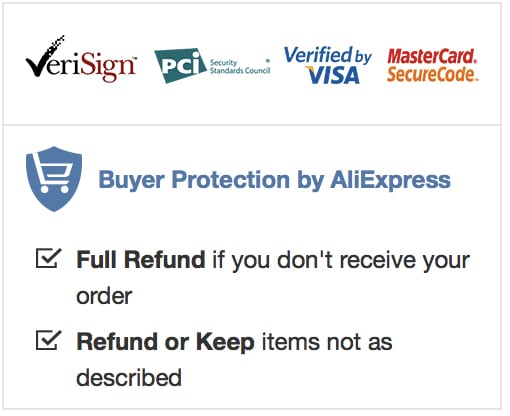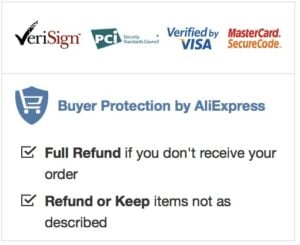 But in addition, payments on AliExpress are protected by various security protocols certified by Visa, Mastercard, and other companies. Payments and refunds are managed through AliPay, one of the most popular virtual payment companies in China.
At AliExpress they use their experience and knowledge to make sure your payments are safe, applying an Escrow or Trust system, where the page saves your money and does not give it to the seller until you confirm receipt. In our guide on payment methods at AliExpress, we give you more details on how to pay and what is the best system to do it (and yes, you can pay with Paypal at AliExpress).
AliExpress Customer Protection System
There are plenty of satisfaction guarantees (which AliExpress itself explains here and we explain in the article on Buyer Protection in AliExpress). This customer protection applies automatically after you have made a purchase. It's free insurance that protects you when:
When you have placed an order and it has not arrived in the time stipulated by the seller.
When the product you receive does not fit the seller's description.
If the store closes and you have not received your product.
To activate this protection you simply have to open a dispute. From the moment you send us your purchase, we have 60 days of protection (although it can end earlier if we confirm the reception of the product or it appears in the tracking number as delivered).  Once the protection time is over, it is assumed that if you have not claimed, you have received the order and you have forgotten to confirm it. Therefore, although this page is reliable, don't forget to check where your orders are going. In our guide on shipping methods at AliExpress, you have more information on how to track your order and how long a purchase can take.
Please note that insurance and purchase protection only applies if you buy directly from AliExpress and not through the seller paying outside the platform. At AlixBlog we always recommend buying through Aliexpress because it is easier, safer and you will avoid conflicts with sellers.
Sellers and security in AliExpress
Sellers have great importance in the purchase process: they know the details of the product, its quality, and manage the shipment. That's why AlixBlog recommends that before making a purchase you always make an overall assessment by evaluating other consumer reviews of the product and the reputation of the seller.
AliExpress was well known for its replicas but now they are banned. In recent years they have strived to become the reference site for buying the best Chinese and international brands through authorized sellers. It is increasingly difficult to find stores without reputation or express stores that want to scam us. Now it is the Chinese brands themselves who are looking to open a store to increase their international sales on a secure platform. So forget about looking for replicas, in our article Best Chinese Brands of AliExpress we show you alternatives and official stores of your favorite brands.
Although it is still possible to find some very well hidden replicas, AliExpress also protects you if you receive a product that you had been assured was authentic turns out to be fake. In these cases, AliExpress will refund your purchase and punish the seller by lowering his reputation or closing the store. If you want to know how to differentiate an original product from a replica, click on the link above.
Aunque aún es posible encontrar alguna réplica muy bien escondida, AliExpress también te protege si recibes un producto que te habían asegurado que era auténtico resulta se falso. En estos casos AliExpress te devolverá el importe de tu compra y castigará al vendedor bajándole la reputación o directamente cerrándole la tienda. Si quieres saber cómo diferenciar un producto original de una réplica pincha en el enlace anterior.

In short: Is it reliable to buy from AliExpress?
Our final opinion on whether it is reliable to buy from Aliexpress: We truly believe that AliExpress is reliable and safe, as they have very elaborate measures in place to protect their customers. We can see that AliExpress is striving to protect its consumers on a daily basis by constantly improving and more severely punishing all sellers who break the rules. In our article on how to avoid scams on AliExpress, we give you more tips for safe shopping on this platform.
In our blog, you will find all the help you need to know the best products, brands, and stores of this platform, but we also have an interesting section with tutorials where we give you tips and tricks to learn how to buy safely on this page. A good example is our definitive guide about AliExpress, a must-read that I recommend you to read both if you are new or if you have any doubts.