You can see all the guarantees and shipping times directly on AliExpress by clicking here. And see all the frequently asked questions resolved in this other link.
This blog was created in 2014 to solve the doubts of those people who made their first purchases on AliExpress, because then almost no one was buying from China.
We had already been buying on AliExpress for a few years (the site exists since 2010), and the question we were asked the most was "Is it safe to buy from AliExpress?", so we wrote this opinion article explaining that there was nothing to be afraid of.
Surprisingly, after all these years people are still coming to this post with the same doubt ("Is it trustworthy?"), so we decided to rewrite the whole post to explain why AliExpress is getting safer and safer.
Because if AliExpress was safe in 2014, imagine how much safer it is now, after having introduced countless improvements.
Understanding how it works
Main article: How AliExpress works
AliExpress belongs to Alibaba Group, a Chinese ecommerce giant. As its main market is China, it may not sound as much like other well known big stores in your country… But in reality Alibaba is a company so big that it can only be compared to Amazon.
Companies do not reach that size by ripping off their users, they do so by doing the opposite: working hard so that the buyer is satisfied, becomes a regular customer and speaks well of the company among their acquaintances.
In fact, in the AliExpress business model, user satisfaction is especially important, because it is not a normal store but a "marketplace". A place where we can buy directly from hundreds of thousands of Chinese manufacturers and merchants.
This means three things:
A lot of middlemen and commission agents are eliminated, so prices are much, much lower.
AliExpress acts as your "protector" and only releases the money to the seller when you approve what you have received.
Sellers are OBSESSED with giving good service to get good reviews, because without them no one wants to buy from them.
If you are familiar with Amazon, the AliExpress model is very similar. The only differences are that AliExpress does not have its own stock (Amazon does) and the prices are considerably lower.
Is it safe to use credit card?
Many readers are wary of entering their credit card details on AliExpress, and this is usually for two reasons:
The first is fear that some hacker could get hold of that data. And let us tell you that this is completely impossible, because companies of this caliber invest millions in cybersecurity protocols that completely shield that information.
Data between server and client is sent with SSL encryption. In the case of AliExpress, it uses VeriSign SSL encryption, which currently has the highest level of commercial protection, so it is completely impossible for your data to reach a third party.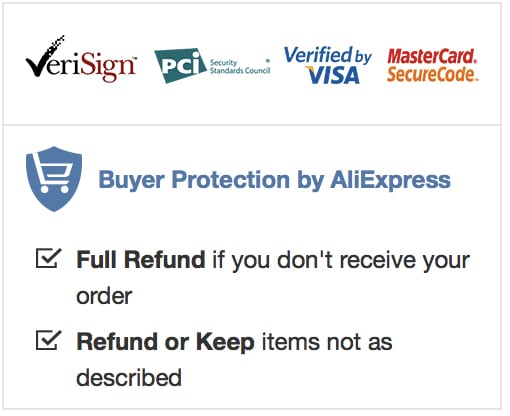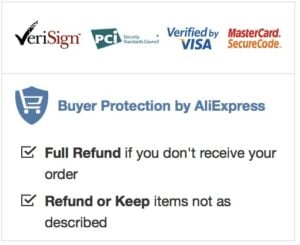 Also, besides AliExpress measures, there is a huge security layer of your credit card provider (VISA, Mastercard…).
The second concern for buyers is that, once they have entered their card details, they may be charged unwanted fees.
This can never happen: if you buy a phone case from an AliExpress seller, he will never have access to your payment details. It is stored securely on AliExpress' side, and will only be used when you decide to make another purchase.
In over a decade of AliExpress life, we have not encountered a single complaint about an unwanted charge.
Of course, if you still don't feel at peace, you can always delete the card after the purchase is complete.
Buyer protection system
As we said at the beginning, AliExpress has an extensive buyer protection system (which AliExpress itself explains here).
This means that you are entitled to a full refund if you are not completely satisfied with your purchase. These are the most common cases:
Your order doesn't arrive.
It arrived late.
The product does not match the seller's description.
It is defective.
It is a fake.
It is important to emphasize something: although as buyers we have protection against these circumstances, this does not mean that they happen often.
In 99% of cases, the buyer receives the product on time and in perfect condition, but it is good to know that AliExpress has our back in the remaining 1% of cases.
To request a refund, we use the process called dispute: you open a dispute, present evidence and, if you are right, AliExpress refunds your money.
Therefore, the worst thing that can happen when buying on AliExpress is that you find a weird seller and they waste your time.
And that's no small thing, because imagine you place an order for a Christmas gift and it doesn't arrive on time: even if you get your money back, you may find yourself in a bind and with no time to look for another gift.
That's why it's so important to know how to choose a good seller, and now we'll explain how.
Picking a good seller
Main article: Knowing if a seller is trustworthy
When shopping on AliExpress, it is crucial to look at two things:
The seller's rating.
The product rating.
The first will give you information about the seriousness of the seller: if he has a high percentage of positive ratings and many followers, you have the certainty that he will not send you something late or in bad conditions, and that if there is a problem he will do his best to solve it.
This is what a reliable seller looks like: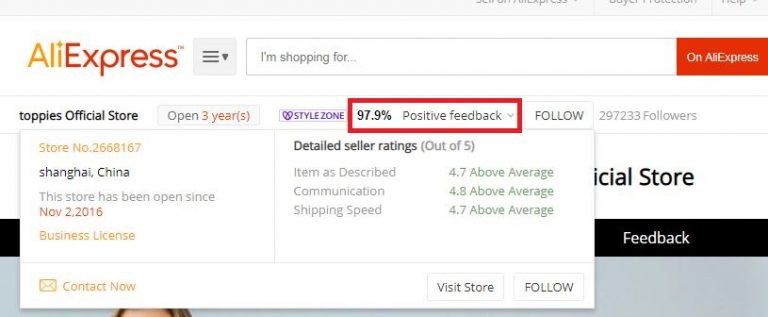 As a general rule, if it has more than 90% positive reviews, there is no reason to be suspicious.
The second aspect you should look at is the rating of the product itself. This is important because perhaps the seller has a good reputation (shipped on time, etc.), but the product is of poor quality (a garment with bad stitching…).
In general, we do not recommend buying products with less than 4.2 stars. We also do not recommend buying products with no ratings: someone has to be the first to buy, but it's better if it's someone else.
Reviews about AliExpress
Since in the comments many readers asked for our opinion on certain aspects of AliExpress, we are going to address them one by one.
Shipping
Rating: ⭐⭐⭐⭐⭐ (excellent)
Five years ago, AliExpress shipping left a lot to be desired: you would buy something and it would take so long to arrive that it would catch you by surprise.
You'd buy a portable fan in August and it would arrive on Christmas Day.
Fortunately, this has improved tremendously over the years, especially thanks to two factors:
Local shipping.
Fast international shipping.
For a few years now, local AliExpress warehouses have been available in several other countries. Thanks to them, orders no longer take 60 days, but 3 to 7 days.
On the other hand, the Alibaba group has made a strong commitment to speed up its international shipments and it takes less and less time to deliver packages from China. 10-Day Delivery is already available in some countries.
But Alibaba is not satisfied with this and is working on something completely revolutionary: international deliveries in 72 hours. You don't have to be a logistics expert to realize the merit of sending something from China to the US in just three days.
Variety
Rating: ⭐⭐⭐⭐ (notable)
Why do we only give a notable to a store whose catalog has millions of products?
Because there are still many users looking for replicas. And it's been several years since they disappeared from AliExpress.
No, you will no longer find counterfeit products on AliExpress. But you have many other options that should help you forget about replicas.
Prices
Rating: ⭐⭐⭐⭐⭐ (excellent)
There is nothing to argue about here: AliExpress prices are unbeatable.
Just go to Amazon, look for any Chinese-made product and you will see that it is two or three times more expensive than on AliExpress.
This is normal, because Amazon is full of companies that are dedicated to buy on AliExpress to resell at higher prices.
Warranties
Rating: ⭐⭐⭐ (pass)
We've told you before how strict the warranties are that protect the buyers until they receive the product.
However, in our opinion, this warranty period ends too soon.
After marking a product as received, you have 15 more days to open dispute, but then you are left unprotected (unless your product has the AliExpress free return).
Fortunately, many products now have the option to take out local repair warranty:
Customer service
Rating: ⭐⭐⭐⭐ (remarkable)
If the dispute is justified (there was a delay, you got a broken product, etc), AliExpress will agree with you and you will get your money back.
But if you have a problem out of the ordinary, it can be quite difficult to get in touch with a human operator to explain your case.
Quality of goods
Rating: ⭐⭐⭐⭐⭐ (excellent)
The cliché of poor Chinese quality is a thing of the past.
The Chinese industry has been developing at a frenetic pace for 40 years and its quality standards are easily comparable to those of the USA, Germany or Japan.
In fact, many of the products that today are advertised as "American" or "German" are actually Chinese-made. With an inflated price, of course.
But remember that on AliExpress there are millions of products and there can always be some of low quality. That is why it is so important to check the reviews.