Nest beds help babies feeling protected and calm since, in a certain way, they imitate the environment of the mother's womb, where they spent their first months of life. That is why baby nests are a great option for co-sleeping or as crib reducers. They can be transported easily, so you can take them outside the home when you are traveling.
Besides, nest beds can be adapted to the growth of your little ones and become a changing table, a protective cushion, or a protected play area. If you want to know how to get the best baby nests for less, read on to find out how to find them at the best price on AliExpress sales platform.
Best baby nests brands available on AliExpress
This online sales platform is one of the best ones to buy baby products. There are very economic and high-quality specialized Chinese brands, a great option for future parents that don't want to spend a lot of money. There is a wide variety of baby nest cribs as you can see here, but we have selected the best brands for you to buy with complete confidence. We will also compare them with the most popular baby nest brands such as Sleepyhead, Chicco, or Jané.
1 – UniCare
We start with one of the brands with the best-selling co-sleeping nests on the platform. It's called UniCare and it specializes in baby nests, crib bumpers, and other bumpers for the little ones. From this link, you can access its official store on AliExpress, which is classified as a top brand for its great customer service and the quality of its products.
Their baby nests are very low-priced and of great quality. Among the best sellers, we will show you some models specially designed to be transported, which makes it a great travel accessory. They can be completely disassembled to wash separately and both the fabric and the filling are of very good quality. An ideal gift for those who are expecting a baby.
Almost all their co-sleeping nests are designed to open at the bottom. The small confection details make the difference: high-quality sponges, softer knots, super soft cotton filling … Check the dimensions of their cradle nests, because there are several models according to age. Some can be adapted to the different stages of the baby or can even be used as a breastfeeding or pregnancy pillow.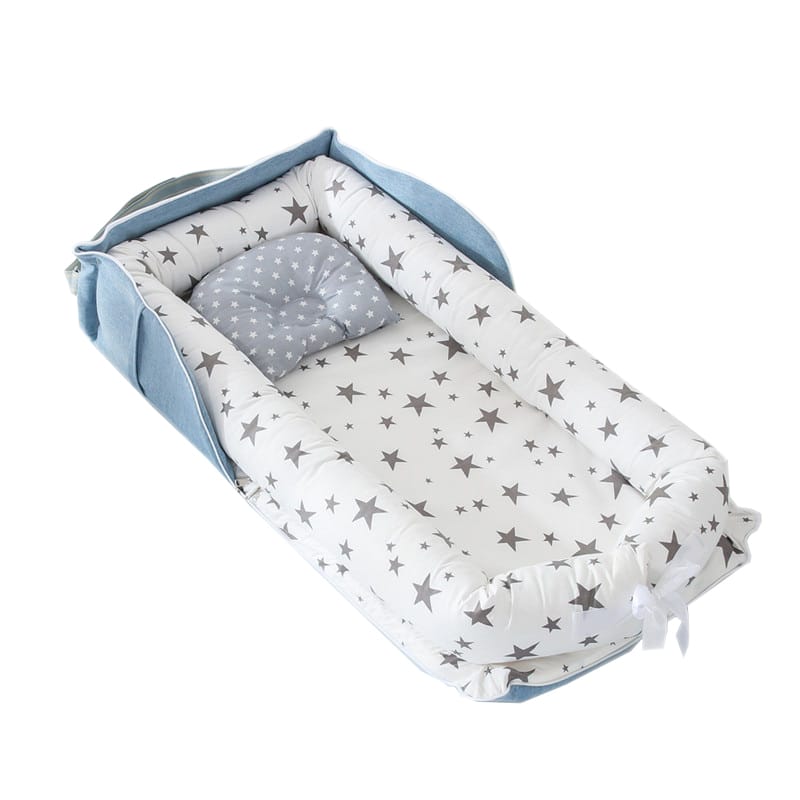 2 – AAGBaby
This AliExpress store specializes in children's products: accessories for the bathroom, strollers or food. Among all of them, their co-sleeping nests have surprised us. They have a wide variety of nesting cribs for babies with beautiful patterns, you can find them for the different stages of the baby, and there are also evolving co-sleeping nests. You can check them by clicking here. All have a high quality both in their manufacture and in the finishes.
Among the models that focus on certain stages of the baby, we will find several ones with specific dimensions that are very useful for the initial months. They take up little space and have a high quality both in their filling and in the washable cover. Some include a practical pillow to prevent flat head syndrome and serve as a pregnancy pillow or a nursing pillow.
You can also find other models that can be used during different stages of development, they can be adapted to the size of the baby through ropes finished in a loop. The covers are made of extra breathable cotton and the mattress is high-quality viscoelastic. In some, you can find interesting details such as side handles to transport them more easily.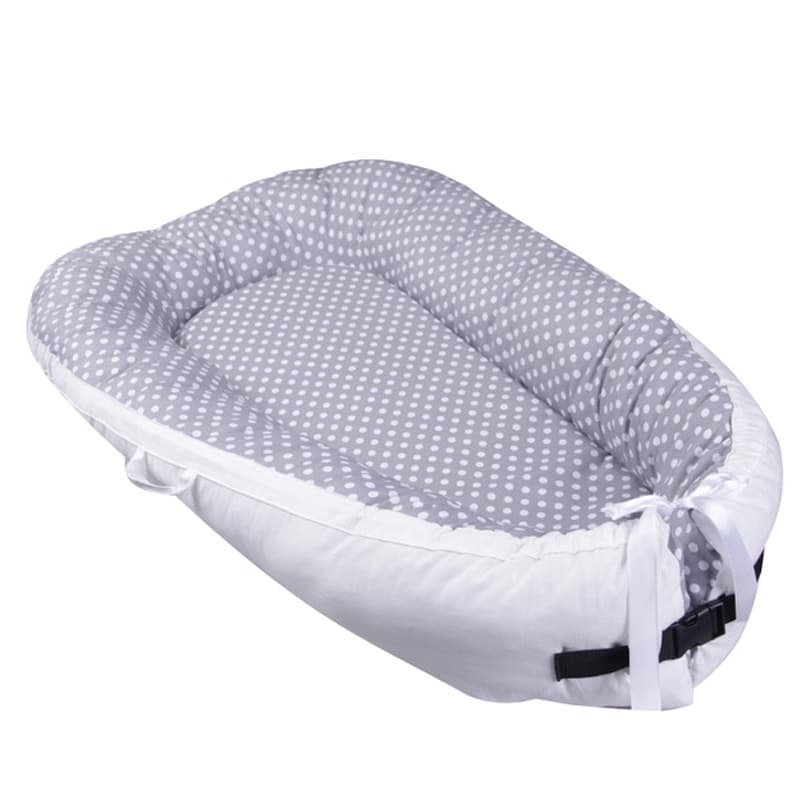 3 – Jaju Baby
If you are looking for a very special baby nest set, Jaju Baby specializes in these products and has the most unique baby and co-sleeping nests on the platform. They are of the highest quality and their design is beautiful, with original patterns and details such as a blanket or stuffed animals to match the nest. This brand ships from Turkey. At their store, you can find baby nests and also other accessories, as you can see in this link.
Their co-sleeping nests are made of 100% antibacterial and antiallergic organic cotton fabric. It is a first-class fiber that absorbs moisture and steam to prevent your baby from sweating. Its covers are finished with a zipper to be able to wash them easily. Inside, we will also find a sponge mattress that absorbs moisture and steam.
Nest-type models have handles on the sides for easier portability and the bottom can be opened, so they fit babies up to 2 years old. Also, some nests can be adapted as a baby play mat by opening on all sides, and others include more accessories such as sheets or head pillows, but they all have their great quality in common.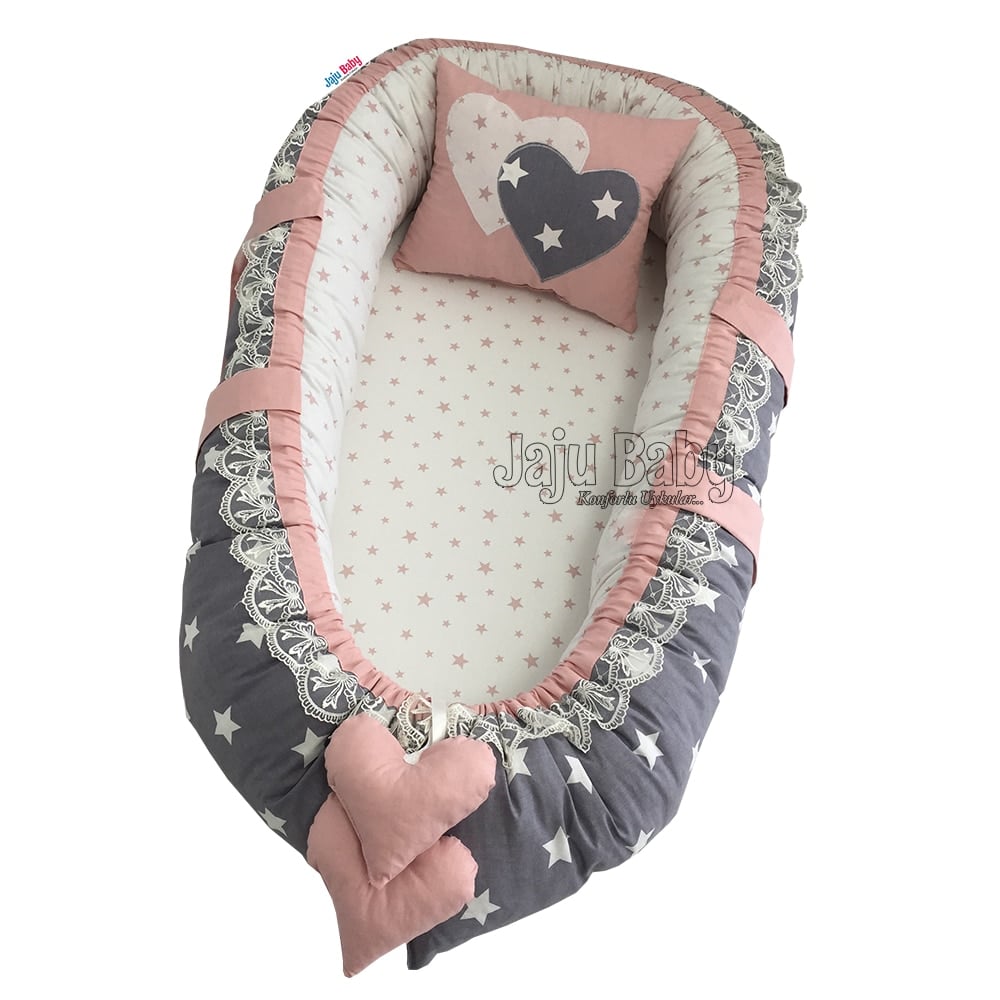 4 – Sunveno
Sunveno is one of the best brands to buy high-quality baby products. They have everything, from backpacks to power accessories. Although they don't have as many nests for babies as other brands, their high manufacturing quality deserves to appear in our selection. You can find them by clicking here.
Although the fabric of their models is not that colorful, what is important is the quality of their components. Baby nests from this brand are ideal for newborns and babies up to 36 months. They are also compatible with other accessories, such as an arch to place mobiles or a mosquito protection net.
Its foam side pillows are 5 inches high so it works as a protective barrier. The lower mattress is made of three layers and has an inclination of less than 5º to keep the baby's stomach horizontal and improve digestion. Its covers are made of cotton and can be easily removed to put them in the washing machine.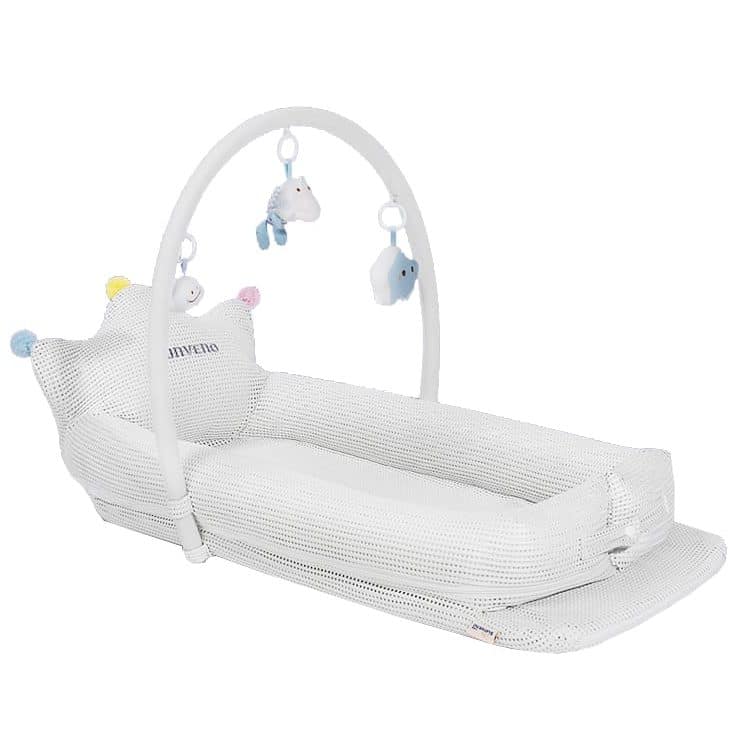 5 – YiCow
Whatever type of baby nest you are looking for, in the YiCow store you have more than 100 different models, portable and folding bassinet models, evolving baby nests, and other more beautiful ones with braided pillows ideal for photos. Besides, their prices are among the most economic that we have seen so far as you can see in this link.
Features may vary depending on the model, although most have in common the material with which their covers are made (cotton and other natural materials), the side handles to be able to transport them easily, and the lower opening so that babies can use them from the birth to 24 months. If you have not yet found anything that suits your tastes and needs, go and take a look at their store, where you will find economic and high-quality baby nests (some models are even offered for a higher price on other platforms).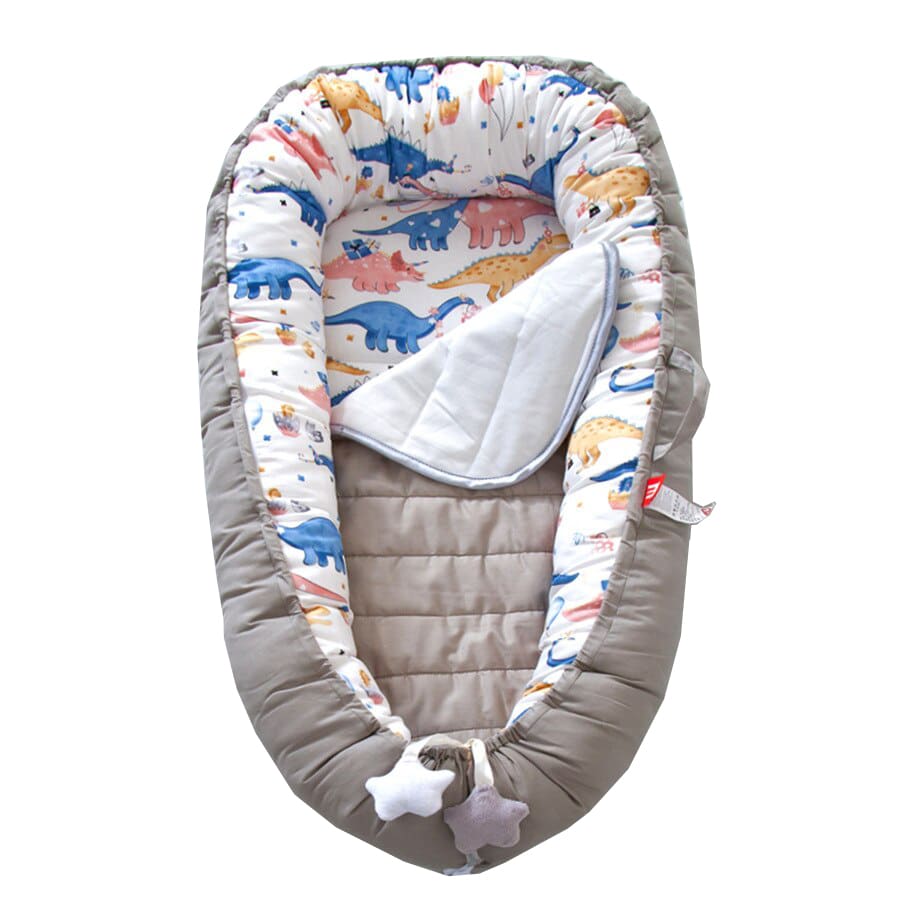 Types of baby nest cribs that you can find on sale in AliExpress
We have mentioned that many of these brands have different baby nests models, so we are going to talk a bit about the advantages and disadvantages of each type.
Cradle reducer nest
It is a single piece composed of a base and a protective barrier around it, and it serves to place the little ones in the crib from the time they are newborns, generating a comfortable space that simulates the mother's womb. If the protective pillow can be opened at the bottom, the baby will be able to use the nest for longer as a space to play or sleep, since the length will not be limited.
Multifunction nest
Multifunctional baby nests have a lower mattress and a pillow around them, these two components can be used separately, so the pillow can be used as a nursing cushion or as a protective barrier in the crib. Also, there are some circular nests that can be opened to become a play mat.
Portable nest
There are some nests that can be easily folded up for transport. They are ideal for traveling parents or visiting family and friends. The nest itself has a cover with a handle to be able to transport it, although some models simply have side handles.
Things to consider before buying a baby nest
Before buying a baby nest, take a good look at the following aspects. These are the most important features that a co-sleeping nest should have and they are essential to buy the best one, according to your needs.
Fabric and padding
The baby will be in direct contact with the fabric of the cover, so it is essential that it is made of a natural fabric such as cotton. There are some brands that use organic cotton with antibacterial and anti-allergy treatment. A quality padding will also help the baby to be comfortable and sleep peacefully.
Washing
Everything that is in contact with a baby's skin must have good hygiene, so it is essential that your nest crib can be easily washed, either by removing the outer cover or by putting the entire baby nest in the washing machine.
Size and closing
Portable or multifunction cribs are larger than crib reducers, so take a good look at the dimensions, it will also allow you to know up to what age the nest crib can be used. If the bottom has a closure or zipper to expand the surface of the mattress, it should be resistant.
Price
As we have been saying, in AliExpress you can find very low-price nest cribs for babies, but what price do we consider low? You will find some references below so that you can assess it for yourself:
The best co-sleeping nests from well-known brands like Sleepyhead, Born Copenhagen or Jané can cost more than US$ 120.
Baby nests of other secondary brands in specialized baby stores can cost between US$60 and $120.
On AliExpress you can find very cheap baby nests, the price can range between US$18 and $50, depending on the brand and model.
Is it safe to buy baby nests on AliExpress? Which guarantees do they offer? Is it easy to return the product if I am not satisfied with it?
When we look for a baby nest, besides big department stores that sell everything, we also have thousands of pages specialized in baby products. However, buying nest cribs for babies and other children's products on AliExpress is a great idea: you will equally find stores specialized in children's products, and you can find co-sleeping nests of high-quality at a lower price. Some online stores even buy their products to these same Chinese brands.
This platform increasingly offers more facilities to buy with total security. If we get a product that doesn't match the description of the product, we are free to claim our money back. Some sellers offer free returns up to 15 days after you receive the product, although it is not yet available in all stores and countries. We recommend reading our Guide on Refunds, Returns and Disputes for more information.
Get your nest crib at the best price with special offers and coupons
Another reason to buy on this online page is the constant special offers that allow us to save even more money: we can get coupons directly from the platform, the seller, or the selection coupons, and combine them until we can buy a baby nest with the best discount. To be informed of the best sales we recommend visiting AliExpress home page, and if you want to know how to get these coupons and discounts, in our section of tutorials you will find lots of tips that will save you money.
Now that you've seen the best nest cribs for babies on AliExpress, would you buy them on this platform? Have you already bought one before? We would love to hear your opinion, do not hesitate and leave us a comment below with your shopping experience.