Although nowadays there is greater acceptance towards body hair than in the past, epilators are still one of the most demanded beauty products by men and women around the world. Thanks to their big advertising campaigns, Braun or Philips epilators are the best known in the market, but for the same reason, they are the most expensive ones. However, tons of economic epilators can be found very easily on the internet.
AliExpress is one of the best platforms for getting special offers and discounts on all kinds of products. There, you can find lots of different beauty products: razors, hair clippers, and also economic epilators from specialized Chinese brands. They are in high demand because of their high quality and very reasonable price.
If you are looking for the best low-priced epilator for you, be it an electric epilator or an IPL laser epilator, here you will find an analysis of the best models available in AliExpress. We will give you some tips for buying an epilator with good value for money, and also will explain the main features that you should pay attention to. Know the different kinds of epilators available, as well as the pros and cons of each one.
Best brands of epilators available on AliExpress
Finding these cheap epilators on AliExpress is very easy. As you can see here, there are thousands of models for sale with excellent reviews. But we recommend that you look especially at the epilators of brands specialized in beauty products; they are from well-known brands in China that sell through this platform, and some of them are also popular in many countries.
Kemei
For starters, one of the most popular brands to buy low-priced beauty products on AliExpress. This brand offers very inexpensive razors, hair clippers, and epilators for men and women. This Chinese brand is really popular, thus it can be found in many stores, as you can see in this link. It has a wide variety of epilators for eyebrows or multifunction, and some even have massage heads.
Their best-selling epilators are cordless and electric, they are very low-priced and work wirelessly. Some models allow you to change the head to function as a shaver, others allow you to modify the speed, but in general, we can say that they resemble the Braun or Philips electric epilators, although at a much more adjusted price.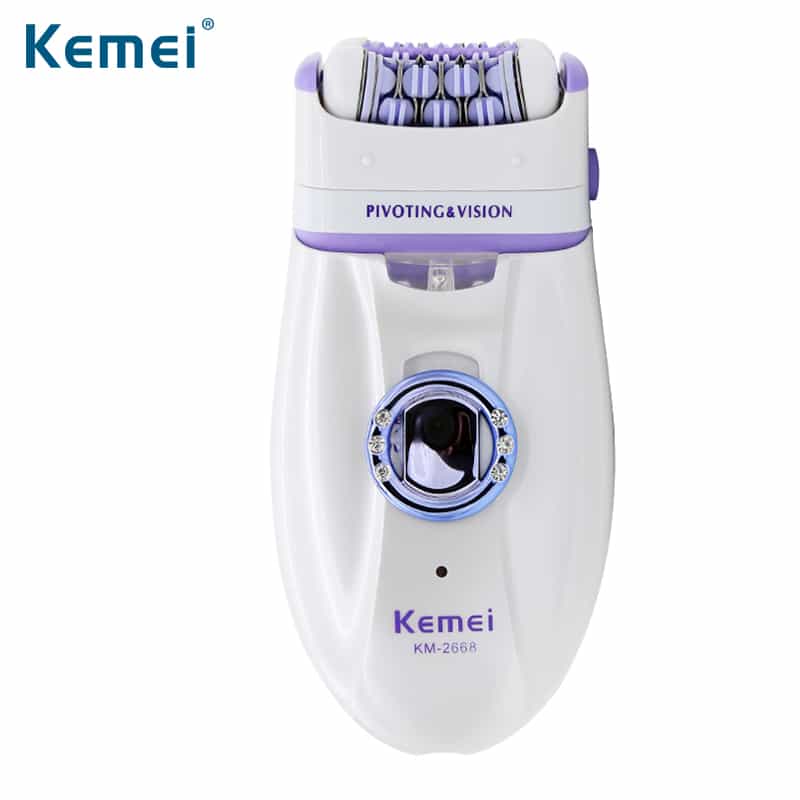 Xiaomi
This is one of the most popular Chinese brands thanks to its great value for money products. Although they started by making smartphones, now they have practically every kind of product. Many brands are part of the Xiaomi group and are specialized in different beauty products, for example, inFace, that specializes in economic IPL laser epilators. You can see them here.
They use a long-lasting ipl flash with up to 900,000 effective flashes and an optical filter to block ultraviolet rays, thus safely removing hair while protecting your skin. The head has a larger contact area so it can cover a larger skin surface. The power can be adjusted so it is an ideal laser epilator for men and women.
Surker
Surker is quite similar to the aforementioned brand Kemei: it specializes in small beauty devices at a very affordable price. This Chinese brand has a wide variety of very economic epilators with good features. It has epilators with thread, electric ones, for eyebrows … You can find them all in this link.
Their best-selling and most popular epilators are small pocket razors that allow you to touch up your facial hair. They have two heads, a larger one for large areas and a smaller one to depilate in more detail, ideal for reviewing our eyebrows. They are very low-priced and ideal for trimming our facial hair without pain.
Babyamyy
BabyAmy is specialized in facial beauty products. Their IPL laser hair removal machines are very popular although they also have mesotherapy machines, oxygen exfoliants, ultrasonic cleaners … All their products can be purchased through their official store in AliExpress which you can access from here.
Its laser epilator machines with IPL technology are known for their low price. The latest models include a flash of up to 500,000 pulsations, with 2 flash modes. The intensity can be adjusted up to 5 levels and it has a security system by which it only works in contact with the skin. They are the best alternative to expensive Philips Lumea epilators.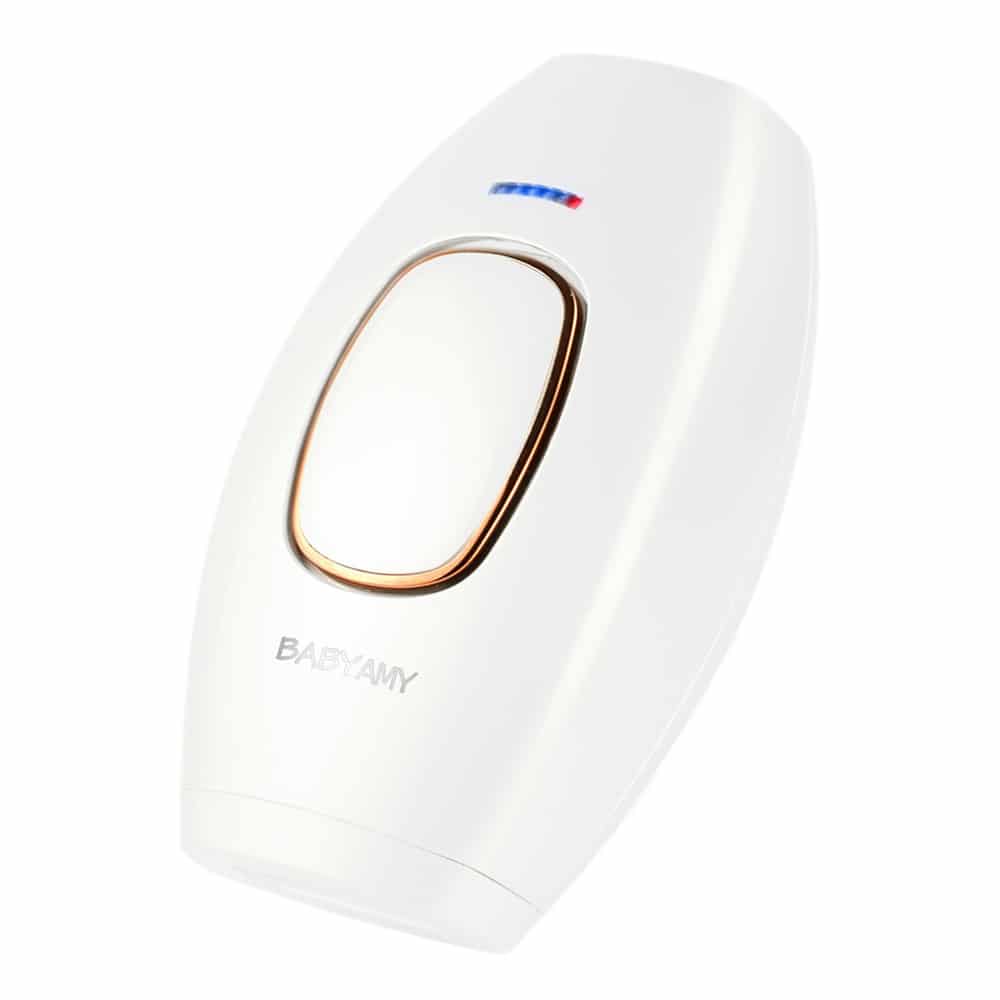 Beauty Star
But if you want professional hair removal machines, in AliExpress there are also beauty stores with this kind of epilator machines. Beauty Star offers the best IPL laser hair removal machines, has some professional machines at a very reasonable price, and also compact IPL laser epilators for home use. You can find them all in this link.
Their most professional IPL laser epilators are ideal for all types of hair and have two heads, one to remove hair and the other to perform facial rejuvenation treatments. They are interchangeable and can be used to taste. The intensity of the machine can be adjusted with 10 levels and it promises to remove up to 96% of the hair after several uses.
If you only intend to give them a home use, their compact Beauty Star IPL laser epilators are a good option since they are very cheap. They come in several models and are quite similar to the BabyAmy epilators. Some of them have less pulsation but others are better, with more pulsations or even a screen to configure the epilator according to your preferences.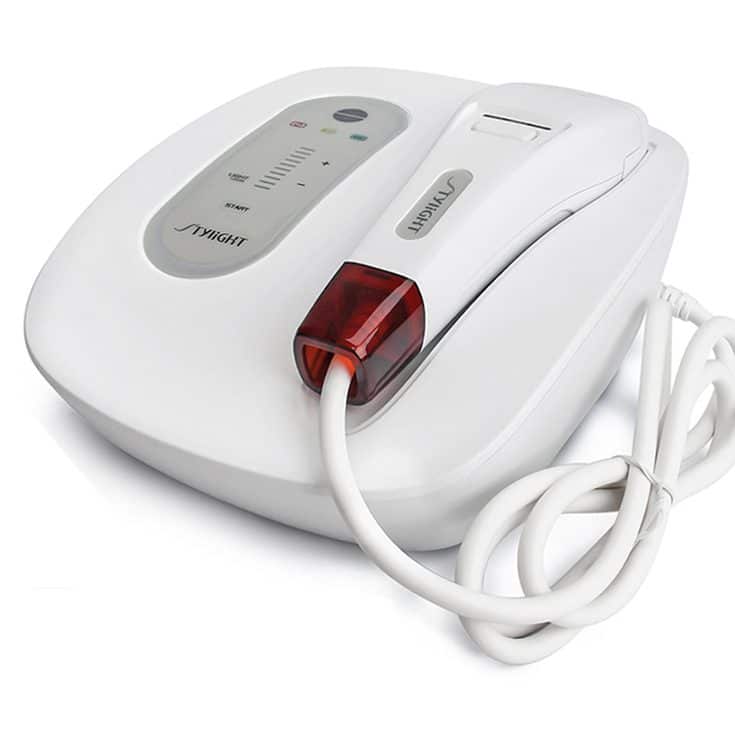 Other epilator brands on AliExpress
You will find so many brands on AliExpress, that it's impossible to analyze them all. The ones we showed you here are the most popular, but there are other interesting models, even from international brands like Braun or Philips.
Types of epilators that you can find on sale on AliExpress
Now you know the most popular epilator brands on this platform and what their best features are. Some brands are specialized in a specific type of epilator and others have several, so below we are going to explain the advantages and disadvantages of each type of epilator.
Laser epilators
Laser hair removal eliminates hair permanently by emitting light. There are different types of laser hair removal depending on the wavelength. Alexandrite or diode lasers emit high-power waves, which is why they need a lot of energy and are heavy machines that can only be used by professionals in certified medical centers, as there is a risk of burns if not used correctly
Pulsed light epilators
Also called IPL epilators, they are a type of laser epilator with a wide spectrum of wavelengths. They are effective on all skin types and very safe, which is why in recent years there are more and more epilators with pulsed light to use at home. Their great advantage is that they permanently eliminate hair over time and are very safe, on the contrary, they are more expensive than other epilators. You can easily find them by clicking here, or read our Guide to Find Intense Pulsed Light Epilators for more details.
Electric epilators
They are the most popular epilator machines. They pull the hair out by the roots and therefore the effect lasts longer, although it does not remove hair permanently. An advantage is that they are easy to use, on the contrary, the hair must have a minimum length to be able to use them. Most are wireless and some have multiple heads to suit different parts of the body. They can be found at this link, and you can find further information in our Analysis of the Best Electric Epilators (Span.).
Facial epilators
There are specialized epilators for facial use. This hair is finer and needs some extra precision. They can be used to remove hair from eyebrows, sideburns, chin, upper lip, frown … Some have different heads to adapt to each area. They can be easily found by clicking here.
Threading epilators
Threading has many partisans. It is a natural hair removal system that uses a thread loop that removes even the finest hair at the root. It is a good method of facial hair removal since after several sessions it is less painful and removes more hair. But it takes some practice to perform this type of hair removal and it is not recommended for people with acne, as it can cause injuries. Economic thread epilators can be found on AliExpress from this link.
Eyebrow epilators
If you want to pluck your eyebrows effortlessly, there are increasingly better alternatives to the classic tweezing. Some people opt for thread epilators, but it is a method that requires practice. If you don't want to complicate things, there are electric eyebrow epilators that trim the hair in this area. They are very practical and cheap, on the other hand, they do not pull hair by the roots but can easily be carried in your bag for touch-ups. You can find them on AliExpress by clicking here.
Epilators for men
Male hair is usually thicker, so men's epilators tend to have more power. Besides, they do not usually pull out the hair by the roots but shave it with blades. The advantage is that they are easy to use, however they do not cut the hair completely; it will remain with a certain length. You can find them at this link.
Aspects to consider before buying an epilator
As you can see, there is a wide variety of epilators and they can be found very easily through this popular online sales platform. Before recommending these brands, we have looked at the most outstanding features of their best epilator models; but if you are looking for a particular model, be attentive to the following characteristics.
Connection
Today most epilation machines work wirelessly, but most use rechargeable batteries to avoid having to change batteries. Besides, they can also be used plugged in if we have forgotten to charge them. It is important to look after the autonomy and the type of charger connection.
Water resistance
If you want to epilate underwater or with wet skin, look for models of waterproof epilators, both in their blades or epilation discs and in their bodies. But take a good look at the description as not all epilators are water-resistant to the same degree.
Heads and accessories
Some of these epilators are multifunctional, that is, they can change heads to adjust to different uses. Especially when we talk about electric epilators, some models can change their heads to shave the hair instead of pulling it out, giving a massage, or waxing the bikini
Minimum hair length
Many people cannot bear to wait a long time until they can epilate, so take a good look at the minimum length of hair that each epilator needs to use it. Certainly, razors or machines with blades can shave even the shortest hair, while electric epilators need a few millimeters.
Maintenance
It is important to bear in mind that epilators need some maintenance. For instance, IPL pulsed light epilators need to change the heads every so often and electric epilators have to be cleaned well so that they do not lose effectiveness.
Price
Thanks to AliExpress, buying a low-priced epilator has never been easier. However, so that you can have an idea of ​​what it costs to buy an epilator from the most popular brands and how much you can save by buying it on this sales page, we are going to leave an approximate price range below:
Braun or Philips pulsed light epilators can cost more than US $360. On AliExpress, you can find inexpensive pulsed light epilators from US $35.

Electric epilators of these popular brands cost between US$ 50 and $180 depending on the characteristics. In AliExpress you can find electric epilators from US$ 12.

Epilators or facial or body shavers from Panasonic, Philips, or Braun cost between US$20 and $60. On AliExpress, you can find them from US$ 5.
Is it safe to buy epilators on AliExpress? Which guarantees do they offer? Is it easy to return the product if I'm not satisfied with it?
Although AliExpress was a barely known page a few years ago, now more and more people buy on this online sales platform, where we can find the best Chinese brands and offers. But many people still think that you can only buy technology products, accessories, or add-ons there, and there are still many doubts about how the seller's guarantee works.
Well, in recent years from the page itself they have strengthened buyer protection, adapting their guarantees to that of different local countries, and simplifying refunds in case your purchase arrives wrongly. Some sellers offer the possibility of returning your purchase in the first 15 days without any cost. In our Claims, Disputes and Returns on AliExpress Guide, we explain it better.
Get your epilator at the best price with special offers and coupons
If you want to get the best low-priced epilator on the market, AliExpress is one of the best options. As you have seen, there are both Chinese and international brands. If you want to get even more discount, we recommend visiting the AliExpress main page or our blog regularly, where you will find information on the best discounts and offers.
Besides, both for those who want to learn how to get discount coupons or those who need to solve any doubts, we have a section with tutorials (Span.), where we give you our best tips and tricks. If you still don't know about this sales platform, we recommend reading our Essential Buyers Guide for AliExpress and learn how to buy from scratch.
What about you? Which type of epilator do you prefer? Have you decided to make your purchase already? We would love to know your opinion, so please feel free to leave a comment below.