Curls are all the rage. Until a few years ago, having straight hair was almost the norm: those who had wavy or curly hair suffered to get their hair straight. But in recent years, beauty standards have changed, so many people with curly hair decide to show their curls naturally. Now curls, ringlets, and wavy hair are trending.
You can also have defined curls at home, today we are going to explain how to get the best low-priced hair curlers from AliExpress, one of the best online sales platforms. Forget about hair rolls and other old-fashioned systems, today getting a curly hair is easier than ever with these hair curlers that we are going to show you next.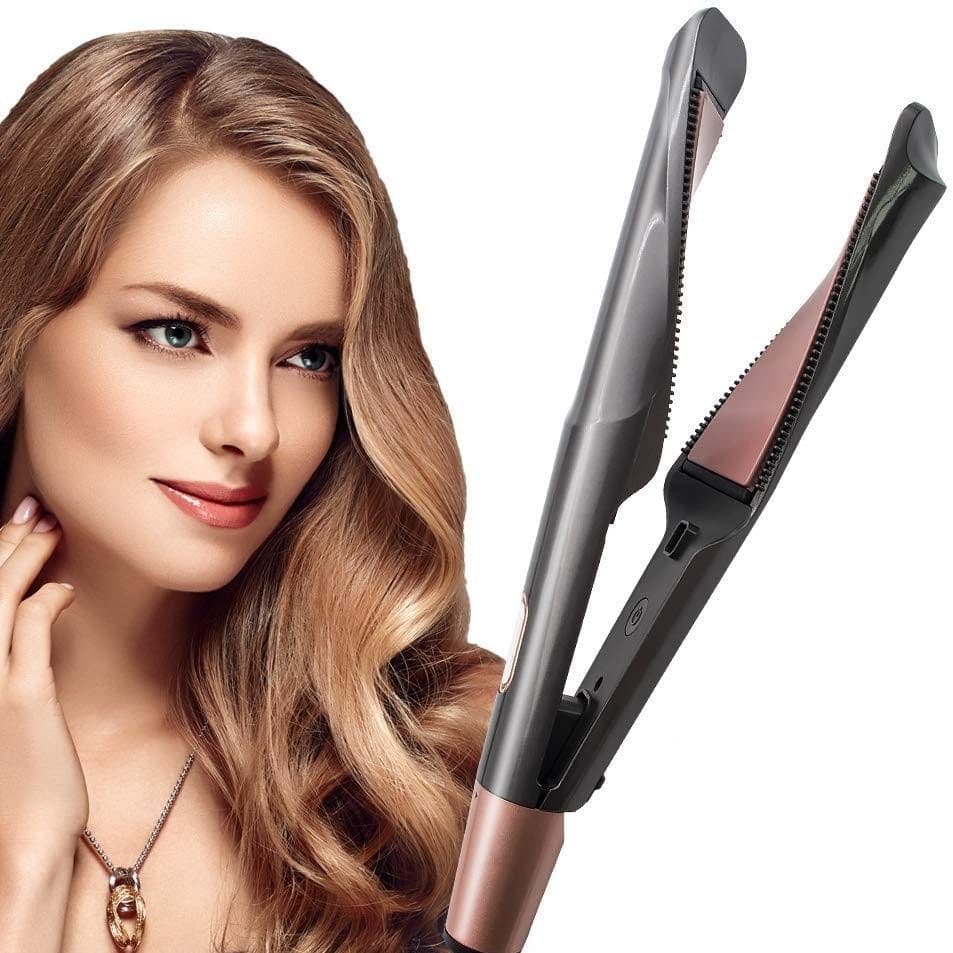 Best hair curlers brands available on AliExpress
With the latest curlers on the market, getting an original curly hairstyle is easier than ever. Curling irons are becoming increasingly fashionable, and brands like GHD and Dyson have already released their own curlers, although they cost a lot of money. We are going to provide some low-priced alternatives from Chinese AliExpress brands that already made thousands of sales in their curling irons, as you can see by clicking here.
1 – Kemei
Kemei is very popular for its inexpensive beauty devices. You can find dryers, irons, razors, hair clippers … And of course, also a great variety of cheap hair curlers. As it is such a well-known brand, it can be found in various AliExpress stores and is easy to find with local shipping (that is often free) from the United States or other countries, which means you will receive your order faster. You can find all Kemei hair curlers clicking here.
It has all kinds of hair curling machines, although without doubt the most popular is the three-cylinder one, which is ideal for curling and waving your hair naturally. But it also has a 1-in-1 curling iron, cylinder curlers, and much more. You can find these products at low prices since their curlers have aluminum or ceramic finishes, and some of them have a fixed temperature.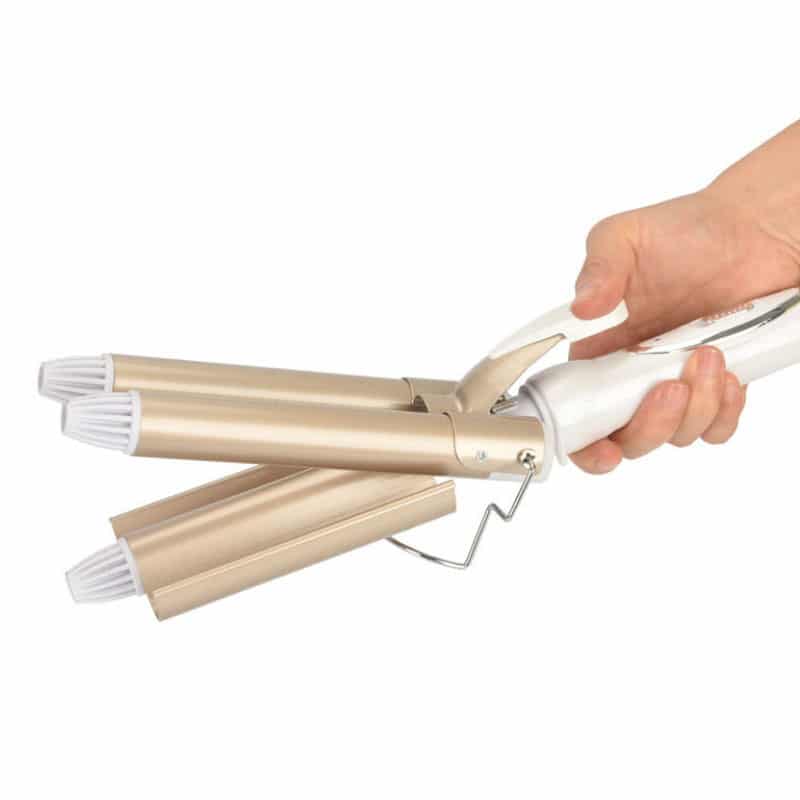 2 – Riwa
Riwa has more and more followers among those who look for beauty devices for men and for women since it is part of the Xiaomi group, one of the best Chinese brands known for the excellent value for money. That's why Riwa's sales keep increasing, and this includes its hair curlers. Although it has its own official store, which you can access by clicking here, you can also find its curlers in other stores, as you can see in this link.
On their shop, you can find several types of hair curlers. The most common ones are the cylindrical curlers with or without a clamp that are very reminiscent of the GHD hair curlers, although it also has many 2-in-1 curling irons and comb-type curlers. Most of their curling irons have a finish that hydrates the hair, for instance, with negative ions and a ceramic or tourmaline coating. Some of them also allow adjusting the temperature of the curling iron and have a 360º swivel cord. Some cylindrical models have a cold tip.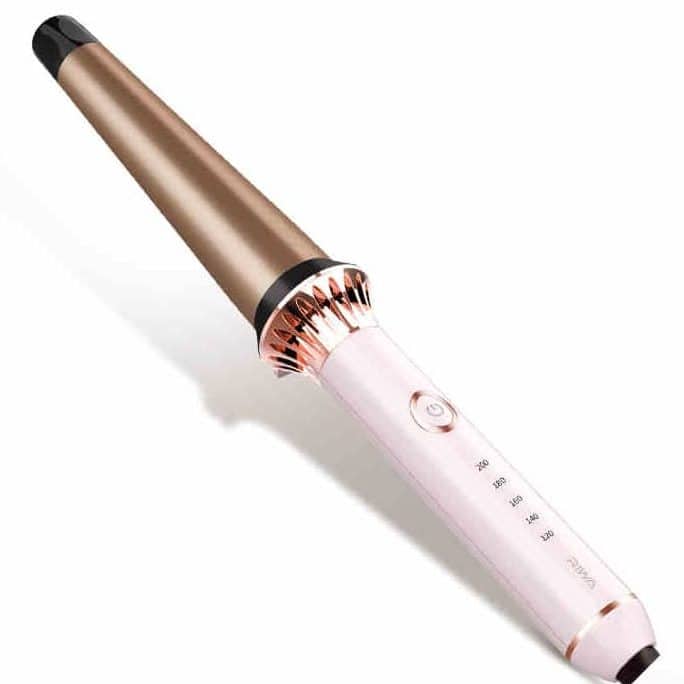 3 – LisaPro
Drying curlers are very practical to quickly style our hair. They have become very popular since the famous Dyson curling iron came on the market, which functions as a styling comb with curling iron options. LISAPRO has some very similar models that you can find by clicking here, or through its official store, which you can access from this link.
The prices of their different hair curlers vary depending on the features of each one. The most expensive ones have interchangeable heads to achieve different types of curls and finishes, an adjustable temperature up to 140 ºC and great power to dry the hair quickly. But you will also find cylindrical curlers with interchangeable heads of different diameters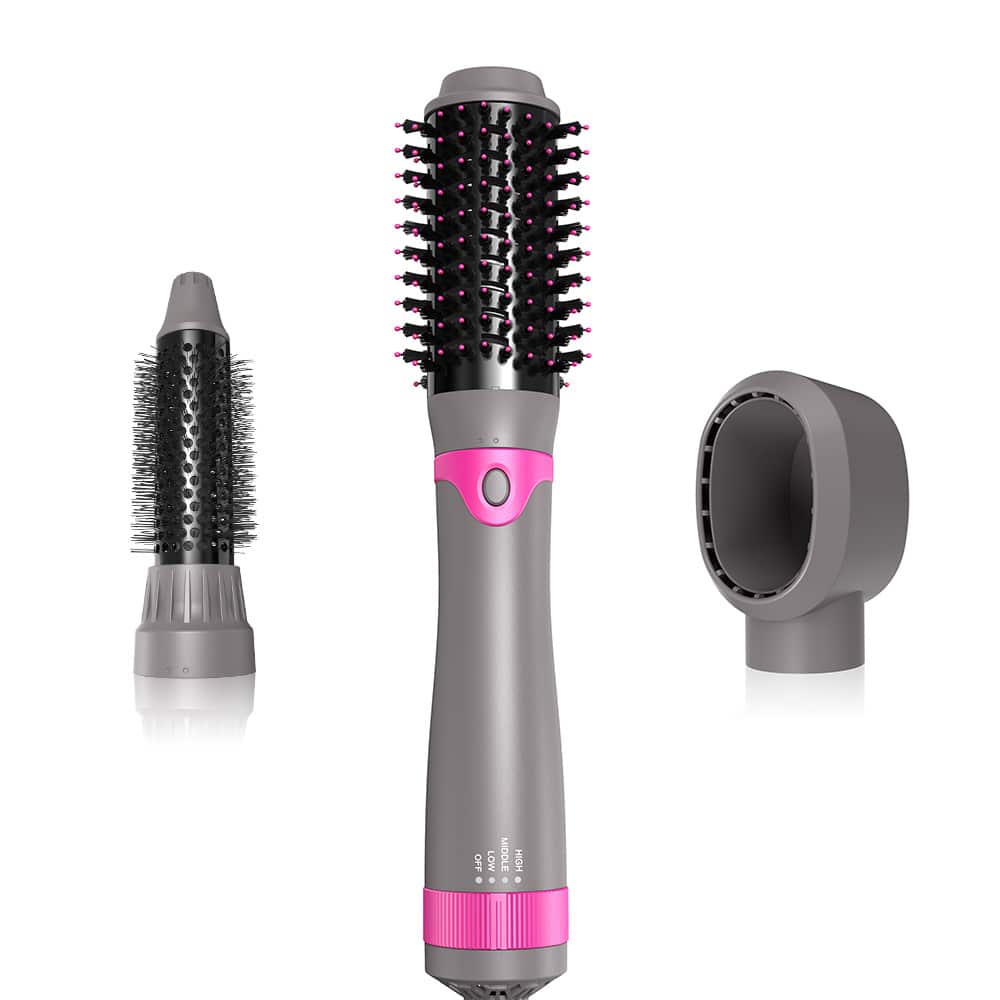 4 – Aofeilei
Aofeilei specializes in hair care products such as blow dryers, heat styling combs, flat irons, or hair curlers. All of their products have very good reviews with more than 95% positive feedback. It is the best store if you want to buy a conical hair curler or an iron with a 2-in-1 curling option since it has several low-priced models, as you can see by clicking here. 
Tapered curlers allow you to shape your hair to your liking, with different diameters and finishes. In the case of Aofeilei curlers, they have a cold tip to avoid burns, an ergonomic handle to work comfortably and a ceramic coating with negative ions to add shine. Even their inexpensive models allow adjusting the temperature, and they include a small support that helps you keep your curling iron away from other surfaces to avoid damaging them.
5 – UKLiss
In recent years, automatic hair curlers have become very popular, as they allow you to curl your hair with little effort. UKLiss brand is specialized in this type of hair curlers and has several different very economic models that you can find in its official store (you can access from this link).
There are several interesting models, but one of the best sellers is one that has a flower-shaped head. Just add a strand and the iron will curl it easily. It works like a cylindrical curling iron but you will avoid having to roll your hair and possible burns. The temperature is adjustable and the cable base rotates 360º.
Still, we recommend looking a bit more in their store. There are other models of low-priced automatic curlers, some of them even work without cables. They are an excellent alternative to Babyliss or Rowenta's automatic curlers, which are very expensive. If you prefer classic curlers, you can also find some cylindrical ones, or 2 in 1, at a very reduced price.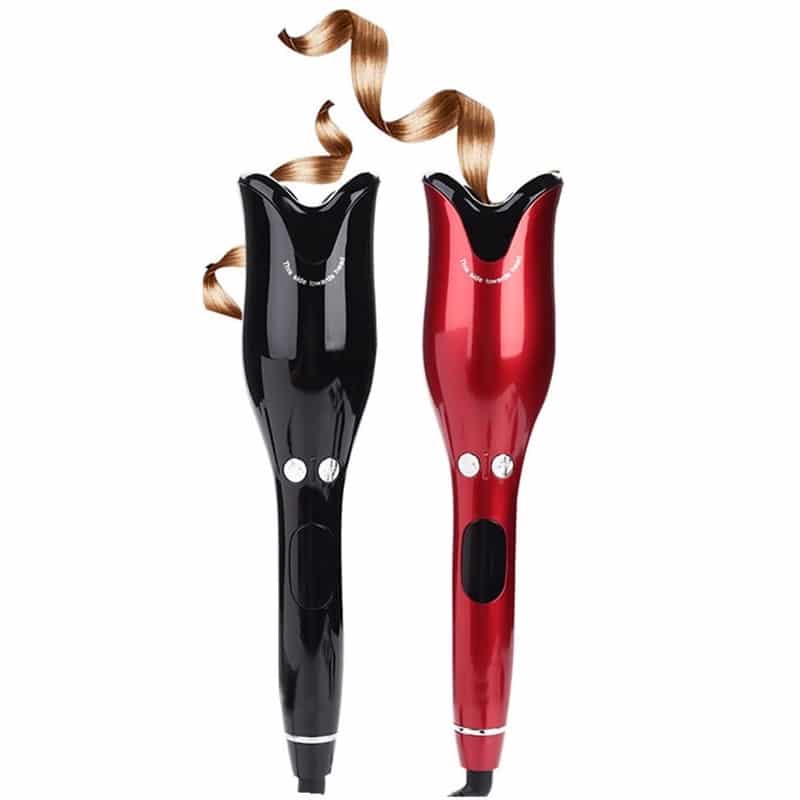 6 – CkeyIn
CkeyiN brand is very similar to Kemei. It has all kinds of beauty appliances for men and women: facial cleansers, LED devices, epilators, or even electric toothbrushes. It has a wide variety of hair curlers and, the best of all is that they have warehouses in China, Spain, the United States, and Russia. So if you live in a country where they have one of these local stores, you will get your curling iron in record time.
You can find all their hair curlers by clicking here to go to their official store. It has all kinds of curlers: cylindrical curlers with interchangeable heads, automatic hair curlers, 2-in-1 curling irons … They are very inexpensive, although some models are basic and do not allow you to modify the temperature. The one you see below is one of their best-selling models since it is wireless, can be charged USB, and is very easy to use and transport.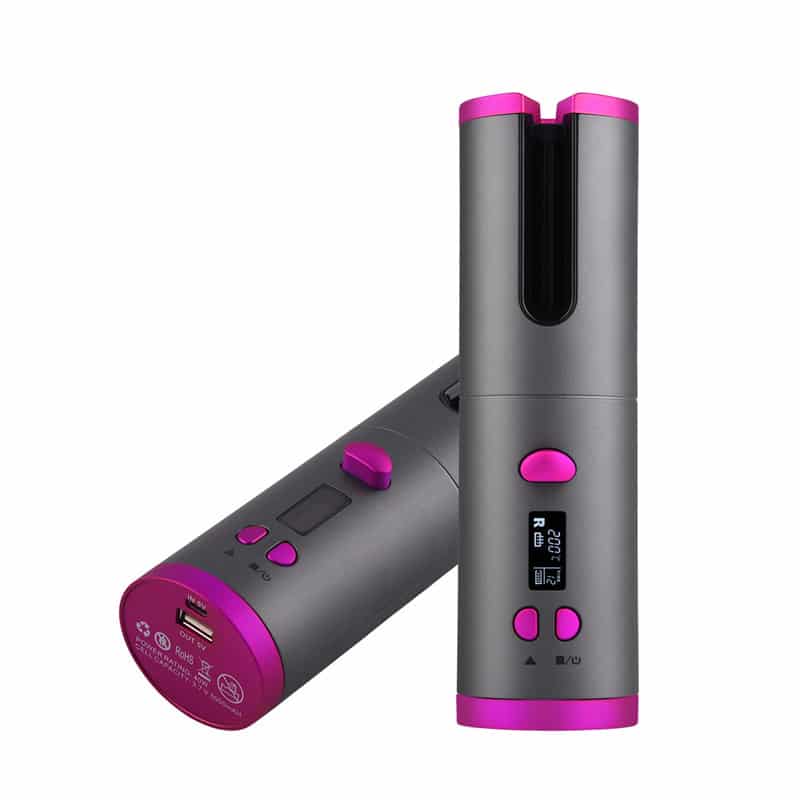 Other hair curlers brands on AliExpress
This sales platform has more brands every time. In recent years they have discarded replicas and have reached agreements with highly reputable international brands. These are some of the brands of hair curlers that can also be found:
Types of hair curlers that can be found on sale on AliExpress
As you can see, not all hair curlers are the same. Some are more versatile and allow you to get different kinds of curls, others are very easy to use to get curls in seconds. Do you want to know which is the best hair curler according to your needs? We shortly explain their features below, as well as some advantages and disadvantages.
Tapered hair curler
If you prefer a curling iron that allows you to experiment with your curves or make more casual waves, we recommend opting for a tapered curling iron. Most of these curlers do not allow the curl to be held, we will have to manually wind our locks around the bar, to do this, it is fundamental to wear a protective glove. You can find these curlers clicking here.
Automatic hair curler
Without a doubt, these curlers are the easiest to use. With an automatic hair curler, you will only need to take your hair strand by strand and insert it into the curling iron to get a curly mane in seconds. However, the drawback is that some automatic curlers do not allow you to adjust the temperature or size of the curl, thus you can't get softer waves.
2 in 1 hair curler straightener
We women have so many beauty devices that sometimes it is difficult to find enough space to store them. If you want to be able to straighten or curl your hair depending on the occasion, we recommend buying a 2-in-1 hair curler and straightener that can help you change your style every time, although you will not be able to define the diameter of the curls. These can be easily found by clicking here.
Hair curler dryer
Most curlers work only with dry hair, therefore we will first have to completely dry our hair. If you want to save time, some curling irons help you by drying and curling simultaneously. You cand find them here. However, the curls will not be as defined as with a regular curler, but it is a good way to get a wavy or curly mane with little effort.
Hair curler for big waves
Waves are also in fashion, they are great for people with straight hair who want to give their hair extra volume. There are special hair curlers to make these big softer waves. They usually have several tubes, or a large tube with a large diameter, which allows achieving this beautiful effect. You can find wave irons by clicking here.
Professional hair curler
Hair curlers for professionals are designed to achieve different textures and finishes, and they must also withstand many uses. Cylinder curlers are a good option, but there are other alternatives: some include a clamp to support the hair, different interchangeable heads to adapt to different hair densities, a ceramic finish to protect the hair…
Aspects to consider before buying a hair curler
Hair curlers work similarly to iron hair straighteners, they allow to curl the hair by applying heat. But before buying a curling iron it is important to keep in mind some other important features.
Power and temperature
The power of a curling iron determines the temperature it can reach. The higher the power, the higher the temperature. Each type of hair bears different temperatures, fine hair needs less temperature and thicker hair needs more heat to be able to shape curls, however not all curlers enable temperature adjustments.
Head type and material
There are different curlers, but those that use a heated head can be very different depending on the diameter or shape of this head. Some can also interchange the heads to adjust the diameter to our needs. Look at the material of the head: same as with straightening irons, finishes in tourmaline or ceramic take care of the hair by giving it extra shine.
Safety systems
The best curling irons on the market include advanced safety systems such as a cold tip to avoid burning, an automatic shutdown system in case the curling iron is left on or the temperature is blocked.
Cable type and length
Usually, curling iron cables measure between 2 and 3 meters, this allows us to work comfortably without worrying about the cable. In addition, if the cable can rotate up to 360º on its base, our curling iron will last longer since we will avoid bending the cable or twisting it while we are using it.
Design and accessories
Some curlers include very interesting accessories such as a protective or carrying case, or cable that resist high temperatures to avoid burns.
Price
Finally, we already said that curlers on AliExpress are really inexpensive, but in case you have not yet looked up any of our sugestions, below you can find a short guide and consider how much money you can save by buying your curler on this platform.
Dyson hair curler is one of the most popular ones and costs over US$ 470.
GDH hair curlers can cost between US$ 180 and $240.
Automatic hair curlers of popular brands as Rowenta can cost between US $60 and $95.
Cylinder hair curlers of famous brands as Braun, Philips or Lism can cost from US$ 30 to $70, although some of them are more expensive.
On AliExpress you can find automatic or tapered hair curlers at a very low price, most brands have models between US$10 and $35.
Is it safe to buy hair curlers on AliExpress? Which guarantees do they offer? Is it easy to return the product if I am not satisfied?
When we look for hair curlers on the internet, we probably end up on platforms like Amazon or eBay. These sales websites spend a lot of money on marketing, and we usually find very expensive curlers from brands that also invest a lot in advertising. AliExpress is a great alternative to getting low-priced hair curlers.
But it is not exactly an unknown website. AliExpress is one of the largest online sales platforms and even has stores with warehouses in Spain or the United States.
Therefore, AliExpress is not only a reliable page to buy beauty products, hair curlers or any other article that you can think of, but your orders are also received faster and faster thanks to the different agreements with international transport companies, and customer protection policies have highly improved in recent years. They even offer the option to return your purchase in a 15 days time lapse since it is delivered, and you don't even need to give them a reason. We recommend reading our Claims, Disputes and Returns on AliExpress Guide for more information.
Get your hair curler at the best price with special offers and coupons
As you can see, getting the best economic hair curlers is very easy on AliExpress. But since we know that you like bargains, if you want to know what the latest discounts are, how to get coupons and special offers on this platform, we recommend visiting our blog's home or our tutorials section. Besides giving you tips and tricks, we also have some guides in which we explain how to get coupons.
If you still don't know how this platform works, don't worry, we also have an Essential Buyers Guide for AliExpress: there, we explain how to buy from scratch and everything you need to know, from how to register, how to track your orders, or which are the best payment methods. Don't even think about it, buying on AliExpress is the best way to buy online safely and at low prices.
Before finishing, we would like to know which of these hair curlers you liked the most, have you already bought any of them? What is the best hair curler for you? Leave us a comment below, we would love to hear your opinion or answer your questions.