Its cold out there and the time for boots has come again. Not only do these shoes look great with dresses or skits, they will keep you feet super cozy. Even if you are lucky enough to be somewhere where its warm out, it's never too early to prepare for the cold.
When it comes to purchasing boots online, AliExpress is probably one of the best places to find ankle boots for women, men and children. Why is that? Well, Chinese sellers offer the cheapest boots you can find online, as you can see here. You might find references for similar prices, but the variety offered by the Chinese platform is unbeaten. They have tons of models, including your classic black or brown ones, the most common ones for a modest season such as winter.
How to find cheap booties in AliExpress
The variety of booties you can find is incredible, form the classic half wedge ones, to campers or Oxford ones like the ones show in the image. That's why we are going to try and make the search easier for you by giving you some of the best acronyms to find cheap booties in AliExpress. Now its up to you to choose your favorite 🙂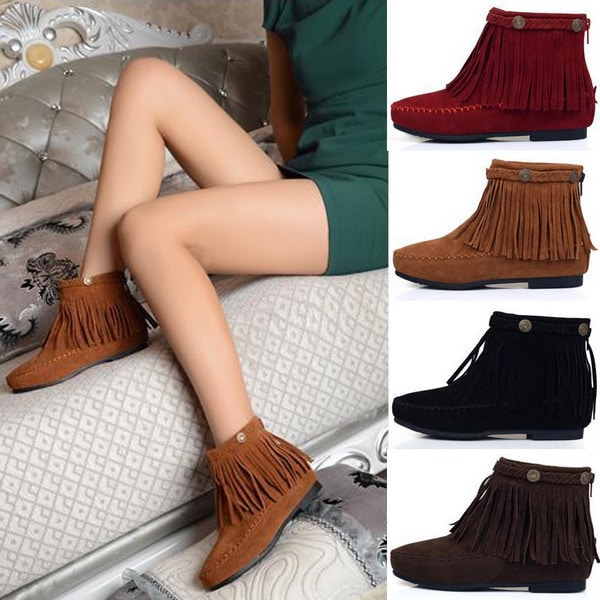 To find the best results, we've prepared the following searches. Click on them and then sort them by price, novelty, rating or type. We are sure you'll find the perfect ankle boots in no time.
Booties for men
Nope, we haven't forgotten about you guys. And neither has AliExpress, with thousands of sellers offering ankle boots for men. You can find them by going to the following search: mens boots.
Booties for babies and children
If you are looking for booties for your kid or baby, we've also selected a few key words for you. Just click on them to find thousands of results.
More advice: here is a specific guide for children's boots in AliExpress, where you can find the top selling boots for both children and babies.
The best shops to purchase booties in AliExpress
In case you still haven't found a seller you like, here are some of the best Chinese AliExpress stores offering booties. We've sorted them by rating, however you shouldn't have any problem with any of these shops.
AlixBlogger advice: these five sellers have an excellent reputation, so make sure you take a look and keep in mind that we also sorted the results by ankle boots, so you won't have to waste a minute looking for this type of product in their catalogue.
How to find trustworthy sellers offering cheap booties in AliExpress
The first thing you need to know is that there are thousands of clothes and shoes sellers offering booties. Therefore, make sure you read the following advice to find the perfect shoes for you.
The seller's reputation: there is a big difference in between a seller with a medal or one with crowns or diamonds. Look around and make sure you choose a well rated seller. Also, remember that you might find a shop that is too new to have many ratings, but might be as good as any of the top rated ones.
Number of sales: to know if a seller is good all you have to do is check their sales. The more sales the shop has, the better it is.
Comments and reviews left by previous AliExpress customers: yet another way to ensure you are making a good purchase is to read comments and reviews left by other customers. Make sure the comments on the product you are looking at are positive and you can be sure you'll be just as happy with the product as they are.
Bonus: outlet price booties inspired by Isabel Marant sneakers
A few of our readers have asked us to include a paragraph looking at Isabel Marant style boots specifically. You can find them for super cheap in AliExpress, around 35€, a real bargain considering the original ones can go for up to 400€.

Important: these aren't Isabel Marant replicas
If you are looking for replicas, you should know that the boots we are talking about aren't. They aren't replicas because they don't include any of the distinctive symbols of the original brand, they are simply inspired by the style.
Truly, this is an advantage. Replica sellers don't last long in AliExpress so they don't have many ratings and you have no way of knowing if you are getting a quality product or not. On the other hand, sellers making white label clones can accumulate good ratings and therefore it's easier to tell if they are good shops or not.
But how do I find these sneakers inspired by Isabel Marant?
They aren't replicas, but sellers still aren't allowed to used the words "Isabel Marant" to refer to their products, so they use the following codes:
Remember the three key factors to finding good sellers in AliExpress: seller's reputation, sales and comments and reviews by previous customers.