Today we are going to talk about the latest haircare device: the electric straightener hair brush. You've probably heard about it already or maybe you've even seen one at one of your friends house, but I bet you didn't know you can find it on AliExpress for little less than 15€ (we've even found a seller offering them for 11€!).
This product is super popular both among customers and brands. There are tons of companies making them. That's why, before you choose, there is some information you should know to make sure you choose the right one for you. Do you want to know all the features these hair straightener brushes have to offer? Read on!
Difference between an electric hair straightener brush and a hair straightener
What's better a straightener brush or a classic straightener? They may seem similar, but there are some key differences and you can use both of them, one doesn't exclude the other! 🙂
Let's take a look at some of the differences and similarities.
One of the main differences is that the brush straightens your hair while you brush it, so it's a 2×1 kind of device. This means you can mold your hair as you go brushing it. Another differences is that you get more density and volume with the brush, unlike a straighter which leaves your hair completely flat.
Yet another difference is time. With a straightener it you will only take a few seconds (depending on how much hair you have of course), while with the brush you might have to spend a few more minutes on your hair. It's a little slower, but you will be getting practically the same results 🙂
Here is an interesting review comparing both decides and talking a bit about the differences between them. Go take a look!
As for the design and features, they are pretty similar, both featuring a display that shows the degrees. However, the brush tends to emulate the look of a traditional hairbrush, meaning it will have barbs. These barbs are super resistant and don't brake easily, but still, you might have to be a bit more careful.
On the other hand, if you are looking for a classic hair straightener, take a look at our article on cheap straighteners by GHD, Rowena and other brands on AliExpress. You will find some great bargains as well as the latest tendencies.
Does it work with really curly hair?
This is an interesting question, and the answer is a bit complicated. We've checked some reviews left by people with curly hair that have used these hair straightener brushes and, as far as we can tell, it seems to be working for them. This being said, as we mentioned above, the brush will give you more volume and if you are looking for the perfect straight hair you are going to have to spend a bit more time straightening it.
Features and price of the hair straightener brush
You can find real bargains on AliExpress, we've even found straightener brushes for less than 20€! Just to give you an idea of how great this deal is, keep in mind that they will go for [email protected] up to a 100€ in regular shops. So, is it worth getting it here? Definitely, you aren't going to find these prices anywhere else.
IMPORTANT: make sure the model you choose can be used both with damp and dry hair, as many of them don't. And remember to always check the format of the plug so it can be used in your country.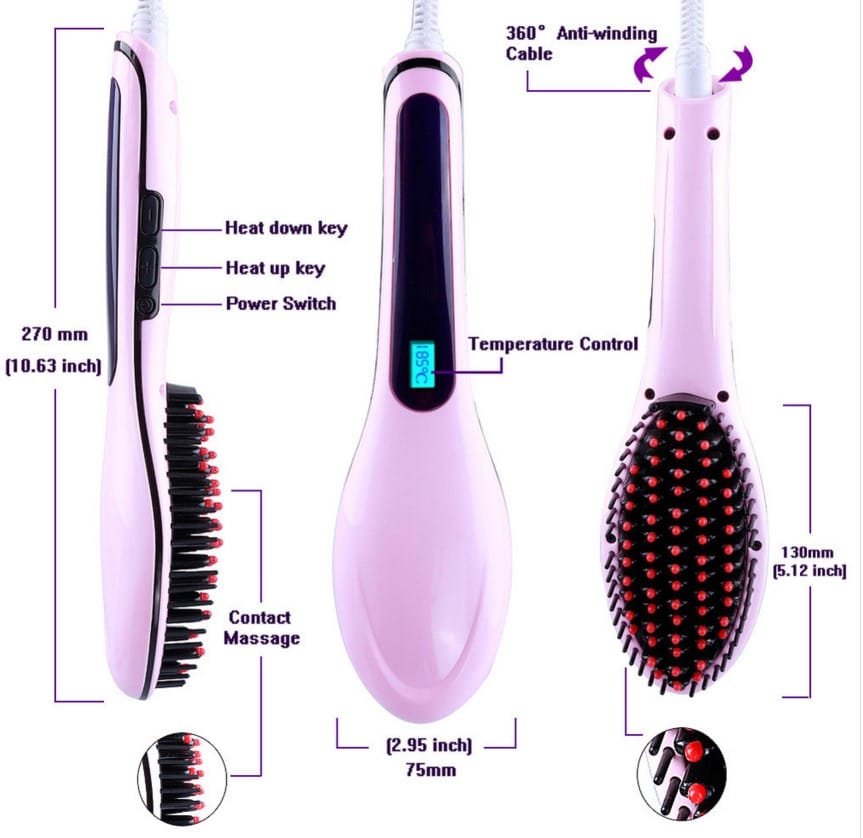 Thanks to its ceramic plate and heat expansion system, which you can regulate at all times, this brush will allow you to get the straight hair you've always dreamed of in just a few minutes. And to make matters easier, it even features a 360o cable.
Straightening hairbrush: reviews and sales
How many times have you dreamed about being able to get straight hair just by brushing it? Usually, when you straightener your hair first you have brush it and then dry it, this can be tedious, especially when you are in a hurry… so the popularity of a product that allows you to skip these steps shouldn't be a surprise at all. Just take a look at the reviews on AliExpress!
The Chinese platform is one of the most popular choices to buy these devices. They have great deals and you can find up to 4 different colors.
Take a look at some of the reviews on AliExpress, they are great!

But don't just focus on comments. Make sure you also take a look at the sales of the product. Here are two sellers with great reviews and sales:
These are two shops with excellent ratings. If you buy from either of them you won't have any problems, but if you are looking for the best of the best, try the A-B-A Store. Take a look at their catalogue here, they have brushes for only 11.28€!